May's Best Sci-Fi and Fantasy Books
Stack up your summer TBR with New Titles from Emma Straub, Holly Black, and Nghi Vo

As the great prophet Justin Timberlake once sang, it's gonna be May. Spring is speeding by at a steady clip, and while there has already been an embarrassment of SFF riches for the start of the year, May is when it feels like reading lists really kick into gear. The month ahead fulfills that promise, featuring a fantasy debut with a new twist on One Thousand and One Nights; an adult debut from an accomplished young adult author; and a literary fiction writer experimenting with time travel in a way that makes the subgenre feel fresh.
*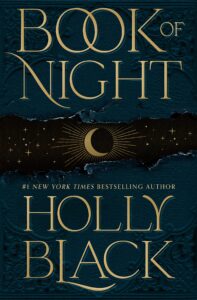 Book of Night by Holly Black
(Tor Books, May 3)
While Black's past YA novels have dealt in faerie courts and vampire compounds, it's very fitting that her first dark fantasy novel for adults focuses on shadows—both the idea of a shadow world lingering just beyond our eyesight, and also literal shadows that can be transformed or manipulated to the whims of their owners or even other people. Because shadows are an effective motif for a protagonist like con artist and master thief Charlie Hall, struggling to resist the urge to give into her darker talents. And the fact that everyone has one—and that Peter Pan already introduced the notion of a shadow gone rogue—amps up the creepy feeling that you, dear reader, could be the next one whose shadow turns on you. This is an ideal read for the end of spring: unapologetically chilling, finding the dark side to even the most summery day.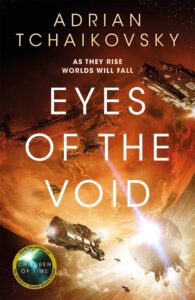 Eyes of the Void by Adrian Tchaikovsky
(Orbit Books, May 3)
Part of what makes Tchaikovsky's Final Architecture space opera trilogy so engaging is how it jumps ahead full generations at a time, tracking humanity's future as it evades extinction by way of the planet-unraveling Architects. While Shards of Earth began the saga with the Architects' reemergence after fifty years, this second installment jumps ahead another eighty years: fragile peace in the Human Colonies giving way to a familiar nightmare as the Architects return once more—and this time the Originator artifacts can't protect any planet. Thankfully, humanity still has Idris: human-turned-Intermediary, who neither sleeps nor ages in-between showdowns and thus can once more fend off the Architects. Only, in order to pull it off this time, he has to go back to the unspace (shudder) that already almost took him apart for good.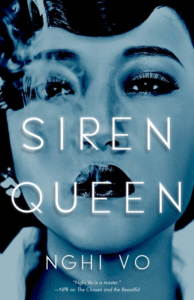 Siren Queen by Nghi Vo
(Tordotcom Publishing, May 10)
The pandemic has altered so many facets of our lives, including what former leisure activities now carry a moderate amount of risk—for example, I haven't been to a movie theater in over two years. But reading Vo's (The Chosen and the Beautiful) latest shimmery fantasy has that same rejuvenating feeling as stepping into a cineplex, curling into a seat, and letting magic unfold on the silver screen. No matter that it's set in a 1920s Hollywood where stars are born via deals with the devil; this accounting of Asian-American film star Luli Wei's early career has a timeless quality. What better way to launch into summer?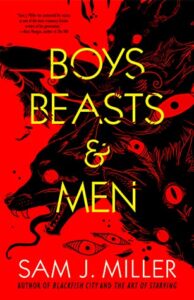 Boys, Beasts & Men by Sam J. Miller
(Tachyon, May 10)
Miller's debut short fiction collection looks to appeal to both fans of his speculative and dystopian novels Blackfish City and The Blade Between, as well as those new to his body of work. Stories like "Calved" take place in the former's setting of Qaanaaq, while others work off an existing pop culture foundation. "Things With Beards" is a sequel of sorts to John Carpenter's horror classic The Thing, transplanting those fears of infection into the AIDS era, while "The Heat of Us: Notes Toward an Oral History" throws fireballs alongside the bricks at Stonewall. Queerness pulses through these fourteen stories, a baker's dozen and then some, and while it sounds like it leans more solemn than anything else, there's a compelling gravity to them.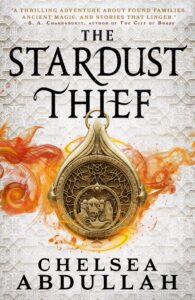 The Stardust Thief by Chelsea Abdullah
(Orbit Books, May 17)
When you think of a novel drawing from One Thousand and One Nights, your mind might jump immediately to the framing device of captive Scheherazade spinning out a story each night to earn the next day of life. But Abdullah's debut dives into those tales, unraveling "Aladdin," "Ali Baba and the Forty Thieves," and others then reweaving them into something new. In this world, jinn are murdered for their prized magical blood—or the very special ones are imprisoned in lamps, with people like Loulie al-Nazari (a.k.a. the Midnight Merchant) blackmailed by the sultanate into digging them up. Aided by her bodyguard Qadir (a jinn in hiding); the tenderhearted Prince Mazen bin Malik forced into the guise of his cruel brother Omar; and jinn hunter Aisha bint Louas, Loulie stands to discover something greater than treasure: the ability to shift the sultanate's control.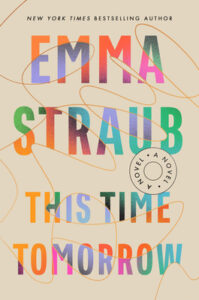 This Time Tomorrow by Emma Straub
(Riverhead, May 17)
Like Emily St. John Mandel, Straub wrote a secret pandemic novel featuring a self-referential book and time travel; but hers is set in the 1990s, inspired by 13 Going on 30. On the eve of her 40th birthday, unaccomplished Alice instead wakes up on her 16th birthday—pivotal for the usual almost-kissing-the-boy reasons, but most importantly because it reunites her with her father at 49. In the present, Leonard, author of a bestselling time travel novel, is fading fast; but Alice's second adolescence affords her the hindsight to help shift their relationship in the past and potentially shift their future. If the past two years have inspired authors to start experimenting beyond their already successful styles, I'm here for it.
*
Natalie Zutter is a Brooklyn-based playwright and pop culture critic whose work has appeared on Tor.com, NPR Books, Den of Geek, and elsewhere. Find her on Twitter @nataliezutter.
---