Matthew Salesses: Holding it Together, Falling Apart
On Living Through Grief, Both Collective and Personal
1.
For the past few months, most of my adult exchanges have begun with the question: "How are you doing?" and the answer: "Holding it together." This is an exchange I am used to. When my wife died, two years earlier, I heard many times that I should "hold it together for the children." Grievers are often expected to hold it together, even if only for the sake of those around them.
Holding it together (as apt a phrase as any for this moment of self-isolation, anxiety, and political failure) implies that there is something coming apart. But what? Commonly, people use the phrase without any specific object, to emphasize not whatever is being held together, but their own efforts to cope. In other words, one's life is not the it coming apart. The it is one's sense of reality—touching one's face, standing closer than six feet apart, shaking hands, face-to-face learning—which is directly related to a sense of what is unreal, what is not normal. In other words, unlike actual reality (if such a thing exists), one's sense of reality consists of what makes one real to oneself. When your sense of reality comes apart, so does your sense of self.
2.
Generally, we consider an adult realistic, even reasonable, when her desires can realistically be satisfied—it is not reasonable to pursue immortality, to search for utopia, to think white supremacy will disappear overnight. Only children are exempted from this rule. A child who dreams of becoming a cat is cute, while an adult who dreams of becoming a cat is either affected or a fool. Replace cat with president, though, and it is clear that satisfaction, like a sense of reality, is always conditional.
In order for a person's desires to be satisfied by her reality, writes psychoanalyst Adam Phillips in Missing Out, the person must first be able to imagine her satisfaction as real. As the world we built to late capitalist white male supremacy fails us, what is the satisfaction we imagine? A return to what was normal before COVID-19? Big box stores, office politics, Memorial Day barbecues? The trouble with staying home is that it reveals just how little we need certain things we thought we needed, and just how much we rely on others, like toilet paper.
As the world we built to late capitalist white male supremacy fails us, what is the satisfaction we imagine?
What we should want and what should satisfy us are constructs that have long relied on a common fantasy: possession. Instead of holding it together, as we must do now, our sense of reality has been constructed around getting it and having it.
3.
Grief is uncomfortable to non-grievers because it is a state without satisfaction. Grief threatens the sense that life might ever be satisfied by getting and having enough. Death is the end of possession. For everyone. The only possession that matters is life. Death reveals the artificiality of what we consider it normal to want.
Normal desire, however, is how we understand ourselves as a member of society. Since I have become a widower, I have attempted many times to literally buy my way back into a shared sense of reality. My tears send me straight for two-day shipping. I have considered why this is, and I suspect that to get and to have are desires that are easily satisfied, compared to my unsatisfiable desire for my wife.
4.
To be a parent, maybe especially a single parent, is to be responsible for the sense of reality your children develop—it is to be responsible for their sense of satisfaction. In 1953, D. W. Winnicott famously wrote that a "good-enough" parent satisfies some, but certainly not all, of her child's wants. Too little satisfaction betrays the child's desire and too much satisfaction spoils it.
In the time of coronavirus, I am most able to hold it together with my kids. Not for them, but with them. When we lose our lives in Mario or sing a song together about wearing masks, we remind each other that we can feel joy without satisfaction. Our sense of togetherness also helps us hold each other's sadness—there are days when I see my wife in every corner of the house, when my nine-year-old cries that she is forgetting her mom, when my three-year-old won't stop saying the word dead, trying to understand its permanent lack.
It seems significant that love is one desire that both satisfies and can never be satisfied: we always want more of it.
5.
In Missing Out, Phillips argues that "not getting it" is actually far more fulfilling than getting it. His primary example is art, which can never be fully "gotten," neither possessed nor understood. Art is a model for how to find joy in a constantly moving and changing world.
As a fiction writer, I think immediately of how stories create, for a real reader, an imaginary sense of reality. My favorite fictional worlds indeed cannot be gotten or had, but must hold together—hence the clichés "tightly written" or "spell-binding." Fiction, by holding together its reality and its reader's reality, bridges a sense of what is normal and a sense of what is possible.
Or at least this is how reading and writing feel to me like love.
6.
I have been thinking about other times in my life when I have had to hold it together. At two, I was adopted from Korea by white parents. Sometime in elementary school, I realized that I was not white like them. After college, I returned to Korea and met my wife. We had children. She got cancer. Now I am raising our children alone.
When we had our first child, I started writing a novel about a Korean American adoptee who tries to hold it together as his sense of reality disappears. At the time, I was afraid that my sense of reality, as an adoptee, would make it difficult to love my flesh and blood. What I mean is that I had told myself that my adopted life was what I wanted, that both my birth parents and my adoptive parents had done the best thing for me. And then my daughter was born, and I couldn't understand ever letting her go. I could only understand how I must have been unloved.
I gave my narrator my worst fears—divorced, an absent father, orphaned by his birth parents and essentially disowned by his adoptive parents. I tried to write him out of this state of un-love. In order to love better, he has to dismantle his sense of self.
I had to dismantle my sense of self. Life imitates art.
After the novel sold, my wife became pregnant, gave birth to our second child, and was diagnosed with widespread cancer. I finished the novel beside her hospital beds, while she slept off chemo treatments. We were together, at least, for a little longer. Each day, we adjusted to a new new reality, with less and less hope of satisfaction.
7.
My novel, Disappear Doppelgänger Disappear, came out two days before a derecho devastated the town in which I live, causing billions of dollars of damage and taking out power for hundreds of thousands. As I write this, it has been nine days without air conditioning, without cooking, without a refrigerator, without WiFi, in the middle of a pandemic summer. We are holding it together, eating snacks for meals and charging our devices from the car.
When I tweet about my situation, people reply "2020," bringing what is normal down to what is still left to fall apart. What is a paradigm that won't stop shifting? It isn't a paradigm at all. It is difficult to think that a book still matters when I am running out of clean underwear. But it does. There is a lot of work to do to promote a book. Work that requires electricity. I keep wondering what happens when the story that saves your life is a story you can't save.
8.
To fall apart is to insist that one's sense of reality was once complete, which of course it was not. Our insistence on completion is always strongest when we feel that it is falling apart. The death of a beloved often saints her in her lover's imagination. The attempt to hold it together may in some cases be an attempt to accept incompletion.
I feel as if I have thought myself into a contradiction. This is the paradigm of grief.
Perhaps it is possible to escape our dependence on satisfaction but not our dependence on the hope of satisfaction. The problem with grief is precisely how difficult it is to know what to hope for when you know that what will satisfy you (bringing your beloved back to life) is impossible. There are only a few ways out of this paradigm that I can think of, a few ways of holding together a sense of reality that is a sense of constant change. Art, as Phillips suggests, is one. The experience of reading a really good book, like the experience of joy or love, is often the experience both of hoping that the experience will never end and of relishing that it must.
We make art, in other words—and appreciate art—knowing that the art and artist will disappear. This is difficult to accept when your book first comes out, but it is why you keep writing (you tell yourself). We keep changing our sense of who we are. We hold it together knowing that we will also fall apart.
__________________________________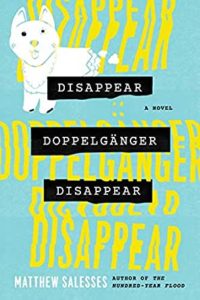 Disappear Doppelgänger Disappear by Matthew Salesses is available now from Little A Publishing. 
---