Matt Bell on Heeding the Dire Climate Warnings of Our Best Literary Prophets
The Author of Appleseed Recommends Work by Octavia Butler, Rebecca Roanhorse, Paolo Bacigalupi, and More
One of the greatest pleasures of writing speculative fiction is inventing an imagined world, extrapolating forward or backward or outward from the present time and place to imagine what life might be like in the future or on another planet. As we grapple with the present-day effects of climate change—and as we try to imagine what it'll be like to live with its effects in the future—the future-making potential of the novel will increasingly be used to explore the role humanity plays in the story of our world, and to design possible future outcomes for both human and nonhuman life.
In my new novel Appleseed, three timelines intersect: it begins in 1799 with a mythological retelling of Johnny Appleseed, reimagining the historical folkloric figure as a half-human half-animal faun named Chapman, who's planting apple orchards with his brother Nathaniel across the Ohio frontier, unable to choose between the natural world he finds existing there and the settler's world he's helping to make; it continues with a scientist-turned-rewilder named John, part of a resistance group in a near-future late-climate-change America, where the megacorporation which controls much of the United States (and the global food supply) is threatening to unilaterally geoengineer the stratosphere; and concludes 700 years later with the story of C-432, a bioengineered clone stranded in a compound atop a continent-spanning glacier, who sets out on a perilous journey across what was once the United States.
Each timeline has its own depiction of climate change and the human effect on the nonhuman world; each required its own set of technologies and fantastical elements, political conditions, and animating ideas. So much of the work of writing Appleseed was in the devising these worlds—as was a large part of the pleasure.
Below are ten other fictional climate futures that I find particularly compelling, many of which I read or reread while writing Appleseed. Within each of these novels is attempt to grapple with our present by imagining other ways we might live, in the future and on other worlds; as bleak as some of these futures might be, each was invented by a writer who might be what Ursula K. Le Guin meant by "realists of a larger reality . . . writers who can see alternatives to how we live now, can see through our fear-stricken society and its obsessive technologies to other ways of being, and even imagine real grounds for hope."
 *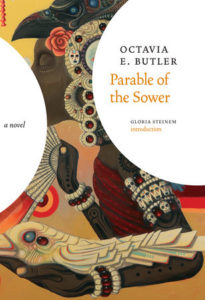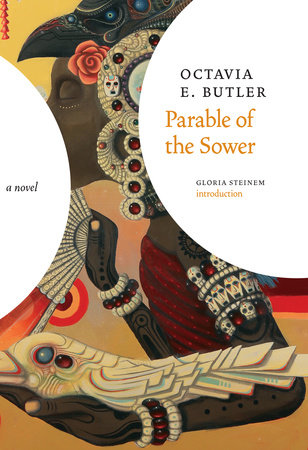 Octavia E. Butler, Parable of the Sower
(Seven Stories Press)
Set in 2024, the first of Butler's Parable novels only barely takes place in our future, although its world was farther away when Butler published the book in 1993. The first half of the novel takes place in the tenuous (and only relative) safety of a gated community outside of Los Angeles, the second on a journey north through the ruins of a late climate-change America, where among much else an authoritarian president is helping usher in a new age of indentured servitude. The novel's protagonist Lauren Oya Olamina develops and finally shares her nascent spiritual system Earthseed, a belief system based on the idea that "God is change," and that change is what humanity must reckon with and learn to shape with intention in order to save itself. Parable of the Sower and its sequel might seem among the bleakest books on this list, in part because Butler's future is such an unflinching extrapolation of our current crisis. But as Butler said once: "This was a cautionary tale, although people have told me it was prophecy. All I have to say to that is: I certainly hope not."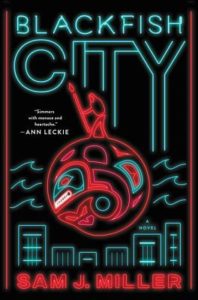 Sam J. Miller, Blackfish City
(Ecco)
Blackfish City takes place in the floating arctic city of Qaanaaq, a city populated in part by the climate refugees of a New York City flooded by rising sea levels. Qaanaaq is starkly divided among class lines, with most of the novel's point of view characters firmly on the bottom half of the economic scale. "Every city is a war," Miller writes. "A thousand fights being fought between a hundred groups. Rich, poor, old, young, born-here, and not-born-here. The followers of this god and the followers of that one. Someone will have the upper hand in each of these battles. Those people will make the rules, whether they're administered by priests or soldiers or politicians or programs. Fixing this is hard." The city is also beset by a sexually-transmitted disease known as "the breaks," which fractures memories and thought processes, while the plot proper is kicked off by the arrival in the city of an "orcamancer," a woman nanobonded to a killer whale. It's an incredibly smart world, a drowned future upon which Miller floats a moving tale of found and rediscovered family.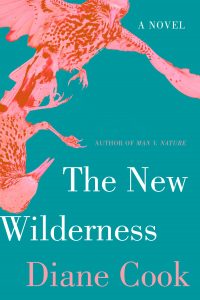 Diane Cook, The New Wilderness 
(Harper)
The New Wilderness posits a future America in which land use has been upended and reapportioned into areas for specific uses: the City, the Manufacturing Zone, the Woodlots, the Server Farms and the Wilderness State, an area that has until recently been closed to human visitation. Bea and her pollution-sickened daughter Agnes are part of a program that sent a small band of people to live together in the Wilderness State, where they live off the land, make decisions communally, and discover who among them is made for this wilder life. Bea misses the City, while Agnes ages to come to know and love only the Wilderness, but whichever woman you find yourself identifying with most, a central tension of the novel is that life for everyone is impossible in either place: the City contains all the hazards and inequities of our own world, while the restored possibility of the Wilderness would be destroyed if even if a fraction of the city dwellers moved in. If Cook's novel suggests no obvious right solution to the problems of her imagined future, it does keenly express how many of the questions of our present might compound if left unanswered.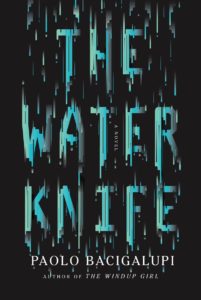 Paolo Bacigalupi, The Water Knife
(Vintage)
The Water Knife unfolds in a very-very-near future Phoenix, where "Big Daddy Drought" has turned the southwest into a perpetual dust bowl. The titular "water knife" is Angel Velazquez, a spy/fixer sent by the corrupt bosses of Las Vegas to find a set of centuries-old water rights that would upend the historic distribution of the Colorado River, a story that allows Bacigalupi to explore extreme versions of present day issues in the Southwest, including escalating economic inequality, the unequal effects of climate effects on the working classes, indigenous rights, and the real-life Colorado River Compact. It's important work, as one character explains, "There's a theory that if we don't have the right words in our vocabularies, we can't even see the things that are right in front of our faces. If we can't describe our reality accurately, we can't see it." Bacigalupi's future is also deeply Arizonan, something fairly rare in science fiction, drawing on ideas pioneered there for its worldbuilding, like his sequestered resort-like "arcologies," inspired by the ideas of Arizona-based architect Paolo Soleri.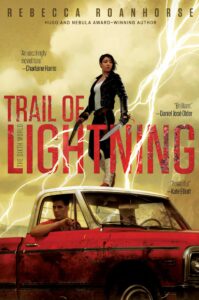 Trail of Lightning by Rebecca Roanhorse
(Gallery/Saga)
Roanhorse's debut novel is one of the more fantastical books on the list, although it's still set on Earth: in the late 21st century, an earthquake-spawned global flood drowns most of North America, returning magic to the world and setting up Dinétah as an independent nation suddenly walled off from the rest of the collapsed United States. The focus of Trail of Lightning is less interested in the novel's imagined future than in the individual story of Maggie Hoskie, a magic-powered hunter of the new monsters roaming the post-flood landscape, but its notable for its clear expression of indigenous futurism, of continued existence and self-determination set against environmental catastrophe and the ensuing collapse of the country's colonial power structures. As Maggie says, "The Diné had already suffered their apocalypse over a century before. This wasn't our end. This was our rebirth."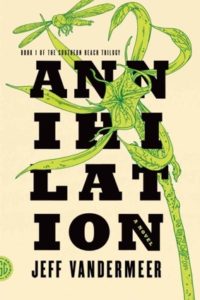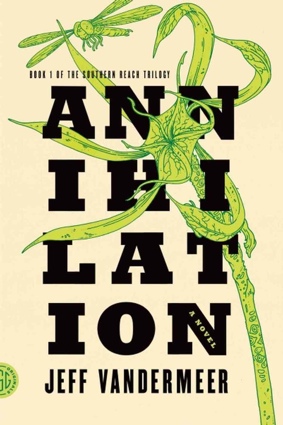 Annihilation by Jeff VanderMeer
(Farrar, Straus, and Giroux)
Jeff VanderMeer's Annihilation, the first in his Southern Reach trilogy of New Weird novels, concerns the twelfth expedition dispatched into the mysterious Area X, a landscape abandoned in the wake of a mysterious ecological disaster. While the novel (or perhaps its sequels) eventually explains how Area X came to be, Annihilation is at its best when it's at its most unexplainably uncanny, offering the reader a chance to experience a nonhuman world moving of its own accord, evolving independently, less hostile to humanity's influence than simply indifferent: "There is a limit to thinking about even a small piece of something monumental," the protagonist says. "You still see the shadow of the whole rearing up behind you, and you become lost in your thoughts in part from the panic of realizing the size of that imagined leviathan." Very few novels decenter human dominion as much as Annihilation does: I could stand to read more many more.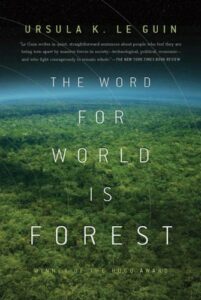 Ursula K. Le Guin, The Word for World is Forest
(Tor)
In addition to sporting one of my favorite titles of all time, this short novel offers a fierce depiction of many of the interdependent root causes of climate change: settler colonialism, genocide and enslavement of indigenous peoples, and environmental ruin caused by extractive capitalism. The invading Terrans coming to log the planet of Athse, long after Earth/Terra's own natural resources have been exhausted, enslaving, murdering, and raping the local Athseans, despite both peoples being descendants of the same original humans of Le Guin's Hainish universe. Notably, halfway through the novel a second colony ship appears bearing new instructions meant to halt the destruction of the planet and its people, as well as an instantaneous lightspeed communication device called an "ansible," an event that disrupts the moral calculus of the colonizers—even as it doesn't halt their destructive behavior. The Word for World is Forest also has a haunting finale, where, even after the colonizers are defeated, their effect continues: the native Athseans have never before murdered each other, but begin to after the defeat of the Terrans. "Sometimes a god comes," says the leader of the Athseans. "He brings a new way to do a thing, or a new thing to be done . . . You cannot take things that exist in the world and try to drive them back into the dream, to hold them inside the dream with walls and pretenses. That is insanity. What is, is. There is no use pretending, now, that we do not know how to kill one another."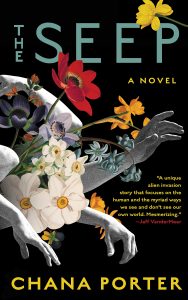 Chana Porter, The Seep
(Soho)
In Chana Porter's debut, the titular Seep come to earth as the gentlest possible alien invaders, seeking connection with all life on earth, bringing down oppressive economic systems, and even dismantling our usual conception of mortality—but in doing so, the Seep threatens to erase at least some of what defines us, including how we explain ourselves through our differences and personal histories and bodily experience of the world. It asks, among other things: Do we even want utopia, if it means losing the sense of self we forged amid our struggles? That said, Porter's novel is perhaps the most hopeful novel on this list, in part because the post-scarcity world it posits allows for an exploration of some of what we might do now, if we abandoned capitalism and hierarchy for a more egalitarian, consensus-based society—but it is not so utopian as to suggest that there won't be other troubles left to tackle, those that solving our biggest ones first might allow us to finally address.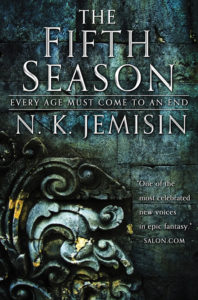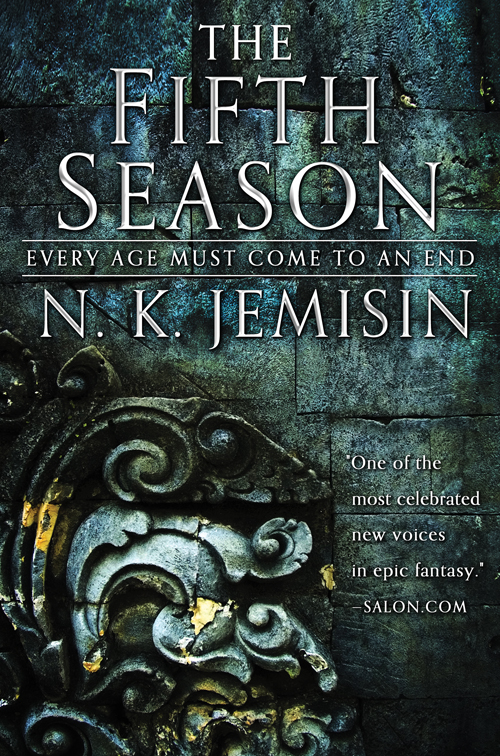 N.K. Jemisin, The Fifth Season
(Orbit)
The Fifth Season posits a humanaltered secondary world, one whose ecological crisis is undeniably intertwined with issues of environmental racism and historical oppression. Here ecological devastation is an ever present danger, with the threat of recurring worldwide disasters shaping every facet of society—but, as in our world, those dangers don't fall equally on every person. Jemisin's Stillness is ruled by an imperial government whose power is precariously dependent on its subjugation of "orogenes," those born with the ability to manipulate tectonic energy, and it's their struggle for freedom and self-determination that powers Jemisin's story. The Fifth Season is also hopeful in a very specific way that seems increasingly common in climate fiction: our world may feel like it's ending, but what's endangered in any given era is always only one version of life, one possible world of many. As Jemisin writes, "The ending of one story is just the beginning of another. This has happened before, after all. People die. Old orders pass. New societies are born. When we say 'the world has ended,' it's usually a lie, because the planet is just fine."
___________________________________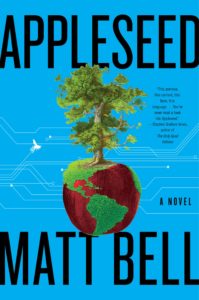 Appleseed by Matt Bell is available now from Custom House. 
---