Mary Gaitskill on Love, Violence, and Submission in Agaat
A Novel of Apartheid-Era South Africa
Agaat is a story about violence. It is first and foremost about institutional racial violence expressed through the bodies and souls of its victims and perpetrators on a quotidian basis. It is also about intimate domestic violence, human violence against the natural world, and the subtle violence of pride, folly, and self-deception. Agaat is at the same time a story of love that is by turns twisted, corrupt, and simply, naturally good. It is about survival in the interstices of these intensely oppositional forces.
Agaat is set in the apartheid era of the 1950s into the 90s, on an upscale South African family farm contentiously run by Jak and Milla de Wet, a desperately unhappy Afrikaans couple, and their half-adopted, half-enslaved African maid, Agaat. The novel is narrated almost entirely by the widowed Milla, who has become paralyzed in old age by a motor neuron disease. She is unable to communicate except with her eyes, and only then with Agaat, who is now her nurse. Their understanding is preternaturally, near-wordlessly eloquent, expressing every shade of feeling between them:
Say 'ah' for doctor, says Agaat.
I close my eyes. What have I done wrong?
The little mole-hand nuzzles out my tongue. The screw has squashed it in my mouth. . . .
My tongue is being staked out for its turn at ablution.
The sponge is rough. With vigorous strokes my tongue is scrubbed down. It tastes powerfully of peppermint. Three times the sponge is recharged before Agaat is satisfied. My tongue feels eradicated.
Then:
Her fingers move more gently, more kindly on my gums. Then it becomes caressing. Forgive me, ask the fingers, I also have a hard time with you, you know.
And then:
More passionate the movement becomes. Agaat curses me in the mouth with her thumb and index finger. Bugger you! I feel against my palate, bugger you and your mother. . . .
She takes her hand from my mouth. She wipes my face, the tears from my cheeks.
Thank you, I signal briefly.
You're welcome, says Agaat.
Any intimate relationship in which a servant wields such complete physical power over the body of a privileged mistress is fraught; in the case of Agaat and Milla, it is profoundly so. For their relationship began when Milla, as a charity project, rescued Agaat as a tiny child from an abusive family of miserable drunks living on her own mother's land—indeed, Agaat's birth mother, whom Agaat will never see again, was Milla's nanny, toward whom Milla has no feeling whatsoever. Against the scornful judgment of her abusive husband, Jak, and her neighbors, and in spite of her own insipid conceit, Milla falls in love with the little girl, whom she nurtures with methods both harsh and kind, caring for her basic needs and introducing her to a world of whimsical knowledge that includes music, books, private games, and elaborate embroidery. Woman and child go on long, enchanted explorations of the veld, where Milla gives instruction on the names of roses, the scent of herbs, "insects, birds, small reptiles, small mammals, grass varieties, wild flowers, stones." They revive drowned butterflies in the sun; they collect fossils; they invent songs, build fires and dance before them.
Told her about the giant emperor butterfly that's black on the outside and inside blue like an eye when it spreads its wings. The jewel of the forest. Apatura iris. The eye that guards the secret of the soul. Only good people get to see it. Has Même seen it yet? asks Agaat. She looks at me like that, I can't lie. I hope to see it in my lifetime, I say.
The sections describing such outings are so beautiful and so convincing that Agaat might almost be considered a "white savior" story—except that the salvation plainly comes at a very steep price. For, as part of her heavenly tutorial, Milla plays cruel mental games with Agaat, exposes her to rejection by her peers, betrays her to the cruelty of white outsiders, humiliates her both deliberately and indifferently, and at least once punishes her so brutally that even Jak is appalled. Milla knows all along that there is no room in the world of apartheid for her fleeting tenderness with Agaat, a reality that she finally accepts by teaching her beloved girl her "place," that is, reducing her to a kind of privileged servant, complete with an absurd, ugly uniform and a rigid white-peaked cap that Agaat must keep rigorously pinned to her head. When Milla gets pregnant, she ruthlessly cuts Agaat out of her heart (or tries to), all the while believing that her behavior is noble.
It is the telling that makes it so extraordinary: the texture of each life described, human and animal, the deep patterning and imagery.
It is here that the stories of violence and love most painfully intersect—so painfully that one might wonder if the word love is appropriate at all. The primary relationship in Agaat, which was first published in the United States in 2010, could be seen as a realistic depiction of Jordan Peele's "sunken place," a trope in his 2017 satirical horror movie Get Out. In that film, a young black man named Chris is hypnotized by a white mother figure (in this case, the mother of his white girlfriend) under the pretext that it will help him stop smoking: instead he is sent to an internal prison called "the sunken place" in which, while still basically conscious, he loses agency over his body and behavior. Milla's nurture of Agaat can be seen as an elaborate process of hypnosis that, under the guise of loving help, sends Agaat into a permanent sunken place in which her agency is even more severely limited than that of most African servants under apartheid.
But the horror movie metaphor doesn't fully correspond to the realistic gestalt of the novel . . . because it's a metaphor. Agaat is too strong and too subtle to be kept down entirely (her grotesque white hat will slowly transform from an icon of submission into an icon of power), and Milla is ambivalent about keeping her down. Agaat is also integral to the functioning of the household and farm; she is more competent than Jak and Milla put together, and, while they don't admit it, they know it. In addition, Jak and Milla themselves seem to exist in their own self-created version of the "sunken place." Both are driven by false and grandiose images of themselves that have led them into a mutually abusive nightmare of a marriage. Jak beats and humiliates Milla, but she is no innocent: she manipulates and undermines her husband so adroitly that he can't see straight. (At one point during an argument, Jak tries to bond with Agaat against Milla by shouting, "But flattery means nothing, that we all know, don't we Agaat, your missis here also has nothing but good words . . . no matter what she's done to you in your life and how she treats you behind the scenes And you do your very best every day, don't you, to show her how good you actually are, hmmm? Do you think you can convince her, my girl?")
Given that Jak and Milla are privileged adults who appear to have chosen their sunken place, the reader may not feel great sympathy for them. Marlene van Niekerk feels a particular lack of sympathy for Milla, whom she described as an emotional vampire in an interview with Toni Morrison. But vampires have, after all, been made the way they are by other vampires; they can be quite desperate and yearning creatures. As I read her, Milla wants, from the bottom of the murk, to find something more genuine, to actually love—to get out, as much as the feeble better angels of her nature will allow. And sometimes it seems that she actually does, especially during the time that she is first earning the little girl's trust.
Twenty to nine . . .
Then I bent down and whispered in her ear.
What did I say to her?
Ten to nine
I'm so hungry, I'm so thirsty, I said, because you don't want to talk to me and I know you can talk. . . .
Perhaps you can say your new name for me?
I blinked with my eyes to ask, big please!
Twenty past nine
Why is it taking me so long to write it up? I'd rather just think about it again and again. It's too precious! It's too fine! Words spoil it. Who could understand? . . .
I imagined the tip of her will as the rolled-up tip of a fern. Did I say it out loud? That she should also imagine it? A tender green ringlet with little folded-in fingers?
I bent it open with my attention.
Then it came into my ear, like the rushing of my own blood, against the deep end of the roof of her mouth, a gentle guttural-fricative, the sound of a shell against my ear, the g-g-g of Agaat. . . .
Then we said her name at the same time. Sweet, full in my mouth, like a mouthful of something heavenly. Lord my God, the child You have given me.
In such moments, Milla's feeling seems genuinely tender, even if it also seems a trifle . . . hungry. However, it is tragically that very genuineness that makes Milla's love dangerous; the sweetness of it binds Agaat to her more thoroughly than simple cruelty would. It is less easy to reject and makes Agaat's servitude complete. When Milla compels Agaat, at the age of twelve, to deliver the new baby when they can't make it to Milla's family in time, we feel this servitude being driven into her core—and, paradoxically, combining with what will become her power over Milla, particularly Milla's body:
You talked fast, emphasised the main points. Water. Breath. Push. Head. Out. Blood. Slippery. Careful. Slap. Yowl. Bind. Cut. Wrap. Bring to. Wash. Hitch-hike.
That was the easy scenario.
If the little head can't get out, she has to take the scissors and cut, you said, to the back, do you understand? Towards the shitter, she had to cut through the meat of your arse, so that he can get out. Saw if necessary, she mustn't spare you. If he's blue, she has to clean his nose and wipe out his drool, out from the back of his throat and from his tongue and blow breath into him over his nose and mouth until he makes a sound. As we do with the calves when they're struggling. She can leave you, you said, even if you're bleeding something terrible, it doesn't matter. And that again is different from the cows, you said.
These instructions given to a 12-year-old girl who has been so severely damaged by repeated rapes before her "white stepmother" found her that she can't have her own child.
However, it is also Agaat's instinct for love that allows her not only to survive, but also to enact a revenge that is equal parts tenderness and rage, and that is as lifelong, exacting, and daily as her servitude—the emotional appropriation of Jakkie, Milla's son, which happens as naturally as Milla's appropriation of Agaat from her mother, and more thoroughly, for Jakkie grows to love Agaat far better than he does his brutal father or convoluted mother.
The love between Jakkie and Agaat is also compromised because it comes from Agaat's loneliness and her need to take something for herself. Nonetheless it eventually emerges as the deepest love in the novel, in part because it is the most intimate and the most honest; it is to Jakkie that Agaat can tell the truth of her relationship with his mother and what she felt about it—first metaphorically, in the form of a dark tale she tells him as a child; then literally, after his mother has died. In the time between, they play the same kinds of magical games together that Milla once played with Agaat, inventing songs, telling stories, and going for long explorations on the veld during which Agaat teaches him everything; together, waiting patiently in the forest, they get to see the magical "eye" of the giant butterfly. This loving magic is a closed circuit between Jakkie and Agaat; Milla and Jak are effectively locked out. However, the whimsical form of this love, originating as it does with Milla, echoes and honors her small goodness, making it not entirely worthless or in vain. Perhaps a message has risen up from the sunken place and has been heard and recognized; perhaps Jakkie will be able to escape his family's vile legacy.
In revealing this much of the plot I am scarcely giving away the story, because it is the telling that makes it so extraordinary: the texture of each life described, human and animal, the deep patterning and imagery, the complex mirroring between Milla and Agaat make you feel viscerally everything I have rather dryly described. The details—a silver handbell, a red jersey, maps, a mail slot, fossils, stones, tiny insects called whirligigs, and most of all, Agaat's fanatically embroidered white cap—are like musical notes forming and refraining a shape of life beyond words, anguished in its violence and abiding in its will to love.
__________________________________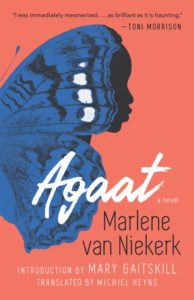 From Agaat by Marlene van Niekerk, with an introduction by Mary Gaitskill. Used with the permission of Tin House.
---