What Drew German Novelist Uwe Johnson to a Tiny English Island Off the Coast of Kent?
Patrick Wright on the Final Years of a Wandering Writer
A sign provided by the council identifies two noteworthy graves in the Isle of Sheppey's main cemetery. The first, at plot 83 FF, marks the last resting place of Mr. Frederick Peake, who somehow managed to survive the Charge of the Light Brigade while serving with the 13th Light Dragoons during the Crimean War. Unlike so many who followed their Harrovian commander, Major General James Robert Brudenell, the 7th Earl of Cardigan, into the misdirected charge of October 25, 1854, Sergeant Peake emerged from "the Valley of Death" with no worse than a shattered arm, a pension and a job, both light and enduring, in the stores at the Admiralty dockyard at Sheerness. He was buried to the sound of rifle volleys and the "Last Post" on December 27, 1906, a local hero who had lived quietly across the fields from here, at 37 Alma Road in the part of Sheerness known as Marine Town.
To find the second stone, which nobody has ever tried to elevate with flags or bugles, the visitor who has entered the cemetery by its eastern entrance on Halfway Road must walk past the tiny Jewish graveyard on the right, and press on through many regularly spaced rows of Victorian and early-20th-century monuments. Although some of the older graves have sunk erratically into the ground, this municipal amenity lacks the Gothic atmosphere of the churchyard at which the German Romantic poet Jean Paul launched the idea of the Death of God into European consciousness towards the end of the "Age of Enlightenment." Paul's "Speech of the Dead Christ" (1796) is recounted by a dreamer who, having fallen asleep in the evening sunshine, is woken by a tolling bell to find himself in a darkened churchyard where the new atheist vision is coming horribly true. The night sky is filled with a vile grey mist. Avalanches are crashing down nearby and an earthquake sends mortifying tremors through the ground. The dreamer looks on as the graves open to release the dead, who clamber out of their coffins as so many abysmal wraiths and enter the teetering church in which the risen Christ confirms his discovery: "I went through the Worlds. I mounted into the Suns, and flew with the Galaxies through the wastes of Heaven; but there is no God! … And when I looked up to the immeasurable world for the Divine Eye, it glared on me with an empty, black, bottomless Eye-socket."
Over the course of his 49 years, the fiercely secular German writer whose ashes were put into the earth at plot 54 XD on July 10, 1984, found more in life to worry about than the catastrophic question that Jean Paul, a believer, derived from his dream: "If each soul is its own father and creator, why cannot it be its own destroyer too?" Uwe Johnson's stone lies a few yards inside the cemetery's tree-lined brick wall, beside fields that slope gently down towards Sheerness. Many of the more recent stones nearby are inscribed with loving messages and euphemisms about "falling asleep." Some are also adorned with tributes from the bereaved: flowers, teddy bears and miniature footballs; favorite mugs, plastic angels and—this being February—a painted Santa Claus among the cement mementos, some of which appear to have been acquired (and why not?) from Andre Whelan's Concrete Garden Ornaments factory at the old Bethel Chapel in Blue Town, just outside the Sheerness dockyard wall. Johnson's stone—a large rectangular slab of granite laid flat in the ground—sits bare and silent amongst all this. It gives away less even than the formally restrained Portland stone monuments placed nearby by the Imperial War Graves Commission to mark British servicemen killed in the Second World War.
*
Johnson's memorial bears only a chiseled name: UWE JOHNSON. No dates, no words of sorrow or description, neither epitaph nor tribute, no gesture towards the Enlightenment values that powered this novelist's extraordinary writing nor to any kind of personal distinction or significance. Though it might seem to embody the judgement of another initially East German writer who described Johnson himself as a man of stone, a "statue of lost cultures" like the inscrutable stone monoliths on Easter Island, this is also the memorial of a man who wanted, by the end of his short life, to disappear into letters. It offers nothing to the visitor who may be wondering why this great German author, whose perpetually reimagined homeland was in Mecklenburg and Western Pomerania on the East German Baltic and whose last and most important novel is set in New York City, ever came to be living in an obscure town beside the Thames Estuary on Kent's northern shore.
Nor does it offer any clue as to why Johnson's admirers in Germany may shrink from the thought of the low-lying and marshy island on which their author chose to beach himself, his wife and their young daughter towards the end of 1974: a place more desolate, it has repeatedly been alleged, than anything encountered by Robinson Crusoe among the cannibals of the South Pacific. On the Isle of Sheppey itself, meanwhile, information about Johnson's Kentish decade has been scarce. The council struggled even to locate his grave when, in 2005, a party from the John Brinckman Gymnasium in the no-longer East German town of Güstrow in Mecklenburg announced their intention of turning up to look for traces of their school's illustrious former student.
The Isle of Sheppey was a backwater, to be sure. For Johnson, however, its landscape was also a theatre of resemblances, alive with the memory of other claimed backwaters he had known and written about.
Johnson had demanded the barest of funerals in his will—"I REQUEST that there shall be no music speeches flowers or any religious or other service whatsoever." Though obediently mute and unyielding by comparison with its neighbors, his stone does nevertheless sometimes catch the visitor by surprise. Under dry conditions it can appear inert and dull, its well-cut lettering largely buried under dust. On winter days that are both windless and wet, the perfectly leveled stone gathers a film of rainwater, which in turn captures the branches of the alders overhead and pulls them down to float as black reflections in a sea of extravagant pink. It's an unexpected transformation—and a secret Kentish tribute to Johnson's own description, written on the Isle of Sheppey, of looking down at the street one wet and stormy day on New York's Upper West Side: "Now it's quiet, the asphalt mirror of Riverside Drive shows us the treetops in their close friendship with the sky."
Perhaps that arresting burst of color, which can be bright enough to subdue the Christmas ribbons on adjacent graves, may be allowed to stand as an appropriate introduction to this famously reserved writer who nevertheless kept an eye open for utopian moments in which the promise of everyday experience might be revealed. It also reminds us that Johnson, who carried some of the heaviest burdens and responsibilities of the twentieth century through his work, nevertheless once described himself as an "unacknowledged humorist." His neighbor in Sheerness, the artist Martin Aynscomb-Harris, was among those who didn't always get the German writer's jokes. In the end, however, he did provide a local reporter with some English words that might now be remembered before that mute stone: "He was a kind man often misunderstood because of his abrupt manner. He had no time for idle conversation or banalities. He sparred with words. He was a verbal heavyweight—an intellectual whose politics were very much to the left." If we are still reaching for more, we might add a line by another short-lived German-language writer with a gift for imagining impossible islands. In a late work entitled "Bohemia Lies by the Sea," the Austrian poet Ingeborg Bachmann (1926-1973) writes, "I want nothing more for myself. I want to go under."
*
In German literary circles, where the merest mention of "Sheerness" can still raise a shudder, Johnson is counted among the "casualties" of his generation—a defiantly independent writer who, like his friend Ingeborg Bachmann, appears to have laid waste to his own life. If there was nothing more here than a story of personal disaster brought down on a household whose surviving members have since asserted their right to privacy, there would be no case for going further. That, however, is not the situation.
By the time of his early death, Uwe Johnson had lived in Sheerness for more than nine years. He had moved there primarily to get away from West Berlin, and to find a place where he could complete the keenly awaited fourth and final volume of a novel entitled Anniversaries: From a Year in the Life of Gesine Cresspahl (Jahrestage: Aus dem Leben von Gesine Cresspahl), which is rightly counted among the truly major works of modern European literature. Once on the island, however, he also developed a guarded interest in the life of those around him—so much so that, by February 1979, he would announce to a seminar in Frankfurt that he "had an eye" towards writing a series of stories set in the county of Kent. No such volume was ever completed, although a book entitled Island Stories =(Inselgeschichten) was assembled by the first director of the Uwe Johnson Society in Frankfurt and published under Johnson's name in 1995. Eberhard Fahlke's posthumous anthology of stories, essays and extracts from letters to friends such as Hannah Arendt and Christa Wolf gives a vivid sense of what Johnson liked, or found interesting as well as exasperating, about the economically challenged English town that sat on a remote and muddy island and bravely insisted, even in the depths of winter, on wearing the optimistic name of "Sheerness-on-Sea." Though vivid and revealing, these fragmentary "Island Stories"—some of which are included here in English versions prepared by the American translator Damion Searls—exhaust neither their material nor the perspectives they employ.
The often derided Isle of Sheppey remains among the revealing places where, as Johnson himself came to understand, horizons are wide and all sorts of historical questions bearing on our own time remain open.
Rather than simply trying to tell "the story" of Johnson's English years, I have written the book The Sea View Has Me Again with broader aims in mind. I have set out to establish who Johnson was and to suggest why both his writing and his characteristic approach to reality should matter to English-speaking readers now. I have also used his reports and dispatches to guide my own exploration of the Isle of Sheppey as the gouged, disdained but by no means just distressed English "backwater" in which Johnson once claimed—and this surely wasn't only one of his unacknowledged jokes—to have discovered a "moral utopia."
We will never know how or to what extent the Isle of Sheppey might have emerged as a 20th-century microcosm—"an island that is all the world" in the phrase of the Anglo-Scottish poet Douglas Oliver—had Johnson completed the book of Kentish stories he hinted at in Frankfurt. He did, though, write enough before his early death to demonstrate his appreciation of the island as a vantage point with highly revealing views of England as it was in the 70s and early 80s: a crisis-ridden time in which the post-war settlement with its promises of a new British society was collapsing into economic and political turmoil combined with a "deindustrialization" that turned Sheppey into an early incubator of the landfill world in which we find ourselves today.
Trying to understand a literary work by reading it back into its physical, political or historical "context" can easily lead to pointless reduction. But what if, like Johnson's imagined book of island stories, the work remains hypothetical? Obviously, it can't be jumped into existence with the help of existing drafts or fragments, even those as suggestive as Eberhard Fahlke assembled from Johnson's letters and articles in the 90s. Yet something else becomes possible if, rather than trying to guess the missing stories into existence, we pick up some of the cues in Johnson's existing work—be they specific observations in letters and articles or more general characteristics such as his interest in place and memory or the close attention he paid to newspapers—and follow them out into the world he thought of engaging more fully.
As someone who lived and worked in north Kent in the early 70s, I have followed Johnson back to the area in the belief that the often derided Isle of Sheppey—here approached as a fragment of just-about-floating England less than forty miles downriver from the gleaming and internationalized citadel that is the City of London—remains among the revealing places where, as Johnson himself came to understand, horizons are wide and all sorts of historical questions bearing on our own time remain open, even though there are no National Trust properties anywhere near the place to do the same. The Isle of Sheppey was a backwater, to be sure. For Johnson, however, its landscape was also a theatre of resemblances, alive with the memory of other claimed backwaters he had known and written about: Staten Island in New York, for example, or the large-skied Baltic scenes of his own childhood and youth in Germany.
My book explores three coinciding interests. The first is Johnson himself, the brilliant, afflicted East German writer whose truth-seeking novels reveal their commitment to Enlightenment values in their broad social sympathy as well as in their irony, judgement and investigatory procedures. The second is the Kentish Isle of Sheppey with its no-longer naval or steel-making capital town of Sheerness, a part of England where the actuality both of Johnson's world and our own has not been entirely smoothed over by consumerist prosperity, glozing politicians or, for that matter, by the corrosive mockery of mainlanders who continue to treat the place and its people as a great joke. The third is the 70s, a crisis-ridden decade whose ongoing consequences may now remind us of Hesiod's legend of Pandora's Box.
Having watched the powers released at that time transforming reality so vigorously through subsequent decades, I have taken the story of "Uwe Johnson in Sheerness" as the occasion for an investigation that comes at the East German writer from the English side and explores the island (itself offshore from a country that German newspapers have, since the Brexit referendum of 2016, enjoyed calling "the island") on which he chose to spend his last decade in the knowledge of things that have happened since. Johnson once insisted that the novel should be seen as a form of "reconnaissance" and I hope this book, which has been researched, remembered and written during years in which the English air has resounded with appeals to "the world we have lost," reads in a similar spirit. Thanks to Johnson and the sometimes truly sunny Isle of Sheppey, which was, like much of Kent, strongly in favor of leaving the European Union, it's been a time of encounter, reassessment and reflection, and not just of trying to hold out for one dead certainty or the other as the ruins of post-war British modernity are washed away around us.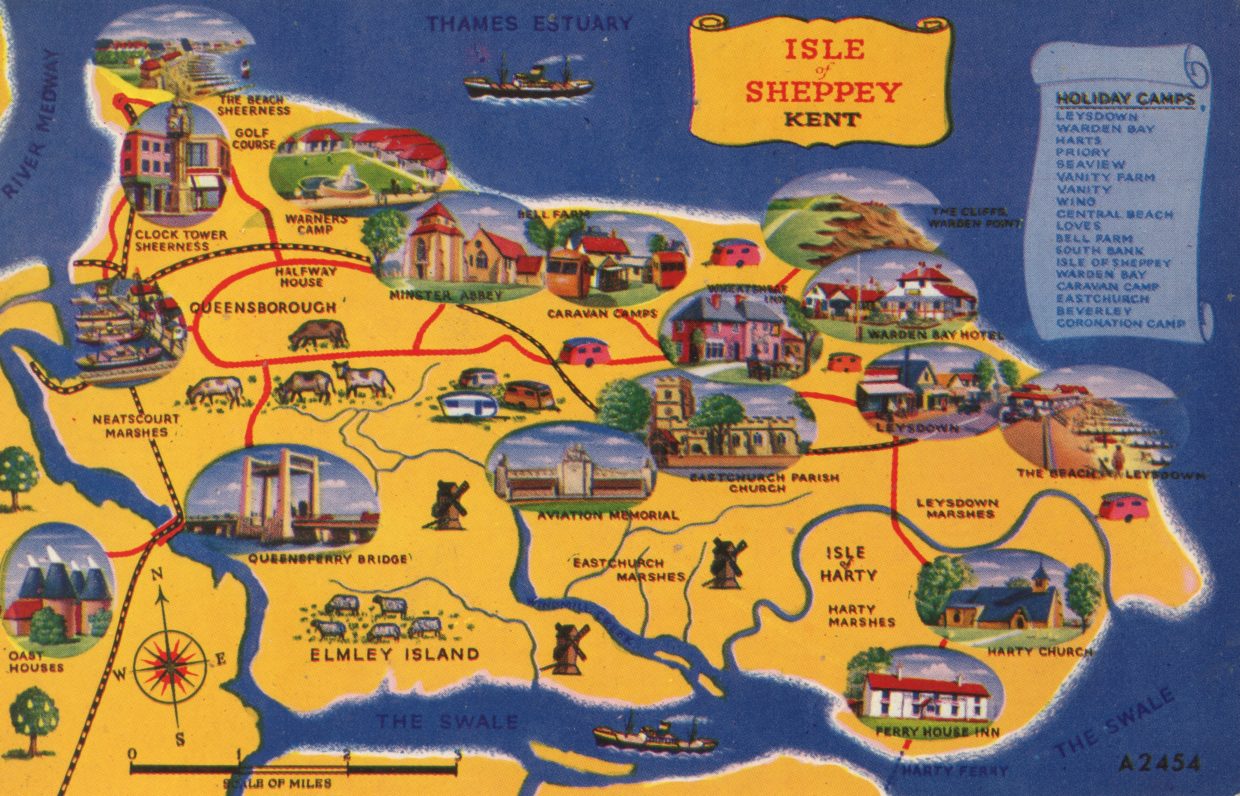 Call it England or call it Sheppey, the island looks tiny on conventional maps: little more than a mudbank about eight miles across at its broadest point, and eleven in length. Those, however, are not the only dimensions that matter. In the course of writing this book I have learned to sympathize with the man from Gillingham, eight or so miles further up the River Medway, who decided—a full six years before the referendum—to buy himself a small motorboat via the internet and put to sea with the aim of navigating his way around Great Britain. The man in question was no match for Jonathan Raban, who achieved that feat as the sailing author of Coasting in 1982. After studying a road atlas, he concluded that he only had to keep the land on his right-hand side in order to end the first stretch of his journey at Southampton. Having proceeded on this assumption for a day and a half, he ran out of fuel and found himself stuck in the mud near some tidal marshes.
The lifeboat that came to rescue this slow voyager from his predicament guided him to the quayside at Queenborough where an officer of the coastguard service briskly informed him that he had all the time been circling the Isle of Sheppey: "He had no idea of the magnitude of the journey he was undertaking." Since this unidentified Englishman—he was, as I recall, rudely dismissed as a "dopey sailor" by the island's newspaper—insisted on resuming his journey once refueled, we may assume that he too had by then seen enough to know not just that small can be large, but also that life isn't necessarily at its richest when it is predictable or easy.
__________________________________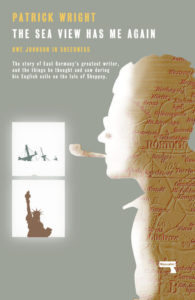 From The Sea View Has Me Again by Patrick Wright. Used with the permission of Repeater Books. Copyright © 2020 by Patrick Wright.
---