Marie Myung-Ok Lee on the Inevitable Slowness of Writing
The Author of The Evening Hero Talks to Jimin Han
Author and activist Marie Myung-Ok Lee is astonishing. In the spring of 2017 I had the incredible luck of sitting across from her and her late best friend, the novelist Katherine Min, at a dinner at the Association of Writers and Writing Programs Conference in Washington, D.C. With my debut novel about to be published, I was in awe to be around writers I admired in real life.
Katherine died two years later and Marie has written a moving essay about their friendship and helped to create an endowed fellowship in Katherine's name at MacDowell. To have been with the two of them even for that short time was to glimpse a special bond in action. Marie called Katherine eonni—for older sister in Korean. A term that is more than being the older sister in age, it means the person who looks out for you.
Marie, too, is an eonni for many generations. For three decades, she has sounded a clarion call on health, politics, and literature. The recipient of numerous awards and grants, including being the first Fulbright Scholar to Korea in creative writing, she's written pieces for The New York Times and The Atlantic. One of the founders of the Asian American Writers' Workshop, Marie created a multi-pronged, dedicated literary community where none existed before. With classes, readings, multiple publications, and a fellowship, AAWW offers a haven for writers, encouraging otherwise marginalized voices to be centered.
The Evening Hero, Marie's latest novel, is a beautifully balanced book with sharp observations and poignancy about a Korean-American doctor named Yungman Kwak who is forced to face trauma and loss suffered in the Korean War as he navigates the politics of his small midwestern town. His wife, Young-ae, and their adult son, Einstein, impose their own ideas about how Yungman should be handling the sudden changes in his life, unaware of the secrets Yungman has been keeping from them.
Recently, we met for lunch at Ellington In the Park, overlooking the Hudson River, on one of the few warm days of spring in New York to talk about the surprises in her novel's journey to publication and Marie's writing life which began in Hibbing, Minnesota—a place not unlike Horse's Breath, where her novel takes place. Marie wore a black sweater embroidered with fuchsia, yellow, and blue yarn—yarn that was a gift from Katherine—that Marie had stitched into the sweater herself. It brought home for me the feeling that Marie's commitment to all that she decides to do is many layers deep. And during this current time of intense anti-Asian racism, I'm even more appreciative to have an eonni like Marie in our midst.
*
Jimin Han: Are there any questions you haven't been asked about the new novel that you wish someone would ask? 
Marie Myung-Ok Lee: I think the primary thing for me has been process. I've probably written three different novels in trying to write The Evening Hero. The first time I started writing this was eighteen years ago.
JH: Wait, three novels. What happened?
ML: I was in this chiropractor's office with my son and the doctor was really chatty. And he told us about this case that involved his friend who was an ob/gyn. This doctor had saved the life of a person and her baby, but then he ended up getting sued; that kind of got me thinking about a character that ended up being Einstein Kwak.
"It doesn't get faster. Each time it's totally new and you're just thrashing around, you don't know what you're doing."
JH: That's a big change. It was Einstein's story originally? Was Yungman Kwak, Einstein's father, in that version?
ML: Yeah, his chapters were mostly filler. But what I got out of that draft was the seed of how the American dream is hollow.
JH: But how did you know? How did you know that draft had to be changed that much?
ML: It feels more like a bunch of lucky coincidences. I was struggling to rank Einstein's stories with Yungman's and I realized that I wanted this to be more of a social novel. And as you know the work will demand its own form. Everyone was like why did it take eighteen years? You've written other books… but it doesn't get faster. Each time it's totally new and you're just thrashing around, you don't know what you're doing. But then the book really did assert itself. And then it just took off.
JH: You allowed yourself to discover this. You arrived at the decision that the book with Einstein at the center was not what you wanted it to be and so you enlarged it, in terms of social themes. Now it includes Young-ae too, Yungman's wife, and so much about the Korean War. My daughter wanted me to ask you, what influenced you?
ML: I'm a huge fan of Sinclair Lewis. You know Main Street is such a great portrait of a small town, rural, America. It's very close to my heart. He also wrote this book called Arrowsmith, which has been out of print forever. I have the most beat up wonderful old copy that I keep. It's just a wonderful book about medicine. I kind of really like using humor to let the light in. I'm also very, very influenced by Korean cinema, including Korean TV because you know in any Korean zombie movie like Train to Busan, it's unrelentingly bleak but there's always some funny slapstick in between that. Koreans are super funny to me, super loud and super funny.
JH: That's so true. And you succeeded in making your novel so ironic and witty. The narrative voice comments on everything in a sharp way but also tender. I laughed out loud while reading it. So back to your drafts for a minute. What was the writing like for you during this revision process?
ML: My editor was saying to cut this and cut that. But that's not how it works for me. I can't just cut something. It's really kind of more like music. Like once a sentence works I go on to the next one. And it's right and that makes me go on to the next one. And then it kind of clicks and I keep going over it and over it again. Sometimes like even a typo happens and you like the typo better. It's not always a conscious process.
"I wrote the first draft without looking back. You don't know where you're going."
I think part of it is that artists need to be supported. I got a couple of grants during this time. I remember particularly when I was doing a residency in Key West there was so much revision that had to be done and literally I felt lost in the book. I had to be able to sit with the awkwardness. My usual thing is to get up like at 4 a.m. and work on it. Sitting with the awkwardness helped me see in a bigger way what was wrong with it.
JH: I want to hear more about that. Your novel has this epic scope and a lyrical quality that was such a pleasure to read so I can see what you mean about your attention to rhythm and language. The sustained period of time at the residency helped you find your way through. Is that how you write all the time, sentence by sentence?
ML: Whenever I write first drafts, I write by hand which makes it very physically arduous and much slower. I wrote the first draft without looking back. You don't know where you're going. The music is more when it's done. During revision.
JH: How is fiction different than non-fiction? You wrote a lot of non-fiction during this time you were working on The Evening Hero. I remember reading your pieces in The Atlantic and The New York Times.
ML: I'm so happy with research. What I did first when I started The Evening Hero, I hung around the courthouse in Providence until the clerk finally told me about a big medical malpractice case, and I came every day for almost a year to watch the case. I also went to a gynecological convention and got so many vivid details that I was inappropriately cramming them into the novel. I felt like I was wasting it unless I wrote about it somehow.
JH: That's a genius tactic. To keep it out of your novel, you wrote articles and essays based on your research.
ML: Yeah, I was kind of upcycling all this stuff. How can I not talk about all this political stuff that's everywhere?
JH: Is this who you are, a person who always stands up for others? What do you feel has changed for you over the years? Do you feel it's different being Asian American now in this country?
ML: I think it's who I am but it's definitely become sharpened since 2016. I feel like I'm asserting more and more that we're human beings and we're not all alike.
JH: The Asian American Writers Workshop is a big part of that. I'm really grateful because one of its early journals published a piece of mine that I felt wasn't safe to send out anywhere else.
ML: That's great because your style developed from there. I mean everyone expects Asian American literature to be the same but we're actually people writing in different styles with our unique perspectives which gets me so excited. Because we're all different. I was talking to Cathy (Hong) about this recently.
JH: Exactly. And organizations like AAWW show this while also bringing people together to support each other. I don't think I know about how you got your start as a writer. How old were you?
ML: Nine. I was going to spy on everyone for dialogue practice. My brothers Victor and Leonard got sick of their typewriter so I did the usual—writing stories and having friends illustrate them. And then I typed out a book and was so impressed with how "professional" it looked, I made my parents buy it.
JH: They actually bought it! I wrote on a second hand typewriter too but had no friends to illustrate my stories. I kept typing words since I couldn't draw. What was your book about?
ML: A horse. I started writing every day, had this idea of sending my stuff out to this vanity press, Vantage Press, and I was going to be the first twelve-year-old to have a book published. I got all excited because I got these notes from them saying they were going to publish my book, and I just had to get them $5000.
JH: Just $5000. Hah! What was it like to grow up in a small town wanting to be a writer?
ML: You know I used to think I didn't know any other writers when I was young. There wasn't any kind of creative stuff in Hibbing. I never felt I was going to be a writer. Now I see that probably because I was introverted and faced bullying, I wrote. And I kept writing and revising until I got a story—it never came out like those Flannery O'Connor stories. I didn't know how she did it. It wasn't until later, maybe when I was at Brown. It was like, oh you know, other people don't know what they're doing either. But now I really see this is the way that I process what I think. I don't think I know what I think until I write it.
JH: I feel the same. There's all this pressure to justify being a writer. That's what I think of when I hear you say that. Like you can't be a writer unless somebody else says it's a story.
ML: I think really for writers, the most important thing is just knowing that no matter what feedback you get or you take, like in the end, it's still yours. And I think that is that thing that has motivated me the most in everything.
_____________________________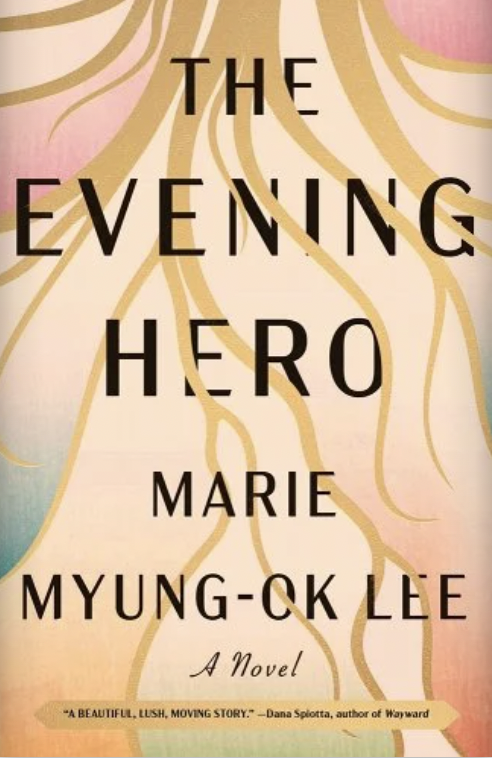 The Evening Hero is available tomorrow.
---