Margaret Verble on Chinua Achebe, Flannery O'Connor, and Wolf Hall
Rapid-fire Book Recs From the Author of When Two Feathers Fell From the Sky

Welcome to the Book Marks Questionnaire, where we ask authors questions about the books that have shaped them.
This week, we spoke to the author of When Two Feathers Fell From the Sky, Margaret Verble.
*
Book Marks: What book do you think your book is most in conversation with?
Margaret Verble: Hands down, that would be Peter Taylor's A Summons to Memphis, which won the Pulitzer Prize for Fiction in 1987. Taylor's book arises from his family's experience of a financial scandal that rocked Nashville and, really, several entire Southern states in the early 1930s. In the book, Taylor named the villain of that scandal (his father's betrayer, and the betrayer of his protagonist's father) Lewis Shackleford. Since I'm writing about the same family of people, even about "Lewis" himself, I used the names and physical descriptions Taylor gave them.
BM: A book that blew your mind?
MV: Chinua Achebe's Things Fall Apart. I've given a lot of thought to the problem of missionaries, but never really expected to see it written about. And, certainly, not so well.
BM: Last book you read?
MV: The Case of the Murderous Dr. Cream by Dean Jobb. I'm a sucker for true crime.
BM: What book from the past year would you like to give a shout-out to?
MV: Elizabeth's Strout's Anything is Possible. Really, everything by Strout is worth reading.
BM: A book that actually made you laugh out loud?
MV: Flannery O'Conner's short stories always make me laugh out loud. No matter how many times I read them.
BM: Classic book you hate?
MV: I don't know that I hate any classic I've actually read. But I've avoided reading some and Little Women bored me.
BM: Classic book on your To Be Read pile?
MV: I'm thinking seriously about reading O'Henry's short stories.
BM: Favorite book no one has heard of?
MV: I'm a big Sarah Waters fan. She's a well-known British author who I don't think gets enough attention over here. She's written The Little Stranger, Fingersmith, The Paying Guest, Affinity, Tipping the Velvet, and The Night Watch. I keep hoping she'll have a new book out soon.
BM: Favorite book of the 21st century?
MV: So far, Wolf Hall. I think Hilary Mantel is in a class by herself.
BM: Book(s) you're reading right now?
MV: I'm reading an ARC of Louise Erdrich's The Sentence in preparation for interviewing her on an Indigenous Conversation Panel for the PEN/Faulkner Foundation on Nov. 17. I'm about halfway through and don't want it to end.
I'm also reading Robert Penn Warren's World Enough and Time. I'm almost finished with it, and that's just fine. Warren was a genius at description and I find that instructive, but what we expect from a good novel has changed since 1950.
I'm also reading vol. 2 of The Payne-Butrick Papers, the largest primary source of information on the Cherokee Indians of the late 1700 and early 1800s. John Howard Payne, who wrote the lyrics to Home Sweet Home, is the exclusive author of the second volume. He was a successful author, actor, and playwright in the early 1800s and, almost accidentally, became entangled in the affairs of the Cherokees and was trusted by them. The manuscript is interesting, and the fact that he wrote it rather mind-boggling.
*
Margaret Verble is an enrolled citizen of the Cherokee Nation of Oklahoma. Her first novel, Maud's Line, was a finalist for the Pulitzer Prize. Her second novel, Cherokee America, has recently been listed by the New York Times as one of the 100 Notable Books of the Year for 2019. She lives in Lexington, Kentucky.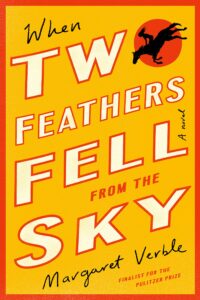 Margaret Verble's When Two Feathers Fell From the Sky is out on October 12 from Mariner Books
*
---