March's Best Sci-Fi and Fantasy Books
New reads from Max Gladstone, Shannon Chakraborty, Moses Ose Utomi, and More

Punxsutawney Phil may have predicted six more weeks of weirdly shifting winter weather patterns, but at least if we're hibernating longer we've got plenty of promising new releases to read: March is a banner month for new SFF! In addition to the handful of titles we already called out on our 2023 preview (including C.L. Clark's The Faithless, Victor LaValle's Lone Women, and Jinwoo Chong's Flux), here's another bevy of beginnings: new ways into the Craft Sequence; kicking off intriguing new dark fantasy series and swashbuckling pirate historical fantasies; space Westerns and Afrofuturist fables.
*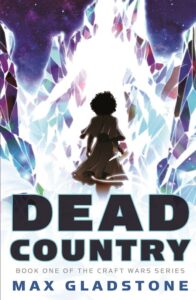 Dead Country by Max Gladstone
(Tordotcom Publishing, March 7)
Part of the appeal of the Craft Sequence, Max Gladstone's postindustrial urban fantasy universe about law wizards and the currency of souls, is that each book is standalone and can be read in nearly every order. Yet there is a chronology, and this sprawling fantasy saga is eventually winding down—with a new sequence, the Craft Wars. The first volume, Dead Country, follows longtime protagonist and accomplished craftswoman Tara Abernathy, whose many god-resurrecting and city-saving exploits matter little when she returns to the hometown that chased her out. But when she finds a young girl whose power and potential reminds her of herself at that age, Tara takes her under her wing, an act of kindness that will change the world.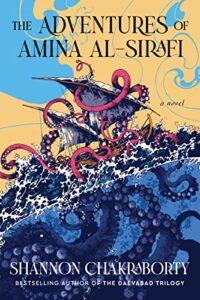 The Adventures of Amina Al-Sirafi by Shannon Chakraborty
(Harper Voyager, March 7)
Shannon Chakraborty builds this historical fantasy, the first in a new trilogy, upon the tradition of the travelogues and "wonder literature" of the medieval Islamicate world—anchoring it with the structure of a one-last-heist story, commentary on parenthood, and some demon magic. After epic years on the Indian Ocean, eponymous pirate Amina al-Sirafi grounded herself in order to give her daughter Marjana a life on solid ground. But when she's contracted to rescue a former crewmate's kidnapped daughter, she can't resist the allure of financial security and, let's be real, the thrill of returning to the high seas. But of course more sinister motivations lurk beneath the surface, in a swashbuckling tale about Amina reuniting with her crew, Marjana experiencing the pull of the pirate's life, and yep, that definitely looks like a kraken on Ivan Belikov's fantastic cover.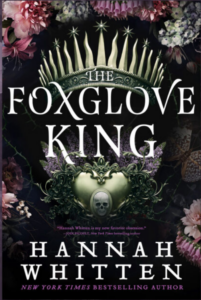 The Foxglove King by Hannah Whitten
(Orbit Books, March 7)
Hannah Whitten's new dark fantasy series is all about what bones we build our cities on—or, in this case, the corpse of the death goddess Nyxara, the entropy from which has been seeping into the city of Dellaire for 500 years. This entropy is called Mortem, and some mortals poison themselves with it while others channel it, like 23-year-old Lore. But when she is caught by the Presque Mort, warrior-monks who use Mortem in the name of the Sainted King, Lore is forced to spy for King August and figure out who else is using Mortem in ways they shouldn't. As her deadly moves bring her in contact with Prince Bastian and Presque Mort Gabriel, both of whom seem oddly familiar, Lore's past escaping a cult also comes to light…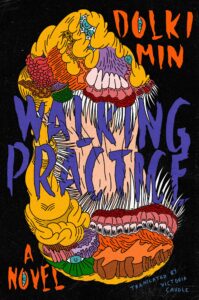 Walking Practice by Dolki Min, translated by Victoria Caudle
(HarperVia, March 14)
In this bold novel from South Korea, a shapeshifting alien is stranded on Earth without any contact with their homeworld, and must survive until they can figure out how to get back on their feet. Literally—they must learn to walk, which they do by chasing down prey. But to get close enough to consume humans, they must look like one; and so they get on dating apps, constantly shifting their gender and sexuality to match what the lovelorn and lonely are looking for. And then comes time to eat. But when the alien fails in an encounter, they are the ones racing for their own survival, as they begin to actually empathize with their would-be meals.
Bitter Medicine by Mia Tsai
(Tachyon Publications, March 14)
This charming xianxia-inspired contemporary fantasy draws from Chinese mythology, as with Shénnóng, the Chinese god of medicine. As the god's immortal descendent, modest Elle finds an innovative new way to save lives, by crafting protective glyphs for customers like Luc, a French elf who visits the supposedly "ordinary" glyphmaker en route to dangerous assignments. But Elle's crush on Luc compels her to create unprecedentedly powerful glyphs for him, hinting at the full extent of her magic. And if Elle fully unleashes her power, she'll risk alerting the rest of her family to her whereabouts.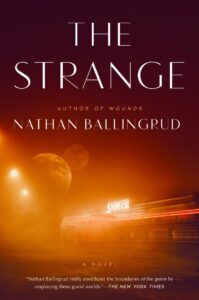 The Strange by Nathan Ballingrud
(Saga Press, March 21)
Nathan Ballingrud's debut novel has all of the trappings of a Western in the style of True Grit: plucky teenage girl gripped by vengeance, venturing out with ragtag allies to track down the gang who fractured her family… but its setting of 1931 New Galveston is not on Earth, but instead a Mars colony. Yet this sci-fi adventure is in conversation with the home planet, as fourteen-year-old Anabelle communicates with her mother, who has returned to Earth to take care of her own mother. But when the Silence cuts Mars off from Earth, and then Silas Mundt's gang attacks her father, it's up to Anabelle—accompanied by her family's dishwashing robot Watson, Mars' toughest outlaw Sally Milkwood, and Joe Reilly, a pilot-turned-drunk from Earth—to enact her revenge.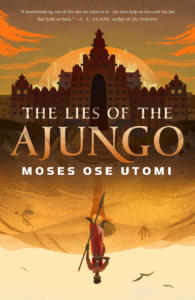 The Lies of the Ajungo by Moses Ose Utomi
(Tordotcom Publishing, March 21)
As a first-generation, Nigerian-American SFF writer, Moses Ose Utomi wanted to explore thirst in all of its permutations: for the truth, for connection, for revenge. He opens the fable of the Forever Desert with this short yet expansive novella setting up the epic stakes: the City of Lies, whose inhabitants cut out their tongues at thirteen in order to bargain water from the fearsome Ajungo Empire; Tutu, nearly thirteen, setting out to save his mother's thirst before his birthday and expose the truth behind the century-long drought.
---