How Karl Lagerfeld Learned to Love Literature
William Middleton on the Figures Who Nurtured the Intellectual Development of a Fashion Icon
Karl's earliest years were spent in the splendor of the family home in the Hamburg district of Blankenese. "I've always had a nostalgia for that part of Hamburg with the river, the boats, and that poetic atmosphere," he said. "The first sounds I remember were the ships on the river, and my first memory in life was sheer tulle curtains at the windows, blowing in the wind."
By 1935, Otto Lagerfeld moved his family into a more protected part of the country, twenty-five miles north of Hamburg. Karl later suggested, improbably, that the move took place because they felt that being so close to the river was too humid. Nevertheless, his father, who had already lived through a surprising amount of historical upheaval, bought a property in the state of Schleswig-Holstein, on the outskirts of the town of Bad Bramstedt. As Karl described their move, "I spent my childhood in the country, near the Danish border, in an isolated house in the middle of a forest."
The estate, known as Bissenmoor, included a large white country house that had been built around 1900. The drive ended in a cobblestone circle in front of the house, set off by flower beds, manicured shrubs, and tall pine trees. It was a three-story structure with a large veranda on the ground floor, the family's bedrooms on the second floor, and a steep pitched roof in red tile surmounted by a central cupola. Karl's room was in the center, with two large French doors that opened onto a terrace. Bissenmoor sat on over twelve hundred acres of pasture and wooded land.
Otto Lagerfeld, who was fifty-two when Karl was born, was a distant presence, focused on the running of his company, Glücksklee. He always wore a hat and carried a cane, preferring his suits in light gray fil à fil, a woven fabric that Karl never really liked. "At that time, those kind of people did not really spend a lot of time talking with their children," Karl said of his father in 2008. "It wasn't necessary. He was always nice. In fact, my mother said: 'Ask your father—he's nicer than I am.' And he would say, 'Do what you want but not in front of your mother, because she will make fun of me.'
There was an expansiveness about Goethe's intellectual life, an ambition that inspired Karl from an early age.
Both of his parents were polyglot, with his father said to have spoken nine languages. He encouraged Karl, when he was young, to learn Russian. His parents often spoke French together. "When I was five, I asked for a French tutor," Karl recalled. "I hated not being able to understand what they were saying, which is why they were speaking French." His mother, trilingual, had assembled quite a library of German, French, and English literature. "Her great passion was reading," he remembered. "She would shut herself in her room to read."
The first tome in his parents' library that attracted Karl's attention was Das Nibelungenlied, an epic poem from the German Middle Ages The story was one of Richard Wagner's inspirations for the four operas in his Ring Cycle (Der Ring des Nibelungen, 1853–1874). The Lagerfelds' copy featured illustrations by a nineteenth-century German artist, Julius Schnorr von Carolsfeld. "It was a thick book, with images that were pretty terrifying," Karl recalled. "It was not a book for children. But my mother said, 'If you want to read it, learn how to read.' And that is how I learned."
His mother went on to encourage young Karl to read Johann Wolfgang von Goethe, the great eighteenth- and nineteenth-century literary figure. "My mother was fascinated by Goethe and literally forced me to read his entire works," Karl explained. She focused Karl on the complete edition of his works, forty volumes published by Johann Friedrich Cotta in 1832.
There were some elements of Goethe that Karl found tedious. His poetry, for example, was less than inspiring. But Goethe's Elective Affinities was, throughout his life, Karl's favorite German novel. Goethe had a vast range of interests, moving between the disciplines of literature, theater, philosophy, science, aesthetic criticism, politics, and religion. There was an expansiveness about Goethe's intellectual life, an ambition that inspired Karl from an early age.
There were other significant literary discoveries. His mother introduced him to such figures as Gustav Stresemann, the German statesman, and Walther Rathenau, an industrialist and author who was assassinated in 1922 by the Organisation Consul, a forerunner of the Nazis. He also learned of Eduard von Keyserling, a nineteenth-century author of stylized novels. "He writes about the passions of the Baltic aristocracies in the 1880s," Karl noted. "Ravishing!" He was struck by the spareness of the prose. "Keyserling is Impressionism. With three words, you see the place, the area, you smell the air. His descriptions, which still strike me today, are so evocative with such few words."
But Karl was particularly taken by another historical German figure that he was encouraged to read: Count Harry Graf Kessler (1868–1937). "I have been a huge fan of Harry Kessler since my early youth because of my mother," Karl later explained.  Kessler was intellectually rigorous, international, and urbane. Kessler never missed the opening of a major cultural event, whether it was the premiere of Sergei Eisenstein's Battleship Potemkin or Brecht and Weill's Threepenny Opera.
One week, at his apartment in Berlin, he had Albert Einstein over for dinner, followed, the next week, by Josephine Baker, who improvised a dance around his sculpture of a crouching nude woman by Aristide Maillol. W.H. Auden considered Kessler "probably the most cosmopolitan man who ever lived." Karl was fascinated. As he once said, "If I identify with anyone, it would be Harry Kessler."
The son of Hamburg bankers, Kessler was born in Paris and grew up in France, England, and Germany. He studied law and art history and was an army officer and a diplomat. In the decades before and after World War I, he was at the center of European intellectual and artistic life. Gerhard Steidl often discussed him with Karl. "His mother idolized Harry Graf Kessler," Steidl explained. "He was left wing, referred to by some as the Red Count, he was a minister in a new German government prior to Hitler, and he was interested in Jewish culture."
Intellectually and politically, Kessler was progressive. "Karl cared about Kessler because of the connection between politics, social engagement, and art," Steidl continued. "Karl said very often that before the war, before Hitler, that that was Germany: looking to the future, building a better future for workers, for women, for children. And that, in turn, led to great cinema, to theater, to literature, to music and so on. And Karl found all of this in the person of Harry Graf Kessler."
Settling in Berlin in the late nineteenth century, and then also in Weimar, Kessler was an editor for a literary journal, a museum curator, and an author. In 1909, he conceived and wrote the libretto for Der Rosenkavalier, the very successful comic opera with music by Richard Strauss. More than his other works, Kessler has been best remembered for his journals. The English translation of his diaries leading up to the First World War, Journey to the Abyss: The Diaries of Count Harry Kessler, 1880–1918, characterized them as "his greatest work, fifty-six years of journals, chronicling his life led at the center of European art, literature, and politics during the greatest cultural and political transformations in modern history."
The author Ian Buruma, in the introduction to Kessler's interwar diaries, Berlin in Lights: The Diaries of Count Harry Kessler (1918–1937), underscored the poignancy of his observations. "The Europe of Kessler's diary is a lost world encrusted with glittering layers of myth, spun by Isherwood, Grosz, Brecht, and Weill, among others," Buruma wrote. "What infuses Kessler's descriptions of 1920s Berlin, Weimar, Paris, and London with such melancholy beauty is the author's own awareness that, even as he was writing, that world was doomed to almost total destruction. It was decadent in the most literal sense."
Karl made sure that he was never far from his writings.
Kessler, just like Karl, was not a mild-mannered observer. In March 1911, he went to the house of Walther Rathenau, whom he very much admired, in the Berlin suburb of Grunewald. "He had the room painted in a Biedermeier style, cold, formal tones: cornflower blue, sepia brown, ochre yellow," Kessler wrote. "It is as if everything that is hidden under the stiff bourgeois façade of dead 'culture,' of petty sentimentality, and of stunted eroticism, comes to the fore like a skin rash. The whole thing a mixture of stiff dignity and schoolboy fantasy, as if thought up together by a banker and a masturbating boy."
Harry Kessler was also a book publisher. In 1913 in Weimar, he started the Cranach-Presse, which became legendary in the history of book publishing. Inspired by the turn-of-the century Arts & Crafts movement, Kessler paid tremendous attention to every detail of the fifty-three books that he published between 1928 and 1932. Karl had a collection of practically every publication of the Cranach-Presse.
Through the Paris sculptor Auguste Rodin, Kessler met the sculptor Maillol, whom Kessler hired to produce engravings for a publication of Virgil's Eclogues, and the poet Rainer Maria Rilke, who became Kessler's secretary. The high point of Kessler's work as a publisher was a version of Shakespeare's Hamlet, published first in German and then in English. "This 1930 version of Hamlet, illustrated by Edward Gordon Craig, is often regarded as the most bold and ambitious example of 20th century book art," noted the British Library. "Elegantly put together, with obsessive attention to detail, it uses hand-made paper and decorated binding, fine images, and beautiful typefaces to enhance the dramatic effect of Shakespeare's play."
Having been fascinated by books from the earliest age, Karl, by the 1990s, became a book publisher. He worked with Gerhard Steidl, conceiving and publishing dozens of books on fashion, art, photography, and translations of German literature. "And Harry Graf Kessler was a role model as a publisher," Steidl pointed out.
Another aspect of his character that was meaningful for Karl: Harry Graf Kessler was homosexual. He was a strong gay man, a Prussian officer, who achieved tremendous success in a variety of creative fields. Particularly at that time, he was a rare positive role model. It also has to be said that Count Kessler was quite the dandy. "Even the way I dress is, in a way, inspired by him," Karl once explained. Kessler wore thin dark suits, with narrow ties, overcoats with extravagant fur lapels, and high-collared white dress shirts. He was always impeccably groomed, even when he joined his workers on the loud, dirty printing press. Kessler had the same sense of formality, and flair, that Karl favored in the last decades of his life.
For all of those reasons, Karl made sure that he was never far from his writings. He bought multiple copies of the complete German editions of the journals. "The nine volumes of his diaries are always near my bedside in all of my houses," Karl explained. "Kessler represents for me Germany at its best, a Germany now gone forever."
__________________________________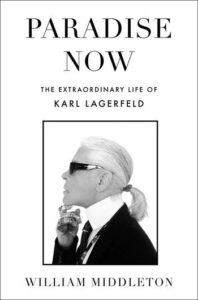 Excerpted from Paradise Now: The Extraordinary Life of Karl Lagerfeld by William Middleton. Copyright © 2023. Reprinted courtesy of Harper, an imprint of HarperCollins Publishers.
---