Many Voices, One Story: A Multi-Perspective Novel Reading List
Rubén Degollado Recommends Dawnie Walton, Tommy Orange, Juan Rulfo, and More
Most literary conversations I've had about narrators in novels are about which point of view works best: 1st person (narrator is a character), 2nd person (you are the character and narrator), or 3rd person (an omniscient or semi-omniscient narrator telling the character's story). There are pros and cons for each approach, and ardent defenders of each.
First-person really lets me get into the character's head! It's all about voice for me! Moby Dick would have been relegated to literary obscurity if the first line had been "Call him Ishmael." Second-person feels so immediate and immersive! Sigrid Nunez won the National Book Award in 2018 for The Friend, and that book proved it could be done. Third-person makes it feel cinematic for me! And it's the best way to focus on several characters.
I love these conversations. However, what has fascinated me lately are the novels where there are multiple narrators telling one story, or facets of one story. This narrative ensemble approach has its benefits and drawbacks. On the one hand, writers get to play with narrative voice, readers get to hear first-hand from the key characters they are reading about, and characters are given their much-needed agency. On the other, writers can lose the narrative thread they're trying to weave, and readers used to a traditional narrative style can find themselves disjointed.
I found that the only way for me to tell this story was through the voices of many narrators, each with their own unique take on the larger story.
I am Mexican American and come from a large family who likes to tell stories. When I began writing The Family Izquierdo, a novel also about a large family, I found that the only way for me to tell this story was through the voices of many narrators, each with their own unique take on the larger story, but also telling their own. My novel is about three generations of the Izquierdos, who are made up of Papa Tavo and Valentina, their ten children, and their children.
The overarching story is about how a jealous neighbor in the neighborhood has reportedly cursed them for their success in the barrio. But how does this impact each generation as individuals, their relationships with one another, their legacy as children of immigrants? What I ended up with—in the words of Kawai Strong Washburn, writing for the New York Times, is a novel that is "effective [in its] use of multiple perspectives, which results in a rich mosaic that skillfully encapsulates the complexity of family."
When I first set out to write The Family Izquierdo, I knew I wasn't alone in this approach, as many Victorian novels used multiple points of view, most notably to me in epistolary novels. And there were also more recent award-winning examples such as Toni Morrison's Beloved, Jennifer Egan's The Goon Squad, and Elizabeth Strout's Olive Kitteridge. There are several great examples of the multi-voiced novel, and this is by no means a comprehensive list. I will share a just a few of my favorites below. For me, and for this story about a large family at a turning point in their lives, there was no other way to write it. And I'll argue that of the wonderful books below, there was no other way these powerful stories could be told.
*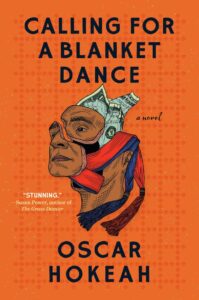 Oscar Hokeah, Calling for a Blanket Dance
This is the most recent book I've read in the ensemble narrative approach. Like my novel, chapters are told by different family members. But unlike the Izquierdos, who sometimes get to tell more than one chapter, each chapter here belongs to one person in the family, and the chapters are named after them. This is a bildungsroman centered on part Native American, part Mexican Ever Geimausaddle, who is struggling to find himself and his place in the world. What is wonderful about Hokeah's debut is that each character gets to tell their own story, while also covering Ever's life, who they each feel responsible for as part of their family and community. And very soon, you learn that each narrator loves Ever in their own way, and have contributed to his growth as a man, and in the final chapter, we get to hear from Ever himself. What we have with this book is a complete picture of one person as seen by others, and an entire community made up of Kiowa, Cherokee, and Mexican Americans, each with their own language, speech rhythms, and ways of seeing the world.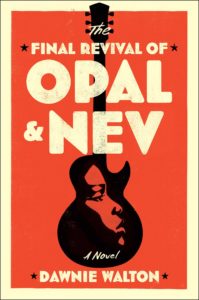 Dawnie Walton, The Final Revival of Opal & Nev
There are multiple voices in this fictional rock history book, and I loved hearing them all. This novel is styled as an oral history compiled by the editor S. Sunny Shelton and tells the rise, fall, and rise of Opal, an iconic Black singer and activist and English musician Nev. The oral history sections are narrated by real people like Gloria Steinem and Dick Cavett, but mainly consist of the fictional characters themselves. Also telling the story is S. Sunny Shelton through her editorial notes (which are delight). She has a personal connection to the subject matter, as it also tells the story of her father Jimmy Curtis, a drummer who is beaten to death in a riot. The book is so masterfully done with the narrators having their own distinct voices that more than once I found myself making sure it was a novel and doing internet searches on Opal and Nev. This is a powerful book that has much to say about race relations in this country, while being an engrossing read and homage to music.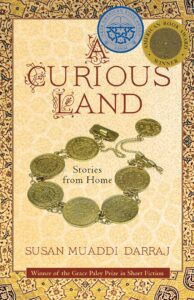 Susan Muaddi Darraj, A Curious Land
I'm going to break my own rule here because this list is about multi-perspective novels and not linked short story collections. However, Darraj's A Curious Land tells one unified story, about a individual characters, yes, but about a place, the village of Tel al-Hilou in the West Bank, and the threat of occupation that looms over this community. It very well could have been a novel, and I think sometimes beautiful books like these are caught in the middle and it's just a matter of semantics. These stories span generations and are connected in a wonderful way. In the first story set in 1916, a girl named Rabab saves a man left for dead, and it is this act that connects all the stories that follow. We see the stranger later as a respected village elder. The aftermath of one death is felt for generations of characters. A bracelet used as a bribe in one story appears as a cherished heirloom in another. Darraj's book won the Grace Paley Prize in Short Fiction, the American Book Award, and the Arab American Book Award, and it is easy to see why.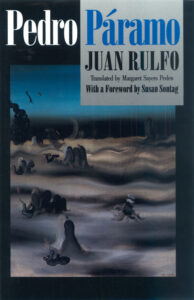 Juan Rulfo, tr. Margaret Sayers Peden, Pedro Páramo
Gabriel García Márquez's One Hundred Years of Solitude is said to have been inspired by Mexican writer Juan Rulfo's Pedro Páramo. Susan Sontag, in her Foreword for the 1994 edition, stated that García Márquez could "recite from memory long passages and eventually knew the whole book by heart." I include it here in this list because the novel switches back and forth in time, includes first person narrators Juan Preciado in the present, Pedro Páramo in the past, and an omniscient third person narrator. Making it more complex are long sections of dialogue that immerse the reader into the voices of literal ghosts. One of the reasons I love this book is how unapologetic it is in switching between voices. There are no chapter or section headings telling the reader who is speaking or when they are speaking. Like the characters themselves, we as the readers are forced to make sense of a world inhabited by both the living and the dead.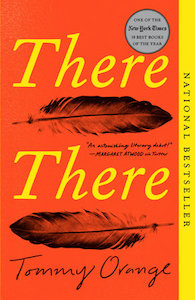 Tommy Orange, There There
When I first picked up this 2018 debut, I thought the title, There There, was referring to someone offering comfort to another, albeit in an obligatory way, as in "There, there, I hope you feel better." However, the title comes from a quote by Gertrude Stein. In referring to how her childhood of Oakland had changed, she had said, "there is no there there [emphasis mine]." And this is just one of many of the enduring ideas of Orange's novel, this idea of home, of belonging.
There There, one of the New York Times 10 Best Books of the Year for 2018, begins with a prologue that is an extended essay chronicling the systematic dehumanization and genocide of Native people through violence and media mischaracterization and caricature. The unnamed narrator of the essay, perhaps Orange himself, is the first voice we hear, and what follows are chapters told from the intergenerational perspectives of various Natives, individual stories which work well on their own. The unifying thread is that each of the characters are traveling to the Big Oakland Powwow. Though telling individual stories, the chorus of voices here are part of a larger narrative, one where characters are trying to find something—perhaps a home that no longer exists—each headed to the Big Oakland Powwow for their own very personal reasons.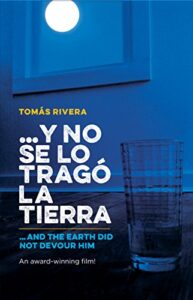 Tomás Rivera, y no se lo tragó la tierra/And the Earth Did Not Devour Him
Here is a novel that like Pedro Páramo defies all narrative point of view rules and is arguably one of the most ground-breaking novels to come out of Chicano literature. First published in 1971, it tells the story of a nameless migrant boy who is a witness to the injustice Mexican American farmworkers face, but more than that, it tells the story of a community of people. There is no clearly identified narrator throughout. What we get instead are pieces of overheard conversation, a series of soliloquies, and vignettes that alternate between third-person and first-person narrators who are never named. However, the cumulative effect of this approach is a powerful one, as you the reader begin to understand the stakes for these hard-working people, hear the disparate, and sometimes desperate voices as they try to live.
________________________________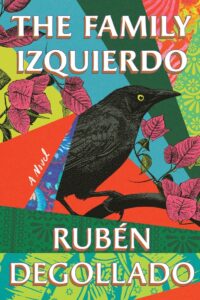 The Family Izquierdo by Rubén Degollado is available from W.W. Norton
---