Making Change: 10 Books Where Small Changes Add Up to a Big Payoff
Sue Mell on Tayari Jones, Morgan Thomas, and More
I've always been interested in emotional dynamics, especially the more subtle shifts. Those few chosen words on which the entire future of a relationship suddenly hangs. A small physical gesture that endears someone or proves the last straw. The truth let loose in the heat of an argument that diffuses or only escalates an already difficult situation. In life, sweeping change doesn't always occur, and if it does, there is often—if not inevitably—backsliding.
Toward the end of my debut novel, Provenance, my protagonist, DJ, unthinkingly challenges his best friend Tracy's decision to move to L.A. She responds:
"It's not a whim. People move, people change all the time."
"Not me."
"But you already have—maybe not willingly, but still."
As with all the women in his life—including the wife whose early death he still grieves—DJ has relied on Tracy to take care of him in any number of ways. Even broke and essentially homeless, it's unlikely that he'll change his ways, especially when he finds a soft landing in the half-finished basement of his younger sister's home in upstate New York. But that situation is less stable than it originally seems. His sister's unrelenting expectations and his increasing responsibility for his 11-year-old niece may not result in a major transformation, but they do force him to make a significant—and emotionally rewarding—shift.
Change is the backbone of a story, but in some novels, characters have limited choices and can take only small steps or choose compromise as they work toward their goals. But that doesn't limit the dramatic potential of a novel, or the power of the story, as evidenced by these fine books.
*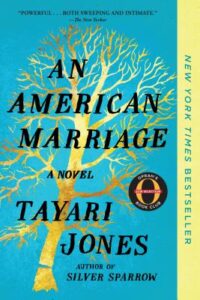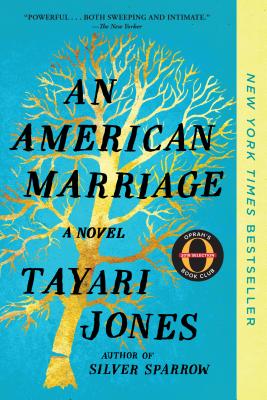 Tayari Jones, An American Marriage
(Algonquin Books)
In the aftermath of his wrongful conviction for a violent crime, Roy, his wife. Celestial, and Andre, the childhood best friend who's always loved her, all struggle to find a way forward without incurring further emotional damage to each other—or themselves. When Celestial doesn't visit or reply to his letters for a while, Roy writes to his father-in-law, asking him to speak on his behalf. "Please tell her that I understand that being married to an incarcerated man is a major sacrifice. In my current position, there is no work that I can do to win her love. There is no work I can do to convince you, as her father, that I'm worthy. … What do I have today? Only my character. I know she can't wear my character on her left hand, and I know it doesn't pay bills or father children. But it's what I have and I believe it should count for something." Roy makes this plea with a specific request for confidentiality. And while his father-in-law says he'll ask Celestial why she's "put her visiting schedule on hiatus," he "must make it clear" that he can neither collude with Roy (by not sharing his letter with Celestial), nor speak on his behalf—only on his own behalf, as her father. With An American Marriage, which won the 2019 Women's Prize for Fiction, Jones has given us a suspenseful and haunting novel about loyalty and betrayal, the rippling effects of racism, and the failure of the American justice system. But it's also a story of love, the strength of family ties, and of forgiveness.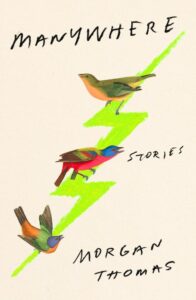 Morgan Thomas, Manywhere: Stories
(MCD)
Threatened by law and by prejudice of every stripe, Thomas' characters strive at great risk to navigate the world in their identified gender, to keep themselves safe from harm, imprisonment, and/or deportation, and frequently find themselves settling for mere proximity to the life they desire. The imaginative stories in this debut collection toggle between past and present, between what's wished for and what's often too harshly real. In "The Bump," in order to perpetuate a coworker's unfounded presumption, Louie, who is trans, dons silicone bellies of increasing size, while ignoring the potential consequences of her looming "due date." And in "Transit," it's easier—and a kind of comfort—for a nonbinary teen to let a stranger believe they're a vampire than to admit they're just traveling home after being expelled from a treatment program for eating disorders. A deep vein of sadness runs through the book, and your own heart will reach for whatever promise is on offer for these determined characters, whose yearning to be or become their authentic selves leaves a palpable and long-lasting effect on the reader.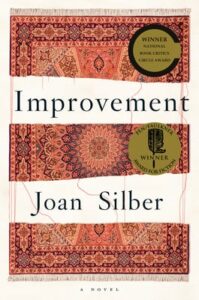 Joan Silber, Improvement
(Counterpoint)
For the characters in the interconnected stories that form Silber's novel, minor actions—such as refusing to drive a car—have major and long-lasting effects. But the possibility for significant change remains small-scale, lending a literal—and gently ironic—meaning to the book's title. When it comes to love, family, or money issues, resolution remains out of reach, while improvement, however slight, is not only hoped for but also gives much-needed relief. "'You don't make money,'" asserts Darisse's current hospice patient. "This was true. Darisse got only a fraction of what the agency charged for her. But she got as much work as she wanted; people asked for Darisse, they wrote letters saying she was an angel on earth, they told friends to make sure they got her and no one else. For what she did, she was doing okay." Winner of the 2018 Pen/Faulkner Award for Fiction, this ultimately uplifting book has inspired my own work—with its complex characters, exceptional dialogue, and vivid interiority—and remains one of my all-time favorites.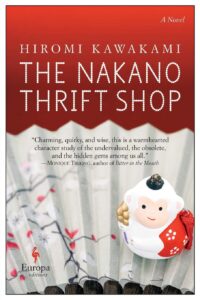 Hiromi Kawakami, translation by Allison Markin Powell, The Nakano Thrift Shop
(Europa Editions)
As Hitomi recounts the daily ups and downs of working as a salesperson at the Nakano Thrift Shop, we come to know her—along with the customers and sometimes strange items for sale—as well as the shop's owner, his sister, and the bewildering Takeo, Hitomi's fellow employee and on-again off-again love interest. Hitomi does her best to find common ground with Takeo, but even an observation about the canned coffee he's always drinking falters. "Do I like it? … I never really thought about it, Takeo had replied. You pay attention to such odd things, Hitomi. Even after we had this conversation, Takeo continued to drink the same brand of coffee. Just once I had gone so far as to try that brand, to see what it tasted like, but it was too sugary for me. Sweet, milky coffee." Both joy and sorrow will sneak up on you in this whimsical and bittersweet book by the award-winning Kawakami, known for her contemporary fiction, poetry, and literary criticism.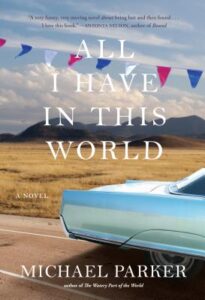 Michael Parker, All I Have in This World
(Algonquin Books)

Vying for the same used car in a Texas lot, strangers Maria and Marcus impulsively decide to buy it together. When they take the car for a test run, she doesn't want to drive, and he's happy enough behind the wheel, though he notes that she's "made herself small against the door" and pulled on a hooded sweatshirt. "Her hands were swallowed by pocket. Marcus could tell by her shoulders, frozen in a shrug, that her fingers were balled into fists. Briefly he worried she'd grown scared of him, but later, much later, she would confess that she'd been freezing. Apparently Marcus had the AC blasting." As each of them struggles with their past—Marcus fleeing personal and financial failure; Maria returning home to make amends—the delicate progress of their friendship makes for a funny, moving, and deeply satisfying read.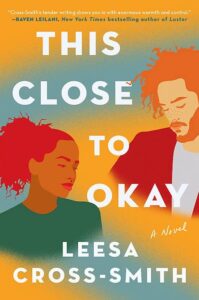 Leesa Cross-Smith, This Close to Okay
(Grand Central Publishing)
When optimistic therapist Tallie intervenes in a stranger's suicide attempt, the pivotal bond that develops between them over the course of one long weekend will both hurt and heal them, as truths past and present are revealed, moving their lives in unexpected directions. Having talked a man down off a bridge in the rain and brought him to her favorite coffee shop, Tallie is concerned to find that her initial nervousness has "sailed away"—even though he still refuses to tell her his name. "She should've been nervous. Was she this lonely? She had a respectable career, a nice house, her cats, her parents and brother and sister-in-law and friends in her contact list. … Losing her nervousness made her feel reckless, and feeling reckless fed her recklessness, leading her to feel the scariest, most thrilling thing of all: free." An emotionally charged novel from the award-winning author whom Roxanne Gay calls "a consummate storyteller."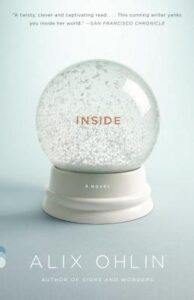 Alix Ohlin, Inside
(Vintage)
Therapists Mitch and Grace (who were once husband and wife), actress Anne, and Tug—a former aid worker for an NGO now employed as clerk at a stationery store—face major setbacks that include coping with the fallout of divorce, abortion, suicide, and the Rwandan genocide. All four of them will attempt to save someone else. But the lingering question in Ohlin's psychologically astute and affecting novel is: where can each of them go from here? Many steps prove wrongheaded as their intersecting paths take compromising and, in some cases, dire turns. When Anne takes in the homeless teenager who's been squatting in the lobby of her building, she's slow to realize that the girl is pregnant, and then grudgingly allows the girl's boyfriend to move in, too. When Mitch tries to wrangle the explosive tantrum of his lover's 7-year-old son, he inadvertently dislocates the boy's shoulder. It's hard to say more without spoilers, but despite losses of life, love, and once-prized careers, three of Ohlin's four main characters will manage to attain a welcome—if lesser—happiness. Inside was a finalist for the Scotiabank Giller Prize and the Rogers Writers' Trust Fiction Prize.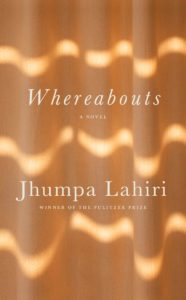 Jhumpa Lahiri, Whereabouts
(Knopf)
Like pins on a map of consecutive days, momentary encounters and minor adjustments—on the sidewalk, at the trattoria, in the piazza—chart a slow course toward departure from an unnamed Italian city where an unnamed narrator finds herself stalled at midlife. "Disoriented, lost, at sea, at odds, astray, adrift, bewildered, confused, uprooted, turned around. I'm related to these related terms. These words are my abode, my only foothold." At her regular coffee bar, when the barista asks what's new, the narrator says she's thinking of leaving for a while, that she's received a fellowship to go to a place she's never been before. (It's the first that we're hearing of it, too.) Leafing through a newspaper someone's left behind, she's surprised to see a familiar face: the philosopher with whom she'd shared several silent but acknowledging elevator rides at an academic conference. A man, she thinks, who's "probably accepted lots of invitations like the one I'm considering. Maybe it's a sign." It's not till she gets to the end of the single column of text below his photo, that she realizes she's reading his obituary. Originally written in Italian and self-translated, this is Pulitzer Prize-winning Lahiri at her finest. I devoured this deliciously melancholy novel in a day.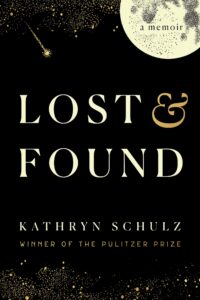 Kathryn Schulz, Lost & Found: A Memoir
(Random House)
I've been a fan of Kathryn Schulz since 2011, when I first saw her TED Talk, "On Being Wrong," and her recent memoir does not disappoint. Grieving the death of her beloved father, Schulz finds solace in his having gotten to know C.—the woman she fell in love with 18 months before, and whom she later marries. The juxtaposition of these events—a devastating loss and a miraculous find—form the basis for this rich exploration of love and moving on in the face of impossible loss. Her father's death, Schulz notes, "was not a tragedy." He died peacefully, at 74, surrounded in his last days and—and throughout his life—by people who loved him. Of his final evening she writes: "I knew that everywhere he looked he found himself where he had always been with his family: the center of the circle, the source and subject of our abiding love. All of this makes dying sound meaningful and sweet—and it is true that, if you are lucky, there is a seam of sweetness and meaning to be found within it, a vein of silver in a dark cave a thousand feet underground. Still, the cave is a cave." Schulz's grief proves long-lasting and incapacitating at times, but the darkness of that cave is mitigated by the love and ever-deepening relationship she shares with C. "What an astonishing thing it is to find someone. Loss may alter our sense of scale, reminding us the world is overwhelmingly large while we are incredibly tiny. But finding does the same; the only difference is that it makes us marvel rather than despair."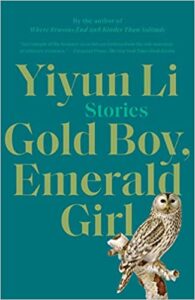 Yiyun Li, Gold Boy, Emerald Girl 
(Random House)
A MacArthur fellow and Hemingway Foundation/PEN Award winner, Li is often compared to Chekhov, and in this surprising and impactful collection, lyrical moments of beauty and hard-won pleasure stand in stark contrast to the ever-present shadow of an authoritarian regime. In mid and later life, the often-wistful characters in these nine separate stories are constrained by financial, political, and cultural limitations. Loss, cruelty, and hardship plague their pasts, but as a widower in his 70s says, in "Number Three, Garden Road," "'The dead is gone, the live lives on,'" and Li's characters stumble on with a range of mild to desperate hopes for the future, making the most of what options remain. In "Kindness," a 41-year-old woman reflects on her unhappiness in life, including a punishing year spent in an army camp when she was 18. "I did not know the driver's name, nor had I gotten a close look at his face—but for years to come I would think of his salute, a stranger's kindness always remembered, because a stranger's kindness, like time itself, heals our wounds in the end." In "Prison," a couple still grieving the death of their 16-year-old daughter, pin their longing for a baby on a recalcitrant surrogate whose shifting plans for her future threaten to unravel their own. And in "House Fire," determined to combat extramarital affairs, six women unite to form a private detective agency.
____________________________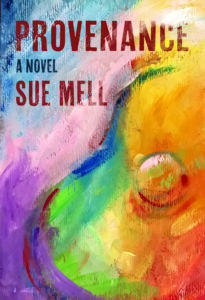 Sue Mell's novel Provenance is available now from Madville Publishing.
---