Maggie Shipstead on A.S. Byatt, Ruth Ozeki, and The Westing Game
Rapid-fire book recs from the author of Great Circle

Welcome to the Book Marks Questionnaire, where we ask authors questions about the books that have shaped them.
This week, we spoke to the author of Great Circle, Maggie Shipstead.
*
Book Marks: First book you remember loving?
Maggie Shipstead: All-of-a-Kind Family by Sydney Taylor. It's a children's novel from 1951 that's set on the Lower East Side in 1912. I was probably six or so? My mom read it to me, and then I had to read it for myself.
BM: Favorite re-read?
MS: Re-reading One Day by David Nicholls is another version of putting on a Nora Ephron movie. It never gets old because the pleasure and comfort is in the language and the observations and the characters. I also like to pick up Life After Life by Kate Atkinson and Americanah by Chimamanda Ngozi Adichie when I want something familiar and comforting.
BM: A book that blew your mind?
MS: Possession by A.S. Byatt. There are parts of it I could read an infinite number of times and not get sick of and parts I'll never read again, but the scope and audacity of her intellect and imagination is truly wild. There's so much erudition here and so much of a muchness.
BM: Last book you read?
MS: The Happy Isles of Oceania: Paddling the Pacific by Paul Theroux. I was just on an assignment for a travel magazine in French Polynesia that was supposed to be two weeks but turned into a month because I got COVID, and I read this book with appreciation for depth of curiosity that Theroux brings to his travel writing, admiration for his intrepidness, and also a bit of horror at some of his outdated language (the book was published in 1992).
BM: What book from the past year would you like to give a shout-out to?
MS: I tore through Sankofa by Chibundu Onuzo. Also, I've never been a Franzen person, but I really loved Crossroads, not that it needs a shout-out.
BM: A book that actually made you laugh out loud?
MS: Less by Andrew Sean Greer. 
BM: Classic book you hate?
MS: The Catcher in the Rye can go jump in a lake.
BM: Classic book on your To Be Read pile?
MS: My editor, Jordan Pavlin, told me to read War and Peace back when we were working on Great Circle, and I still haven't. But I will! I really will.
BM: Book(s) you're reading right now?
MS: Typee by Herman Melville. The Idiot by Elif Batuman (a re-read).
BM: Favorite children's book? 
MS: The Westing Game by Ellen Raskin.
BM: Book you wish would be adapted for a film/tv show?
MS: It would have the potential to go horribly awry (doesn't everything?), but A Tale for the Time Being by Ruth Ozeki. I love that book, and I think the right adaptation could be magical. 
*
Maggie Shipstead is the New York Times best- selling author of three novels—Great Circle, Seating Arrangements, and Astonish Me—and the winner of the Dylan Thomas Prize and the Los Angeles Times Book Prize for First Fiction. Great Circle was a finalist for the 2021 Booker Prize. Shipstead lives in Los Angeles. Her first short story collection, You Have a Friend in 10A, will be published by Knopf in May 2022.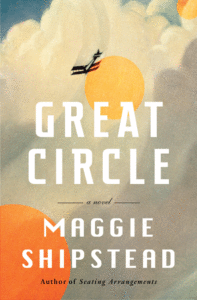 Maggie Shipstead's Great Circle is out in paperback on April 5 from Vintage
*
---