Lyrical Black Face: The Truth About "My Old Kentucky Home"
Emily Bingham on the Racist History of a Beloved American Song
In the waning days of Reconstruction, a popular songwriter with a day job as Louisville's librarian envisioned a tribute to the 50th anniversary of Stephen Foster's birth. Will S. Hays also managed a troupe, Crème de la Crème of Minstrelsy, and blacked up on special occasions, but his wife would not allow him to take the group on the road.
Hays authored hundreds of songs, sentimental ones like "You've Been a Friend to Me" (1879), which the Carter Family adapted in the 20th century, and racist minstrel tunes like "The Unhappy Contraband" (1865) about a Civil War-era fugitive who wishes himself back in a cotton field. Hays's tunes represented the formerly enslaved as patently "ill-equipped for freedom."
Hays appreciated, and probably envied, Stephen Foster's talents. Foster would have turned 50 in 1876, and though his songs endured in popular memory, he had faded to obscurity. Promising to publish "nothing to put a blush upon the cheek of [Foster's] kindred and friends," Hays wrote to Morrison Foster, proposing a newspaper feature on his brother's life. Morrison declined. The origin of "My Old Kentucky Home" grew foggier.
But not the song itself; never the song itself.
When the Civil War ended with slavery abolished amid jubilation for freed people, relief for the victors, and defeat for the Confederacy, Foster's melody sounded in surprising new settings. Black Americans starting without resources made herculean efforts to stabilize families, gain literacy, and establish an economic foothold. Great strides were made, yet, in a betrayal whose effects remain in sharp disparities in wealth, health, education, and housing, systems formed to contain the freedom, opportunities, and citizenship of Black Americans.
A war fought to end slavery was over, but white America had little appetite to ensure that the imposed peace produce racial equality. The possibility of a multiracial republic was gradually snuffed out as southern white leaders—with the acquiescence of the larger nation—deployed mob violence and codified a system of racial control nicknamed Jim Crow. Jim Crow segregation was not by accident named for the simpleminded dancing minstrel show character Thomas D. "Daddy" Rice created in the 1830s, when Stephen Foster was a child, setting off the blackface craze that defined the songwriter's career. Jim Crow was a nation's shorthand for blackness.
"My Old Kentucky Home" adapted to a postwar nation where white controls over Black lives were simultaneously contested by a minority and enforced by a majority. In such a context, the melody had a settling effect. The Bromo-Seltzer company included it in its "Collection of Popular Songs," sold in drugstores as advertising for its hangover and pain remedy. At times, it assumed a bleached-white veneer.
The Franco-Italian soprano Adelina Patti enchanted the audience at Paris's Grand Opera House with a surprise rendition of Foster's plantation melody. Gilded Age Americans cried encore when she gave them "this sweet, simple ballad." "Strong men were weeping," according to one attendee, "and women were hysterically giving vent to emotions they did not try to control." Flowers rained onto the stage and a bankroll of bills thudded at Patti's dainty feet. In a high chamber of classical musical performance, the great Patti recalled a time before the bloodshed. When she told them to weep no more, they couldn't stop.
A touring "mulatto" minstrel called Blind d'Arnault materializes in the fictional 1890s Nebraska hamlet of Willa Cather's novel My Ántonia (1918). D'Arnault bent with "docile subservience" over the hotel piano, delighting his listeners, including Cather's Virginia-born narrator, Jim Burden. The musician had "the happiest face" he had seen in years. Hearing him play and sing "My Old Kentucky Home" transported the western settlers to pastoral places with stable hierarchies. "To hear him, to watch him," the narrator thought, "was to see a Negro enjoying himself as only a Negro can." Whatever troubled Burden and the white people of Black Hawk, blind, unthreatening d'Arnault cheered them by appearing to be happy. Happy despite Jim Crow, happy despite his blindness. The "singing slave" survived emancipation as the "ideal Negro" for a white man like Jim Burden.
The "singing slave" survived emancipation as the "ideal Negro" for a white man like Jim Burden.
White people who heard "My Old Kentucky Home" in the decades after the Civil War generally thought of it as an old "negro" song, full of "simple pathos." Foster's parlor-blackface hybrid found an important new venue a few years after Appomattox when the touring "Colored Students" of Virginia's Hampton Normal and Agricultural Institute performed it after the spiritual "Go Down, Moses." "Tell old Pharaoh / To let my people go" rubbed up against "We will sing one song / For the old Kentucky Home, / For the old Kentucky Home, far away."
The Old Testament-inspired plea for liberation shared one thing only with Foster's hit—an association (in Foster's case a deeply inauthentic one) in the minds of whites with plantation slavery. The first song yearned for freedom, the second for "home"—in slavery. In an evening of jubilee songs, billed as "genuine soul music of the slave cabins" and "wild" emanations of "children of nature," the familiar, European-sounding strains of "My Old Kentucky Home" offered white audiences an "elevated" interlude that to them remained "Black."
Hampton's neatly dressed students and other "Jubilee Singers" personified Black aspirations and respectability as they appealed to sympathetic whites for charity. The Fisk Free Colored School in Nashville assembled the most famous group, which toured for years to raise enough money to erect a campus building. Crucially, the collegiate singers also unlocked an American entertainment business that had previously been almost entirely sealed against their race.
For Black musicians and performers new opportunities came with costs. More and more nonwhite singers, dancers, and actors made it onstage in the 1870s, 1880s, and 1890s, but whites still produced the shows, owned the venues, and controlled the content. Blackface minstrelsy was a known commercial quantity, and Foster's plantation melodies supplied reliable inauthentically authentic "Black" material. When formerly enslaved Americans and their children took the stage in the post-Civil War decades, Foster's music became more convincingly "true" to white listeners. It was not just a song about Black people but a song perceived to be by and of them.
The white men of blackface minstrelsy posed as race scholars, skilled in showing the ways of Black folk. White people liked to believe that such performances required no skill for those with African blood endowed with native-born musical and dancing ability. No significant production involving Black talent during this era escaped the dark shadow of the "minstrel mask." The genre and its racist tropes were sealed into American show business.
*
A pair of spectacularly gifted sisters from Sacramento, California, worked Foster's "My Old Kentucky Home" into their signature 1870s act. Anna Madah Hyers (ca. 1855–1929) and Emma Louise Hyers (ca. 1857–1901) grew up middle class in Sacramento during California's gold rush years. Even as small children, their lives revolved around music. Their father owned a barbershop and hired piano and vocal instructors for the girls even as white state legislators banned Black children like them from public schools and men like their father from voting or testifying in legal cases involving whites.
At their formal debut in 1867, the sisters were 12 and ten years old. As teenagers, Anna Madah and Emma Louise performed operatic arias in Italian. Their "mature and perfect" voices invited comparisons to white artists like the "Swedish nightingale," Jenny Lind and critics referred to them as "young ladies." At such moments, the future seemed to promise respect and equal treatment across the color line. By the time they reached New England in the 1870s, Anna Madah (soprano) and Emma Louise (contralto) formed the first all-Black classical music stage act.
Their very presence in these spaces defied conventional notions about Black women, a group represented up to this point by black-faced white men in skirts. Instead, the Hyers Sisters' versatile work as singers and actors broke racial and gender stereotypes (Emma Louise often adjusted her voice to tenor and performed in drag as her sister's love interest in operatic duets) while demanding respect as professional artists.
But the classical act didn't sustain the sisters for long. Over time they added popular music to their repertoire, including "My Old Kentucky Home." In 1876, the Hyers Sisters' manager commissioned Joseph Bradford to write a "Great Moral Musical Drama" tracing an arc from slavery to freedom to thriving Black citizenship in a renewed nation.
Bradford also created something new in American theater by focusing entirely on a loving Black family and leaving out white people altogether.
Born outside Nashville into the slaveholding elite, Bradford was studying at the U.S. Naval Academy at Annapolis when hostilities erupted in 1861. The youth enlisted in the Union fleet and spent the war maintaining the blockade that shut off cotton exports to Europe—the Confederacy's economic lifeline. Bradford's father disowned him for this act of disloyalty. After the war, Joseph took his mother's name and embarked on a stage career that eventually brought him to Boston, where his progressive views on race were more acceptable.
Most northerners supported emancipation, but in the decade since that achievement questions about the peaceful absorption of formerly enslaved southerners into the nation remained unresolved, largely because it remained implicitly and explicitly resisted. This was violently true in the former slave states.
In 1875, in Clinton, Mississippi, where Black men had taken part in elections, an altercation between white Democrats and predominantly Black Republicans erupted at a large Republican Party rally. Days of white attacks on Black citizens followed, leaving some 50 dead. The governor's pleas for aid from Washington went ignored. Similar atrocities went unpunished in South Carolina. Northern white support for Reconstruction had weakened while southern white Democrats reclaimed political control, state by state. As the Hyers Sisters took Joseph Bradford's Out of Bondage on the road, the new president, Rutherford B. Hayes, ordered the last federal troops out of the South and shut down the remaining Freedmen's Bureau offices.
Ex-slaves were on their own. The play's "slight" plot, woven through with classical, popular, and original music, aimed at rallying support for civil rights and demonstrating that former slaves could thrive in a just nation.
To make this simple but increasingly contested message palatable for white audiences, Joseph Bradford included familiar minstrel humor and sentiment. Out of Bondage opens in a cabin, with characters bearing stereotyped names, speaking largely in "dialect," and singing a great deal. But Bradford also created something new in American theater by focusing entirely on a loving Black family and leaving out white people altogether.
As Union forces approach, the parents (Uncle Eph and Aunt Naomi) and their offspring confront a dilemma. Their enslavers have fled, but Eph decides that "it's too late for us to make any changes, old woman." Hearing "de shout of freedom," the young people, including Emma Louise and Anna Madah, bid farewell and head north with "hope and joy the heart can never tell."
Years have passed when the second act begins. After much searching, the children and parents reunite in the North, where they live in "elegant" surroundings and dress for work in fine clothes. Back on the plantation the children had sounded "like twenty-seben mockin' birds singin' in a magnolia tree in full bloom," a talent the four young people have turned into paying work. At a musical recital the parents are seated "among the white folks" because "here there is no distinction of color, all are free and equal." The concert included the tower scene duet from Verdi's Il trovatore alongside "My Old Kentucky Home."
With the Out of Bondage tour of 1876–1877, the Hyers Sisters marked a path out of the wilderness of the slaveholding era: a path in which hope, faith, and demonstrated talent and respectability would enable Black Americans to overcome white prejudice. Mark Twain beat his own trail to their shows, vowing he would journey "a mile and a half in the most furious tempest of wind and snow…to see the plantation sketches of the Hyers Troupe and hear their exquisite music." New York's Evening Telegram declared that their "refinement, culture, and attractiveness" merited "first-class audiences and first-class appreciation."
Still, the playwright and his stars threw their white audiences plenty of minstrel bones to gnaw on. It is unclear whom the joke lands on when Uncle Eph declares, "Yankees is a heap bigger fools than I took 'em for" to "pay to hear cullud folks sing."
__________________________________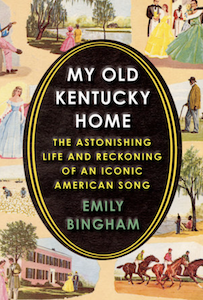 Excerpted from MY OLD KENTUCKY HOME: The Astonishing Life and Reckoning of an Iconic American Song by EMILY BINGHAM © 2022 by EMILY BINGHAM. Published by arrangement with Knopf, an imprint and division of Penguin Random House LLC.
---