Lucy Ellmann: "It's Time For Men to Read Books By Women"
The Author of Things Are Against Us Takes the Lit Hub Questionnaire
Lucy Ellmann's essay collection, Things Are Against Us is out today, so we spoke with her about Jane Austen, what she wishes she could ask her interviewer, and Bach's solo cello suites.
*
Literary Hub: Who do you most wish would read your book?
Lucy Ellmann: Men. It is time for men to recognize the harm patriarchy has caused the world, and start making amends. It's time for them to give up all this power they're so mad for but so bad at handling wisely. Time for them to hand the torch over to women. It's time for men simply to listen to women. But apparently even educated men who read books do not read books by women: in other words, they have no respect for our point of view.
If they aren't even prepared to read a few essays by me about their ruinous incompetence and lack of accountability, let alone read my novels, there's probably little hope of their acquiescing to my ultimate aim, which is matriarchy. We will just have to find another way of achieving it. To perplex men even further, it's a peaceful transition to female rule that I'm after: we've all had enough of male violence.
LH: Which books do you return to again and again?
LE: The novels of Jane Austen. People mistake her wit for complicity and complaisance. She was instead a subtle campaigner for female emancipation. There's a lot of interesting anger there, peeking out of the playfulness. She was sick of the marriage market to which women of her class were subjected, sick of female impoverishment and helplessness, sick of being patronised by dopes, sick of selfishness, arrogance, pretension and philistinism, and sick to death, clearly, of hypochondriacs!
But she doesn't bludgeon you with it, she makes it . . . delicious. She's so funny about everybody: doddery old Mr. Woodhouse with his allegiance to gruel, the insufferably passive-aggressive Miss Bates, blindly egotistical Mary Musgrove, Mrs. Bennet with her poor nerves, Mr. Collins all a-twist with his immoveable opinions and objectives, that are always always wrong, along with the (more forgivable) idiocies of girls addicted to gothic romance or the Sublime. Almost everyone comes in for a knocking, and by this method Austen gradually carves out a creed which includes dignity, kindness, equality, justice, and respect for women. There's nothing frivolous about it.
Even educated men who read books do not read books by women: in other words, they have no respect for our point of view.
LH: Which non-literary piece of culture—film, tv show, painting, song—could you not imagine your life without?
LE: Bach's solo cello suites. I have played them myself, but now I mainly listen to other, much better cellists playing them: Mstislav Rostropovich, Pablo Casals, Mischa Maisky, Alisa Weilerstein, Steven Isserlis, and Pieter Wispelwey. I used to listen to Paul Tortelier play the Bach suites—I had a massive crush on him at the age of sixteen, but I grew out of it. My crush on Bach I never grew out of. I even have a soft spot for my own attempts. These pieces are a treat to play: deep, moving and sumptuous. What the hell would we do with ourselves if there had been no J. S. Bach? Humans have created few things as good as him.
LH: What do you always want to talk about in interviews but never get to?
LE: I always wish I could ask the interviewer questions. Like these, that my husband Todd McEwen wrote for me recently: 1. What troubles you about men? 2. What should we do about over-population? 3. Why do we ignore animals? 4. What is the function of art? 5. Are you a socialist? 6. What do you wish you knew more about, in the world? 7. Do you think things are against us? 8. Name three beautiful things that have nothing to do with people.
My answers would be:
1. Read my book. (He has.)
2. It is time to review the myth that breeding children is a beneficial, sensible, community-spirited or even, personally, a very rewarding thing to do. To subsist within nature, we need to get the human population down to one and a half billion or so. I'm no mathematician but I assume this could be achieved in a couple of generations or so, simply by incentivizing childlessness and (voluntarily) reducing procreation. And people might just be a lot happier: parenthood is not always all it's cracked up to be. Living with an adolescent is especially hard: it's like having a crocodile in the house.
3. Our heads aren't screwed on right. We're caught in an alternative universe, a patriarchal time warp in which we've lost all real understanding of fellow creatures. What scientists offer us is quite the opposite – if they figure anything out about the world, it's always held at arm's length (and probably vivisected). Scientists view things too objectively – that's no way to carry on!
4. To serve as a moral check on science. And to infuriate politicians.
5. Yes. Capitalism has destroyed democracy and it seems set on killing civilization. I want a compassionate global matriarchy, in which people share the necessities of life with each other, including healthcare, education, culture, green spaces, and a guaranteed basic income. Free ice, also. Any other system leads to much misery.
6. The phases of the moon, and how bees live. I guess I should ask a scientist.
7. Mostly, yes. From spitting frying pans to taxes and ecosystems. I suspect extra-terrestrials would be against us too, if they knew we existed.
8. I'll name four that I saw nearby: four blackbird chicks in a nest in a hedge, with huge beaks and black, beady eyes, all facing the same way. 'Birds in their little nests agree.'
LH: Is there a book you wish you had written?
LE: It would be pretty nice to have written Moby-Dick! That is one hell of a crazy book. I don't give a hoot about Ahab, and the harpooning is painful to read, but the rest of the whale stuff fascinated me. What a brave weird concoction, and what a noble effort it is to try to reconnect that profoundly with the animal world—before it all disappears.
_______________________________________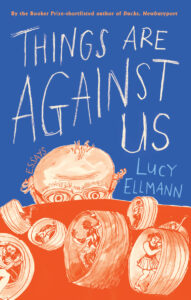 Things Are Against Us: Essays by Lucy Ellman is available now from Biblioasis Books. 
---