Love Letters to Italy: A Reading List
Deb Caletti Recommends Marlena de Blasi, Jhumpa Lahiri, and Andrea di Robilant
Do you know that delicious feeling you get when you read a book about a favorite foreign country? It's when books are at their best—transporting you somewhere you long to be, immersing you in all of the lush details of your perfect spot. Well, the same thing can happen when you write a book about a place you adore. If you get in there as deeply as you should in order to convey that setting to readers, you'll feel that sun, and taste that food, and notice the gold light of the late afternoon as you set the words on the page.
Before you know it, you're not just writing a novel, you're also penning a love letter to that location. I was so happy to "be" in one of my favorite cities while working on One Great Lie: Venice, Italy, that magical, surreal, atmospheric island, full of sinking villas and charming canals. And I was so happy to share my love for the country as a whole, bringing my readers along with me on picnics with a view of the Euganean Hills, to the rocky cliffs of Torre Sant'Andrea, a fishing village at the edge of the Adriatic Sea, and into the cold foyer of San Zaccaria, and then down the stone steps into its eerie, water-filled crypt. And bringing my readers focaccia and cicchetti and lemon gelato, too, along with extravagant amounts of wine, because Italy is a feast for the soul, but also just a feast.
Here are fifteen books that are also a love letter to Italy.
*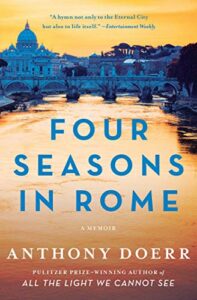 Anthony Doerr, Four Seasons in Rome
(Simon & Schuster)
In this charming, evocative memoir, literary master Doerr (All the Light You Cannot See—sigh!) travels to Rome with his wife and infant twins for a year-long stay after winning the prestigious Rome Prize. It captures all of the chaos, confusion, and grandeur of that city, as Doerr and his family attempt to navigate regular life within its ancient, bewildering, and magical borders. You'll feel all of it, the small, neighborhood shops, the busy piazzas, the snow falling at the Pantheon. In these pages, you'll get a delightful, intimate, full-immersion experience of Rome, just as Doerr did.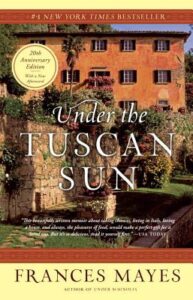 Frances Mayes, Under the Tuscan Sun
(Random House)
A classic among travel chronicles, Under the Tuscan Sun likely began one of my favorite subsets of them, the buy-a-crumbling-house-in-a-foreign-country memoir, and a sub-subset, with recipes. When I'm stressed or overwhelmed, this is the kind of book I want. Set at an abandoned villa, Bramasole, in the Tuscan countryside, Mayes writes with such evocative and loving detail, that you may just get a sunburn while picking those olives from the trees. I rarely reread books, but I recently reread this one, and lingered on the view of the vineyards, and the smell of rosemary, and the recipes themselves. I restored that ancient stone villa, and then put up my feet and rested on the shady terrace after a satisfying day's work. Bliss. And if you want more of that beautiful Tuscan countryside (along with another slice of lemon cake) Mayes serves up second and third helpings in her follow-up books.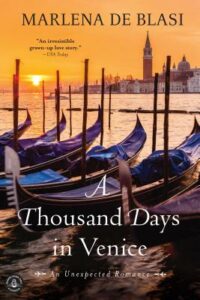 Marlena de Blasi, A Thousand Days in Venice
(Algonquin Books)
Sitting on the shelf next to the buy-a-crumbling-house-in-a-foreign-country travel memoirs, are the fall-in-love-in-a-foreign-country-and-decide-to-stay ones. And the sub-subset of those: with recipes. Optimistic, romantic de Blasi, a divorced American cookbook writer with two grown children, travels to Venice and meets Fernando, a somewhat grumpy but also romantic Venetian. An affair turns into a life together, and de Blasi becomes a resident of Venice, treating us to her dreamy descriptions of the city and its customs, festivals, food, and ambience. It's all as sumptuous (and sometimes as overdone) as a Venetian hotel room, but the book is as hard to resist as her wild mushrooms in wine.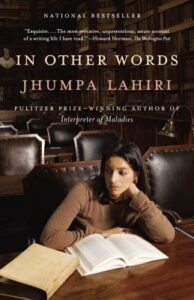 Jhumpa Lahiri, In Other Words
(Knopf)
Not only is this book a pure love letter to Italy, it's a love letter to the Italian language. I'm such a dedicated fan of all of Lahiri's work—every line she writes is beautiful and crafted with care. But this time, Lahiri ups the stakes, writing a delicate, gorgeous memoir in Italian, which is not her native language. Here, Lahiri recounts how she fell hard for the country during a visit to Florence at age twenty-five, and later, with a sense of destiny, moved to Rome, becoming both compelled and determined to express herself in this new language. Her twenty-year love affair with Italian—which includes all of the passion, devotion, vulnerabilities, and private intimacies a love affair entails—is detailed in this stunning story of alienation, identity, and connection. You'll find quiet, elegant descriptions of the sights and sounds of Florence and Rome, but even more, an immersion into an exquisite, romantic language that's worthy of obsession.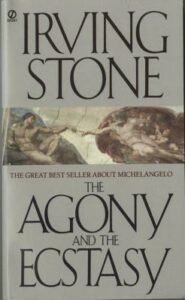 Irving Stone, The Agony and the Ecstasy
(Doubleday)
The Agony and the Ecstasy is the first book that made me fall in love with Italy (and Renaissance art), before I ever went there. When I was in high school, my best friend recommended it, and it was already old then, and a jillion-pages long, filled with tiny words. But, wow, wow. It's the unforgettable biographical novel of Michelangelo, set primarily in Florence and Rome. Read it and travel to hot palace courtyards and cool churches; small villages, and places where the mountains look snowy from marble dust. This is what genius looks like.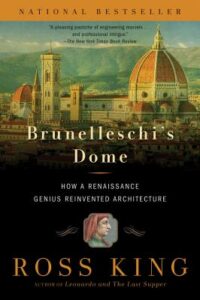 Ross King, Brunelleschi's Dome
(Bloomsbury)
Fellow art history lovers won't want to miss this slim volume about the Renaissance rivalry which resulted in one of the most spectacular achievements in engineering and art history: The creation of the dome of Santa Maria Del Fiore in Florence. (Yup, the one in all the photographs.) Sure, you get plagues, feuds, and the timeless bitchy backstabbing of creative people, but also fascinating facts, and an outright this-will-never-work architectural marvel. A lack of flying buttresses is surprisingly nail biting, too.  After writing One Great Lie, a book full of manuscript restoration, ancient libraries, and the discovery of the feminist teen poets of the Renaissance, I also cannot wait to read King's newest release, The Bookseller of Venice, about Vespasiano da Bisticci, "king of the world's booksellers" during that fascinating time.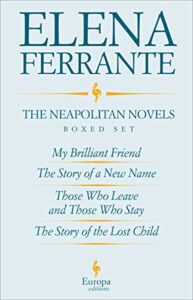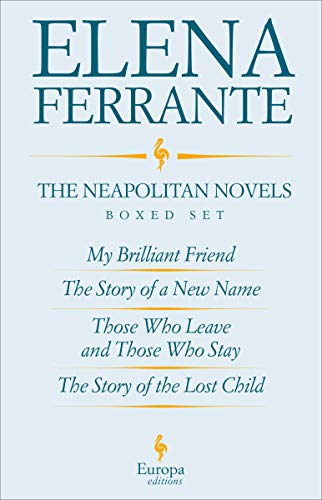 Elena Ferrante, The Neapolitan Novels
(Europa)
If you're only familiar with Ferrante's work through HBO's, My Brilliant Friend (named for the first book in this four-part series), here's a reminder that the book is always better than the movie, even when the movie is excellent. This series follows the friendship of two Neapolitan friends, Elena and Lila, from childhood into adulthood. They're sweeping novels, ones that will scoop you up and plunk you down right into the gritty streets of Naples, and then out to the nearby islands for a vacation. I read My Brilliant Friend while on a Playa del Carmen beach, and, at some moments, each felt as real as the other. And while all of the books feature unforgettable locales, The Story of a New Name, book two, includes a brutal honeymoon to the romantic and picturesque Amalfi Coast. Armchair travelers who dream of blue water and rugged cliffs will want to stay at that bougainvillea-draped hotel perched above the Mediterranean Sea—alone.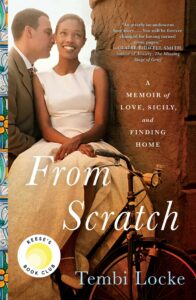 Tembi Locke, From Scratch: A Memoir of Love, Sicily, and Finding Home
(Simon & Schuster)
Moving and tender, From Scratch is the love story of Tembi her husband Saro, a Sicilian Chef, who died of cancer. Food and love and place and family all intertwine here, beginning when Tembi meets Saro in a gelato shop in Florence. During their ten-year marriage, the couple lived in the U.S., estranged from his family, since his parents disapproved of him marrying a Black woman… and an American. After his death, a grieving Tembi and her daughter spend several summers in Sicily, and, through mutual loss and shared time in the kitchen, find unexpected connection with his family. On side trips, you'll experience Florence and Rome, the volcanic island of Stromboli, and the coastal towns along the Sicilian archipelago, as well as vespas on cobblestones, church bells, and grape vines. But you'll come to intimately know Saro's hometown hamlet of Aliminusa, and feel the essence of Italian family life in that stone house with the lace curtains, and in that hot kitchen, where peeling, slicing, and chopping is both love and prayer. Locke writes with heart and poetic sensory detail: Roosters crowing, olive and fig trees, tomato plants outside the door; the smell of brewing espresso on the stove, a colander of beans. And after you've had a good cry at her prose, you'll want to tackle her recipes: Almond pesto pasta, penne with fennel and fava beans, and that classic tomato sauce.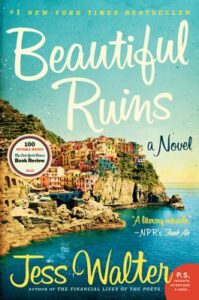 Jess Walter, Beautiful Ruins
(Harper)
Hollywood, an aging actress with secrets, and a gorgeous Italian locale… This would be irresistible, even without Walter's always-beautiful prose. Ruins is set in a sun-drenched seaside village, Porto Vergogna, most likely the fictional version of one of the cliffside villages of the Cinque Terre on the Ligurian Sea. Put on your bathing suit, grab your suntan lotion, and immerse yourself in visions of stone steps leading to the sea, an old hotel on a cliff, and crisp, white clothes; Alfa Romeos, and grappa, speedboats, and views from high terraces. I don't know about you, but now I want to go for a swim. The original hardcover has one of my most favorite book jackets ever, satisfyingly tactile, and as visually lush as the story itself. Side note: I believe I've had Thanksgiving with some of those old Italian men in the book.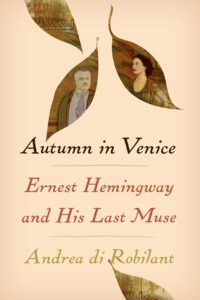 Andrea di Robilant, Autumn in Venice: Ernest Hemingway and His Last Muse
(Knopf)
In this true story, Hemingway tries to regain his lost youth via a love-struck crush on a young Venetian girl, Adriana, in 1948, as his patient wife, Mary, looks on. Hemingway is clearly revisiting some of his dashing, idealistic early experiences made famous in A Farewell to Arms, but after a bunch more years of booze and hard living. And while he most definitely exhibits some hefty, egomaniacal, genius-does-whatever-he-wants traits, it's Adriana who has the upper hand here. Travel along with Ernest and gang to romantic trattorias and enchanting Venetian streets, and on car trips to hill towns and through the beautiful Dolomites.  You'll indulge in amazing food, lots of wine, and a great deal of sentimental, unrequited passion.  Hemingway called Venice, "absolutely, god-damned wonderful," and this book demonstrates why.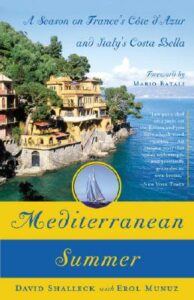 David Shalleck, Mediterranean Summer
(Broadway)
If you ever find yourself landlocked and yearning for the ocean, this memoir is a breath of salty sea air. Chef Shalleck brings us on the dreamiest summer vacation ever, along the Amalfi Coast, across the Tyrrhenian Sea to Sardinia, up to Corsica, and then to St. Tropez, on board the classic sailing yacht, Serenity. It wasn't entirely dreamy or serene for him, though. His employers, a prominent, demanding Italian couple, insist that he never repeat a meal for them or their guests the entire time. Read this one for sweeping view of the sea, luxurious meals, and stops at charming seaside villages. No Dramamine required.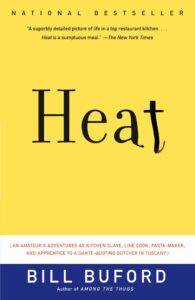 Bill Buford, Heat
(Knopf)
Since we're back on the subject of food, we should definitely do something very Italian, and talk about more food. This time, we'll fill up in Tuscany, with Chef Buford, as he travels to the hills of Northern Italy to learn authentic Italian cooking. Buford's aim: to study the craft of butchery (eek), and to perfect the art of making pasta. Come for the polenta, the tortellini, and the gossip about other famous chefs. Did you know there was a pasta museum in Rome? You do now.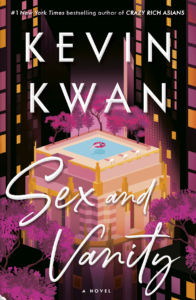 Kevin Kwan, Sex and Vanity
(Doubleday)
After the last few, rough years, we practically owe it to ourselves to read a book like Sex and Vanity. Kwan, who delighted us with Crazy Rich Asians, heaps on more delight in this all-out fun read. Kwan's called it a "love letter to New York," but, oh, you will feel the love for Italy, here, too, and he's dedicated the book to both New York and Capri. It's A Room with a View with a twist, as Lucie Tang Churchill falls for George Zang at a gloriously glittery and lavish wedding between an Italian count and a Taiwanese heiress on the gorgeous, glamorous island of Capri. And if that last sentence was a bit excessive for you, then buckle the seatbelts of your platinum-white Aston Martin, and get ready for witty, literary extravagance, as the rich and famous play along the Amalfi Coast. This is a beach read + satire + smarts, but most of all, while turning those pages, I utterly enjoyed those emerald waters, those white villas, and those coconut sorbets and Bellinis by the infinity pool.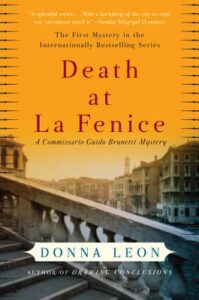 Donna Leon, Death at La Fenice
(Gardners Books)
Mystery lovers, of course I wouldn't forget you! This is the first novel of the Commissario Brunetti series, all set in the beguiling city of Venice.  Here, our admirable, consummate Italian hero, Brunetti, must investigate the cyanide poisoning of a famous conductor, found during an intermission at La Fenice, Venice's opera house. Vivid and lingering descriptions make you feel as if you're right there beside Brunetti, navigating the narrow streets, hurrying through a piazza, or having a meal with his charming family. Prepare yourself for water, water everywhere, and shimmering canals with motorboats and gondolas, and the whirl of pigeons around you in St. Mark's Square.  And, hooray, there are many more books for Brunetti fans.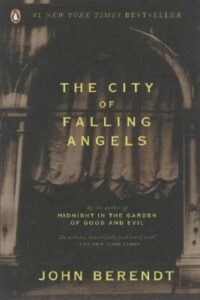 John Berendt, The City of Falling Angels
(The Penguin Press)
We're back at La Fenice, Venice's opera house, but this time for a true story. The City of Falling Angels begins in January of 1996, when a catastrophic fire destroys that beautiful, historic building. And while Berendt follows the investigation throughout these pages, the book is really the biography of the city and its eccentric inhabitants. Picture yourself wandering those twisty streets, and gazing at those teetering, shabby yet grand villas, wondering who lives inside. Berendt slowly opens the door and lets you peek in, revealing scandals and history, decadent and surreal stories of a decadent and surreal city. Venice, you are forever enchanting.
__________________________________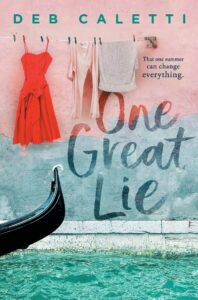 One Great Lie by Deb Caletti is available now via Atheneum Books for Young Readers.
---