Love Affairs with Dead Composers: How Discovering Chopin Saved Mena Suvari
The American Beauty Actor on the Power of Music and the Challenges of Belonging
The apartment my parents found was in Burbank, on a street named Tujunga, right off of the main drag of Glenoaks Boulevard. The complex was small, with a little over 20 apartments. Wood paneled and painted baby blue. Ours was a top unit with two bedrooms and a small balcony off the living room area that overlooked the busy street below. The bedrooms were across from each other and between them was a bathroom, which was mine. My parents had their own bathroom. We had come a long way from the palatial setting of Hilltop.
I walked and walked all around Burbank. The local library down the street from my house was my escape room, the place I found solace. I spent hours there, daydreaming that I could be Alice in Wonderland for a day, venturing to some far-off land where I could meet wondrous creatures full of wisdom and insight and be happy.
I didn't fit in or relate to those around me. I had a mind whose thoughts seemed apart from everyone else. I took a disposable camera and shot photos of things that captured my mind while I wandered the town. The local coffeeshop, Ground Zero, was a favorite hangout. There I played chess with other people my age, misfits and loners like me, and I wrote in my diary while sipping tea, feeling moody and refined. I was lonely. I knew how to exist only far enough to complete the day and do what was asked of me. I felt judged, unliked, and misunderstood.
Deep down I ached to find the ingredients that would make me happy. That search caused me to look out at the world through a lens of sadness—the sad, poetic, romantic, longing teen who believed she would never find happiness again and felt so completely awkward in her body and overall being. I was a mix of confusion and desire. Desire to just be normal and happy. Why was that so hard for me? Why didn't I fit in?
At my new school, my Southern roots got me labeled "the hick." My So-Cal classmates assumed I had grown up on a farm with a tractor and chickens. I was also considered a nerd, because I was way ahead in some subjects and a quick study. And when word got out that I was acting, they wrote me off as a snob.
My bedroom was my sanctuary. Like so many teens who feel alone, isolated, alienated, and different, I shut myself in this safe and sad zone, playing music, gazing out the window, asking questions of the Universe, and opening my heart to my diary.
I linger on and on
Forever in the longest night
What was happy?
I didn't know it anymore.
Page after page it goes by
As if in a state of sadness and woe
My parents rented me an upright piano and I spent every day practicing my Chopin. I'd first heard the incredibly mesmerizing melodies of Frédéric Chopin in the apartment building where we had briefly stayed before finding our place in Burbank. I remember walking around the complex, searching for the source of the most beautiful melody I've ever heard and eventually finding a young woman sitting at an upright communal piano in an open area of the complex, playing Chopin's "Nocturne in E Flat." I was completely struck.
I approached her and stood next to the piano in awe. I had never heard anything as beautiful. It was full of every emotion I felt I had ever had and was never able to express in words, and I felt like my soul was touched through sound. As I watched the woman play, I promised myself that I would learn how to play Chopin. I would find this music and learn it.
Deep down I ached to find the ingredients that would make me happy.
I had goofed around on the baby grand my family had had in our home in Charleston, but I didn't really know how to play, not Chopin. His music was a whole other level of challenge. But learning how to play was only part of the story. Through his music, I fell in love with Chopin himself. Later I would have fascinations with Jim Morrison and David Bowie, but not like this. During this small window when I felt like a teenager coming of age, I connected with this composer, who had died nearly 150 years earlier, at only 39, and yet seemed to know me and the way I felt to such a degree that I believe this relationship actually saved me.
Me and my beloved Frédéric. His music guided my fingers through melodies that expressed how I felt and became the only outlet I had at the time. I practiced every day after school. My mother and father enjoyed my playing, even if it wasn't perfect, because it brought a happiness and enjoyment to our little apartment so far away from the luxurious places we had known before. I think all of us lost ourselves in the music. It felt good to play for them and myself while my mother made dinner. The atmosphere felt like it really was a home. There was stability. And even though we never talked about what had happened to us or how any of us felt about living such a dramatically different life than before, I found it enough at the time to coexist.
__________________________________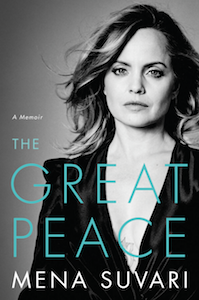 Excerpted from THE GREAT PEACE: A Memoir. Used with the permission of the publisher, Hachette Books, an imprint of Hachette Book Group, Inc. Copyright © 2021 by Mena Suvari.
---