Literary San Diego: A Reading List That May or May Not Include Ron Burgundy
Patrick Coleman on Tommy Pico, Brit Bennett,
Rae Armantrout, and More
What place does San Diego have in the cultural imagination?
Because this is where I grew up, it's hard for me to see it clearly. San Diego can seem like a joke—always trying to be something more than what it is, never measuring up, the overlooked younger sibling of LA and San Francisco. Our politicians are prone to corruption. We're the home town to a losing baseball team, and a lost football team. It's where you move to go on a permanent vacation (if you can afford the high rents and home prices). You can wear a bathing suit just about anywhere, and any time of year. There is too much pride in our Mexican food (somehow more authentic than anyone else's, including Mexico's), our In-n-Outs, and our craft beer, which seem to be the currency of our civic engagement.
It is the ideal kind of place where, to paraphrase the words of formerly San Diego-based poet Ilya Kaminsky, you can living happily during the war—any and all of them.
But it's also the second-largest city in California and home to a diverse mix of cultures from across the US and around the world. Taken as the San Diego-Tijuana border region (the Kumeyaay tribe's historical territory split by the national boundary), San Diego represents a population of over 5 million people. The climate is pleasant, you can explore a range of ecosystems within its range (coastal, mountain, desert, chaparral, and undersea kelp forests), and it is one of the leading biodiversity hotspots on the planet (and thus home to a number of endangered species). RuPaul grew up here. So did Tom Waits (see "San Diego Serenade"), and John Baldessari.
As you can see, I have the hometowner's neurosis. Any metropolis that gives itself the motto "America's Finest City" has more than a little insecurity, and I can talk shit about San Diego until I'm blue—until someone else starts to criticize it. Then the flecks of breakfast burrito start flying from my mouth as I defend it with an accent like I'm Jeff Spicoli (from Fast Times at Ridgemont High, based on and set in a San Diego high school) or a mumble-raging bro from a Kyle Mooney (also from San Diego) sketch.
In literature, though, San Diego doesn't have the presence or identity of a San Francisco, New York, or Los Angeles. It's no Chicago, no New Orleans, not even a Pittsburgh. That doesn't mean there isn't anything happening. Writers can grow up here, it turns out, and not fail to flourish from the lack of rain, from Oakley Hall (Warlock) to Juliet Escoria (whose recent Juliet the Maniac also takes place within city limits). Transplants take surprisingly well, too, like Jim Thompson (The Killer Inside Me, though his time in the city sounds pretty grim), Raymond Chandler, and Theodore Geisel (Dr. Seuss).
There are great reading series, writing programs, some good art, the behemoth that is San Diego Comic-Con, and even a few great bookstores, like Mysterious Galaxy, Book Catapult, Warwick's, Verbatim, and D.G. Wills…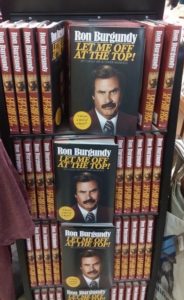 Ron Burgundy, Let Me Off at the Top! My Classy Life and Other Musings
….And yet, still, for many people, San Diego in literature is perhaps best represented by Let Me Off at the Top! My Classy Life and Other Musings, by the venerable Ron Burgundy. It's nearly six years old, a joke on top of a funny but fifteen-year-old movie, and yet, when I recently passed through the San Diego airport, it had a full display and pride of place in the terminal bookstore. It is, if there ever was one, a book designed for the San Diego airport—to grab the passersby with the quintessential San Diego association and leverage it for a quick buck. Welcome. Stay for the jazz flute.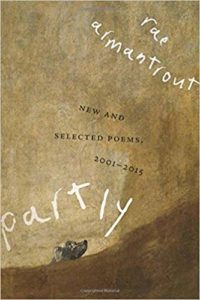 The Poetry of Rae Armantrout
As an antidote to that, spend some time with Rae Armantrout's poems. She grew up in Allied Gardens and has lived and taught in San Diego for much of her life, writing some of the most intelligent, incisive, insightful, and—in a way Will Ferrell could appreciate—funny poetry of contemporary life. She also caused a regional kerfuffle when she wrote, in Newsweek, that San Diego is "a city without charisma"—which, I'll hasted to add, is not quite telling San Diego to go fuck itself. Locals offered to pay her moving expenses.
But she isn't exactly wrong. San Diego is a place that isn't "certified," to borrow from Walker Percy—there are fewer templates or cultural expectations for what your life must be like here, compared to LA or New York, for example. As Armantrout went on to say, "In my mature years I have come to appreciate the blankness of this town. When I step on the street in San Diego, I am not stepping onto a set; I am not stepping into a play, my own or anyone else's." In her work, the ersatz dailiness of ordinary life in San Diego—bills, television shows, illness, reading, advertisements, children—is maybe the best portrait of the city one could make, and certainly a guide for maintaining a vibrant life of the mind here.
Mike Davis, Kelly Mayhew, and Jim Miller, Under the Perfect Sun: The San Diego Most Tourists Never See
Mike Davis, the activist and theorist most well-known for City of Quartz: Excavating the Future in Los Angeles, grew up in El Cajon, in east San Diego County. In Under the Perfect Sun: The San Diego Most Tourists Never See, he and co-authors Kelly Mayhew and Jim Miller turn their attention to San Diego's history. Despite our reputation as laid-back and generally lefty Californians, Davis surfaces the pro-business, hyper-militarized, and racist histories of the region. The book is, it seems, out of print, but for a taste, read his first-person journalism written after Alfred Olango, an unarmed black man, was killed by police in El Cajon. Davis can be a painful but eye-opening tour guide.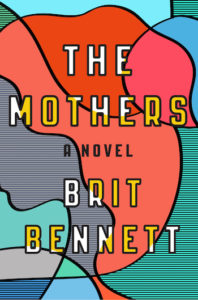 Brit Bennett, The Mothers
I grew up in Oceanside, the northernmost town in San Diego county. It's where the bulk of The Churchgoer is set. While I was working on it, I was thinking about all the complications and contradictions in even just this one small-ish corner of San Diego, and what those complications have to say about the region, the state, and the country we live in. At that point, Oceanside had mostly been known as the home of Charlie's house in Top Gun and the setting for a key cheerleading competition in Bring It On.
Then came Brit Bennett's The Mothers, a beautiful, tender portrait of a young black girl in Oceanside grieving after her mother's suicide. She falls for the pastor's son and gets pregnant, and the chorus of mothers at the church tut-tuts along with her story as she weighs an abortion against her faith, a close friend, and the social pressures of her community (for outsiders, San Diego can be startlingly conservative). Written with a subtle but incisive sensibility, The Mothers gives us an Oceanside, a San Diego, and an America in literature that we need more of.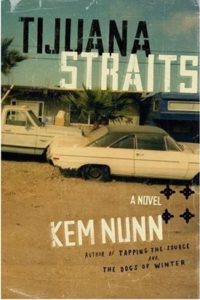 Kem Nunn, Tijuana Straits
The next time Oceanside would enter the popular imagination, it'd be through the television show Animal Kingdom, which features violent but attractive white people who make drugs, crime, and tank tops look really, really good. The surf noir that Animal Kingdom builds on was essentially founded by Kem Nunn. His first novel, Tapping the Source, did a hardboiled number on Huntington Beach, making something terse, Shakespearean, and often poetic about surfing and the odd, grim aspects of southern California beach towns. (It is supposedly the loose basis for the Keanu/Swayze classic Point Break.)
In Tijuana Straights, Nunn brings that approach to San Diego for a story about a Mexican environmentalist working to reform the maquiladoras (factories in Tijuana) who links up with a washed-up surfer. It's so hardboiled it's starting to evaporate, but oddly compelling and moving, too.
Numm went on to work with David Milch on the one-season-wonder John from Cincinnati, which was set in Imperial Beach, the southernmost town in San Diego county, right up against the border with Mexico. It was a brilliantly strange show, a good portrait of the professional surf world and the IB community, but with some unfinished metaphysical (or extraterrestrial?) interests that remain forever unanswered. Thanks, HBO.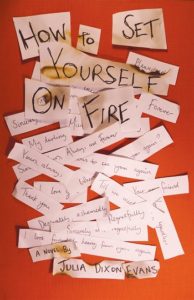 Julia Dixon Evans, How to Set Yourself on Fire
This frank and compelling portrait of Sheila, a thirty-something woman adrift, the box of love letters she inherits from her grandmother, and the grief-stricken neighbor girl she befriends is as cuttingly funny as it is moving. There's a powerful tension in her secrets, compulsive lying, and ambivalence, a kind of suspended anticipation of the other shoe dropping. The San Diego fire season is the backdrop to the story from the first line and sets the tone: "It's the third morning of a wildfire to the east and everyone's used to the smell by now." It's a time of year when many of us San Diegans go through the day with our hearts in our throats, waiting for that signal: smoke on the horizon, the sounds of a CalFire plane or helicopter. With climate change, fire season is stretching out—some years into what feels like the entire year—and that feeling, which this book evokes so well and connects with the lives of its characters in complex ways, is only going to be more and more a part of our experience.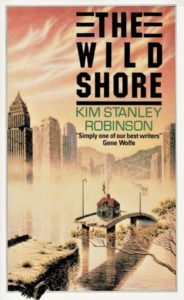 Kim Stanley Robinson, The Wild Shore
Despite its elements of backwardness or parochialism, San Diego is also a region in some sense situated in the future. We have an international character, a border city on the Pacific Rim. We're a major hub for science and biotech, and also the military-industrial complex, as in the aerospace industry, the US Navy, SEALS, and Marines, General Atomics, private military firm Blackwater (now called Academi), and more. We have the Arthur C. Clarke Center for Human Imagination, where I work, and the Clarion Science Fiction and Fantasy Workshop. More science fiction writers have graduated from UC San Diego than any other university—people like Catherynne Valente, Vernor Vinge, Cindy Pon, and Kim Stanley Robinson, whose futures relentlessly examine climate and environmental destruction.
In Robinson's Three Californias trilogy, he imagines three futures for the state by looking at the Orange County of his childhood. The Gold Coast is dystopian, Pacific Edge has been called one of the few successful contemporary utopian novels, and then there's his first book: The Wild Shore. With the United States bombed back to a semi-feral state, the novel starts with what to me looks like utopia: a small, happy community living on the coast near what was the San Onofre power plant. You don't even have to fight for waves. But the protagonist is lured south, to San Diego, whose power-hungry self-appointed mayor wants to re-connect with the great states across the country—which, due to some badly damaged institutional memory, include England (and the U.S.'s greatest writer, Shakespeare)—with the expressly stated goal to "make America great again."
I listened to this book while driving back and forth to work through the little semi-undeveloped jewel of coastline known as Torrey Pines State Park, with mostly sprawling San Diego county suburban development for company the rest of the time. The Wild Shore could be the San Diego of the future—or of today, almost. Unlike, say, the junkyard San Diego of Blade Runner 2049 or the one from Jurassic Park: The Lost World in which a T-rex gets off at the port in a reptilian I Cover the Waterfront (also set in San Diego).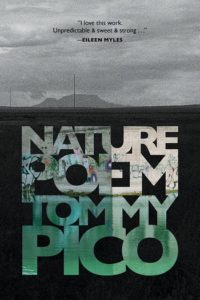 Tommy Pico, Nature Poem
I used to work in Balboa Park, the "crown jewel" of the city of San Diego. One of the tidbits of history I learned while there was how, during the 1915 Panama–California Exposition, organizers set up a quite large "Indian Village," with actual Native Americans living in it long-term for the duration of the expo—but they imported people from the Apache, Navajo, Havasupai, Hopi, Tewa, Keres, and Tiwa tribes and passed over the Kumeyaay on whose land the exposition literally took place. It was a deliberate and politically calculated move. Yet there's still very little Kumeyaay culture or history represented among the museums of Balboa Park.
So my purely imagined, steampunky alternate history involves a time machine to send Tommy Pico back there, Michael J. Fox-style. Pico grew up on the Viejas Reservation (part of the Kumeyaay Nation), writes vividly contemporary and queer poetry (and about the park's museums, too: "Kumeyaay burial urns dug from context, their ashes dumped and placed / on display at the Museum of Man," from Nature Poem), and is a performance force of nature. I like to imagine him stalking around the Balboa Park of a hundred years ago, reading his poems to tourists and locals alike. Having him with us today, in the real world, is a gift.
________________________________________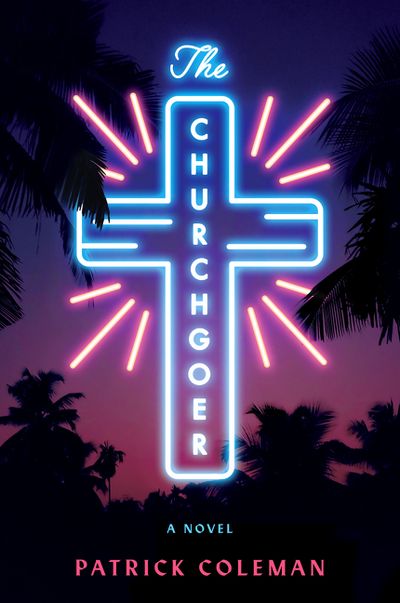 Patrick Coleman's The Churchgoer is out now from Harper Perennial.
---