Literary Long Weekend: Washington, DC
A Paradise of Bookstores and Food
To celebrate our partnership with Kimpton, enjoy 20% off their Best Available Rate. Cozy up in your hotel room with one of our seasonal book recommendations, or venture out on a book lovers' travel itinerary.
Washington DC is known more for the people sent here by voters from other states than it is by its actual residents. But we residents have a literary subculture and history all our own, ranging from the grit of George Pelecanos to the rarified air of Frederick Douglass. While our claim to fame is usually more West Wing or House of Cards than book oriented, even the tiniest scratch in the surface of DC life reveals a lush literary universe. The plethora of bookstores, libraries, and historic events spaces bring authors from all over on book tours or for special, usually politically bent, events. Not surprisingly a disproportionate number of thrillers are set on our streets, where political intrigue clashes with those of us living here year round, surviving taxation without representation. Our writers in residence vary from Dinaw Mengestu to Howard Norman, Alice McDermott to newcomers like Tania James and Elliott Holt. Our poets are as numerous as they are prolific: you're likely to run into Sandra Beasley, Elizabeth Alexander, or Kyle Dargan while exploring any of the spots below. Above all, DC is filled with words. Talk is our main commodity and books, newspapers, and tablets provide ammo for that next impassioned conversation in the streets or at the bookstore.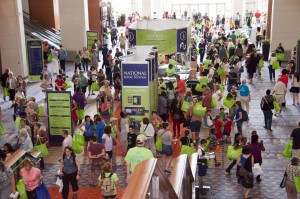 The National Book Festival, put on by the Library of Congress every fall, is worth devoting an entire trip to, though you can also take in the aptly named Fall for the Book Festival from George Mason University. Or if you're interested in cherry blossoms and spring time, the Split This Rock progressive poetry festival is what you want to aim at. Year round, you can explore the American University Visiting Writers Series or the reading Series selected by Pen/ Faulkner and hosted by the Folger Shakespeare Library.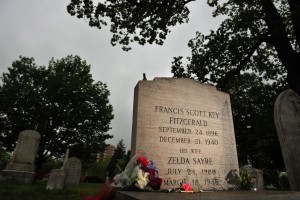 Another nice thing about literary DC is its proximity to literary Baltimore: Edgar Alan Poe, Gertrude Stein, John Waters, the best damn communist book and coffee shop Red Emmas, and the free book exchange The Book Thing. Also sandwiched between DC and Baltimore is the resting place of F. Scott and Zelda Fitzgerald at St. Mary's Catholic Church.
So, lace-up, strap on, or slide into your walking shoes: a book-centric trip to DC is a sprawl of literary delights, from the delicious to the foundational. Note: All of our stops are accessible by metro or bus with a little walking, but can be driven to as well.
Friday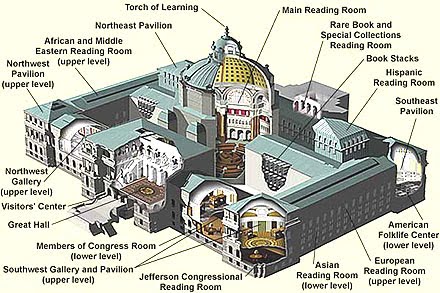 9:00 AM, The Library of Congress: The Library of Congress boasts over 100 collections of 800,000+ books, broadsides, pamphlets, theater playbills, title pages, prints, posters, photographs, and medieval and Renaissance manuscripts that show the influences on and works produced by Americans. Peeks at the personal libraries of figures like Susan B. Anthony, Thomas Jefferson, Theodore Roosevelt, and Houdini. Adjacent to the library are the research centers where, every day, hundreds come to work in reading rooms and read masses of historic documents, check out films, and create scholarships and pieces of creativity that may one day wind up in the library. And what is tourism without a visit to the gift shop guaranteed to delight book nerds.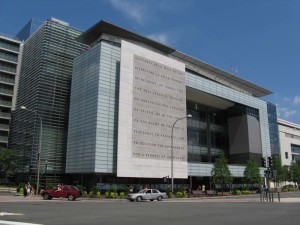 11:00 AM, The Newseum: In addition to the First Amendment being emblazoned on the front of the building, the Newseum has a gallery devoted to the freedom guaranteed by the amendment that focuses on banned and challenged books. If you need a little more patriotic literary fire, proceed to the great books area featuring writing that promotes freedom of thought and press.
12:00 PM: Hungry? If you prefer to stay around the mall, the recently opened National Museum of the American Indian has the wonderful Mitsitam café. After lunch take time to walk through the exhibits featuring stories and oral histories you sadly won't find in most American history books.
 2:00 PM, Capitol Hill Books: While still enjoying the capitol part of the Capitol city, head to this charming and rambling used bookstore. You can get lost in the stacks, but a knowledgeable bookseller will likely rescue you with good humor after you find yourself holding dozens of mysteries and wondering why you would ever leave this cozy place.
3:00 PM, The Folger: Take some time to explore this gorgeous library devoted to the greatest writer from the country we rebelled against. The Folger Shakespeare Library has folios and early bound editions of the Bard's work as well as the work of his contemporaries. Scholars come to work with the manuscripts and learn how to properly handle these sacred literary relics. The Folger Theatre shares the space as well, creating an Elizabethan theater out of a small space to produce some of the most inventive and brilliant productions of the Bard's work.
5:00 PM, MLK Jr Memorial Public Library: For an example of gentrification gone wild, head north to the Chinatown area, home to events spaces for the literary-at-heart including theaters, the 6th & I Historic Synagogue, and the DC library system central branch, the Martin Luther King Jr Memorial Library. The MLK library is undergoing a renovation with input from the community and features writing workshops, an art gallery, film viewings and author talks. This beautiful library is the hyper-modern companion to the classic, old-world design of the Library of Congress.
7:00 PM, The Kennedy Center: If you love literary monuments, the Kennedy Center features a beautiful Don Quixote statue given to us by Spain and featuring an inscription reading, "Well might the enchanters rob me of my good fortune, but never of my spirit or my will."
Saturday
9:00 AM, The Potter's House: This gem in the neighborhood of Adam's Morgan is a coffeeshop with a hard literary bent. Grab a strong cup, browse the books, and compare literary tattoos. The Potter's House has been open since the 1960s but was renovated last year, and is an engaging, community-oriented space.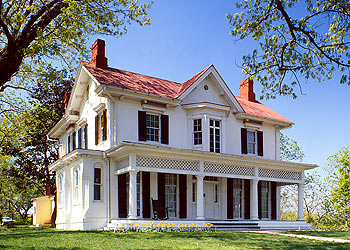 10:00 AM, Frederick Douglass Historic National Park: Having fueled up with coffee or tea, hop on the metro and take the long but worthwhile trek to Anacostia SE and Cedar Hill, the home of Frederick Douglass. Enjoy a park-ranger led tour of the Douglass house and its gorgeous grounds. There are special events, reenactments, and exhibits.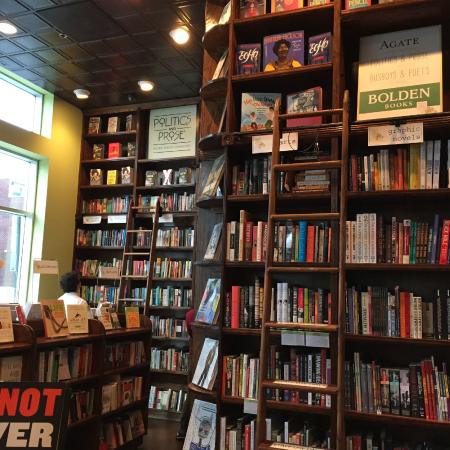 2:00 PM, Busboys & Poets and Eatonville: It's time for a late, literature-inflected lunch. Head to back into town to the corner of 14th and V for the unique menu at the Langston Hughes-inspired Busboys and Poets restaurant. The menu's trademarks are veggie and vegan fare, alongside an impressive soul-food chicken dish and pretty good pizza. The best part, though, is the fully fledged bookstore inside this location, run by Politics & Prose booksellers. Can't find just the right thing? Across the street is Eatonville, a restaurant named for Zora Neale Hurston's hometown. Hurston studied at nearby Howard University and had the Harlem Renaissance's ultimate frenemy relationship with Hughes.
4:00 PM, Politics & Prose Bookstore and Coffeehouse: Famous for its hundreds of annual events, classes, and literary programs, Politics & Prose has been an independent staple in DC for 30 years. A large general bookstore, you can while away hours getting book recommendations, browsing the sale room, picking out gifts, and enjoying the famed children's department. The coffeeshop offers important sustenance while you pore over your glorious finds and await that evening's free event, whether it be local literary treasures Will Haygood or Jane Shore, or the late-night Nerds! Trivia.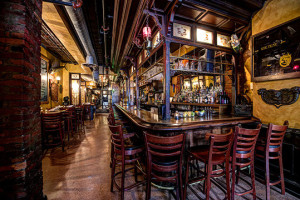 After dinner drinks: You can pick your dead white guy literary fetish and choose between bars back downtown, owned by the same proprietor: Cafe Saint-Ex, inspired Little Prince author and pilot Antoine de Saint-Exupery, or step next door to Bar Pilar which has its literary roots in the machoism that caused Hemingway to name his boat and lead female character in For Whom the Bell Tolls the same thing.
Sunday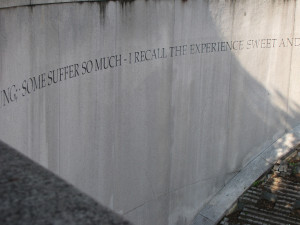 10:00 AM, Dupont Neighborhood: take the metro to Dupont Circles station and make sure to exit on the Q side. As you ascend the escalator you will see the quote on the circular granite wall above you from Walt Whitman's "The Dresser."
Thus in silence in dreams' projections, 
Returning, resuming, I thread my way through the hospitals; 
The hurt and wounded I pacify with soothing hand, 
I sit by the restless all the dark night — some are so young; 
Some suffer so much — I recall the experience sweet and sad . . .
Dupont's vibrancy is well captured in the Whitman poem as its circle features a large central fountain and a garden filled with sprawled out readers, musicians, and commuters. The plethora of book-ish places surrounding Dupont circle also speak to the words spoken by one time DC resident Whitman.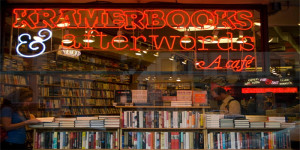 11:00 AM, Kramerbooks & Afterwords Café: It's time for brunch because you can't be in DC without spending Sunday surrounded by books, booze, and food. Kramer's tables are piled high with literary picks, and its late hours have made it a haunt for the literati for decades. Afterwards Cafe is known for its perfect deserts and drinks and you'll be torn between the great food and the books themselves. Not a bad problem.
1:00 PM, Second Story Books: Continue around Dupont circle to P and 20th St NW, to a book collector's delight, Second Story Books. Featuring walls of limited edition collectable books as well as gently used classics and recent releases, Second Story is a browsers paradise and its knowledgeable booksellers can help you track down or sell that rare title.
3:00 PM, Fantom Comics: Check out the comics shop that has more book clubs, events, game nights, and new releases than your inner nerd could hope for and be welcomed whether you are well versed in the graphic arts or a complete newbie. Devoted to not only comics but LGBTQ awareness, social activism, workshops, and a good time as well, Fantom Comics has become a fixture in the city's literary landscape.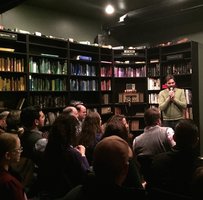 5:00 PM, Upshur & Reading Room: The newest bookstore in DC's pantheon, Upshur Street Books is a small and beloved store featuring local art exhibits, a curated schedule of author readings, and interactive events such as a flash fiction night and a 24-hour reading Ulysses on Bloomsday. A major bonus is its sister restaurant and bar next door, Petworth Citizen Reading Room, which nails its mixed drinks, provides perfect appetizers and burgers, and features a reading room with shelves organized by color. The reading room is a book exchange in and of itself, so if by this point in the journey you find yourself in need of unloading books you can add to the rainbow arrangement of donated spines.
---