Literary Long Weekend: Tampa Bay
From Kerouac to Scientology!
To celebrate our partnership with Kimpton, enjoy 20% off their Best Available Rate. Cozy up in your hotel room with one of our seasonal book recommendations, or venture out on a book lovers' travel itinerary.
The Tampa Bay area consists of several cities, most notably Tampa and St. Petersburg. They are sister cities of a sort, like Minneapolis and St. Paul, except not at all. The Tampa-St. Pete connection is made over one of three bridges that cross the bay, a definitive separation between Tamponites and Petersburgers, as absolutely no one refers to them.
Tampa has lots of admirable qualities: beautiful historic buildings, a massive body of water, craft beer out the wazoo, and a newspaper that has won four Pulitzers in the last ten years. Confusingly, the Tampa Bay Times is located in St. Petersburg, which is admirable in its own ways. St. Pete, for instance, actually designates a Poet Laureate–something every serious city should do. The state caught on to this idea and, just this year, named Peter Meinke the Poet Laureate of Florida (Meinke is also the former PL of St. Pete). St. Pete is also home to two major literary events: the Tampa Bay Times Festival of Reading; and the Writers in Paradise conference, held at Eckerd College and co-directed by Dennis Lehane.
With diverse pockets of culture and weirdness, the whole bay area is a kind of microcosm of Florida—a place both friendly to readers, and fertile ground for fiction writers.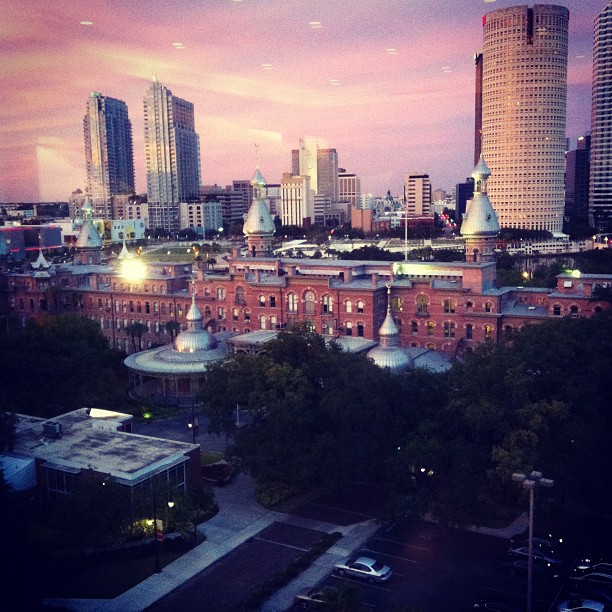 FRIDAY: Tampa
9:00 AM – Bad News
Every time I get on the interstate to drive from Orlando to Tampa, I curse the man in Tallahassee (Florida's state capitol) for unilaterally rejecting federal funding for a high-speed rail that would have connected the two cities. As it happened, on the morning of my departure for this Lit Hub assignment, our local NPR station reported that the governor had, with the stroke of a pen, cut the state's arts budget in half. Needless to say, I was particularly irate during the hour-and-a-half drive through all the backcountry hamlets that helped elect him.
11:00 AM – Inkwood Bookstore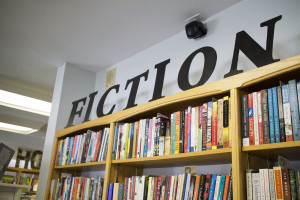 But there could have been no better first stop than Inkwood, Tampa's steadfast indie. Their marquee sign greeted me with the owner-crafted message: "Easy to get a gun, hard to get health care." I immediately felt consoled, knowing I was not the only self-righteous sane person in the world. I also happened to show up on National Typewriter Day (full disclosure: this visit actually happened on a Tuesday) to find a bunch of amazing vintage typewriters out for the customers to play with. In addition to quirky moments like these, Inkwood boasts a solid fiction section, including a display devoted to Europa Editions. They also host a book club, an open mic, and a ton of authors, including Chelsea Handler, Khaled Hosseini, Greg Sestero (of The Room infamy), and the dynamic duo of Neil Gaiman and Amanda Palmer.
Noon – Lunch at Café Hey
A nice exposed-brick eatery, but also the site of Tampa's inaugural Lucha Libro, an event that originated in Peru and involves writers dressing up like pro wrestlers and facing off to see who can create the best prompt-based prose. This is done on typewriters, which seems to be an emerging theme.
1:00 PM – Ybor City
The Cuban Revolution sent a lot of cigar factory owners across the water to set up shop in friendlier conditions. And thus Ybor was born. At night, the trolleys fill with drunks and pleasure-seekers out to explore what the city calls its "entertainment district," but in the daylight hours you can tour what has officially become a National Historic Landmark District. The draw for literary folks is learning about the Lectores, men hired by cigar factories to read to the workers. These men would get up on a platform and crack open Zola or Cervantes or Marx to break up the repetitive nature of cigar rolling. A local history professor once told me that, during a shift change, things could get heated between Lectores. If a Lector thought the content his replacement planned to read was too radical or risqué (there were women rollers, by the way, and chivalry was not dead), he might challenge his this man to a duel. This begs the question: what author or book would you die for?
3:00 PM – Indigo Coffee + Old Tampa Book Company
There's lots of great coffee in Tampa, but it's at Indigo, in downtown Tampa, where you might run into the poetry editor of Driftwood lit mag hard at work on the next issue. Driftwood is based in Tampa and you can find their stuff at the local bookstores, including the Old Tampa Book Company, which happens to be around the corner from Indigo. There's nothing better than getting buzzed on caffeine and exploring stacks and stacks (and more stacks) of used, rare and out of print books.
4:00 PM– Oxford Exchange
Just across the Hillsborough River, on the other side of downtown, I hit the Tampa bookstore trifecta at Oxford Exchange. OE houses a café, coffee shop, tea shop, curio shop, co-working/meeting spaces, and—you guessed it—a bookstore. It's an overwhelmingly opulent place, falling somewhere on the design spectrum between Apartment Therapy and Lifestyles of the Rich and Famous. The bookstore maintains the same aesthetics as the rest of the place: lots of pretty face-out art books, a decent fiction section, and displays of beautifully designed re-issued classics. The layout is intended to be a "fuck you" to e-readers, and it's certainly easy on the eyes, though it makes for a slightly alienating browsing experience.
7:00 PM – University of Tampa
Not many universities operate out of a defunct Florida hotel built by Henry Plant (though there does happen to be one in St. Augustine that's based out of a defunct hotel built by Henry Flagler). Anyhow, the University of Tampa has minarets! It's also got the Tampa Review, Tampa Press, and a low-res MFA program founded by the amazing writer Jeff Parker, and now run by the equally amazing poet Erica Dawson. UT's program offers a staggering amount of talented faculty, including Booker Prize-winner Josip Novakovich; and visiting authors participate in the MFA's Lectores Reading Series, which has featured literary heavyweights like Denis Johnson, Lydia Davis, George Saunders and Karen Russell, to name a few. The residencies often end with one of Dawson's trademark dance parties, which sometimes draw weirdoes such as yours truly.
Night – Seminole Heights
Tampa has a ton of world-class craft breweries, many of them a stone's throw from one of my go-to crashpads in the Seminole Heights neighborhood. Angry Chair and The Southern (which also sells homebrew goods) are my top choices. After all that beer it seems like a good idea to drink more, so you might end up at The Mermaid, where I've often zoned out to a genre of music I'm too old to identify but nonetheless sounds like a shoegaze soundtrack to 20,000 Leagues Under the Sea. It makes you feel so good you want to sing, which means you have to hit up the Corner Club, a lovely karaoke dive where you might witness a certain bartender's gruff rendition of "Short Dick Man." Goodnight.
SATURDAY: St. Petersburg
What time is it?
I woke up in Tampa, a bust of Elvis staring at me from a mantle, on a couch that turned out to belong to John Henry Fleming, a Tampa-based writer of fabulist stories and new Florida myths, among many other things. He is a nice man, a maddeningly good writer, and he teaches in the MFA program at the University of South Florida, a program that recently added comics classes to its curriculum, and the option to do a graphic narrative thesis. He also founded Saw Palm, the university's lit mag that publishes writing and art exclusively set in Florida. I asked Fleming for a fabulist method of transport that might get me to St. Pete in a flash, but he just frowned and said to take the bridge.
Beer O' Clock – Hair of the Dog at The Flaming Sports Bar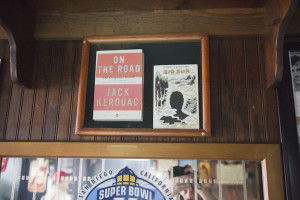 Like every great dive, the Flaming Sports Bar has been accumulating smoke since it opened in 1924. It's only natural to stumble into (or out of) the place in broad daylight. The Flamingo is perhaps most famously known as the bar where Kerouac had his last drink (no other bar in the area has contested this claim). He wrote The Dharma Bums in Orlando, and in St. Pete he died. Drank himself to death, if we're being honest. Kerouac, proto-snowbird, reportedly said St. Pete was "a good place to come to die." So he did, and now you can get a Kerouac Special (a beer and a shot for $2.25) and a t-shirt with his likeness, all while wallowing in the pristine oblivion of the old Beat's haunt.
1:00 PM – 5169 Tenth Avenue North, Kerouac's St. Pete Abode
In 1969, a local reporter paid a visit to Kerouac's St. Pete home. The poor author was in bad decline. He'd apparently been moderating his booze intake by drinking out of pill bottles and would be dead a few weeks later. Though the place is more a momento mori than a monument, Kerouac's final residence is a sort of mecca for Jack fans. Notes from admirers fill the mailbox. When the giant water oak in the backyard had to be cut down, local writer and Kerouac aficionado Darrell Nicholson was there to snag a piece of it. When I asked about his plans for the memorabilia, he said he "might do some sort of 3D art project with it, or just burn it and inhale the smoke when writer's block sets in."
3:00 PM –The Dali Museum
Every literary pilgrim should not be so one-dimensional as to simply focus on books and writers in their travels, which is why the Dali Museum was a welcome shift in mood. Situated on the bay, bordered by tall palms and docked yachts, the architecture juts from the landscape like a geographical anomaly. Appropriately surreal, a somewhat brutalist block of hurricane-proof concrete is propped up on one corner by a craggy stone pillar, and penetrated throughout by bubbles of geodesic glass reflecting the royal blue water that surrounds it. Inside, a double-helix stairway leads to exhibitions related to Dali and his era, or to the permanent collection, which creates a comprehensive narrative of the artist's growth. Some of the masterworks are there, but also more obscure works with fantastic titles like "Atmospheric Skull Sodomizing a Grand Piano," which, to the delight of contemporary realists, depicts exactly what the title suggests.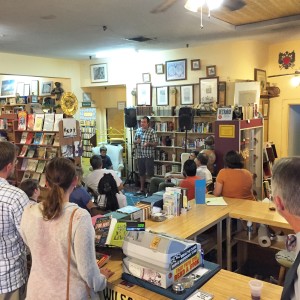 5:00 PM – Wilson's Book World + Haslam's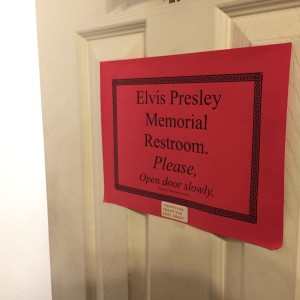 The quirkiest thing about Haslam's, which has been around since the Great Depression, is its website. Reminiscent of Geocities, it features a page dedicated to the old computer game Doom. But Wilson's Book World rivals the quirk IRL with their Elvis Presley Memorial Restroom (you have to see it to understand). The point is, both Wilson's and Haslam's, quirks and all, are the best kind of bookstores, built for the book junkie who likes to get completely lost in room and after room of books.
7:00 PM – St. Pete Museum of Fine Arts
A fine museum for sure, but mentioned here because it's the home of Keep St. Pete Lit's monthly book club. The local lit nonprofit recently added a kids' book club that intentionally coincides with a parents' date night. Keep St. Pete Lit has other programs spread around the area and often partners with other great orgs like St. Pete Zinefest and the Bluebird Book Bus (which is a bright blue shortbus that bestows lit upon the land).
8:00 PM – Studio@620
Studio@620 is an arts venue that hosts a lot of literary events, including the Wordier Than Thou open mic. Wordier is an ambitious venture, expanding its open mic to other Florida cities, as well as spearheading Florida Bookstore Day—a state-wide celebration of indies. Wordier founder Tiffany Razzano continues to rally lit folks around interesting events like lit crawls, themed readings, workshops, and most recently a summer camp for grown ups (like with actual cabins and hopefully s'mores).
SUNDAY: Choose Your Own Bay Area Adventure 
Gibsonton
Winter respite for carnival workers and home to retired circus sideshow performers like the Fat Woman, the Giant, and Lobster Boy, Gibsonton is a fiction writer's goldmine. Thanks to circus-friendly zoning laws, you'll find a lot of old carnival equipment and the occasional big-game animal hanging out in front yards. To explore the town now might be something like stepping into D.H. Lawrence's description of Rome after the fall, right down to the bears roaming the streets. While the town served as inspiration for a 1985 Dean Koontz novel and an X-Files episode, the modern fiction writer should rely on empathy rather than exploitation.
Tarpon Springs
Tarpon Springs is perfect for foodies, beer nerds, and sponge collectors. The town is home to one of the largest Greek populations in the country, and thus there is a ton of legit Greek food. There's also St. Somewhere, an under-the-radar brewery of traditional Belgian style ales—open fermented and all. Their funkiest concoction—Serge—is actually named after the recurring protagonist of Tim Dorsey's wacky Florida novels. Pair the food and the beer with the oddly fascinating history of the sponge industry that built the town, and you've got enough material for your own Florida saga.
Clearwater
Did you know that Clearwater is a Scientology mecca? When author Don Peteroy visited Orlando, he made me drive him all the way out there. We tried to get a tour of Fort Harrison, an ostensible hotel but more accurately a private retreat. Don said they offered a "tour" of the "hotel" during which they'd try to convert you—the first spiritual auditing is free! A few steps into the lobby we were greeted/questioned by a security guard. When we asked about the tour, the guard asked for our IDs and took down our names. He wanted a phone number because apparently it would be a little while before "a tour could get organized" and he'd call us when it was ready. We walked down the block in the shadows of the towering Scientology-owned buildings, distinct in their lack of doors or windows or any sidewalk access at all. We finally arrived at a Starbucks, where everyone in the town seemed to be gathered. The Starbucks shared the intersection with three more Scientology buildings, and we waited for an hour before giving up on the tour. Don figured they'd Googled our names, saw we were writers of some kind, and didn't want to risk any negative press.
On the way back to the car, down that creepy main drag, a gaggle of Sea Orgs in full naval garb emerged from an unmarked door painted the same color as the wall. Blonde hair, blue eyes, and lilting gates, they schooled around us, not once making eye contact or acknowledging our general existence. It was pretty chilling and so we got the fuck out of there real quick. My tip for further exploration of this particular destination: bring a fake ID, and be careful.
---