Literary Hub's Best Books of 2016
Our 35 Favorite Books of the Year
Emily Temple, Associate Editor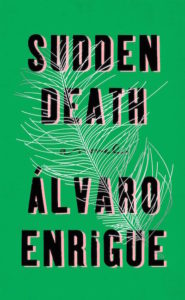 Sudden Death, Álvaro Enrigue, trans. Natasha Wimmer (Riverhead): The best way I can think to describe this novel is as a work of historical absurdism. At its center is a bizarre 16th-century tennis match between Spanish poet Francisco de Quevedo and Italian painter Caravaggio, who are playing, naturally, using a ball stuffed with the hair of Anne Boleyn. But of course that really doesn't explain anything. Add Cortéz, a mini screenplay starring Pope Pius IV, and Enrigue's own (actual or non) email exchanges with his editor, and the whole thing becomes an intellectual swirl. But despite its disjointed aformality, every page is entertaining. A work of brilliance.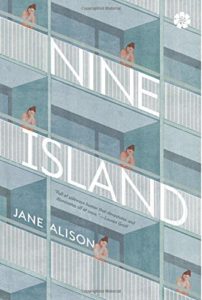 Nine Island, Jane Alison (Catapult): In Alison's beautifully cerebral "nonfiction novel," a woman, J, spends her days translating Ovid, swimming in the cracked pool of her Miami condo, and wondering whether or not she should give up on love. The novel investigates this woman's relationship to the transformative Latin text, to ex-lovers and ex-husband, and to her neighbors, and her cat, and a duck, and her mother, all of whom need care—like J, really, though she would be loathe to admit it. There aren't enough novels that tackle female sexuality with such an intellectual, incisive glare, and there are even fewer that dare to address the sexuality of women over, let's say, 35. Alison's novel, though, re-establishes female desire (or the lack thereof) as an enormous, transformative, literature-worthy topic. Which is something Ovid knew all along.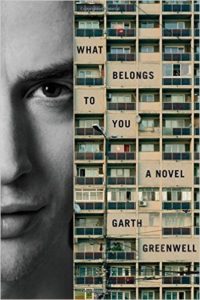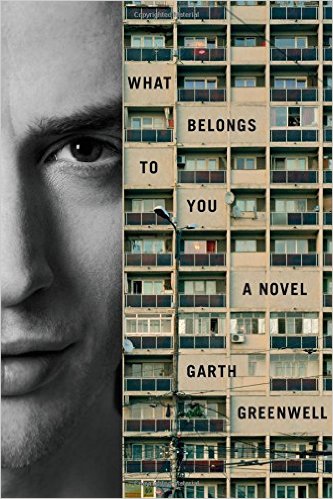 What Belongs to You, Garth Greenwell (FSG): Listen: this is a novel in which the writing is so beautiful—so, frankly, luminous—that you won't even notice that the entire middle section is one 41-page paragraph. It's obvious that Greenwell is a poet, but it's also obvious that he's a storyteller, and the story here is infused with passion, desire, and—well, it sounds dopey to say, but, kindness.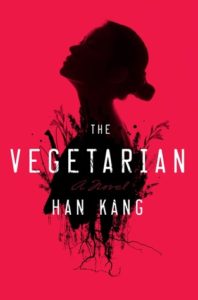 The Vegetarian, Han Kang (Hogarth): While reading this book, I kept finding my fingers in my mouth. (Well, for a variety of reasons. Don't be nosy.) The novel is made up of three novella-length sections, each told from a different perspective, but each focusing on Yeong-he, a woman who slowly—and then quickly—recedes from life, at least as her family, and maybe the world, would prefer she lived it. She begins, yes, by giving up meat, but things get stranger and stranger from there. "Why am I changing like this?" she asks herself. "Why are all my edges sharpening—what am I going to gouge?" Well, this reader's little carnivorous heart, for one thing.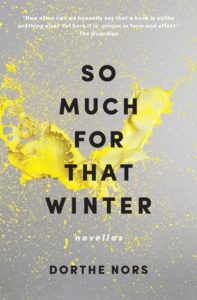 So Much For That Winter, Dorthe Nors, trans. Misha Hoekstra (Graywolf): Lord knows I love a list. This volume contains two experimental novellas in what could be called poetic but is essentially list form—the first a series of headline-style declarations, the second a numbered sequence—but both are often funny, regularly gutting and sometimes bizarre, and both get at, in snips and starts, something essential about the human experience. 
*
Jess Bergman, Features Editor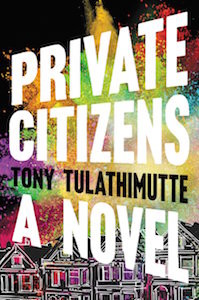 Private Citizens, Tony Tulathimutte (William Morrow): Private Citizens is as funny as it is terrifyingly smart (and occasionally simply terrifying, in the case of a lasik surgery gone wrong); if it were a person instead of a novel, I'd probably be too intimidated to approach it at parties. Tulathimutte's debut, set in mid-aughts San Francisco, follows the increasingly surreal lives of four fundamentally mismatched college friends with a diverse array of physical and emotional damage. It's a premise that seems ripe for satire—an assignation often slapped arbitrarily on any comic novel—but Private Citizens is ultimately tempered by a curious kind of tenderness.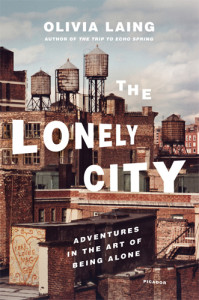 The Lonely City, Olivia Laing (Picador): Much like Maggie Nelson and Eula Biss, Olivia Laing's unclassifiable writing seamlessly braids together the personal, critical, and theoretical. In The Lonely City, she sketches a wide-ranging taxonomy of urban loneliness—from the chosen to the circumstantial to the socially sanctioned—and considers its effect on creativity. Evading easy conclusions or vague universalizing, Laing presents loneliness as something capable of being both the precondition for great art and prohibitive to its creation.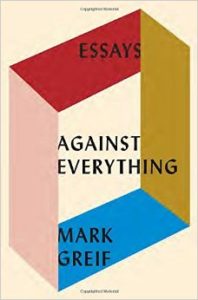 Against Everything, Mark Greif (Pantheon): Mark Greif's essays are intellectually rigorous and refreshingly moral (without the "-izing" that too often follows); they felt like a brain-salve in a year that demonstrated the depths to which our political discourse was capable of degrading. Whether he's railing against the tyranny of an idealized notion of wellness or recounting experiments in learning to rap, it's a pleasure and challenge to watch the n+1 cofounder's mind at work.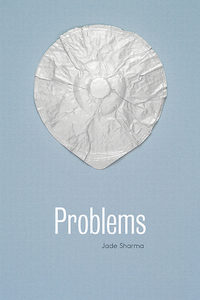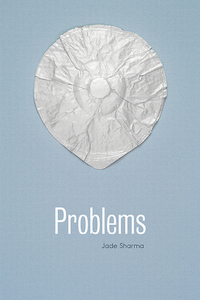 Problems, Jade Sharma (Emily Books): Much has been written in the last few years about the rise of "unlikable" female characters and its attendant implications. Maya, the narrator of Jade Sharma's debut novel and an on-again off-again functional heroin addict, seems to take the entire premise of likability and render it beside the point. Problems unnerves in its facility to careen between acidic humor and frank depictions of desperation, as well as in its refusal to disavow completely the allure of the high.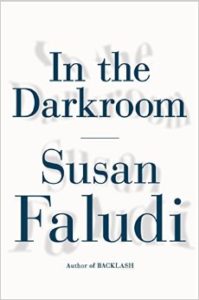 In the Darkroom, Susan Faludi (Metropolitan Books): In the Darkroom is my favorite book of not only this year, but the past several. Susan Faludi's account of her estranged father's late in life transition is many things at once: a moving filial reckoning, a provocative attempt to explore the potentially co-mingled traumas of gender and the Holocaust, a harrowing account at the resurgence of far-right nationalism in Central Europe, and a finely rendered character sketch. But don't just take my word for it: in addition to its many critical plaudits (among them the 2016 Kirkus Prize for Nonfiction), I recommended In the Darkroom to a friend who was so moved she sent me a photo of her tear-blotchy face immediately upon finishing it.
*
Jonny Diamond, Editor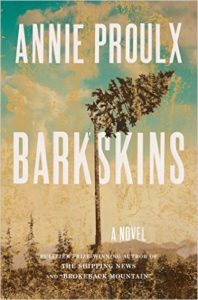 Barkskins, Annie Proulx (Scribner): Annie Proulx's multigenerational saga of this continent's ravaged forests is the kind of mythic American story we need right now: one that refuses to mythologize. Proulx follows two families across three centuries, from the wilds of Quebec and slowly westward, propelled by another of this country's foundational sins: nearsighted greed. Hard reading, but beautiful, and a reminder that we'll never be done accounting for all we've lost.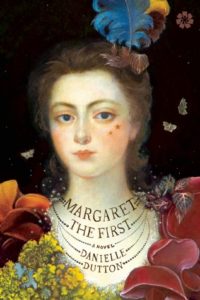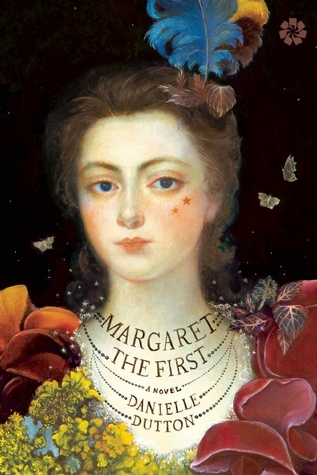 Margaret the First, Danielle Dutton (Catapult): Danielle Dutton's bright little dagger of a book cuts quick and sharp, and tells the true tale of Margaret Cavendish, Duchess of Newcastle. The late 17th century was not a particularly great time for independent, intellectually adventurous women, but in Dutton's first- (and third-) person telling of the life of "Mad Madge" we encounter an ambitious, highly individual mind exploring the boundaries of its own perceptions, and, in so doing, achieving an unlikely notoriety.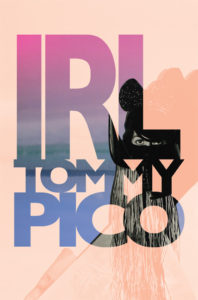 IRL, Tommy Pico (Birds LLC.): Tommy Pico's book-length poem is equal parts testimony, confession, and exhortation, all of it rendered in a propulsive, contemporary voice that sometimes feels like being trapped in a beautiful reply-all email chain. Pico's open Google doc approach to his own modern condition, and what it reveals about the way we live now, makes it easy to trot out the term "generational voice," but it is the intimacy and individuality of this poem that echoes through the head long after you've closed the document.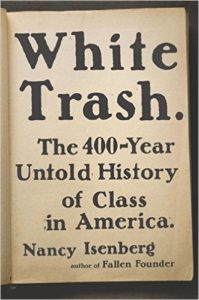 White Trash: The 400-Year Old Untold History of Class in America, Nancy Isenberg (Viking): Employing a toxic mix of identity politics and plain falsehood, Donald Trump lured 26 percent of eligible voters into choosing him as the next president of the United States. And while it is impossible to fully untether racism and xenophobia from any vote for Trump, there exists a small cottage industry of online punditry that keeps trying to do so. But instead of clicking on assorted hot takes about the white working class, just read Nancy Isenberg's deeply researched, elegantly written history of the way Americans have been deluding themselves about class for 400 years.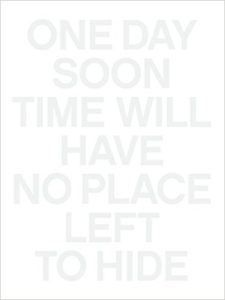 One Day Soon Time Will Have No Place to Live, Christian Kiefer (Nouvella): Take Douglas Coupland and replace his cold, cold Canadian heart* with an expansive, deeply felt American view of the world—its heartaches, its failures, its possibilities—and you'll arrive at something approaching the sensibility of Christian Kiefer's sly little meta-novella (from the wonderful tiny press, Nouvella). What's it about? Art, love, ambition, and the quest to create surfaces that we might see things just a little deeper.
*The writer possesses one such heart and knows of what he speaks.
*
Blair Beusman, Associate Editor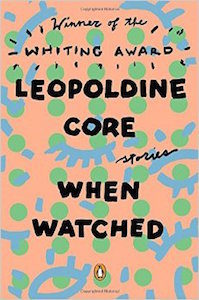 When Watched, Leopoldine Core (Penguin Books): The stories in When Watched offer deeply intimate glances into the lives of the characters that populate them. Core transforms seemingly insignificant moments—time spent in bed, on the subway, in the grocery store—into profound portraits of people striving to connect with one another and to determine their place in the world.
Future Sex, Emily Witt (FSG): The essays in this collection investigate subcultures with a wide range of approaches to finding sexual or romantic partners, from the BDSM community to Burning Man attendees. Incisively observed and beautifully written, it provides fascinating insight into each group and illuminates the overarching societal issues responsible for and resulting from our changing views of intimacy.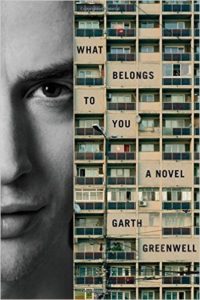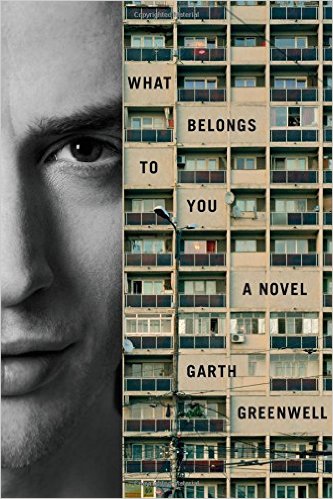 What Belongs to You, Garth Greenwell (FSG): In breathtakingly beautiful prose, What Belongs to You explores the relationship between a gay American poet teaching abroad in Sofia and a hustler with whom he becomes infatuated. It vividly captures the nature of longing–for connection, for the ability to escape the past, for healing, for self-understanding.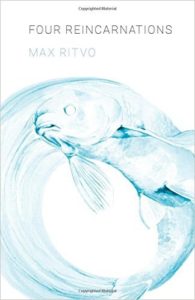 Four Reincarnations, Max Ritvo (Milkweed Editions): Max Ritvo's debut poetry collection, which  unflinchingly addresses his cancer diagnosis, ranges from the sublime to the profane. It is alternatively heartbreaking and joyful, visceral and sensual, funny and wise.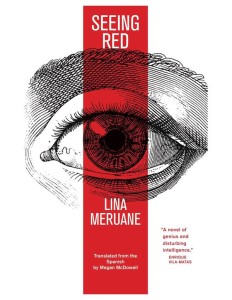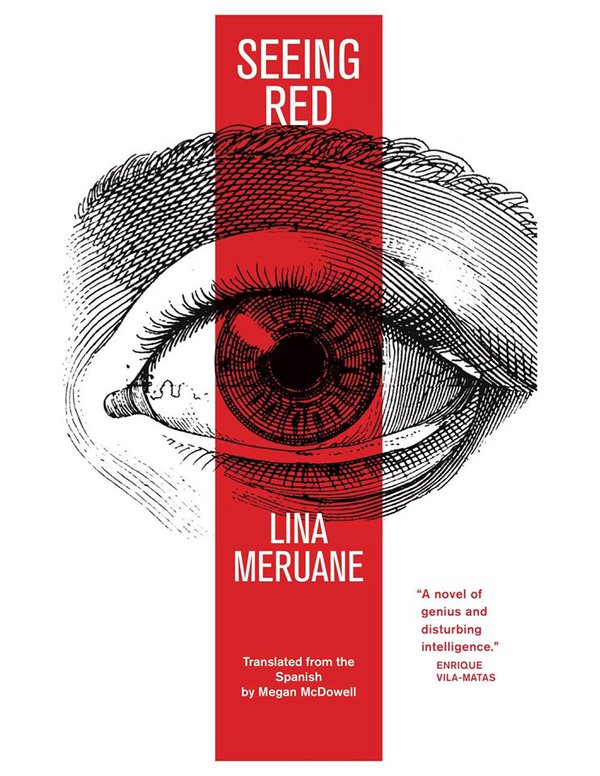 Seeing Red, Lina Meruane, trans. Megan McDowell (Deep Vellum): Language is a propulsive force in Seeing Red, an autobiographical novel about Lina Meruane's experience going blind. Pushing against the boundaries of its form, it veers occasionally into the surreal and presents, perhaps, a more truthful truth than a strictly nonfictional work would.
*
John Freeman, Executive Editor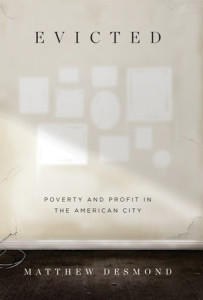 Evicted, Matthew Desmond (Crown): Good christ, look at these eight families in Milwaukee and the way banks and the predatory debt industry profited out of their pain. Desmond is a careful and kind listener, storyteller, and parser of a world that has been clouded by lies about what poverty is, what it feels like, and who's to blame. A necessary text in times when we've already forgotten how devastating the foreclosure avalanche was to people trying to do the most basic thing—to have and make a home.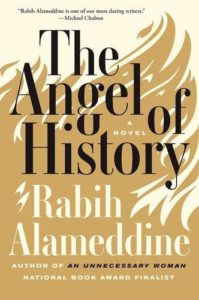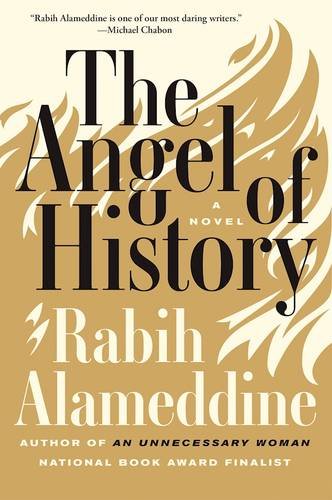 The Angel of History, Rabih Alameddine (Grove Atlantic): Here's what the terror and chaos of grief deferred looks like, as a man wakes up from a 20-plus year bout of repression and relives the evisceration of his circle of friends by AIDS. A book that wields humor like a war hammer with which to smash our preconceptions of what it must have been like.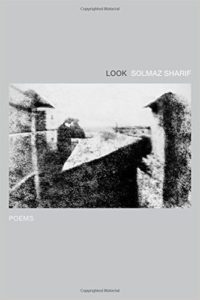 Look, Solmaz Sharif (Graywolf): This debut collection builds a lexicon of the mangled vocabulary of a Department of Defense manual, and through the alchemy of Sharif's care and rage, renatures its words so the author can remember, love, and resist with them.
Everywhere I Look, Helen Garner (Text): If you are looking for a voice to speak to you frankly and with humor and warmth about important things, here is the writer for you. Well known in Australia as a novelist and screenwriter and reporter, Garner is also one of the world's best essayists. Here she is thinking about the indignities of how people treat the aging, the pleasures of a ukulele, grandmothering, and some of her best friends, who she sketches with a master's economy of gesture. Once you start reading Garner you will wonder what the huge space inside your head she occupies used to be there for.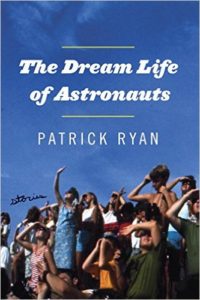 The Dream Life of Astronauts, Patrick Ryan (Dial Press): Set in and around Cape Canaveral in the 1960 and 70s, this loosely linked collection of stories is a clinic in how powerful writing can be when it hones in on the precariousness of our own self-narratives. How delicate they are, and how frightening they become when life has basically become a failure to launch.
*
Dan Sheehan, Book Marks Editor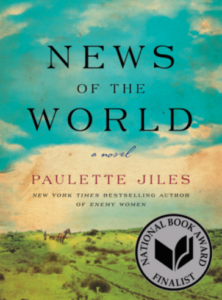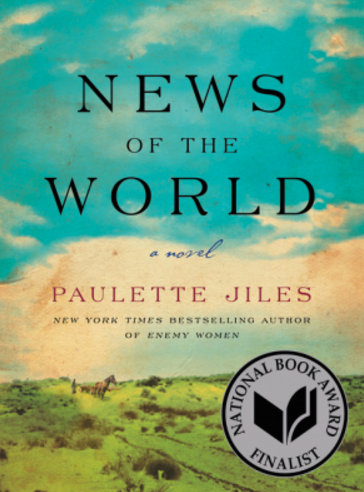 News of the World, Paulette Jiles (William Morrow): A brief, beautiful tale set in the aftermath of the Civil War in which Captain Jefferson Kyle Kidd—an elderly widower and Veteran of three wars who roams the towns of Northern Texas, reading newspaper stories from faraway places to enraptured locals—is tasked with delivering a young orphan girl across 400 miles of unsettled territory to her relatives in San Antonio. The bond which forms between these two unlikely compatriots—wild, fearless Johanna and world-weary but deeply principled Kidd—will melt even the stoniest of hearts.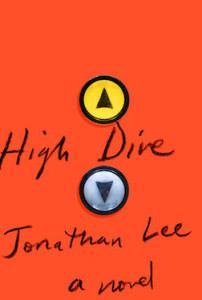 High Dive, Jonathan Lee (Knopf): High Dive is the story of the weeks leading up to the real-life 1984 bombing of The Grand Hotel in the English seaside town of Brighton by the IRA. The events before the attack are seen though the eyes of three imagined protagonists: Moose, a well-meaning single father and the hotel's deputy manager; Freya, his 18-year-old daughter; and Dan, a young IRA explosives expert from Belfast. It's a stunning, humane work of historical fiction—depicting the quiet personal struggles of this trio with humor and nuance as the novel builds toward its catastrophic conclusion.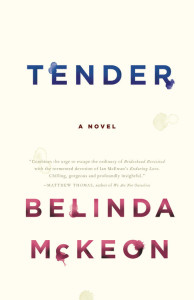 Tender, Belinda McKeon (Lee Boudreaux Books): An intense, claustrophobic and deeply-felt story of friendship, longing and the obsessive power of first love, set in a Dublin University in the mid-1990s and focusing on Catherine and James—two rural exiles finding their feet in the adult realm. Tender is written in a remarkable, fluid style that mirror's Catherine's changing emotional state as her desire to recapture the closeness she and James once shared consumes her daily life. A sensual and poetic triumph.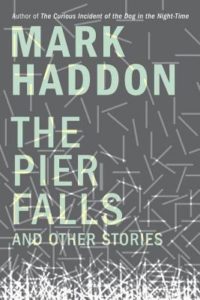 The Pier Falls, Mark Haddon (Doubleday): Undeniably Haddon's darkest book to date, the characters in these nine hauntingly brilliant tales find themselves overcome by loneliness and despair, often to the point of complete existential or physical collapse. Sheer quality aside, The Pier Falls is also notable for its impressive diversity of settings. One story takes place in Ancient Greece; one in the Amazon jungle; another on the surface of Mars. The title story, told at a chilling remove, details the devastation wreaked upon a group of holiday-makers when a pier collapses in a sunny English seaside down in 1970. This all sounds pretty grim, but Haddon tempers the bleakness by threading a rich vein of empathy and black humor throughout.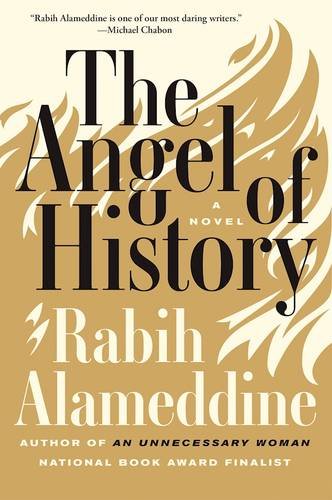 The Angel of History, Rabih Alameddine (Grove Atlantic): A fragmented novel of a man in emotional and psychological turmoil. Set over the course of a single night in the waiting room of a psychiatric clinic, the novel follows Yemeni-born poet Jacob as he revisits the events of his life, from his early years in the Egyptian whorehouse where his mother worked, to his experiences as a gay Arab man in San Francisco at the height of AIDS. Sprinkled throughout are bitingly funny conversations between Satan, Death as they argue about Jacob's past and the necessity of memory. If this sounds like a lot to absorb, it is, but because Alameddine is such a skilled storyteller—blending humor and horror, political satire and personal anguish—what we are left with is a daringly original and beautifully rendered portrait of a damaged man, trying to survive. 
*
Bianca Flores, Editorial Fellow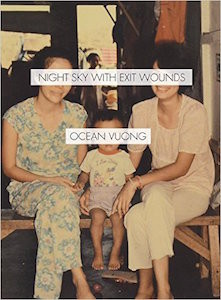 Night Sky with Exit Wounds, Ocean Vuong (Copper Canyon): Ocean is a language magician. There is an alluring quiet, a rhythmical enchantment, a constellation of lyricism seemingly in each line. I cried for the pain, I cried for the beauty, and the tears were a baptism. If you need one book of poetry for your final reading list this year, let it be this and always this.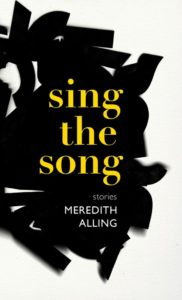 Sing the Song, Meredith Alling (Future Tense): Daring, hilarious, glittering, dreamlike, this short story collection ignores the barriers of our mundane world. Many of the stories are driven by a unique approach to language, a repetition and rhythm that becomes the sustaining force behind each story. Alling brings the reader into a surrealistic landscape suffuse with the anxiety and strangeness of everyday life. Escape the horror that was 2016 in this book, feel its eerie tales enter you, smile.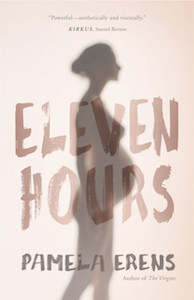 Eleven Hours, Pamela Erens (Tin House): Dazzlingly written with sharp insight into the complexities of love, loss, and pregnancy, Pamela Eren's Eleven Hours reads with a blend of poignancy and thunderous roars. This novel is an 11-hour glance into the physical and emotional heroism of women as it follows Lore and Franckline in the wake of their pregnancies. A novel that takes place strictly during a woman's labor doesn't happen much in literature… this is a groundbreaking read.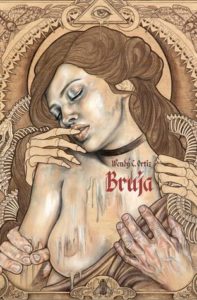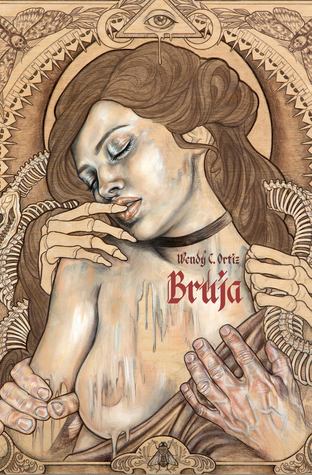 Bruja, Wendy C. Ortiz (Civil Coping Mechanisms): I am consistently enchanted by Ortiz's ability to capture reality in different forms, how she can move from her style in Excavation to this so-called dreamoir. Told in oneiric vignettes, this surrealist self-portrait pulled me deep under into a subconscious way of seeing from which I never wanted to resurface.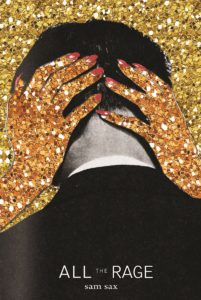 All the Rage, sam sax (Sibling Rivalry Press): This necessary collection of poems will kill you and revive you with a single line. From Israeli apartheid to police violence, these fearless poems employ a vivid lexicon to bear witness to this world of personal histories, invoking all the violence and passion that has clung to our lives during the madness that has been 2016.
---