Poets & Writers is celebrating its 50th anniversary in 2020. The organization began in 1970 with a program—which continues to this day—that pays writers fees for giving readings and leading writing workshops in community-based settings. In 1973 Poets & Writers launched a newsletter called Coda; in 1987, Coda became Poets & Writers Magazine. From its comprehensive listings of grants and awards to its in-depth interviews with agents and editors, from trusted, practical guidance about the business of writing to insightful profiles of contemporary authors, Poets & Writers Magazine has been the standard text for writers for decades. Here are a baker's dozen of iconic covers from years past.  (Courtesy of Poets & Writers)
*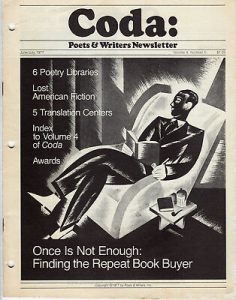 (June/July 1977)
In its first incarnation, Coda was printed on newsprint punched with holes for safekeeping in a three-ring binder.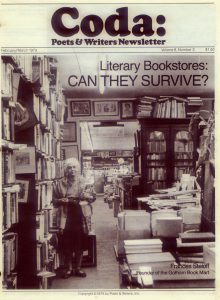 (February/March 1979)
The health of independent bookstores was already a concern when this photograph of Frances Steloff, founder of the late great Gotham Book Mart, was taken.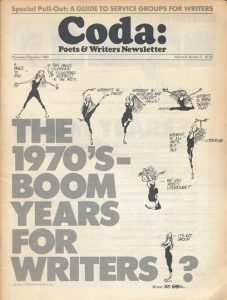 (November/December 1980)
Jules Fifer illustrated the cover of this issue, which took a look back at the 70's.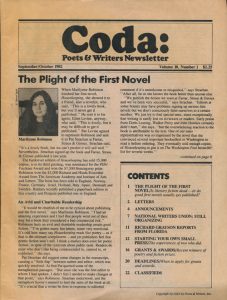 (September/October 1982)
"The Plight of the First Novel" considered the unlikely success of Marilynne Robinson's Housekeeping.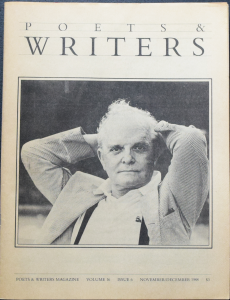 (November/December 1988)
A portrait of Truman Capote by Nancy Crampton appeared on the cover of this issue, which featured an interview with Crampton as part of a series on photographers who work with authors as subjects.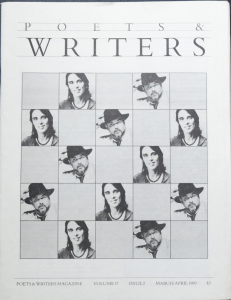 (March/April 1989)
This issue featured a conversation with Joan Larkin and Carl Morse, editors of and Gay and Lesbian Poetry in Our Time, an anthology they hoped would spark a new conversation among fellow poets.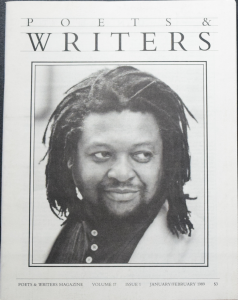 (January/February 1989)
 "Poetry is boring because it's controlled by boring people," said Quincy Troupe in this profile by Christine Cassidy.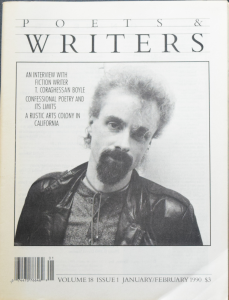 (January/February 1990)
A profile of T. Coraghessan Boyle described him as "that happy anomaly: the respectable iconoclast."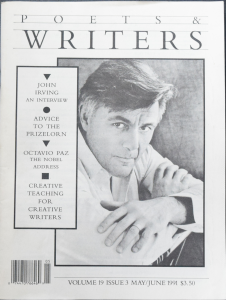 (May/June 1991)
In an interview with John Irving, the author discussed his life, his work, and writing through obsessions.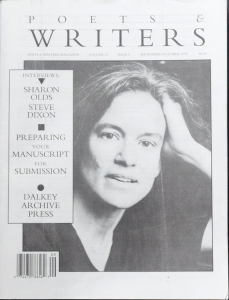 (September/October 1993)
Sharon Olds, known for searing family poems, talked about loyalty, betrayal, and the fellowship of poets.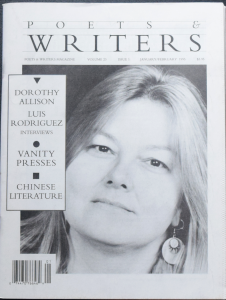 (January/February 1995)
Dorothy Allison discussed her books Bastard Out of Carolina and Skin.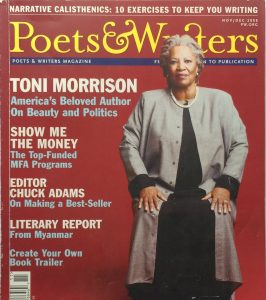 (November/December 2008) 
Toni Morrison, profiled by Kevin Nance.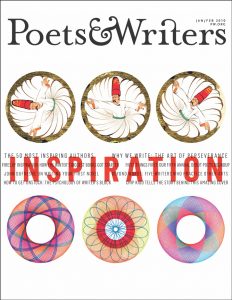 (January/February 2010)
Chip Kidd designed the cover of the 2010 Inspiration issue.