Lit Hub's Most Anticipated Books of 2019
What We're Looking Forward to, the First Half and Then Some
APRIL
Lauren Beukes, Motherland
Mulholland, April 1
I'm always excited for a new novel from South African novelist Beukes, whose unique blend of science fiction, horror, noir, and literary fiction never fails to entertain. In her latest, a super-virus has wiped out almost all the men in the country, and a new society has been reformed in its wake—one that makes keeping a healthy man (or boy) secret a serious crime, and killing one the worst crime possible. Cole is guilty of both, and is on the run, trying to reach a place where her son might have a better life—but in order to get there, she must keep his identity hidden, and evade her violent ex as she goes. (ET)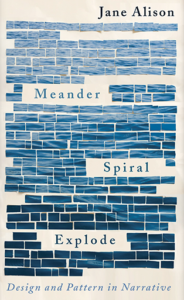 Jane Alison, Meander Spiral Explode
Catapult, April 2
In this craft book, Jane Alison essentially argues that the ubiquitous dramatic arc, the first story structure taught to young writers (and readers), is, well, a "bit masco-sexual, no?" Here, she focuses on other patterns for storytelling—waves, spirals, radials, networks, fractals—and draws on the work of writers like W. G. Sebald, Anne Carson, Marguerite Duras, Jamaica Kincaid, Clarice Lispector, and more to propose a less ejaculatory standard for literature. And I should say that having taken several classes with Alison, I know for sure that she's the real deal: a brilliant, out-of-the-box reader and writer, whose craft advice we could all benefit from. (ET)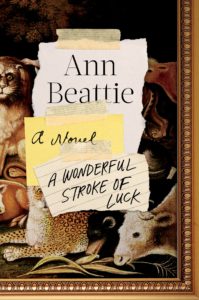 Ann Beattie, A Wonderful Stroke of Luck
Viking, April 2
For those who are familiar with Beattie's elegant, affecting work—and her many, many New Yorker stories—this is an easy sell, no matter what's inside. But here's what's inside anyway: it's starts at a boarding school (for "really bright kids who've screwed up"), and follows one of said kids to college and through a confused decade after—as people from his past keep popping up. Beattie's knack for character development and subtle meaning-making should make this a showstopping read. (ET)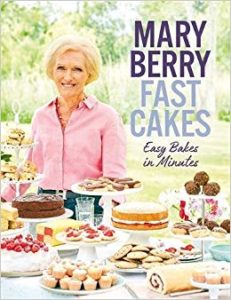 Mary Berry, Fast Cakes: Easy Bakes in Minutes
Quercus, April 2
I think it's safe to say that all right-thinking people miss the spectacularly British, soggy bottom-intolerant lover of spirits that is Mary Berry. With all due respect to the woman who took her place on the Great British Baking Show (it's not her fault she's not Mary Berry), the show has been a close-textured shadow of its former self since Mary left. But now she's back, in book form, with cakes that are fast! I have no doubt that they will be—to borrow a word—scrummy. (JG)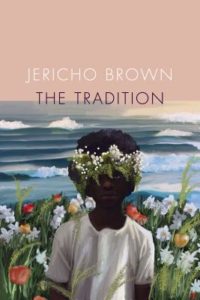 Jericho Brown, The Tradition
Copper Canyon, April 2
"Every poem in a love poem. Every poem is a political poem. So say the masters," Jericho Brown, first book "PLEASE" won the American Book Award, wrote in an essay published in 2015. This spirit runs through Brown's work, which now appears in a compelling new volume, The Tradition. (CS)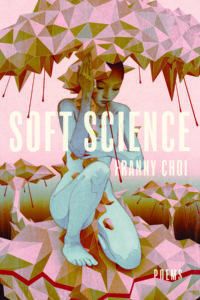 Franny Choi, Soft Science
Alice James, April 2
It's startling in an era of AI and constant surveillance how few poets of the body think about the way we operate like cyborgs. This has not slipped past Franny Choi. In Soft Science, her fantastic and eerie second book, a tribute to and dialogue with Donna Harway's great manifesto, Choi plies a poetics of the fully exposed CPU, map-matching the body and its instructions against the internet and its imperatives. How are we being reprogrammed by what we touch? By what we film and then watch? It's hard to say but poem by poem Choi causes you to wonder. Flashes of what read like experience sift like broken code into the hardware of this book. Tangled among the wires and rot of a body are conflicting messages: one says want, the other says provide. Resisting these as binaries, Choi turns out poems of the erotic that feel like interfaces and Turing-tested verse with the tentative intimacy of consciousness. Like Camille Rankine, Choi is a poet of steely nerve and intent, she's way beyond doing this for kicks. "Soft Science" is her attempt to clobber the way we think of the body's pre-sorted responses through sheer force of style. By juxtaposing the plastic with organic, she claims all the fallen world and achieves something new here, something rarely seen in poetry: profoundly intelligent work which makes you feel. Sometimes it's disgust, sometimes it's wonder: often both and more at the same time. Tiny blinking lights keep the pathway she walks toward this organic rebooting barely lit. It's dark, but very worth following her. (JF)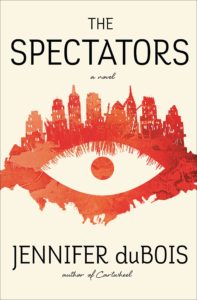 Jennifer duBois, The Spectators
Random House, April 2
An enigmatic talk show host is thrust into a spotlight he definitely did not want when a group of teens responsible for a mass shooting claim to be his biggest fans—and the past he wishes would stay hidden begins to come back to the surface. Covering three decades of American culture, including the 90s pop culture wars and the AIDS crisis of the 80s to the liberated 70s, this may be duBois' most ambitious work yet. (ET)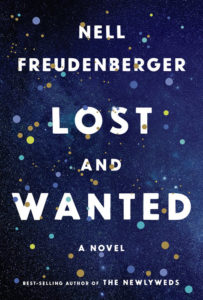 Nell Freudenberger, Lost and Wanted
Knopf, April 2
In the best-selling, Whiting Award-winning Freudenberger's third novel, a MIT professor and physicist begins receiving texts from her best friend—who recently died of lupus. Sold. (ET)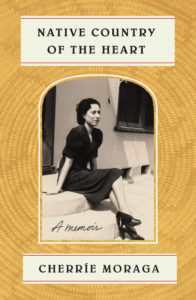 Cherríe Moraga, Native Country of the Heart: A Memoir
FSG, April 2
Cherríe Moraga, whose 1983 book Loving in the War Years became a cultural touchstone for its discussion of queerness, politics and race, tells the story of her relationship with her mother interwoven with a larger history of the Mexican American diaspora. (CS)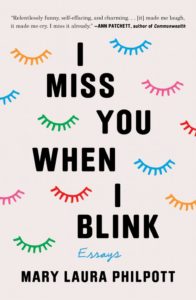 Mary Laura Philpott, I Miss You When I Blink
Atria, April 2
A funny and self-effacing memoir-in-essays from a bookseller who thought she had her whole life figured out (and had done everything right and gotten everything she wanted) only to wake up one day and realize that . . . she hadn't. Relatable!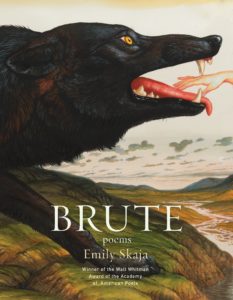 Emily Skaja, Brute: Poems
Graywolf, April 2, 2019
"Yes, I was wounded. / I found I had strung my life between two bad men," writes Emily Skaja in her poem "Brute Force." Skaja, the Poetry Co-Editor of Southern Indiana Review, writes boldy in her debut collection about sexuality, vulnerability, power, and self-discovery after loss. (CS)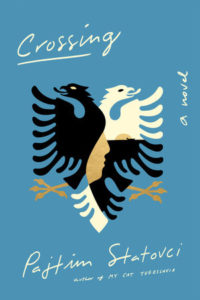 Pajtim Statovci, tr. David Hackston, Crossing
Pantheon, April 2
In Crossing, his second novel to appear in English, Finnish-Kosovan novelist Pajtim Statovci takes on issues of identity, gender, and sexuality and braids them into a rich history of Albanian myth and legend. Following Bujar, who decides to leave the ruins of Communist Albania with his fearless friend Agim and travel to Italy, Crossing explores their further struggles as they try to feel at home in a new country and in their own bodies. Crossing sounds contemporary and mythical all at once, and I can't wait to read it. (MK)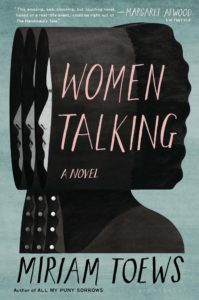 Miriam Toews, Women Talking
Bloomsbury, April 2
Toews novelizes the horrific drugging and sexual assault of 130 girls in an an ultraconservative Mennonite colony in Bolivia that occured between 2005 and 2009. Toews imagines eight of the women coming together to talk about what to do; one of the women says, "There's no plot, we're only women talking," but there is a pull to the story that makes Women Talking one of the most exciting novels coming out this year. (EF)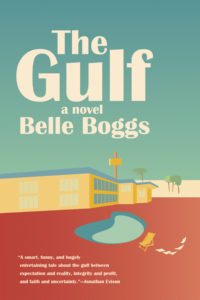 Belle Boggs, The Gulf
Graywolf, April 2
A bitingly satirical debut novel from Boggs, whose nonfiction exploration of fertility and motherhood, The Art of Waiting, made a splash back in 2016. The Gulf tells the story of a down on her luck Brooklyn writer who reluctantly accepts a job (from her novelist ex-fiancé and his venture capitalist brother) directing a low-residency school for Christian writers at a motel they've inherited on Florida's Gulf Coast. (DS)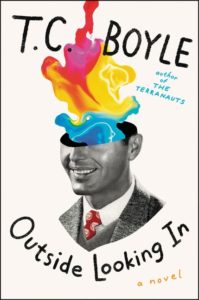 T. C. Boyle, Outside Looking In
Ecco, April 2
The latest from the PEN/Faulkner Award-winning novelist and short story writer known for his lush, satiric prose and maximalist imagination explores the first scientific and recreational forays into LSD and its mind-altering possibilities. This 1960s-set novel focuses on a Harvard Ph.D. student and his wife who get drawn into the inner circle of renowned/notorious real-life American psychologist and psychedelic drugs advocate, Timothy Leary (who Richard Nixon once dubbed "the most dangerous man in America"). (DS)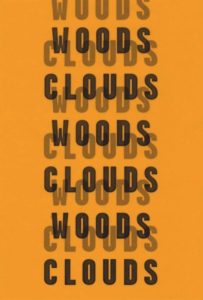 Michael Earl Craig, Woods and Clouds Interchangeable
Wave Books, April 2
Wry, brilliant, but often silly, Craig is America's reigning high plains absurdist. He has the broken syntax of profundity down cold, but he turns that tone inside out, forcing the reader to pay attention. This new book is full of mock portraits of famous figures of the past and gnomic dispatches from a poet's life in Montana which he deadpans at the reader with just enough English on the delivery to never seem smug. These are companionable poems which sneak up on you. They stick to your mind like the best images and tilt with the dignity of prairie weathervanes. When Craig turns his bent vision on the grand absurdities—how we rest in a coffin, or speak of the nearly dead in past tense and the recently dead as if they're here—he hasn't exhausted our sympathies.  (JF)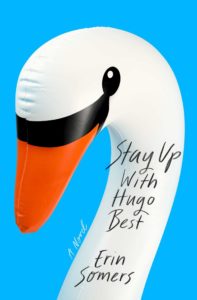 Erin Somers, Stay Up With Hugo Best
Scribner, April 2
Erin Somers' funny, moving, razor-sharp debut novel tells the story of a broke, caustic, and newly unemployed twenty-nine-year-old writers' assistant who is invited to spend Memorial Day weekend at the Greenwich mansion of her former boss and teenage crush (the titular Hugo Best-a legendary comedian and talk show host who survived a sex scandal with an underage girl a decade previous and has now been semi-forced into retirement). (DS)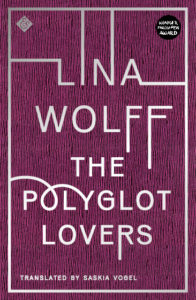 Lina Wolff, tr. Saskia Vogel, The Polyglot Lovers
& Other Stories, April 2
This immensely clever new novel by Lina Wolff brings to life three characters caught up in high level sexual games, turned inside out by what they want, and how it feels not to get it. "I've always thought that when I finally find a man it will be someone who comes from the same place as me," says Elinor, one of Wolff's three protagonists. "Someone you can go out to a cabin with on a Friday, light a fire." Then the rosiness pales from her imagined scenario. "I've always pictured Jonny with me there. But by the time I met Ruben, Jonny had in fact been married for years and was living on a farm outside the village with a wife who'd had work done in her lips, breasts and genitals after giving birth to three children." (49) Elinor's voice alone could sustain this novel, but Wolff has instead painted a riveting triptych that grows in power through the comparisons and overlaps its multiple characters make possible. Beginning with Elinor, the book moves on to Max, who's in search of a lover who can adore him in many languages, and finishes with Lucrezia, the grand-daughter of a marchesa in southern Italy. Winner of the prestigious August Prize in Sweden, Wolff's biggest book yet is finally, a mad-cap feminist entertainment that ties all three together through a manuscript that floats through their lives, reengineering the assumptions of romance in the process. With luck this could be the 21st century's "Possession." (JF)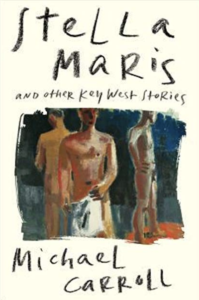 Michael Carroll, Stella Maris and Other Key West Stories
Turtle Point Press, April 9
There's an end of banquet feel to Michael Carroll's second collection, the celebration at an all inclusive nude gay resort in the Keys so sozzled the mournfulness rivering beneath the booze is way far down, lodged in a private socket that characters don't often expose for pity. In the virtuosic opener an older man finds his way on the pecking order of younger beauties pairing off for public sex, and in another a man takes care of his dying friend, who managed to stay healthy long enough he could die of a neurological disease. Death is a unifier here, the last party everyone goes to. One of the best social observers in American fiction, Carroll proves the funeral party scene's right behind the dinner party scene in fictional possibility when wound tightly. In the 90s, Andrew Holleran published some wonderful, grief-drenched stories about the Pines when that area was decimated by AIDS. These tales, set against the sherbety sunsets of the Keys, feel like a southern follow up, twenty years later: brightly lit and hilarious and deeply sad. (JF)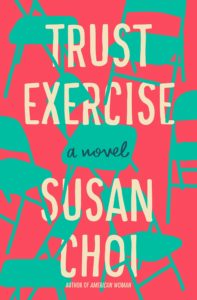 Susan Choi, Trust Exercise
Henry Holt, April 9
To describe this book too much would be to give it away, but let's just say that it begins with a fraught teenage love affair in an elite performing arts high school presided over by a charismatic teacher—and about halfway through there is a formal conceit that shifts the narrative, and then shifts it again, in a way I have never quite seen done before. Compulsively readable and formally brilliant: this is basically a literary unicorn. (ET)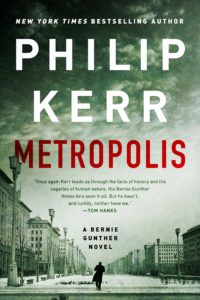 Philip Kerr, Metropolis
Putnam, April 9
The release of Philip Kerr's last Bernie Gunther novel is bittersweet, given the author's untimely death in early 2018. The use of the word "Metropolis" is a clue that this book takes place in Bernie Gunther's early days of solving crimes in the anything-goes 1920s, and while we're still grieving the loss of a great writer, we're pleased to know the series will wrap up with a visit to the world that first made Bernie Gunther what he is. (MO)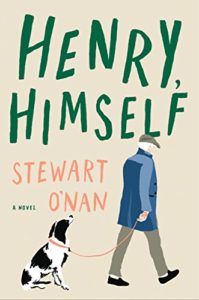 Stewart O'Nan, Henry Himself
Viking, April 9
A companion book (and prequel) to O'Nan's Emily, Alone (2011), Henry Himself is a portrait of Emily's husband Henry—and if his story is anything like his wife's, it will be a clear-eyed, moving, and subtly funny affair. (ET)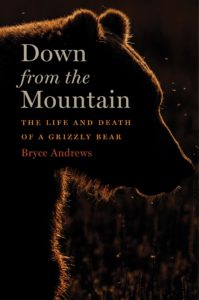 Bryce Andrews, Down From the Mountain
Houghton Mifflin Harcourt, April 16
Would that we had more nature writing like Byrce Andrew's fantastic second book, Down from the Mountain. Part biography of the Mission Valley in Montana, informed by the Blackfeet and Salish histories rooted there, it tells a moving modern tale of how ranchers and big predators overlap uneasily on that land today. The book's key protagonist is Millie, a 500-pound grizzly who hibernates up in the mountains, its flora and fauna no different there than it was 10,000 years ago. Every spring and summer she comes down to the corn fields to feed in the summer. Standing three feet high at the shoulder, taller than a human can reach on her hind-legs, she and grizzlies like her shuck and nibble corn with a delicacy that could get them a seat at your grandmother's table. Yet not everyone would delight in such company. Down from the Mountain eschews easy moral scrimmaging, though, and as it tells Millie's story and that of her cubs, it turns into a subtle and beautifully unexpected book. Some farmers don't hold the bears ill-will, and more than a few people distrust human civilization and yearn for the wild. When not writing, Andrews works with a Bozeman organization attempting to sort out how to make it possible for the animals and humans to have equal purchase on the land. "Down from the Mountain" ought to make their work a little easier. Readers hungry for yet another torch bearer to the ways of thinking of the wild that Barry Lopez and Leslie Marmon Silko made possible should look no further. (JF)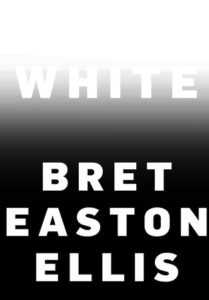 Bret Easton Ellis, White
Knopf, April 16
Bret Easton Ellis hasn't made too many friends in the literary world in the last few years, and he has even been known to enjoy trolling it—plus, he uses the term "snowflake," so you can count me as being suspicious of his first work of nonfiction, which his publisher describes as "an incendiary polemic about this young century's failings, e-driven and otherwise, and at once an example, definition, and defense of what "freedom of speech" truly means." Yikes. At least I'm not alone. But still, it's worth anticipating—even if it turns out to only be for the hate reads. (ET)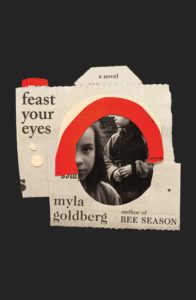 Myla Goldberg, Feast Your Eyes
Scribner, April 16
The first novel in almost a decade from the bestselling author of Bee Season, presented as the catalogue notes from an exhibit at the MoMa and telling the story of Lillian Preston, "America's Worst Mother, America's Bravest Mother, America's Worst Photographer, or America's Greatest Photographer, depending on who was talking." A mother-daughter story, an art-monster story, and an exciting structural gambit. (ET)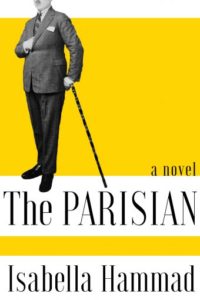 Isabella Hammad, The Parisian
Grove Press, April 9
This rich historical novel by Paris Review Plimpton Prize-winner Isabella Hammad takes us back to another time of cataclysmic change. Unfolding between 1914, when the Ottoman Empire was beginning to collapse and with it a cosmopolitan Middle East, and the build up to World War II, it presents a sweeping portrait of Palestinian man caught amidst the macro-aggressions of the interwar years—as well as the raptures and ruptures of love.
As it begins Midhat Kamal has just arrived in Montpelier from Nablus to study with a renowned doctor. The old man's daughter, Jeanette, is a warm but confusing figure for Midhat, so used he is to projecting  ideas upon women he learned from the lyrics of Abu Nawas. There might be dust on his shoes but Kamal is fabulously educated and worldly in the way the increasingly powerful West is unable to fathom. This position, reinforced by tiny darts of dinner party poison—he's chummily referred to by one boar as "the famous Oriental guest"—reinforce the outsiderness he'd discovered as a young man, a position that ultimately propels him to Paris. Hammad gorgeously guides this watchful and thoughtful consciousness through the years and into a shattering love affair, putting on a clinic of free indirect style. Roving into several other characters, some of them the types that made Edward Said's great book so necessary, she captures the ripples of history as they're intimately felt, and nastily nurtured.  (JF)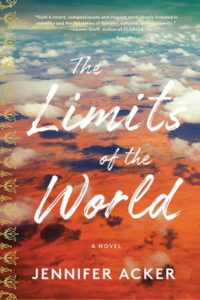 Jennifer Acker, The Limits of the World
Delphinium, April 16
This intricately woven family saga about four generations of East African Gujarartis calls to mind the early work of Jhumpa Lahiri. Narrated in solemn tones but strung with moments of startling beauty, it chronicles its characters' migration as a series of losses—in their case, of reference points. The Chandarias first came to Kenya from India for work and in brief, evocative passages the family's aging patriarch describes the shocking conditions they discovered upon arrival. How hard it was to judge a situation so utterly foreign. Friends being eaten by lions at night on the farms where they worked. Leaping forward a century, in the year 2000, this man's grand-daughter lives in Columbus, Ohio, and works hard to run a profitable store selling Authentic African Goods out of a mall storefront. Her husband, a doctor, wishes she'd stop this nonsense, convinced his wife's brother back in Nairobi is stealing from the business. Meanwhile, their 30 year-old-son is many years into graduate study at Harvard and doesn't seem any closer to a degree. Their worry falls hard on Sunil, who has spent so much time studying moral philosophy he's not sure anything means anything any more—except his Jewish-American wife. Their marriage a happy decision he stumbles into just as years before his parents agreed to their all-but-arranged marriage. Acker has until now been best known as the founder and editor of the phenomenally astute and globally-tuned journal The Common. The Limits of the World should change that. This book weaves a sweeping mosaic of immigration and family-making, showing how movement can keep a family alive, but also sow the seeds of division and judgement and misunderstanding which can tear it apart. (JF)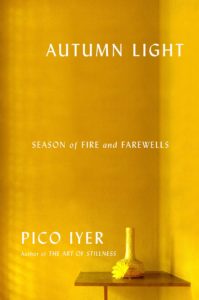 Pico Iyer, Autumn Light: Season of Fire and Farewells
Knopf, April 16
"I long to be in Japan in the autumn," writes Pico Iyer at the opening of his moving new memoir. Here's a book about going for sorrowful reasons. As we begin, Iyer's wife's father has died and they need to come home to look after Hiroko's elderly mother. Iyer's life as a travel writer and reporter has until this point been one of freedom. As an Indian raised in Oxford whose parents called Santa Barbara home, a lucid writer with endless curiosity, and a secularist with a searcher's heart, Iyer was Time's go to guy to explore the increasing hybridization of global culture. Ever since Video Nights in Kathmandu, where he wrote on the effect of the video cassette on bringing East and West together, he's been way out ahead of most commentators seeing how people actually live. So many phrases leap from his essays, from the "empire strikes back," his take on the wave of writers from Rushdie to Ishiguro who rewrote the story of colonization, to the global soul. Iyer may be one of four people to have interviewed both Peter Matthiessen and the Dalai Lama and not been frightened of either. Staying clued in came at a cost, though.
For a time Iyer logged a quarter of a million miles a year on planes. Aside from the horrific environmental damage that kind of travel wreaks, he missed out on parts of life too. In fact, his last book—The Art of Stillness, which grew out of his fantastic TED talk—was an attempt to recalibrate our sense of movement in an age when travel, even for leisure, may not be feasible. Autumn Light is an extension of that project but it has an edge: this is a book about staying put because one has to, and about giving up things because age has drawn time to a point. Has any travel writer ever written this book? In choosing to exchange life as a perpetual visitor for that of a resident in Japan, Iyer finds a hopeful-making amount of freedom in living in – not just borrowing – daily rituals. Grabbing the post, making dinner, inquiring after and keeping up with neighbors. This is also a tremendously wise book on the late fires of marriage, how moving toward old age, if you're lucky, as he is, a burst of warmth emerges to push you forward into the final step, the journey no one's been able to write about.
(JF)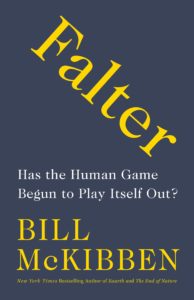 Bill McKibben, Falter: Has the Human Game Begun to Play Itself Out?
Henry Holt, April 16
Bill, Bill, I know, I know! The answer is… yes? Nonetheless we will still read your no doubt erudite, elegiac, slightly longer answer. (Crosses fingers in hopes of super-secret surprise happy ending.) (JD)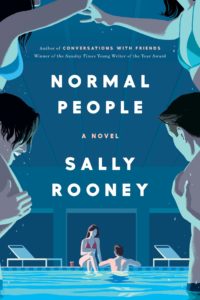 Sally Rooney, Normal People
Hogarth, April 16
Nothing makes the Literary Hub office shriek more collectively and thoroughly than a Sally Rooney galley. Normal People, which tracks the lives of two high school sometime-lovers, is extremely smart, deeply pleasurable reading, even more so than Conversations with Friends. I could tell you some things about how she plays with time, or wax poetic about her immersive language and engrossing storytelling, but if you're reading this list, it's probably already your #1 2019 pick, so all I will tell you is: your rankings are correct. (ET)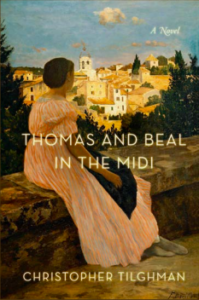 Christopher Tilghman, Thomas and Beal in the Midi
FSG, April 16
The third installment in Tilghman's acclaimed historical fiction series that began with Mason's Retreat in 1995 and The Right Hand Shore in 2012 moves back in time yet again to tell the story of a young interracial couple, Thomas and Beal Bayly, who run away to Paris in 1892 to begin a new life—first in the Latin Quarter, and then as winemakers in Languedoc. (ET)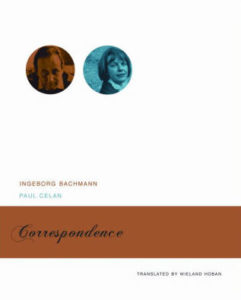 Ingeborg Bachmann, Paul Celan, tr. Wieland Hoban, Correspondence
Seagull Books, April 19
Swiss-Italian author Fleur Jaeggy's I Am the Brother of XX (New Directions, 2017) brought my attention to her dear friend Ingeborg Bachmann, one of post-WWII Germany's great novelists, poets and playwrights, who died at age 47 after a fire in her apartment in Rome. The poet Paul Celan, Bachmann's one-time lover, was born to a German-speaking Jewish family. While he was forced to work in a labor camp for almost two years during the war, his parents were deported to a concentration camp. Correspondence collects the passionate letters Celan and Bachmann exchanged in the wake of the Holocaust, between 1948 and 1961, giving us a look into a key moment in the history of 20th-century German literature. (AR)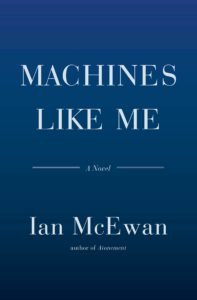 Ian McEwan, Machines Like Me
Nan A. Talese, April 23
A new Ian McEwan novel is always an event—though I don't know about that last one, which if you remember was a reimagination of Hamlet from the perspective of a fetus. His latest is set in an alternative version of 1980s London and centers on a love triangle that includes a "synthetic human." Should be fun. (ET)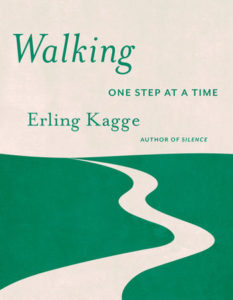 Erling Kagge, tr. Becky L. Crook, Walking
Pantheon, April 23
A lyrical account of our most basic form of transportation from Norwegian writer Kagge, author of Silence. (ET)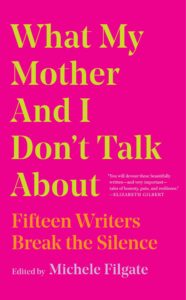 Michele Filgate, ed., What My Mother and I Don't Talk About
Simon & Schuster, April 30
A collection of fifteen essays from great writers—like Alexander Chee, Melissa Febos, Carmen Maria Machado, André Aciman, Brandon Taylor, and Leslie Jamison—on what we don't talk about with our mothers, those women who are supposed to know us best. (ET)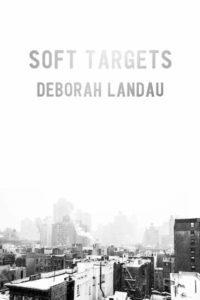 Deborah Landau, Soft Targets
Copper Canyon, April 30
Deborah Landau has spent her life as a poet articulating a poetics of the body. Finding ways that a lyric can enter the space between what the body knows and what the mind wants. This cool as smoked ice new book deals with how that division collapses in a state of fear. Be it as a citizen on a crowded crosstown bus, traveling in an age of soft targets, or as a mother growing into the middle age awareness of how vulnerable a strong body can be. As a woman drinking alone. Fear is the connector and the current in Landau's poems, where outer and inner become an endless loop. Written partly in Paris in the wake of the extremely violent terrorist attacks of 2015 and 2016, these poems are also dispatches from a ragged end of our present imperium, when violence often relegated to its outer edges bites back at its very center. How is space rearranged? What is centered? Is there a way to use language to love when it has become, essentially, weaponized? As Ginsberg wrote in Wichita Sutra Vortex, "all our language is taxed by war." Terse and yet lyrical, floating in white space on the page like stark, intimate thoughts, Soft Targets is a riveting example of how we cannot take the body out of thinking, and we shouldn't. (JF)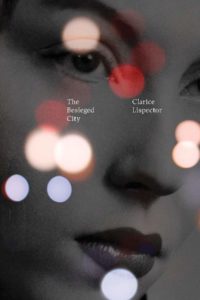 Clarice Lispector, tr. Johnny Lorenz, The Besieged City
New Directions, April 30
"Lucrecia Neves would never be beautiful," writes Lispector of the heroine of her 1948 novel, newly retranslated by Johnny Lorenz. "She had however a surplus of beauty that didn't exist in pretty people." If your mental eye did a double take on that description then you've already tipped forward into the orbit of this peculiarly enthralling book. A novel very much about surfaces and looking and the way a certain mindless life would lead to a blending of person and object. Lispector wrote it in 1948 while living in Switzerland and watching her carve a modernist novel out of sheer boredom is, on a craft level, dazzling. Stripped of introspection, her prose skitters from one place to the next, following her character about town, darting into others' heads momentarily. The book is notable for its so-called happy ending, a marriage. In fact what's so mesmerizing is how Lispector turns reality into something commodified and empty, yet plasticly beautiful, full of arresting creases back into life. "Such reality, the girl was seeing. Each thing. She twisted her head as a way of looking. Each thing. But suddenly, in the silence of the sun, a team of horses ran out from a corner. For a moment they froze with raised hooves. Sparkling at their mouths."  (JF)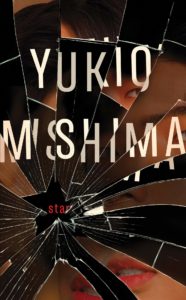 Yukio Mishima, tr. Sam Bett, Star
New Directions, April 30
Back in college, as an irritatingly broody windbag, "but have you read Mishima?" was my go-to pose of faux erudition. But guess what? I really, truly loved the slow twilight moods and intricately woven strands of anxiety and melancholy that seemed to loosely bind Mishima's classic tetralogy, The Sea of Fertility. Insofar as I still love the aforementioned themes, I'm pretty excited for this first-ever translation of Star, by Sam Bett. (JD)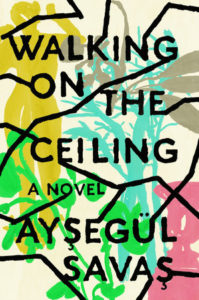 Aysegül Savas, Walking on the Ceiling
Riverhead, April 30
In this promising debut, a young Turkish woman named Nunu moves to Paris, where by chance, she meets an older, British writer of novels about Istanbul whom we know only as M. The two begin to walk around Paris, talking, as Nunu begins to reveal (and discover) more and more about her past, her country, and her self. Quiet, intense, and moving. (ET)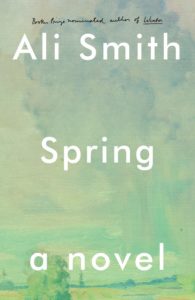 Ali Smith, Spring
Pantheon, April 30
I love Ali Smith, and if you love Ali Smith too, you've probably read the first two books in her acclaimed seasonal quartet, Fall and (you guessed it) Winter. Stay tuned for Spring, the penultimate book in this series of interconnected stories. (KY)
---