Lit Hub Recommends: Writers & Lovers, Reply All, and The Marvelous Mrs. Maisel
Also, try knitting and watching 90 Day Fiancé at the same time.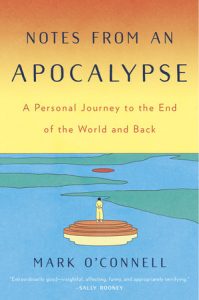 This month I'm recommending Notes from an Apocalypse, Mark O'Connell's funny, fascinating, and frankly terrifying exploration of doomsday preppers, Mars colonizers, billionaire New Zealand fetishists, and society's growing obsession with the End of Days. I've also been mesmerized by the slow-creeping dread of The Outsider—the HBO miniseries adaptation of Stephen King's 2018 novel. 
–Dan Sheehan, Book Marks editor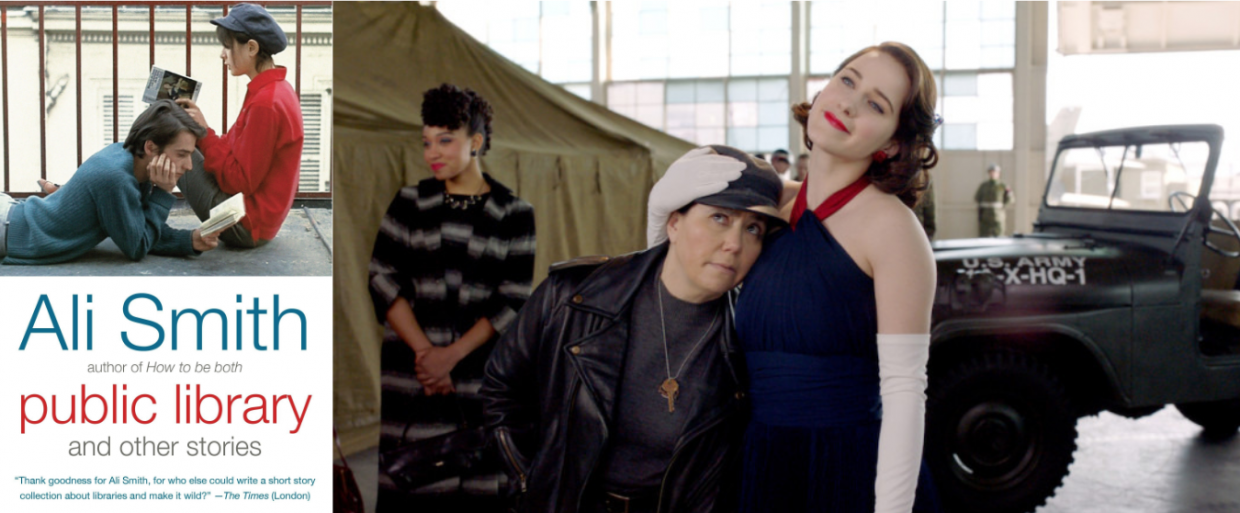 If you haven't read Ali Smith's short fiction, you ought to. I'd start with The First Person, but I also highly recommend Public Library and Other Stories, a delightful and funny collection that also includes writer testimonials about the vital role libraries have played in their lives. (There's one from Miriam Toews about watching her own mother doze off at their local library and how oddly touching it was to see a librarian leave her be.) Also, I'm late to the party (as per usual), but I finally got around to watching the most recent season of The Marvelous Mrs. Maisel, and I cannot recommend it enough. Our heroine, Midge, gets her big break, opening for a celebrated musician on his tour. What stuns me most about this season (other than the witty dialogue, the recurring throwaway bits, and the clothes!) is that it finds brilliant and thoughtful ways to let other communities in. (Midge's ex-husband, for example, is trying to open a club and buys a building that he later learns is home to an underground Chinese gambling ring.)
–Katie Yee, Book Marks assistant editor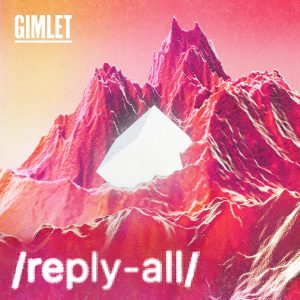 With all due respect to the dozens (and dozens) of pandemic reading lists I've been seeing in the past week, I tend more toward escapism and fluff in times of horror. One of the best pieces of culture I've consumed recently is the latest episode of the podcast Reply All, "The Case of the Missing Hit," in which the hosts try to track down a pop song that a listener remembers extremely vividly from his youth, but of which there is no trace on the internet. It's so engrossing that on my commute, I almost forgot I was stuck in a tin can with every germ in history. I also recommend, in general, rereading books. Take a little bit of uncertainty out of your life! Stick with endings you know! 
–Jessie Gaynor, Lit Hub social media editor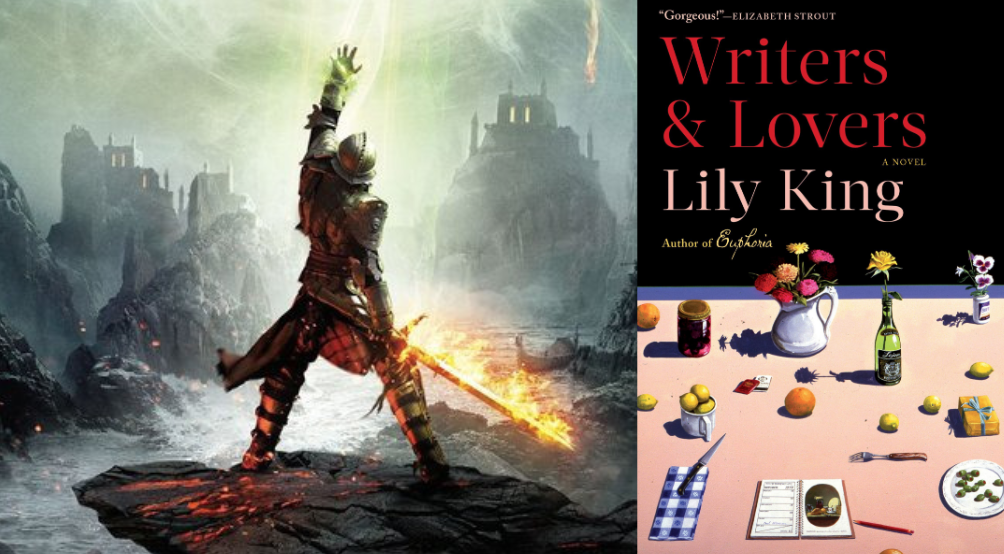 Did you know that some video games have downloadable content available on the internet? I did not know this, and went through a period of mourning after I beat Dragon Age: Inquisition before my much more PlayStation-literate friend informed me that there was, in fact, more. So that's what I've been doing recently. In between slaying dragons with my enormous broadsword, I thoroughly enjoyed Lily King's Writers and Lovers, which will absolutely chop your head off if you've ever been a writer or a young person in love (wait, am I mixing my entertainments here? oh well), not to mention a server at a restaurant. It's the kind of engrossing, deeply appealing novel you just never want to stop reading, even if you also have demons to subdue and castles to loot. (I love looting, you guys.) If only both book and game were longer. Lily King, is there any downloadable content I could buy?
–Emily Temple, Lit Hub senior editor

This isn't so much a recommendation for March as it is a recommendation for life, but I'm here to tell you to get acquainted with Twitter comedian Charlie Bardey. He's 24, hilarious, queer, relatably anxious, and deeply kind in his humor and politics—I stumbled onto his Twitter page while bored over Christmas break a year ago and in a sense have never really left it. He also has a newsletter that I look forward to every month; yes, he has a newsletter, as if he's "some well-structured children's arts education non-profit or something", in his own words. Its practical purpose is to list his extensive shows in one place, but he devotes most of the blast to a piece of writing about something that's been on his mind for the past month. The most recent highlight was when he spent an incredible 1500 words expounding solely on the wrath and hatred he has for a blue chair he owns. Yes, he bought the chair, yes, he could potentially get rid of the chair, but if he'd done that, then we wouldn't get to read about it.
–Julia Hass, Lit Hub editorial fellow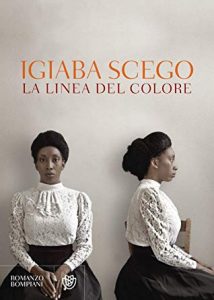 I'm deep into a book written by my friend (and occasional collaborator) Igiaba Scego. Her latest novel, La linea del colore (The Color Line) was published in Italy last month and has been receiving critical and popular acclaim. For someone who studied two very different subjects in college—Italian and African-American studies—The Color Line feels like vindication. It's a historical novel that follows Lafanu Brown, the American-born daughter of a Chippewa mother and Haitian father who circumstance brings to Rome near the end of the 19th century. In this age of the European "grand tours," Brown is destined to become one of the country's great painters. Her character is a composite of two real figures: the renowned sculptor Edmonia Lewis and abolitionist Sarah Remond Parker, black American women who lived their later lives in Italy. This period, of course, is a moment at which both the United States and Italy are beginning to formulate their national identities along racial lines, with all its implications of imperialist expansion and gendered violence. Scego approaches familiar thematic material from a fascinating angle. I'm early in the novel now and can't wait to see how it ends up.
–Aaron Robertson, Lit Hub assistant editor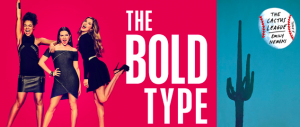 My friend and colleague Katie Yee has been recommending the show The Bold Type, a sort of perky Devil-Wears-Prada-meets-Younger-meets-Girls vehicle that airs weekly on Freeform, the channel that used to be called ABCFamily (which, as the network behind the show Kyle XY, was the primary channel I watched throughout tenth grade). Anyway, boy was Katie on the money. The Bold Type, which already has four seasons to its name, is charming. It's warm. I have found myself contentedly folding laundry in front of it. If I drank wine, I'd want to do that in front of it. It's about three friends who start out as editorial assistants at a Cosmo-style magazine, and slowly work their way up. I'm a sucker for programs that place female support and friendships front and center. It's also a nice thing to watch in March, because it ostensibly takes place in New York in the summertime (despite clearly not being filmed in New York, but whatever), and it's a hopeful reminder that we are almost done with winter. Speaking of summertime, I've also been reading Emily Nemens' lovely new novel The Cactus League, which is about baseball, a thing which I also love; particularly it is about a baseball star who arrives at a personal fork in the road and, to paraphrase Yogi Berra, doesn't know how to take it. Nemens writes like a carnival barker (in the best possible way) and her enchanting, nostalgic novel is set in hot Arizona, which she evokes (along with all the other locations in the story) with incredibly vivid language. She can plant you on the bleachers and put a hot dog in your hand. Spring training is already here, but these two fictions will transport you to summer if you can't wait much longer.
–Olivia Rutigliano, LitHub & CrimeReads staff writer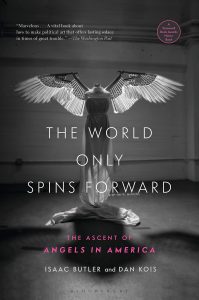 The best thing I've been reading right now is The World Only Spins Forward, a stunning oral history of the creation of Angels in America. The sheer scope of details here is amazing, incorporating testimony from people who worked with playwright Tony Kushner and creative teams at every stage of the show's production, from its beginnings in smaller theaters and its ascent to Broadway and everything that followed. Necessary disclaimer that you'll mostly appreciate it if you're familiar with the show already, but if you are, you'll likely be laughing and earmarking pages as often as I am. 
–Corinne Segal, Lit Hub senior editor
This week, I recommend knitting, and other activities you can easily do at home. Knitting is fun, soothing, and easy if you start out simple! Plus, just like recipe hunting can replace the pleasures of cooking itself, you can have hours of fun browsing knitting stitches before even picking up a needle. But the greatest benefit to knitting of all is that it vastly increases your tolerance for terrible television, so you can go ahead and binge-watch 90 Day Fiance guilt-free, confident that by the end of it, you'll have a scarf! 
–Molly Odintz, CrimeReads senior editor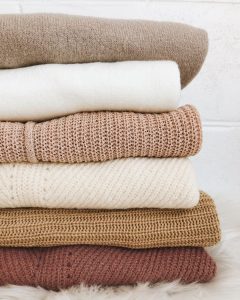 I recommend neutral knitwear.
–Dwyer Murphy, CrimeReads managing editor
---