Lit Hub Recommends: Practical Magic, Aminatta Forna, Sartre, and more
Things You Might Want to Watch or Read or Listen To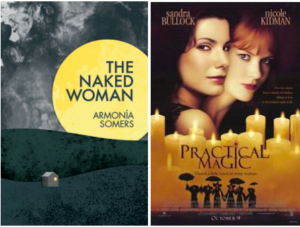 The Naked Woman by Armonía Somers is the spooky story revived from 1950s Uruguay that you didn't know you needed this season. A woman visits a sleepy village and drives its inhabitants mad. You can feel it in the prose. The sun doesn't just set; it sinks its teeth into the earth. Fun Fact: When it was originally published, it was so salacious and violent that people didn't believe it was written by a woman. Also, in case you've been living under a rock and haven't seen Practical Magic, I am here to tell you that you really ought to. Sandra Bullock as a witch, cursed love, Nicole Kidman singing Joni Mitchell's "A Case of You" off-key, cosmic comeuppance, strong female friendship—what more could you ask for? A Thelma & Louise for the spooky season. Best paired with midnight margaritas.
–Katie Yee, Book Marks Assistant Editor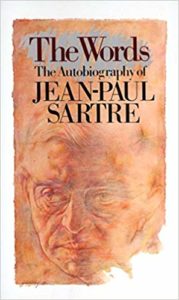 "I sank into a chaotic world full of simple hallucinations and defaced idols." I've been turning this sentence over in my mind for the better part of four years now. It's one of the many stark, perplexing sentences rendered by Bernard Frechtman in his lauded translation of The Words (1963), Jean-Paul Sartre's autobiographical account of his childhood (I've just finished my fourth read-through). You don't have to be a Sartre fanatic to appreciate this; it's arguably his most reader-friendly, and certainly his funniest, book, published the year before he turned down the Nobel Prize for Literature. The young Sartre's father has died, leaving him in the care of his self-negating mother and doting grandparents. The overwhelming love he receives from adults confirms Sartre's suspicion: he is indispensable, not just an adored child, but a cultural object worthy of veneration. Sartre spends the rest of the book detailing how the ego of the child unravels along with his fantasies of what the author is capable of achieving in a world that is often more bleak than not, thanks in no small part to the Great War and the aftermath of French colonial ventures in Africa. But this makes the book sound more harrowing than it is. The Words is a superb and comical love letter to the acts of reading and writing, and one of the most agile translations of any book I've read. I only wish that Sartre had been able to write the second-half of his autobiography, which he envisioned as two separate parts. He died before he had the chance. He did, however, fulfill one of his promises: "I would set up cathedrals of words beneath the blue eyes of the word sky. I would build for the ages."
–Aaron Robertson, Assistant Editor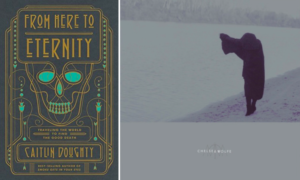 This week's two things are appropriate, if tonally different, bedfellows for the lead-up to Halloween: From Here to Eternity, writer, death positivity advocate, and mortician Caitlin Doughty's nonfiction account of funerary rituals around the world, and doom-folk singer Chelsea Wolfe's first album The Grime And The Glow. While Wolfe's sound and production values have since evolved, the very lo-fi The Grime And The Glow's grown on me of late, its track list ranging from the melodic to raucous jams that sound almost like an undead Sonic Youth. From Here To Eternity might seem similarly gloomy, but Doughty writes in way that's equal parts chipper and respectful, cataloging death rituals from around the world and pitting them against the antiseptic capitalism of the American funeral industry, which does little to aid the process of grieving or hold space for the bereaved. It's an antidote to the ghoulish way that death and end-of-life rites are often treated in media (especially when it comes to "foreign" cultures with supposedly "gross" cultural traditions)—the good twin, if you will, of the likes of Netflix's Dark Tourist. Doughty's approach to mourning and death may not be for everyone, but From Here To Eternity is still an excellent Halloween month read, preoccupied as it is both with death and how to not be a creep.
–Miriam Kumaradoss, Editorial Fellow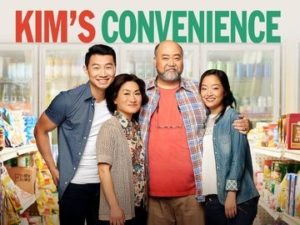 Have all recommendations for the past two years been couched as "here's what I do to make everything seem less continually, glaringly horrific"? Cool, here's another: Kim's Convenience. It's a Canadian comedy (now streaming on Netflix) about a Korean family in Toronto operating a convenience store. That's pretty much the whole premise! It's funny and warm-hearted without being saccharine, and (please understand that I mean this as the highest compliment), it's the perfect show to watch right before bed. If you're looking for the television equivalent of a really nice phone call with a friend you like a lot but don't get to see very often (think about it!), give Kim's Convenience a shot.
–Jessie Gaynor, Social Media Editor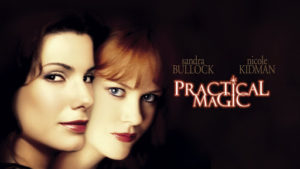 I'm also going to recommend Practical Magic. I haven't watched it but after an extensive in-office breakdown, I feel pretty confident recommending it sight unseen. As I was listening to my colleagues breakdown the plot in excruciating detail, I was thinking, this movie has absolutely everything except a Joanie Mitchell song, then lo and behold, it also has "A Case of You" performed by Nicole Kidman. Apparently. Thanks to Katie Yee for the original recommendation and to Dan Sheehan for the plot summary that made very clear where and how this movie distinguished itself from Hocus Pocus.
–Dwyer Murphy, CrimeReads Senior Editor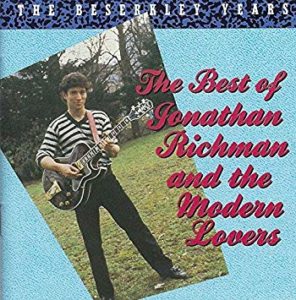 For this week's Lit Hub Recommends, I am pleased to recommend the fine, fine musical stylings of Jonathan Richman. I've been thinking about him a lot recently because I'm going upstate for the weekend to see him play live, at a show where I am likely to be among the very youngest in attendance, despite not actually being all that young. I grew up listening to Jonathan Richman—in particular, I grew up listening to The Beserkley Years: The Best of Jonathan Richman and the Modern Lovers on repeat during long car rides with my dad, and expanded from there. His music is. . . goofy. It's bizarre. It's not cool. Actually sometimes it's really corny. Sometimes it also rocks. But most importantly, it's unlike any other kind of music, and it's genuinely appealing, affectionate, and pretty damn funky. (Not for nothing: kind of like my dad.) The thing I love most about Jonathan Richman is how unconcerned he is about being cool, or being normal. (Also like my dad!) He's a true artist, forging his own path, doing what feels right and fun to him, regardless of how wonky it may seem to the outside world. He built a whole career and a whole life that way, and, to give into the corn just a bit, I find it incredibly inspiring. Hot tip: if you're new to JR & the Modern Lovers, listen to "Roadrunner" and then "Pablo Picasso" and then "I Was Dancing in the Lesbian Bar" and then "You're Crazy For Taking the Bus" and then my favorite, "Monologue About Bermuda." You will thank me, or you'll curse me. Either way is groovy, man.
–Emily Temple, Senior Editor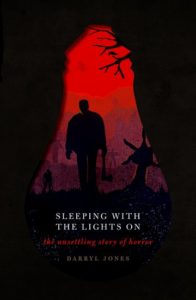 I've been in the midst of reading Darryl Jones' Sleeping on the Lights On, and I highly recommend reading horror on the subway—I'm fairly certain that I get a little more space when folks look at what I'm reading, and Jones' criticism is so engaging that I have a wide grin on my face whenever I'm reading it, so that probably makes me look extra creepy on the subway. This week, I'd also like to recommend learning how to clean, and giving credit those who are skilled in the cleaning arts. This may seem like stating the obvious, but please indulge me in the following thought experiment. Think of all your favorite authors. Or artists. Or literally anyone we learn about in school. Then ask, how many of them spent significant portions of their lives cleaning up after either themselves or others? Between the married men and the aristocrats, the answer is probably "few". How many describe cleaning in their books? Even fewer.  Why is that? Our society tends to consider cleaning in the same category as household management, and multitasking—skills that are for the most part taught by women, and thus undervalued as skills (like much of the female-led fight against entropy). There is little pride taken in the routine, compared to the finished and unique. But society needs people to engage in tasks of routine maintenance far more than completed artistic projects, and it needs people who do tasks of routine maintenance well. The fine art of cleaning is not intuitive. These are learned skills, and I'm engaged in a life-long project to learn more of them.
–Molly Odintz, CrimeReads Associate Editor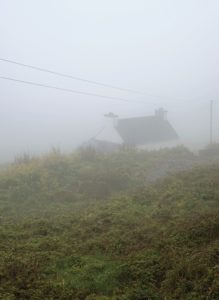 Kevin Barry is constitutionally incapable of writing a bad sentence or a boring story (or, for that matter, a conventional novel. City of Bohane and Beetlebone are both odd and inimitable marvels). His funny, macabre, soulful stories crackle with dark energy and linguistic verve and are among the few I will drop everything to read when the internet alerts me to their arrival. This week's piece of New Yorker fiction, "The Coast of Leitrim," is no exception. It's about a sensitive young man living a quiet bachelor life in a cottage in the west of Ireland, and his relationship with a Polish waitress. It's also about obsessive love, self-doubt, self-sabotage, tiny coastlines, insomnia, and loneliness, and conducts a perfect, stomach-knotting tightrope walk between sorrow and menace all the way to its final line.
–Dan Sheehan, Book Marks Editor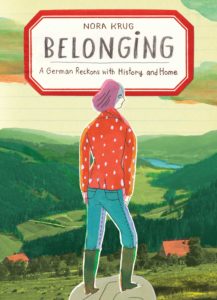 I don't read a lot of graphic books, but I have loved Nora Krug's visual memoir Belonging in an obsessive, missing-my-train-stop sort of way. Krug, who was born in Germany three decades after the Holocaust and now lives in Brooklyn, confronts her past through extensive research, visiting the towns where her grandparents lived, searching through archives, and collecting photographs and letters from German soldiers at flea markets. A sort of scrapbook with drawn images and text, as well as photographs, maps, and dried flowers, it's an intimate book that attempts to understand not only one family's relationship with guilt, but a nation's.
–Emily Firetog, Managing Editor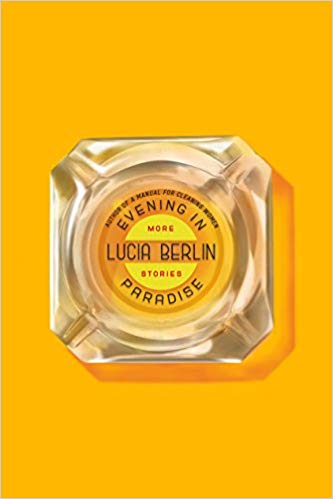 I have recently moved and I cannot figure out where to put my bookshelves—as such, all my books are in piles on the floor, and it is hard to find anything to read. As if by a kind of magic, sitting there on top of the pile nearest my sad and sheetless mattress, was the galley of Lucia Berlin's next (posthumous) collection of stories, Evening in Paradise. I love Lucia Berlin, but when asked about specific stories, I can never quite get them straight. But that's ok, I just want to wander through her bad luck parking lots and overlit lobbies, drift along on that particular mood she creates, and maybe sit for awhile on the median.
–Jonny Diamond, Editor in Chief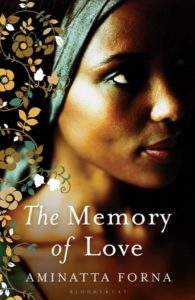 Sometimes teaching a book will break it for me, all its effects turn to tin. On a few occasions, though, one emerges from class larger and more beautiful. Majestic, even. That happened for me this week with Aminatta Forna's 2010 Commonwealth winning novel, The Memory of Love. Set in Freetown in two time frames—just after the military coups of the late 1960s and then in 2001, as that country's horrific civil war was winding down—it is a book of prismatic depth and feeling. As the title promises, it revolves around love. In the 1960s, a cagey academic is besotted with his colleague's wife and sets out to seduce her, ultimately committing a calculated act of political betrayal to get what he wants. Meantime, in 2001, a doctor who stayed through the war has reached the end of his nerves as he tries to continue practicing through relentless insomnia, the fumes of an affair keeping him going. Uniting these timelines is a British psychiatrist who has come to Sierra Leone to earn his research stripes practicing in a city where, by one estimate, 99 percent of the population suffers from PTSD. There are so many things to admire about this book, among them the fact that Forna never presses history down onto her characters, but allows it to rise up in the stories they hear and tell, in how their bodies break down, and the way love is deformed by and resists the zero sum bargains of war. The Memory of Love is also a dryly funny send up of the white savior complex. In fact, the patience with which Forna reverses the gaze on books like Heart of Darkness is nothing short of awesome. She does this by pulling off something remarkable in a book where the three main characters are men: she reveals that all of her heroes' lives revolve around women and the forms of power these women possess, and which cannot be possessed. If you're looking to be completely enveloped by a book, to make several days vanish like that, here's your ticket.
–John Freeman, Executive Editor
---