Listen to Alia Shawkat Read From Big Cats
"Even though I know we're never supposed to speak, I look her straight in the eye"
The following is from the audiobook recording of Holiday Reinhorn's short story collection Big Cats. Each story is read by a different narrator, including Rainn Wilson, Helen Hunt, and Patricia Arquette. Below, Alia Shawkat reads the title story.
"This summer," Polly says to me in her soft, scratchy-gravel voice, "I'm making it with a forklifter."
We're sitting alone, the two of us, in the woods behind our development, the Sylvan Townhouse Estates, changing into work uniforms, and her whispering mouth is up so close to my earlobe I can feel her lip gloss.
"Don't pair off with Polly all the time," my mother keeps on begging, "You need to expand your horizons." But she doesn't see that Polly is my horizon and when she puts her arm around my shoulder and squeezes, the sweet, oily smell of her bubble gum makes me picture a hot tropical place where the two of us are getting stared at through the palm trees by hundreds of eyes.
"Last summer was for wishing," Polly says, "This summer is for fucking."
Her words are invisible, but they crash between my legs like giant cymbals.
Yesterday, all the second-season girls with work permits marked age 14 were taken aside at the orientation by Division Manager Weiss of the Washington Park Zoo. We were lined up on the loading dock at the side entrance after he had all the boys go stand by the time clock outside his office, and he told us: "No female food and giftshop concessionaires are to mix with warehouse personnel on zoo grounds in zoo uniforms no matter what."
"Now Ladies," he said, leaning his bubble rear up against one of those oxygen tanks they use for pop, "warehouse jobs at these Zoological Gardens are community service positions and the policy here is to leave those gentlemen well enough alone, especially while the Elephant House is under construction."
"Picture the Weiss fingering his vagina," Polly said out of the side of her mouth and I was about to fall over on the floor holding my stomach. The things Polly says can make me do that. She makes me fall down in public all the time.
Now Polly scoots away and dewy pine needles cling to the back of her legs. "Say it, Brenda," she says, "that's an order," so I take off my summer shorts and in my newest bikini underwear with the leopard thunderbolt, I do as I am told, shouting it out to her and the dark, empty woods. "We fuck something from the warehouse or nothing at all!"
Last summer, when we were new, we couldn't believe the boys. Eight boys working Main Cafeteria, five boys with money belts taking tickets for the boats and trains, six boys in white paper hats leaning up against shade trees selling popcorn and Sno-Kones, three garbage pickers. But the forklifters were actual men. Sweaty, shirtless, numberless men with skull wristbands and visors and tattoos, racing in and out of the scaffolding behind the broken down Elephant House, backing boxes full of things into dark doorways, shifting gear after jerky gear.
"That's right, blood sister," Polly says, lifting up her hand. I lift mine, too, and we clap those hands together hard. In the air they are the same hand. We leave them there and intertwine fingers. Yeah.
We have to be at work in less than twenty minutes, but Polly doesn't seem to be in a hurry at all. She's lying topless in the moss with her eyes closed, humming a song she's making up right this second, and I know for certain, she's got a much better chance than I do of making it with forklifters. She has nice wide hips compared to me, and soft thighs that don't spread out when she sits on fences. Polly's hair is towhead also, and so frizzy she can even use an Afro comb on it, no matter the style.
All I've got is plain silky brown hair that wants to lay down and not do a single thing. "It wants to be auburn, too," my mother says, but she won't take me to the colorist until I'm fifteen. My hips are not wide either, but narrow, like a giraffe's.
The only thing in the entire world I do have, compared to Polly Swann, though, is a chest.
Even to this day she doesn't need to wear a bra under her uniform or any of her other clothes, and looking at her now, at her bare-boy flatness on top, makes me worry all of a sudden that they will never grow and she will end up being bottom-heavy. But then I remember that both of us have pretty decent faces, and if you took the bottom of her body and my top and put them together, I think forklifters would like us. I think we would balance each other out.
That's all I'm thinking about when I'm looking at her, regular thoughts, but a cloud comes over Polly's face."What are you staring at?" she says, covering her nipples with her palms, which is easy because they are only about the size of two pink pennies.
"Nothing, blood sister," I tell her, raising up my shirt and giving her a quick flash of my mother's bra with the lace cross straps and the rose in the center. "I stole it from her drawer."
"No point when it's too big."
"Not for long," I say, showing her the safety pin I used to clip the back. "Almost."
"That is disgusting, Brenda," Polly says, scrunching up her face and rolling away."Old sick-lady clothes."
I whip a stick in her direction. "She's not sick."
"Whatever."
"Well," I say in a high, stupid voice, knowing by the tone that I will live to regret it, "can't go bra-less anymore, like you."
Polly shoves her middle finger in my direction. "Fuck off, anyway," she says, grabbing her clothes up in a wad. "I'm not sitting around here so you can stare at me like a perv."
Then she turns her back and slips into the rest of her zoo uniform, which is brown shirt with official patch, brown knee-length tie apron and ironed cotton pants with a crease. No jeans.
Neither of us says anything while we're dressing, and when she's done, Polly leans up against a peeling birch whose papery bark crinkles as she rips big sheets of it away. I know she shouldn't do that to the tree, but I'm scared to say anything, even when there's a smooth naked patch on the trunk that looks like it hurts.
"I'm not mad anyway, freak," she says, grabbing the big kitchen mitt we keep in our hiding place near the fence."You just shouldn't get so excited."
"Oh, please," I tell her, reaching for the pot holder, which in reality is mine because I stole it from my mother after the hysterectomy last summer. In the old days before she had everything removed, she would have missed that thing, but now that she's on the different hormones, she barely ever cooks anymore. If it wasn't for Ed the Renter who lives in the downstairs and takes care of her, she'd probably set her bathrobe on fire.
"Get going then, Brennie," Polly says, shoving the pot holder on my hand, and I lift the bottom strand of barbed wire so she can slide under. When it's my turn, I hear one of the peacocks calling down in the zoo, and it makes me feel eerie. Like the sign of death.
"Brush me off?" I say, turning my back to Polly, but she's already balancing along the tracks of the little kid's railroad, heading off.
"I'm going my special way, ok?" she says, adjusting her Afro comb, and even though I want to, I don't follow her or try to catch up. Instead I act like I've got other things I'm thinking about, and my own path, too.She turns left at the Arctic Wolves without even looking around, so I cut up the other way by the Sun Bears on purpose, because that's the way it is with Polly. You have to give her space to do things. Like when we're at Crystal Ship getting records, or at the Brass Plum Boutique, I let her browse on her own. I don't follow her from rack to rack when we're shopping and talk about the things she's looking at. And if you do that, if you ignore her, she'll always come back to you and show you the things she's picking.
I know Polly's special route to Main Cafeteria is shorter and she's secretly trying to beat me, so I jet past the Hippo Pond, sprint around the Ladybug Theater, and cut up through Mini-Everglades. There's nobody around, so I pretend to be a spy on a mission. I hit the tunnel behind Polar Bear Island at my fastest pace yet, until I see a fat fire hose snaking along the ground toward the side entrance and I have to stop then because I know it leads to a zookeeper.
The only reason I ever wanted us to work at the zoo at all was because of the animals. In the newspaper, when I showed the ad to Polly, it said, Animal Lovers Wanted. But zoo policy is that no one is allowed to assist the zookeepers. You can't touch the food or help or even go into the Nocturnal or Monkey Houses when they're being cleaned. Weiss says you cannot ever plug things in for a zookeeper or help them screw in a hose because there could be a lawsuit.
"Leave the keepers officially alone" was how he put it. "They are this zoo, and they don't have time to talk with any of the food and beverage personnel."
Zookeepers always come to work in perfect security-guard-looking uniforms with fancy walkie-talkies and rings of keys. Except it's not like you'd imagine from the nature shows where zoo experts are always so excited to show people animals and baby animals and how to hold them and things. It's rare to ever see the same zookeeper twice in one day. The only ones we see a lot are the two women that get to take care of the lions and tigers and snow leopards. "Big Cat Lesbians," Polly calls them, but I don't think they sleep in the same bed. Last summer we saw them be in the same cage, practically, with a cougar.
I run my hand along the railing of Polar Bear Island as I sneak beside the hose watching Uba, the mother polar bear, and Eka, the baby, while a zookeeper in work gloves and rubber boots stands right below the fake iceberg where they are sleeping, hosing down what's supposed to be the Arctic Ocean.
She is tall and muscley, with strawberry-blond dreadlocks spiking out through the back of her baseball cap, and she's sending a river of thick green water into a drain hole. There's a radio on down in the den too, tuned to "Jamaica Sounds" on KISN. The music is up pretty loud, and her back is to me, so I quickly bend down and just for a minute touch the hose, because I've heard they can handle a lot of pressure. Jim Kemper, one of the high school re-hires, says they can take up to forty pounds per square inch.
I've still got my hands on the hose when the water stops, and when I look up she is staring across her shiny blue surface of painted waves.
"Can I help you, my girl?" she says loudly over the radio, and I can't tell if she's upset or not because her eyes are covered with little round sunglasses like John Lennon's.
"Sorry," I say, removing my hand from that hose and standing up to walk away. But instead of getting mad, the zookeeper smiles kind of crookedly. She goes over and turns down the volume on her radio so it's just dim mumbling, then comes over to the den doorway, dragging that heavy hose behind her like it's a body.
"What can I do for you today?" she says, still smiling, and I see there's a little chip in one of her front teeth.
I peek over her shoulder at Uba and Eka to see if they are listening to any of this, but those bears are lying flat on their faces like they're dead.
And even though I know we're never supposed to speak, I look her straight in the eye, just like Polly would have, and ask her the question we've had ever since the beginning of last summer when we saw the male snow leopard on top of the female, making love to her over and over again on a sawed-off log.
"I heard all the animals here are on birth-control pills," I say. "Is that correct?"
The keeper doesn't answer right away. Instead she takes off her sunglasses and looks at me seriously, checking out my uniform, and I can tell she thinks it was a smart question. "You betcha," she says. "But only the females, my girl."
* * * *
The first thing I see when I get to Weiss's office in back of the gift shop is a bunch of first-season hires standing around in a little huddle in the courtyard with their plastic orientation notebooks and fold-out food-service maps. The pants they are wearing are way too dressy, of course, and they'll be sorry if Weiss puts any of them on french-fry grill.
I waltz through the center of the new-hire clump without having to say excuse me, then head for the second-season area, where I see Polly in a group of rehire boys, leaning back against the wall with Doug Sengstake and Eric Folkstad, talking. At first she looks over and doesn't say anything to me, so I roll up my uniform sleeves and check the pockets of my cotton pants, until I hear Polly give a squealy little scream.
"Blood sister," she calls to me now, because Sengstake has grabbed her around the waist, and Folkstad is reaching his whole hand up her apron.
"Blood sister," Polly yells again, trying to stomp on Folkstad's toes to keep him away. "C'mere and help me, honey, please." And even though I think technically we're still supposed to be mad at each other, I elbow in as close as I can through all the other rehire boys who are starting to cluster around.
"I'm coming, Poll," I say, but five of them grab my arms behind my back, and all I can do is thrash while everybody starts rooting for people: boys for Sengstake, girls for Polly and me, until there's a muffled knocking from inside Weiss's Plexiglas and everybody gets quiet. All except for Polly, who's fighting so hard she doesn't even hear the door to the office complex creak its way open.
"Let go, faggot," she screams, pony-kicking out fast and sharp at Sengstake's shins. "Butt soldier!"
"Mademoiselle Swann," Weiss says in his calm dictator voice, and as she turns, all the wild electricity in her eyes fades. "Shall we have a little rendezvous in my office?"
Polly's mouth works up and down, as if her jawbone is out of whack. "They're the ones who started it," she says, waving in the boys' direction. "Tell him, Brenda."
"She didn't do it," I say, looking down at Weiss's Nikes. "It was two ganging up on one."
Weiss turns to me, smiling with his mouth but not with his eyes. "Mademoiselle Hopkins," he says to me. "Your friend has violated a very important rule. My staff does not use profanity. That's not how I run a zoo."
You don't run a zoo at all is what I want to tell his fake French face. You are not the one with reggae hair and a hose in the Polar Bear Display. You are not in a special uniform with your partner, practically inside the cage with a cougar.
But Weiss doesn't care what anybody thinks. "Patch not showing," he says, pointing to my rolled up sleeve in front of the new hires. "Now, let's get inside for day assignments, troops."
As soon as Weiss and Polly are gone, all the boys crowd in around the assignment sheet so nobody else can see it. Half those boys get garbage duty anyway, which is so easy. Girls don't ever get to do garbage.When it's finally my turn, I skip my name and look for Polly's first. Swann, Polly, it says, Troubleshooter, which is nothing less than a total jail sentence: stocking straws and napkins inside the Solarium and busing the tables on the Picnic Deck with all the yellow jackets swirling around your hands.
I follow my finger up the list and find my name in Weiss's curly writing just as Polly gets back from her lecture. Her face is soft, and her blur of hair looks like it's been scribbled around her head with a crazy white crayon. She brushes by me like we're strangers and goes up to corkboard, running her sky blue fingernail up and down the assignments until she gets to her name, then mine: Hopkins, Brenda: Big Cats Candy Kiosk.
Considering how amazing that day assignment is compared to hers, I expect her to snub me again like before, but instead she treats me fake-nice, the way the runner-up girl at a beauty contest would treat the girl who won.
"Hey, Big Cats Candy Kiosk," she says, giving me the kind of excited hug that doesn't mean anything. "Congrats, baby. Con-grats."
"You can have it, I promise," I say. "We can trade."
"Don't worry kitten," she says without meeting my eyes. "Nothing Mama can't handle."
"What about the Weiss, though?" I ask, and Polly sighs.
"Weiss is so gay, Brenda," she says, turning to the time clock and thwonking her card down into the machine's loud teeth. "What else do you need to know, or anyone?"
* * * *
What every member of the food and gift personnel knows is that Big Cats Candy Kiosk is the best assignment in the entire zoo. It's built right in the middle of the Central Concourse and looks like a little round temple from China. The whole front of it is Plexiglas, for one thing, and gives you an excellent view of the Big Cats outdoor exhibit, which is shaped like a giant pie. Lions, snow leopards, cougars, and jaguars split it in quarters, and from the Candy Kiosk you can see right into the sector that looks like a real African semi-desert. The only things separating you from the lion and lionesses are a walkway, a moat, a low hedge, and a railing.
In Big Cats Kiosk, Weiss has the candy organized on a lower shelf in his own order, like library books, plus, you have your own phone and authorized permission to call forklifters if you run out of any brand.
As soon as I get to Big Cats, I check my inventory, then call my mother. I've told her that using an outside phone line is against Weiss's policy, but she still says to do it anyway. "It gives me something to look forward to" is what she tells me, even though it takes her more than ten rings sometimes to get to the phone.
Today she picks up right away, though, which means she probably still has it with her in the bed. "Oh hi, BeeBee," she says in her sleepy underwater voice. "What are you doing?"
I'm about to tell her, "Working" or "Selling stuff," which is what I always say, except right then I see that same zookeeper from the morning, driving slowly up the concourse in one of the official green zoo pickups.
"Nothing," I say, twisting the phone cord around my fingers as that zookeeper comes right up alongside my kiosk and leaves her truck idling. "Just feeding lions is all. Sometimes other animals.Going into their cages, too."
"Oh," my mother says. "That sounds like fun. Is Polly with you?"
I watch as the zookeeper takes a king-size Shop-Vac out of the back of her truck and carries it around toward the side entrance to Big Cats. "Are you making any other friends?" my mother says, but before I can answer, a big senior-citizen group arrives along the concourse and starts blocking my view of the entire semi-desert. They are teetering down the steep hill from the entrance in a zigzag pattern and have got balloons tied to their wheelchairs and walkers. Senior citizens and the people who take care of them hardly ever want candy, but still, I feel dread, especially when I see Polly strolling along behind some of the stragglers.
"I have to go," I say, but my mother is so slow on the uptake.
"What's going on, Beebee?" she says. "Are you mad?"
"I'm not," I say. "I am not mad," but of course, she won't believe me, and as I hang up I can still hear her in a half-panic, calling my name.
At first Polly almost passes me by with the senior citizens, then at the last second, she turns and stares at both me and Big Cats Candy Kiosk, as if she's never been more surprised. The green zookeeper's truck is still idling out there, too, right in front of her face, but she doesn't act like she's noticed.
"Oh, Brennie, it's you," she says, putting her face up to the hole in the Plexiglas with a giant smile. "I couldn't remember where you were."
"Female animals here are on the pill," I tell her the minute I let her in the door, and finally, Polly looks out at the green pickup and narrows her eyes.
"You're so full of shit, Brenda," she says. "Who told you anyway? Her?"
"That's correct." And then I tell Polly every single detail while we split a Twix and suck the chocolate off our fingers. About Uba and Eka and the smell of the water. The chip in her tooth and the UB40 on the radio. Her dreads.
When I'm done, Polly looks at me and sighs. "All that's very sweet," she says, tracing her initials in the dust on the window."Are you in love now, blood sister?"
"Shut up."
Polly swings her legs, and I try and ignore the bang of her high-tops on my clean cabinets. "Well, I found a rat in the grease bucket, is what I'd like you to know," she says. "Weiss had me call forklifters."
I look at Polly, and my stomach feels like its diving way down. "So?"
Polly picks up a box of Hot Tamales and taps them against her knee. "Brenda, Brenda, Brenda," she says, in a way that makes me hate the sound of my own name. "My point is, I made contact with the warehouse, which is more than I can say for you."
I inform her that I am, in my own way, making forklifter contact, and she can go finger herself, but Queen Polly only shakes her head grandly.
"Maybe I'm meeting someone later, blood sister," she says. "Which is more than I can say for you."
"What's that supposed to mean?"
"Oh, I don't know," Polly says, brushing off the back of her pants. "It's hard to say."
"It isn't that hard," I tell her, "just open your mouth," but instead of answering, all Polly has to do is stand there and I can see it inside her. The glow. That same green nuclear power she inherited from her mother Leanne Swann, who, last time Polly talked about it, was dating a tennis pro from Corno's Produce and having an abortion.
I'll screw a forklifter right now, I want to promise Polly. Yes, I definitely will. But then I think of Leanne Swann in her two-piece tennis outfit compared to my mother in her wilty bathrobe, and I can see why Polly would doubt me.
"Move aside," I say to her, reaching for the phone. "What's the number of the forklifters?"
"You know it, Hopkins," she says with her victory smirk. "Dial it yourself."
The forklifters take even a longer time to pick up than my mother does and when they finally do, all I hear is a roaring from a giant machine, like some kind of shredder.
"Warehouse," the voice says, and my ribs close up.
"Pick up on deck," somebody else yells in the background.
"Warehouse," the forklifter says again, louder, and when I hear the engines revving behind him, I can't help but picture us together in the crooked scaffolding of the Elephant House, doing it in the different positions of sex Polly and I saw in the Dutch Book of Eros: sometimes in front of an audience wearing girdles and open tuxedos, sometimes just alone, with neckties and strapped-on extra penises.
"Warehouse," I hear again and my tongue turns so icy hot in my mouth I can't move it.
"Help me," I mouth to Polly, covering the receiver, but instead she grabs the phone.
"Yes, this is Brenda Hopkins over at Big Cats Candy Kiosk," she says officially into the receiver. "Would it be possible to suck my pussy?"
"Shut up!" I scream, wrestling the phone away and shoving her out the door, but it doesn't do any good, because in a minute I see the same evil, fluffy head pass by in front of my window. I cover the mouthhole of my Plexiglas, but I can still feel her breath on my palm.
"Gotcha," she says.
Then, right in front of me, while she knows I'm watching, she runs her finger along the side of the zookeeper's green truck. There isn't anybody around to see her, so she does it slow, making sure I see the line her finger is leaving across the dusty paint. She circles the whole truck like that, with her finger dragging, then jumps up on the back bumper and swings herself aboard.
I pound the window with my fist, but she ignores me and walks all around inside the open back of that zookeeper's truck, touching and stepping over everything she sees, the rolled up hose and the handles of other weird official-looking animal equipment, even though that zookeeper could come out at any time and catch her.
"You better knock it off," I hiss at her through the Plexiglas hole, but she knows I am trapped in here, in my kiosk. She knows if a customer comes to buy candy in an empty kiosk, Weiss would fire me on the spot.
I drop my forehead onto the counter and stare down at the rows of candy. I even take a complete inventory again, until I notice Polly stop and lift that zookeeper's radio over her head. She holds it up there for a long time to make sure I've seen it, then lowers it next to her face and pretends to scream, as if it's a prize she's just won on a game show. The truck heaves as she jumps up and down with the radio, and I can't believe this is happening. I can't believe I have called her sister, that blood from our fingertips has ever even mixed.
I check up and down the concourse for candy customers, Weiss, or forklifters coming to suck pussy, but thank God, none of them are coming.
And by now Polly has on the zookeeper's hat and is making out with the radio, pretending to tongue-kiss the front of it. She stops, pointing at me from the truck and it is obvious what she is saying: "Big Cat Lez-bo. YouYouYou."
I hold my middle finger up to the window, but Polly, slowly, slowly, slowly, with a wild orgasmic look on her face, takes hold of the radio by the cord and starts lowering it down her body, inch by inch into the cab of the truck. While she does that, she starts to dance, a seriously sexy dance, as if she's trying out to be a stripper, and even though it's the most embarrassing, shittiest thing, of course she looks good. She looks good doing it.
I cover my face with the clipboard, but it's impossible to do that for very long.There's nowhere else to look but back at Polly. She lifts one hand over her head and pretends to twirl a lasso. The other hand she puts between her legs, then looks at me and swings her hips, pretending to be the zookeeper. "Oh my God, Brenda," she calls, lifting up her shirt. "I'm so gay for you."
At Polly's townhouse, she and Leanne Swann swap clothes and scarves. They put lipstick on each other like they are Greek sisters from a sorority. I've seen them trade things, use tampons out of the same box, whisper to each other like they are the only ones in the entire world. "This is my baby," Leanne will say about Polly, as if I'm not even in the room. "Gorgeous, right? She's my best friend."
The door of my kiosk explodes in front of me, and when I burst out onto the concourse with my inventory clipboard, the whole world feels like it's at a slant.
"You better fucking cut it out, Swann," I warn her from across the walkway, lifting the clipboard, but she only laughs and starts to go at it even harder.
"Oh God, girlfriend," she says, rubbing the radio across her chest."Nobody does it like you."
"Quit!" I say, grabbing for the radio, but Polly is still dancing away.
"Oh yeah?" she says in a voice like syrup. "And who's gonna stop me? Dyke!"
I draw my arm back, aiming for her mouth, and the clipboard slices through the air just like the boomerangs they have hanging on the walls in the Koala Kabin, whistling past her head, over the truck, across the fat hedge, and right into the middle of the semi-desert.
Polly drops the radio with a clank, and I run to the railing and see my clipboard in the long grass, lying about fifteen feet away from three lionesses, who all look up at me with golden eyes and blink.
"Nice job," she says. "Stupid."
Slowly, I turn to the truck with a heat around me that is more than just burning.
"I'm real sorry about that," says Polly, pointing down into the display. "Maybe you better call your mama."
I look up at her face, but the sun is too bright. A white ring around a world of raging fire. I ask her if maybe she'd like to repeat that.
"Oh yes," says my friend Polly. "Absolutely. I said call your mama, BeeBee. Your poor, sad, dried-up mama."
"What did you say?"
"You heard me. Hysterectomy."
My eyes tear wide open to take her in and for the first time since I ever saw her, I can picture Polly Swann's dead skeleton lying in her grave. I lean forward, and my voice feels so velvety and viper-quiet I think it might be coming from the mouth of one of the reptiles. "You stupid, titless bitch," I whisper. "Slut."
She springs from the truck like it's a trampoline, and we are on the cement then, joined. I can't believe how easy it is to hit her. My fists drop down and down like carpet bombs. It doesn't seem to hurt when she's hitting me, either, and we roll back and forth on the cement like pit wrestlers.
She goes for the pocket of my apron, and when I hear the rip, I grab for the zoo patch on her arm. There is a giant stretch, the sound of material giving way, and then I choke her until her face purples out.
I press my forehead onto hers, and I want to hate-kiss her over and over and smash her teeth. My lips are inches from her lips.
"Pill popper's baby," she rasps, digging at my chest for my mother's bra, "Sterile!" And as she gets hold of it, yanking the straps, I remember suddenly what it is my mother said, and I sink my fingers deep into the mass of cotton-white hair. "Leanne Swann is a two-dollar whore," I say, wagging her head back and forth in my hands. "Abortion!"
All at once there are words, then footsteps, and my hold on Polly feels like its loosening. I reach out to hit as hard as I can at the thing between us, but I am being pressed into the ground by a cool gray shadow that blots out the sun.
"My patch, she took my patch," a hoarse voice is shouting, and when I open my eyes, I am on my back somehow and the sound is Polly, practically crying like I have never seen her before, holding the place on her uniform where her zoo patch used to be. I follow the finger she is pointing at me and see that it leads to my hand where crazy threads are poking out through the fist.
"It's all right now," a voice is saying. "Let's everybody calm way the hell down."
On my chest there is a tapping, and when I look there, I see it's the knotted end of a reddish dreadlock dangling in front of my eyes like the tip of a paintbrush. Then I know exactly where I am.
"Are you hurt?" she says to me. "Can you get up?" It's a nice voice, smooth and deep and faraway.
"You're going to fire us, aren't you?" I say.
"Oh no she isn't!" Polly says, like she's about to have some kind of tantrum. "I cannot be fired. I can-not!"
The zookeeper turns to Polly. "I need it quiet from you now," she says, in a much rougher voice than she used on me. "I don't want to hear another word."
Polly's mouth snaps shut with enough force to bite off her tongue and I have never seen her clam up like that, not ever.
"I'm definitely hurt," I say. "I might be paralyzed."
"Uh huh. Let's get you on your feet."
Her smell is like hay and cigarettes, and I put my whole weight into her arms. I could not do that to my mother, but all this zookeeper does is hoist me right up.
"I'm sorry to interrupt," Polly says taking a step forward and tapping the zookeeper on the shoulder, "but an inventory clipboard is in with your lions. She threw it at me. She totally attacked me with it, and it flew in."
"She was in your truck first," I say as calmly as I can. "She was in the back, touching your equipment and doing a strip tease."
The zookeeper holds up a work glove. "I'm not interested," she says. "Can you girls settle this now, or do you need intervention?"
Polly and I look at each other, but as soon as our eyes come together, they jump apart like the wrong ends of magnets.
I toss the patch to Polly, but she lets it flutter down on top of her tennis shoes.
"I'll take that as a yes," the zookeeper says. "Am I right?"
Polly brushes off her pant legs. There is gravel in her hair, and red crescent moon marks are on her cheeks from my fingernails. It looks as if she just got raped.
"All right, then, girls," the zookeeper says. "I'm going in for this damn clipboard. You two stay right here."
And before either of us can argue, that zookeeper hefts the ShopVac into the back of her green truck, kills the engine, and strides off toward the side entrance.
Neither of us says anything to the other one. We just wander toward the railing, as quiet and stunned-seeming as the animals. There is no sound either, except for the baboons, who are always screeching twenty-four hours a day anyway with their fangs out and their swollen red bottoms.
Inside the display, on top of their grassy cement hill, the three lionesses are still lying side by side, taking turns licking each other's paws and ears. Every so often they swish their tails at the lion too, who is relaxing on a flat rock not far away, watching the women in his pride clean themselves with their rough tongues. And in between the two groups, lying upside down at the edge of the central watering hole, is my inventory clipboard, looking ridiculous in there, like some weird commercial is being made about office supplies.
"Jesus, look," Polly whispers suddenly, but she doesn't need to open her mouth, because I can see that zookeeper fine by myself, bending down through the low cave opening at the back of the display that's spray-painted with running herds of wildebeests. Her hands are quiet at her sides, and she comes out slowly with total expertise, like she doesn't want to make any rapid moves.
"Oh my God," Polly says, as the zookeeper rises from her crouch and moves out into the pen, as if it is not just tan cement she's walking on, but deep Serengeti sand.
"We need to be quiet and calm," I say to Polly. "They could tear her up."
But as the zookeeper's safari boots rustle through the dry grass, her confidence is so complete that the lionesses lie right where they are, yawning and blinking, and the lion just goes on shaking the bugs out of his mane, like this kind of unbelievable thing happens all the time.
In less than a minute, that zookeeper is exactly where she needs to be. She bends down like a karate fighter, straddling the water hole, and when she has a hold on the clipboard, she looks up at me directly, with that same crooked smile from the morning, and winks before lifting my candy inventory up over her head and carrying it at the exact same pace back out through the door.
There is a short silence after she disappears where I can only hear my heart and Polly's breath as she leans against me whispering, "Holy shit."
Then somebody starts to clap. I snap my head around and there they all are, the exact same group of senior citizens, back now, I guess, from Primates. They have all wheeled up behind one old man with binoculars, who is focusing on the door where the zookeeper just used to exit. "That was my clipboard," I say to him, and he smiles at all of us with very white and young-looking teeth.
"Congratulations, young lady," he says. "Bravissima."
And when they hear him say that, the rest of the seniors clap even harder. They just keep on clapping and clapping and staring into the semi-desert with their balloons bobbing until Polly and I both do the same.
And while I clap, I picture what we all must look like there, and my whole body gets really big from the awe, until I am a giant, standing over the zoo in a tight silver uniform that is the exact same color as the clouds. And looking down, I see the whole green field across the Jazz Concert Bandshell, and it is shining like a bright neon square, filled with every single forklifter that works here, all staring up at my hugeness, all hoping to screw me.
Then I get even bigger still, until I can see right down into our townhouse, where my mother is floating in the air, six feet at least, above our couch. "Look at me, BeeBee" she says. "I'm flying."
And way down below me, tiny munchkin Polly is squinting up, cupping her hands around her mouth, saying I'm still her blood sister. She promises I am. And I smile down at my friend then, from that great height. I smile almost gently, because I know that if I wanted to, I could lift her into the sun.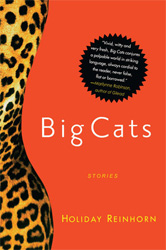 From Big Cats by Holiday Reinhorn. Text copyright © 2005 by Wil-Horn Enterprises, Inc. Text reprinted by permission of Free Press, an imprint of Simon & Schuster, Inc. Audio narrated by Alia Shawkat. Audio excerpted courtesy Penguin Random House Audio, a division of Random House, LLC, a Penguin Random House Company.
---