Life, Love, and Beowulf in the Deep South's Most Literary Small Town
Lawrence Wells on the Day He Met His True Love in Oxford, Mississippi
We met at the University of Mississippi in a Beowulf seminar. Professor Louis Dollarhide began to lecture as he entered the classroom. The compound berserk, he said, meant bare of one's "sark," the ring-mail shirt worn into battle. The fiercest of the Danes would rip off his protective armor and race bare-sark into battle. "This often proved fatal," Dollarhide added.
I risked a glance at the young woman who sat across the table from me. Word was out that Faulkner's niece, recently divorced, had enrolled in graduate school. A fellow student pointed her out to me before class. She was named for her father, Dean Swift Faulkner, a professional pilot killed in the biplane his brother William had given him. Her uncle William, or "Pappy" as she knew him, became her legal guardian and paid for her schooling. Instead of taking notes Dean seemed to listen to a clash of Viking swords, head slightly tilted, dark hair framing her face.
Prior to enrolling at the University of Mississippi I taught English for four years at Murray State University in Kentucky. An Ole Miss professor came to Murray on a recruiting trip and convinced me to apply to Ole Miss's fledgling PhD program in English. As I drove to Oxford on the winding Highway 7 past hardscrabble farms and barren hills I felt that I was entering Flem Snopes country.
A few minutes later I entered the oak-lined streets north of Oxford's square, antebellum homes and caught sight of the courthouse framed by towering oaks. I had arrived in the other half of Faulkner's fictional cosmos, the town of Jefferson. "It's true!" I thought. "Faulkner didn't make it up."
*
Oxford in 1970 was a small college town of 10,000 permanent residents. The university's 8,000 students lived mostly on campus and avoided establishments frequented by "adults." Eight years after James Meredith enrolled at Ole Miss the integration of the university was very much a work in progress. That fall the Ole Miss football team would field its first African American player, Ben Williams, a freshman nose-tackle from Yazoo City.
"If that Faulkner feller was still around . . . I wouldn't cross the street to speak to him."
Vietnam vets of every race and religion walked to class sporting fatigue jackets and shoulder-length hair. Ole Miss was flower-child territory. There were rock concerts in the Grove—the wooded tailgating area at the center of the campus—and clouds of marijuana smoke. University police sporting long sideburns looked the other way. Woodstock had come to Mississippi.
My wife, Gayle, and I rented a two-bedroom basement apartment on South Lamar Boulevard and settled in with our two children, Lawrence, five years old, and Catherine, eighteen months. Our neighbors across the street were Mac Reed, co-owner of Gathright Reed pharmacy and a friend of William Faulkner. Mac and his wife invited Gayle and me for coffee, and he reminisced about packing Faulkner's manuscripts in the 1940s and mailing them off to publishers.
But the author's portrayal of slavery and Reconstruction did not set well with most white Mississippians, many of whom denigrated the writer and disparaged his work sight unseen. I soon blundered into the prejudice that had plagued Oxford's most famous native all his life.
When the ancient Royal standard typewriter that I inherited from my grandfather broke down, I took it to Varner's Repair Shop on the square. Mr. Varner had lost his arm in an accident yet could fix anything with one hand. He examined my broken typewriter and began writing a receipt. I couldn't resist remarking that Faulkner had used the name "Varner" in The Hamlet and that in the novel Will Varner owned the general store in Frenchman's Bend. The repairman didn't look up. I added that Faulkner made Will Varner the richest man in the county.
"If that Faulkner feller was still around," Varner muttered, "I wouldn't cross the street to speak to him."
*
The Beowulf seminar had been over for an hour when I ran into Dean in the corridor.
"What's a participle?" Her first words to me could have come from those fabled matchmakers, grammarians Strunk and White. We were standing in the lobby of Bondurant Hall. Classes were changing, students filling the hallway. She was about five foot four, tiny waisted, and slender.
"Let me guess," I said. "A student asked you to define participle?"
She nodded. "It's been an ice age since I thought about grammar and usage."
Most people raise their voices to be heard. Dean whispered and listeners leaned in.
I leaned in. "Excuse me?"
"Please, if you don't mind, what is a participle?"
"The -ing form of a verb, as in running."
"Of course, how stupid of me!" She stuck out her hand to introduce herself. "I'm Dean Mallard," she said, using her married name. "An hour before classes started," she went on, "Dr. Webb [the chairman of the English department] assigned me a freshman class to teach. I didn't have time to prepare. I've never taught anything except swimming lessons."
On impulse I asked if she'd like a cup of coffee, and to my astonishment she accepted.
"I noticed you in Beowulf class," she told me as we sat over coffee at the student union. It made me a little berserk to look at her, but being married I kept my shirt on. "You have blue eyes," she said. "I always wanted blue eyes. All of my family have them except for me, Nannie, and two uncles."
I thought of William Faulkner's dark eyes peering out of a famous Cofield photograph. So that's what she had seen in me?
I took Dean to my cubbyhole of an office and offered her my freshman composition syllabus, sample themes, and tests. All the teaching assistants except Dean had this material.
"Now go teach that hotshot who asked you what a participle is," I said.
She was delighted and within a few weeks was teaching composition as if she'd been doing it all her life. She soon became one of the most popular instructors in the Ole Miss English department. For the next five years until she received her master's degree, she instilled confidence and writing skills in hundreds of freshmen. Several law students audited her class.
Dean Faulkner Mallard's first words to me could have come from those fabled matchmakers, grammarians Strunk and White.
We lived three blocks from each other on South Lamar Boulevard, the main thoroughfare. Dean had moved with her three children into her grandmother Maud Butler Falkner's house where she'd lived off and on. Our sons attended the same kindergarten, and we began to carpool. We attended the same graduate student gatherings and took our children to the movies together. Gayle even painted a portrait of Dean's kids which Dean cherished.
Not long after the fall semester began I discovered a telephone bill listing calls to Kentucky. I recognized the number. Apparently Gayle had become involved in a long-distance relationship with a 21-year-old man, six years her junior. As a matter of fact, he still lived with his parents. The liaison appeared platonic, yet I demanded that she break it off. I was trying to make a better life for us. My goal was a tenure appointment at a university, perhaps at the University of Alabama where we both earned undergraduate degrees.
We began a war of words which led to accusations, barter, and eventually negotiations. Though we took pains not to fight in the presence of the children Lawrence knew something was wrong. He was sleeping poorly and talking to himself. Catherine by virtue of her young age was spared. Meanwhile, the marriage dissolved in whispers.
Dean became my confidante and advisor. "Get out of the house," she said. "Go to parties, see people!"
I honestly never imagined Dean and me as anything more than a friend and colleague. I never even fantasized about her. I was the father of two young children, and for their sake I wanted my marriage to survive. Over the coming months I asked myself if I'd ignored the long-distance telephone calls perhaps the flirtation would have faded from lack of resistance. What faded instead was our marriage. In August 1971, Gayle and I were divorced. Dean and I began dating in September.
Two years after Dean's death in 2011 her childhood friend, Sandra Baker Moore, shared a secret with me. On the day that Dean and I met, the day-of-the-participle, she phoned Sandra and said, "I've just met the man I want to spend the rest of my life with."
__________________________________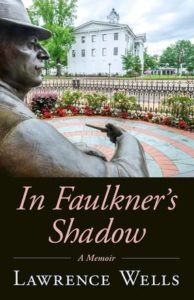 Excerpt from In Faulkner's Shadow: A Memoir by Lawrence Wells, Copyright © 2020 by Lawrence Wells. Reproduced with permission of Lawrence Wells and University Press of Mississippi. All rights reserved.
---