Life Inside Guantánamo:
An Oral History
Testimonies from America's Most Infamous Prison
"Guantánamo saved my life," Uighur Adil Hakimjan said to us when he sat down in Stockholm for an interview in 2014. We had never heard those words from anyone before, nor had I expected to ever hear them.
When Hakimjan was captured in Pakistan after 9/11, he feared that the authorities would deport him back to China. Since the mid-20th century—when the Chinese assumed control of the former Uighur homeland of East Turkistan—China has oppressed the Sunni Muslim Uighurs and has designated the Uighurs as terrorists. Hakimjan believed that if he were returned to China, he would be judged a terrorist, and then tortured and killed.
Pakistan and China had close diplomatic ties, and China wanted him back. However, the US had offered bounties for alleged terrorists after the attacks on 9/11. The Pakistani officials apparently decided money spoke louder than diplomacy. They sold Hakimjan, along with other men allegedly aligned with al Qaeda or the Taliban, to the Americans. Hakimjan was transferred to Guantánamo, along with the 21 other Uighurs.
In 2006, Hakimjan was one of the first five Uighur Guantánamo detainees released from Guantánamo and sent to Albania. A year later, he received an invitation to a human rights conference in Stockholm, where his sister Kauvser Hakimjan lived. She and her family had fled China for Pakistan after the Chinese government demanded that she abort her pregnancy when she was expecting her fourth child. The UN and the Red Crescent assisted her family in gaining asylum in Sweden. When he arrived in Stockholm, Adil Hakimjan applied for asylum, specifying that he had family in the country.
At first, the Swedish government refused to grant him asylum. The government reasoned that he was not oppressed in Albania and could safely return. He and his lawyers appealed. Six months later, the government reversed its decision, acknowledging that Hakimjan had suffered great hardship as a Guantánamo detainee.
His first wife and child were still in China when he settled in Sweden. The Chinese authorities would not permit them to leave the country and reunite with him. In adjusting to his new life in his adopted country, Hakimjan found a new wife and rebuilt his life. He now has a growing family. He works at two jobs, one as a delivery person for a postal company and the other as a taxi driver. Adil Hakimjan is moving into the middle class and on the path to Swedish citizenship.
*
Alfred (Pete) Souza was never the same after his six-month tour as a hospital corpsman in Guantánamo. Souza observed a young detainee in his early twenties in a wheelchair with his head slumped on his chest. The clinic personnel called him "Timmy," the name of the disabled character in the animated show South Park.
The staff told Souza that Timmy had tried to commit suicide by hanging himself in his cell. Although prison guards were required to walk by the cells every five to ten minutes, by the time the guards found him and cut him down, Timmy had significant brain damage due to lack of oxygen. Timmy was carried to the detention clinic and shackled with handcuffs. He was fed through tubes that were pushed up through his nostrils and down into his stomach. Ensure and similar nutritional liquids were poured into the tubes at feeding times. Timmy had been in the clinic for more than a year when Souza arrived in July 2004.
Souza explained that he could understand why Timmy had tried to commit suicide. "If you thought that you would never go home and that this was going to be the rest of your life, why wouldn't you kill yourself?"
On the day he was to leave Guantánamo for home, one of the newly arrived medical personnel asked his group whether they had any advice for the new arrivals.
Souza felt honored to serve in the military and had previously enjoyed his work. But seeing Timmy was not what he had expected when he signed up to work at the base.
Nor was the sight of Timmy the only disturbing experience Souza had. Working at the Guantánamo clinic was a far cry from working at a humane medical facility, he explained to us. He described the mental health unit in the clinic as something that looked like a milking barn, with beds for mentally unstable detainees on either side of a walkway. It was also not what he had expected.
"It was like you have the central passage and then you got the cells on each side and each one is open—the crosshatch paneling, metal paneling. Very little room to move. And I just saw patient after patient just sitting huddled like this [leans forward], just staring off into space. I was like, 'Oh, dear, what the hell is going on here?'"
During the six months that he worked at the clinic, Souza never spoke with other corpsmen and prison guards about his discomfort and distress. When we asked him why he did not share his feelings with others on the base, he replied that the culture did not encourage such talk and that the men he knew did not communicate such things. What he understood was that military personnel went out each night and drank. Souza had quit drinking while in Guantánamo. At no time did he find someone at the base in whom he could confide his worries and his doubts about the mission.
On the day he was to leave Guantánamo for home, one of the newly arrived medical personnel asked his group whether they had any advice for the new arrivals. A female nurse spoke up: "Be true to yourself and don't let this place warp you."
Souza was surprised to hear these words from someone he knew. He wished he had voiced similar words. But he did not reach out to the nurse, who appeared to him to have an understanding and sensitivity similar to his. Even at the end of his tour, he could not bring himself to express to others how much pain he was feeling.
When he returned home, his parents took him out to dinner. They asked him about his mission and work in Guantánamo. Overcome with emotion, he replied, "It's bad, really not a good place." That was all he could say.
After he left the military, Pete Souza and his wife moved to a new city. He works in a hospital group.
*
Former prison guard Chris Arendt also mentioned Timmy in his interview with Witness to Guantánamo. Arendt confirmed that Timmy was hooked up to life support. But Arendt had a different version of the story.
Arendt had heard that Timmy was beaten so severely in one of the camps that he was rendered physically and mentally disabled. Arendt did not know personally whether the beating actually happened and, if so, when it happened. Arendt only knew that if it had happened, it was before he arrived at Guantánamo. Arendt considered it a "total rumor" and said there was no way to check on the story.
Arendt added that Timmy "was like a camp legend. He was just some detainee that was totally broken and we were just keeping him alive."
No one we interviewed told us anything else about Timmy—where he is or whether he is alive today. However, there was a Saudi detainee, Mishal Awad Sayaf Alhabiri, who attempted suicide by hanging in January 2003. He was cut down before he died, but suffered significant brain injury due to lack of oxygen. He was hospitalized for more than two years. Along with physical therapy, he was provided medications to control seizures and manage brain function. Designated as low risk due to his medical condition, he was transferred back to Saudi Arabia in July 2005. Perhaps he was Timmy.
*
In interviewing detainees, we met someone who described a very different and mostly unknown form of isolation in the prison. The man suffered linguistic isolation. He asked us to not reveal his name. He feared that if his community knew that he had been in Guantánamo, they would ask him to leave his mosque. He also feared that he would lose his job and no longer be able to support his family if his employer learned that he had been a prisoner in Guantánamo. We will call this man Sunnat.
The linguistic isolation Sunnat suffered is not a well-known punishment technique, and little has been written in the social science and law literature on the experiences and effects of linguistic isolation. But this form of isolation can be as tormenting and destructive as physical and environmental isolation.
Sunnat was 16 years old when he was seized in Afghanistan following the attacks on September 11th, 2001. He had come to Afghanistan from Uzbekistan. Uzbeks speak a language very similar to that of the Uighurs. When we met Sunnat, Uighur translator Rushan Abbas translated for us.
Sunnat was purchased by the Americans and transported to the detention center in Guantánamo in 2002. After interrogating him over a period of several months, the military understood that he was not a threat, but the US could not release him safely back home to Uzbekistan. Like many nations, Uzbekistan did not want any involvement with its citizens who were former Guantánamo detainees. According to Julia Hall, Amnesty International's expert on counterterrorism, "Uzbekistan is a place where torture is systematic, where people with a religious profile are routinely targeted." Sunnat waited eight years before the US found a safe country that would accept him.
While he waited to be released, he was placed in a cell in the general prison population. He was surrounded by prisoners who spoke Arabic or English, the two most common languages spoken among the prison population.
Sunnat could reach out and communicate with the other prisoners through eye contact, hand signs, and facial expressions. Over the eight years, he learned minimal Arabic and English. He told us that one of his goals was to greet—to "say hi" to—the men in close proximity.
Something important was missing from Sunnat's life in prison. All around him, the English- and Arabic-speaking prisoners conversed openly with each other and built a community. They learned about one another's lives, families and homes. Sunnat could sense the warm, communal contacts among his neighbors. But he could not join and meaningfully communicate with them in prison life.
Many of the detainees were able to learn English and Arabic while in the prison. However, Sunnat did not seem to have the skill to learn more than a rudimentary level of either language. Nonverbal communication forms, such as hand signs and facial expressions, did not substitute for meaningful conversations.
There were only a half-dozen Uzbek detainees in the prison, and they were never housed near him. Nor were any of the 22 Uighur detainees, who spoke a similar language to his, placed in neighboring cells. Sunnat lived inside the prison, but outside the prison community. For his eight years in Guantánamo, he lived alone.
Sunnat was not physically separated from other prisoners. He was not held in solitary confinement. Rather, he was socially isolated. He was denied meaningful conversations with others—conversations that would have allowed him to express his humanity. Imagine a stroke victim who sees the community of conversations around him but cannot participate. For eight years, although surrounded by people, Sunnat lived on his own island.
Because the United States government concluded that he was not a threat, Sunnat was not able to meet with a government interrogator or interpreter. Having access to an interpreter would have provided him with something approaching a regular conversation. In a cruel irony, he suffered further punishment because he was never charged with a crime. It was only in his later years, when he was represented by an attorney who brought along an interpreter, that he met anyone who spoke his language. Unfortunately, the attorney visits were infrequent.
When we asked him how he coped with his powerful sense of loneliness during those years in Guantánamo, he replied in his quiet and shy manner: "I cried, and then I felt better."
A prisoner who is linguistically isolated suffers beyond the absence of meaningful conversations and the feeling of always being alone. He can also suffer at the hands of the prison guards and officials because of his inability to speak and understand the prison language. As we would expect, guards sometimes become frustrated, angry, and even abusive with detainees who do not speak the language of the prison, and were thus unable to understand requests, inquiries, commands, and directions. This can be especially problematic in emergencies, such as hurricanes, fires, or earthquakes.
In addition, detainees who do not know the prison language might violate rules unknowingly, and consequently suffer further serious consequences, including beatings. If such prisoners are abused and beaten by guards, or even by other prisoners, they cannot verbally articulate in the prison language what happened. Nor can they describe any physical conditions resulting from the beatings and abuse, or any other medical issues.
Sunnat was finally released to Latvia in 2010. He spoke a broken Russian language, fortunately, and was able to meet people in his Russian Muslim community, find work, and begin building a family.
Sunnat was not the only detainee who was linguistically isolated. Two habeas attorneys described to us the linguistic isolation of several Pakistani detainees who spoke only Urdu. Center for Constitutional Rights attorney Gitanjali Gutierrez and habeas attorney David Remes told us how their Urdu-speaking clients were isolated when the military placed them in cells near only Arabic speakers.
Gutierrez believed that the isolation of the Urdu prisoners was purposeful. They were deliberately housed among speakers of only English and Arabic. "Language is a way to isolate someone," she explained. "They might as well be alone." I asked her to reconfirm that she thought it was deliberate.
"Absolutely. It is artfully manipulating their environment to be unable to communicate," she said.
Mohammed Jawad, a juvenile when he was captured in Afghanistan and transported to Guantánamo, was accused of throwing a grenade at an American military convoy in Afghanistan in December 2002. As mentioned previously, while in the detention center, Jawad had been subjected to the military's frequent-flyer treatment, in which detainees were moved from cell to cell every two to three hours for several weeks.
During Jawad's military commission hearing, David Frakt, his military defense counsel, asked witness Jason Orlich, an army major, about the sleep deprivation tactics used on Jawad. Among the questions Frakt asked was whether Jawad, who spoke Pashto, was also linguistically isolated.
Because it is a relatively new form of isolation, linguistic isolation warrants special attention and further study in the detention context.
Orlich admitted, "Linguistic segregation, yes—we divided the detainees up linguistically, which prevented them from communicating within the camp and organizing."
When I asked Frakt to tell us more of this exchange at Jawad's hearing, he said, "I saw several documents in discovery in the Jawad case that referred to linguistic isolation. . . . I saw some documents that referred to efforts to linguistically isolate people. . . . From what I learned, linguistic isolation was done to increase dependence on the interrogator as the only person the detainee could talk to, but also to limit communications in an effort to maintain good order and discipline in the camps."
Frakt cited hunger strikes as a tactic the military wanted to prevent and said it would not want strike leaders to communicate with others who spoke the same language and thereby encourage them to join. Separating the leaders by language helped inhibit organizing among prisoners. To Frakt, linguistic isolation was a form of control as well as punishment.
When we met Sunnat, he did not seem to be a leader who could threaten the military's control of the prison population. Nor did Sunnat seem to be someone who would join a hunger strike and protest conditions in the detention center. In fact, the US quickly determined that he was not a threat.
It is possible that the military placed Sunnat and other detainees in whatever cells were available at the time, with no thought of the consequences regarding language and communication issues with other prisoners. But given what Orlich said to Frakt, it is difficult to imagine that the military did not act deliberately or was not fully aware of the effects and consequences of how detainees were housed.
Ayub Mohammed, who was separated from his Uighur countrymen in the prison, told us another story of coping in linguistic isolation. He had been housed among neighbors who did not speak his language or know of his unique culture as a Muslim in a country that had been seized by the Chinese government.
In the hope of being moved to a different cell, closer to his countrymen, Ayub Mohammed said that he deliberately caused a problem in his cell knowing that he would be "ERFed." ERFing, as described earlier, is a brutal cell-extraction procedure in which six guards storm a cell, mace the detainee, and severely beat him. Afterward the guards usually move the detainee to an isolation cell in another part of the camp. Mohammed hoped that when he was returned to the general prison population after isolation, officials might place him in a cell closer to other Uighurs. His plan worked.
*
Isolation by language differs with each individual. Someone who is able to learn languages with little effort will have an easier time in the prison. We interviewed a number of detainees who spoke no English when they arrived in Guantánamo but had the facility to learn English quickly. In those situations, perhaps only some months or a year passed before a prisoner was able to have meaningful contacts with other inmates. Nevertheless, that inmate would have suffered linguistic isolation for some period of time. Future researchers will need to determine whether the time frame for long-term effects of linguistic isolation mirrors the time frame for long-term effects of physical isolation.
Because it is a relatively new form of isolation, linguistic isolation warrants special attention and further study in the detention context. Linguistic isolation can be as pernicious as other types of isolation. Human rights experts have recognized physical isolation as torture or cruel treatment. Isolation by language should be similarly recognized.
__________________________________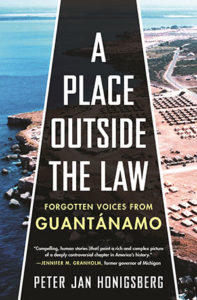 Excerpted from A Place Outside the Law: Forgotten Voices from Guantánamo by Peter Jan Honigsberg. Copyright 2019. Excerpted with permission by Beacon Press.
---