Life in the Borderlands, from Mexico to Hungary
On the Universal Realities of the Migrant's Existence
Border of Austria and Hungary, March 2016
We left the refugee camp as the sun was setting in a pink glow over Vienna, and by the time we roared onto the highway the night was as black as shadows. I rubbed my hands together as the heat from the car thawed my fingers.
Our driver and guide, Ignác Nagy, sped us along the four-lane highway while he jammed to a mix created by his sister back in New York City. Gladys Knight's rich voice filled the car. "Midnight Train to Georgia" was the perfect song for this moment, a man leaving on a midnight train, searching for a simpler place and time.
We were on a two-and-a-half-hour drive between Austria and Hungary, composing a part of the so-called Schengen Area of free visa travel across the European Union. I strained to see some invisible line between both countries. Crossing international borders was as easy as traveling from Pennsylvania into New Jersey. The "border" was only an electronic checkpoint, no wall, no fences, no guards, nothing resembling the militarized Texas-Mexico borderline that was tormenting me.
On the Hungary-Austria border there was no one to ask me for my nationality—no gun-toting guards as along the Serbian border or on the El Paso–Ciudad Juárez frontier. No ICE helicopters or airplanes buzzing above the valley near my home in the Shadow Mountains of El Paso's Westside. No Border Patrol agents in vans circling their prey, kicking out the third world masses when the first world was done exploiting them. 
"The 'border' was only an electronic checkpoint, no wall, no fences, no guards, nothing resembling the militarized Texas-Mexico borderline that was tormenting me."
Since the creation of the European Union, leaders had done what many of us had only dreamed of: created a pragmatic world of coexistence. I rode up front beside Ignác (pronounced "Ignas") with three students from the Walter Cronkite School of Journalism at Arizona State University riding in the backseat.
It was spring break.
I had walked away from journalism and was giving teaching a chance, mentoring students through Hungary, along the Serbian border and through Austria, talking to refugees in free-travel zones near double rows of razor-wire fences. High-tech watchtowers equipped with searchlights, motion sensors, cameras, and loudspeakers. The scenes resonated with me. I was also here to understand my slice of the world back at the U.S.-Mexico border.
After more than 25 years as a journalist I was testing whether leaving my entire way of existence was as difficult as I had feared.
Was I ready for a new adventure?
Two of the students, Celeste and Sarah, were falling asleep, tired and drained from a long day of reporting on the refugee crisis. The darkness of the night made an oil refinery appear like a magical city in the dark as its industrial lights glimmered against the sky. Ahead, wind farms with blinking lights looked more like flashing red stars, spaceships preparing for takeoff, similar to the windmills straddling the California-Arizona border. These windmills generated energy for the European Union, a conglomeration of twenty-eight nations now crumbling under the weight of migration. The tidal wave of refugees arriving on its borders and shores threatened to unravel decades of open-border policy and threaten a region with a declining birth rate.
Ignác puffed on a cigarette.
He had a small build and was handsome and rugged-looking with three or four days' stubble. He was an intellectual, with a ready opinion on just about everything and everyone. Ignác was an aspiring lawyer—a driver only as a favor to a mutual friend, Dora Beszterczey—and took pride in his near-perfect American English, the product of a few years of schooling as a young boy in New York City and many years of immersing himself in American TV, film, music and a job at a Starbucks in Washington Heights. He seemed fascinated by the United States, asking me questions about the current political climate and what it meant to be Mexican American, something I had little interest in rehashing at the moment.
I deflected.
Wasn't this the reason I came here? To get away from the violence, the death threats, which led to a growing depression over my life, an inner fistfight over things I once believed in and now doubted.
Traffic slowed as we neared Hungary, a country that tore down its border fences when it joined the Union in 2004 to show it was shaking off its isolationist, communist history—a sign of its openness to the world. Hungary was the first among the former Soviet satellite states to take down its barbed-wire fence with Austria, creating an opening in the months leading up to the fall of the Berlin Wall for East Germans to escape to West Germany via Hungary and Austria.
The current crisis was sparked by a mass exodus of people escaping violent conflicts, or economic crisis, who were now making their way across Europe, some of them voyagers navigating with the help of stars and cell phones. The scenes were already familiar: hordes of desperate migrants from war-torn Syria, Afghanistan, Iraq and Africa, growing in population at twice the rate of European countries, as well as homegrown terrorists launching deadly attacks on European capitals. The Hungarian state became the first to re-fence its border with Serbia and Croatia in an attempt to keep out the biggest wave of refugees since World War II and preserve its way of life.
"Wasn't this the reason I came here? To get away from the violence, the death threats, which led to a growing depression over my life, an inner fistfight over things I once believed in and now doubted."
Prime Minister Viktor Orbán was the architect of the new policy. He called himself the only European leader willing to defend the continent's Christians, saying that Muslims were threatening Europe's Christian identity, framing the issue as a clash of civilizations.
Despite initial condemnation, Hungary had now set in motion a chain reaction across Europe as countries sought individual solutions, trumping the Union's common agenda, to cope with an endless stream of migrants.
The Schengen Area for the moment seemed ideal, though reality was fast closing in. The days of borderless travel seemed numbered, here and everywhere.
Border fences were going up in Austria, Serbia, Slovenia and Croatia. The very concept of borderless travel on which the union was founded was being tested as other countries followed suit. The United Kingdom, Norway, Sweden, Slovenia, Austria, Germany, Belgium, France and Denmark were all now questioning the EU open-borders policy.
At times, desperate migrants and asylum seekers flooded Europe by the tens of thousands. The parallels to Mexico and the United States were everywhere. Trains packed with migrants, many apparently seeking refuge in Germany, were stalled at the Hungary-Austria frontier for hours. Confusion ran high about how far west the trains would go and whether all their passengers would be permitted to continue traveling.
These refugees reminded me of the asylum seekers I met on a route from Tenosique, on the Guatemalan-Mexican border, to Mexico City. They clung to the top of a train known as the Beast as they crossed the Boca del Cerro bridge. Many of them were youngsters making the journey on their own, like those pouring into Texas from Central America, a region devastated by drug violence, poverty and U.S.-backed conflicts. The very same immigrants who were also testing Mexico's tolerance for outsiders. I rode alongside the train route of the Beast to interview men, women and some of the children abandoned at migrant shelters. They talked of shakedowns, rape, losing a limb and their friends who never made it, victims of coldhearted coyotes. I interviewed several more at the Annunciation House shelter in El Paso. All were looking for any sign of hope.
They risked their lives atop the Beast and faced the dangers of rape in every unknown corner of the world that led them to America. In one stop, bordering Veracruz and Morelos, I witnessed a group who stood alongside the train tracks handing out burritos, gorditas and water to the weary headed to the America of opportunity. They headed for the U.S., where people groaned at the very sight of them.
Hungary, like many of its neighbors, was an aging country with a declining birth rate that could use new blood, evident by a series of campaigns that included promoting dance parties for young people to meet, fall in love and start families. But although refugees had little interest in staying in a country whose economy offered so little, the Hungarian government, justifying its hard line and new fences, churned out propaganda to instill fear in residents about the strangers among them, inspiring them to regain control, revel in nostalgia and become a strong nation again, something many found attractive enough to keep Orbán in power. Ignác's mix was now playing Michael Bublé's "Feeling Good." He wanted to impress his guests with his knowledge of American music. While her fellow Arizona State students slept, Courtney Pedroza grew animated, transformed, having for the first time envisioned her future as a foreign correspondent.
Her enthusiasm made me also realize how much, at the moment, I missed reporting after an adrenaline-fueled day in which nothing worked as planned but we, guerrilla journalists (a term I coined that day when we had to innovate on the spot), managed anyway, finding ways to meet with weary refugees who shared their stories with an unsympathetic world.
"At times, desperate migrants and asylum seekers flooded Europe by the tens of thousands. The parallels to Mexico and the United States were everywhere."
Courtney shared the story of the secret love affair of her greatgrandfather, a photographer in the United States, with two families, one on each side of the U.S.-Mexico border. She had relatives she had never met, a country and a language foreign to her, a culture she ached for, a curiosity awakened by the newness around her and the growing hatred against Mexicans back home.
I listened to her, yet I was fixated on the wind turbines, silently counting them. The scene unfolding before me reminded me of Don Quixote's epic battle with a field of windmills, a battle that was all a figment of his imagination. In the darkness, the landscape looked just as surreal as Quixote's dream.
I stared at the windmills and couldn't escape our own internal battles with the so-called others. Ignác called this very time and place, the Hungary-Austria border, the end of the West. Globalization petering out, he reasoned, replaced by fear and anxiety.
Yet, as we left the "border" behind and barreled toward Budapest, Ignác quietly confessed he felt as if he'd been "exorcised" of his cynicism. I asked him what he meant.
Maybe it was during interviews earlier that afternoon, he said. We had talked to refugees, people with nothing but their blind faith in a better life ahead. If they could believe so deeply in hope and human brotherhood, how could he not? How could we not?
Here were people plowing ahead, looking for any sign of humanity and clinging to any show of kindness—people who still believed in a better world. Their goal was Germany. Some also talked of eventually ending up in Michigan, Minnesota, Nebraska or Arizona.
Their unabated hope inspired him, Ignác said, shaking his head, puffing long on his cigarette, fiddling with the music.
I felt the same way, I said, and smiled. We all needed to believe.
These are different borders, continents apart, but sewn through with the same heartbreak.
Migrants are universal—not so unlike the men, women and children from Hungary who fled for Cleveland, Chicago, New York City and Philadelphia after the revolutions of 1848 and 1956 or who fled hunger in the late 19th century. Or those like my parents who over the past century had fled Mexico for reasons of poverty, family reunification, violence, seeking a better life in a country they hoped would welcome them.
Despite the heaviness of our trip, we were suddenly filled with childish hope, laughing ourselves silly as Ignác rolled down the window and blew more smoke from his latest cigarette.
By now I'd lost count of the windmills. For the first time in ages, Ignác confessed, he knew that even if the world wasn't the place he had imagined as a little boy sitting in his grandmother's living room, it would somehow get there. He turned to look at me a long time and, in a low, serious tone, asked the question I had been dreading this whole time.
What's going to happen in the U.S. with the presidential election? As a Mexican, does this billionaire worry you? he continued.
I wasn't ready to imagine the answer or discuss it too deeply, afraid to ruin the moment. Instead, I watched the flickering yellow lights of Budapest up ahead, our journey almost at an end.
I changed the subject by firing rapid questions about his music selection. Bublé? Country music? I equivocated, wishing I had no past, just a new beginning. I was part of that Schengen Area that for the moment seemed ideal even as reality was quickly closing in, reminders of fences going up.
Ignác simply stared back, growing impatient for an answer.
OK, I finally blurted out, breaking an awkward silence. Yeah, I thought he was a cruel joke. Amusing. And once I said that, the flashbacks engulfed me, punching me in the gut. Those hurtful words made me curl in the front seat of the car as I recounted to Ignác in bits and pieces the moment when I got off the plane at Phoenix's Sky Harbor International Airport.
I was looking for Angela. We were there to interview for jobs at the school of journalism at ASU. Dean Chris Callahan wanted me to accept an endowed chair of the Borderlands Initiative. Angela would serve as a Borderlands Director for Cronkite News, teaching broadcast students to cover border issues. Instead I found Trump. Announcing his candidacy for presidency.
No way, I thought. Mexican rapists? Murderers? Drug kingpins? And maybe some of them are good people?
What the fuck?
I wanted to get back on the plane and return to Mexico City. I wouldn't have even considered Arizona if it hadn't been for Angela. Arizona still had SB 1070 on the books. Passed in 2010, the law allowed police to use traffic stops to check the immigration status of drivers, and advocates said racial profiling was rampant. Another section of the law, struck down by the U.S. Supreme Court, made it illegal for day laborers to stand on city streets and sign up for work on construction crews. Other states with historically racist reputations—Alabama, Georgia, South Carolina—passed similar laws.
Angela and I had managed a long-distance relationship for more than 20 years. We were looking for a fresh start, much like Mexico was looking for a new narrative, away from the violence that had marked us.
"Migrants are universal—not so unlike the men, women and children from Hungary who fled for Cleveland, Chicago, New York City and Philadelphia after the revolutions of 1848 and 1956 or who fled hunger in the late 19th century."
ASU offered us the opportunity to live under the same roof for the first time in a decade and prepare a new generation of journalists to cover the border, to do what we loved. We weren't sure we could walk away from our current jobs, mine as bureau chief of the Dallas Morning News in Mexico City, and Angela's as bureau chief for a group of television stations. She had been relocated from Mexico City to the border and was based in El Paso, a city she loved because she didn't have to explain herself to anyone in a binational, bicultural, bilingual region.
Saying no to Cronkite also meant saying no to each other. Besides, journalism felt like a sinkhole.
Angela was facing budget cuts and shrinking interest for border stories from her employer, which had recently sold its television division to Gannett, the nation's largest owner of newspapers and a major broadcast powerhouse with television stations nationwide. The company was notoriously ruthless about its bottom line. Whether Angela's bureau job would last was just one concern. She also worried about having the flexibility to report on the stories that mattered to her, and whether she could tell every story in a less than one-minute-and-fifteen-second package, which had become the norm industry-wide.
At the Dallas Morning News, stories were increasingly localized and the company faced increasing financial pressure, so it was constantly looking for ways to cut costs. The Mexico City bureau was once the largest of any media company in North America, but the business had changed on us. A buyout seemed like the right thing to do.
All those months ago I had looked around the airport at the faces glued to the flat screens, watching the latest presidential candidate vilify Mexicans. He appeared to be calling for a lynching.
Trump had been fooling around with running for president since the 1980s, when I worked at the Journal in Philadelphia—all trial balloons that popped in the air as soon as he let them go.
It had to be a ploy to boost his TV show's ratings. The usual scapegoating, fanning the flames of fear, and Mexico, again, fit the narrative.
But blatantly sacrificing Mexico and its people, those living with and without documents in the United States, made no sense.
The candidate's words reverberated throughout the airport like a foreboding nightmare.
I continued walking, looking for Angela, assuming I was one of the good Mexicans.
I dumped all of this on Ignác.
At first wanting to leave the past behind, but with so many contradicting emotions, all I could do was share and not offer much else: no explanations, no illuminating thoughts. Everything was just raw.
Budapest loomed before us and we all became quieter.
I rolled down the window a crack and put my hand out to feel the frigid wind. The moment took me to another time, another place: that night in Philadelphia in 1987 when I first discovered Tequilas with Primo, Ken and David.
The Danube, the longest river in the European Union, came into view. The river's meandering waters reached the Chain Bridge, which was blown up during the siege of Budapest in 1945 by the retreating Germans. On the horizon, my eyes lit upon Buda Castle and Hungarian Parliament Building.
Sometimes, I told Ignác, I feel like a tired, broken bridge, but a bridge nonetheless. I can see clearly from this corner of the world that the United States had once opened its arms to millions of us, immigrants from all over the world. A nation of immigrants. Well, now that country seemed distant, foreign and out of reach.
As the journey came to a close, I wearily made my way back home, bridging a country engulfed in fog.
__________________________________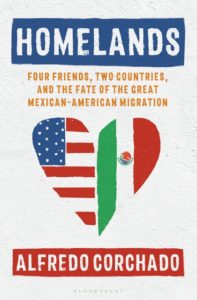 From Homelands: Four Friends, Two Countries, and the Fate of the Great Mexican-American Migration. Used with permission of Bloomsbury. Copyright © 2018 by Alfredo Corchado.
---