Art by Xavier Marabout
When I was a kid, I loved the Tintin books. I had every one (except the ones that Hergé pulled from print due to their racist undertones), and a poster, and a little stuffed Snowy to boot. I probably shouldn't admit this on the internet, but at a delicate age, I developed some very confusing feelings surrounding a single panel that showed the boy reporter doing a headstand. That, however, was about as close to erotic as the books ever got. Tintin is aggressively sexless, and the series as a whole is almost completely devoid of romantic or sexual themes or plots (I think I recall some very mild innuendo in The Castafiore Emerald, which is also the only book to prominently feature a woman of any sort, but I'd have to go back and see). Regardless, since his first appearance in 1929, Tintin has had very little fun of the romantic variety.
Hergé's heirs apparently want to keep it that way. As The Guardian reports, the Moulinsart company is suing a French artist, Xavier Marabout, who creates delightful Hergé-Hopper mashups that imagine Tintin (and a few of his pals) in various Hopper-inspired worlds, engaging in PG-rated romantic adventures. (He also seems to have gotten an owl tattoo.) "Taking advantage of the reputation of a character to immerse him in an erotic universe has nothing to do with humor," one of the company's lawyers said in court in Rennes this week. The company is suing Marabout for infringement. The lawyer also pointed out that Hergé had made an explicit "choice not to involve women in his work, because he found that they are rarely comic elements." He respected them too much, you see.
Leaving that alone for the moment, Marabout told The Guardian:
In my Hergé Hopper series, I imagined a romantic life for Tintin in the intimate and voyeuristic universe of the American painter. Because frankly, the universe of Hergé is terribly virile and women are completely absent. Who can imagine a world without women? So my paintings where Tintin is staged with pin-ups are funny, but behind that I wanted to show that the two universes were perfect to meet. The mystery of Hopper paintings responding to the Tintin mystery.
I defend my right to parody which is part of freedom of expression. It is a fundamental law in our democracy. I hope that justice will prove me right, but I am still worried, because we are going through a difficult period where freedoms are declining every day.
Besides—Tintin deserves to let his hair down! It's been stuck in that position for ages. Perhaps there could be some more headstand action in Marabout's next series. Just a thought I had. No reason.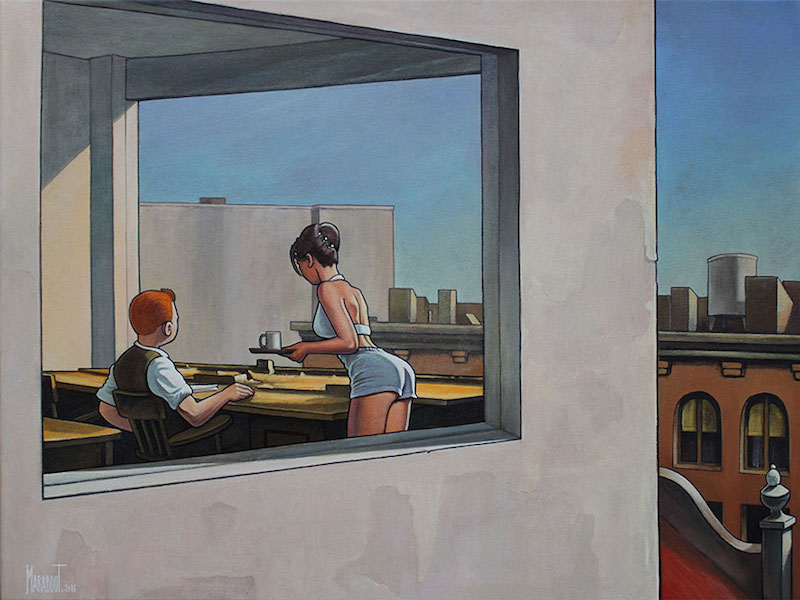 See more from Marabout's series here.