Lessons in Self-Invention and Reinvention from
Theodore Roosevelt
Michael Patrick F. Smith Finds Himself a President's Story
In 1884, the grieving 25‑year‑old New York State Assemblyman Theodore Roosevelt—after losing his mother to typhoid fever and his wife to kidney failure on the same day that his first daughter was born—marked an X in his journal and wrote, "The light has gone out of my life." He then headed west to North Dakota. A scrawny young man with a high‑pitched, scratchy voice and a nervous disposition, the foppish dude from New York had, the previous year, ridden into Little Missouri the day after the completion of the Northern Pacific Railroad corridor, on an expedition to hunt buffalo. By horse, he traveled deep into the Little Missouri Valley, scouring the badlands for bison throughout a weeks‑long torrential downpour.
An easterner, like me, Roosevelt was taken with the rugged beauty of the land and he wrote of it vividly:
The grassy, scantily wooded bottoms through which the winding river flows are bounded by bare, jagged buttes; their fantastic shapes and sharp, steep edges throw the most curious shadows, under the cloudless, glaring sky.
On this first trip to North Dakota, after turning it over in his mind for barely a week, Roosevelt decided to invest a full third of his substantial fortune into the cattle business. He handed a check for $14,000 to a ranch hand he'd just met. Within a couple days, he'd killed his first buffalo, dancing around the felled beast "like an Indian war‑chief, whooping and shrieking" in excitement at his victory. As he would later recall, "It was here that the romance of my life began."
Roosevelt—a victim of debilitating asthma attacks and prone to persistent stomach problems and diarrhea—had been advised by doctors to lead a quiet sedentary life or risk an early death. He decidedly ignored this advice when he returned to the hard soil of North Dakota, substituting the drawing rooms and chatter of New York politicos for the dry prairie wind and the songs of bluebirds, whippoorwill, mourning doves, and meadowlark.
The New Yorker cut a strange figure in the cattle settlements of western North Dakota. In a perfectly tailored cowboy costume of fringed and beaded buckskin tunic, broad sombrero hat, horse hide chaps, cowhide boots, and silver spurs, the "dude Rosenfelder" was at first relentlessly mocked for his reliance on spectacles.
But the big nerd earned the respect of the iron‑willed men of the West. Roosevelt oversaw a herd of a thousand cattle, riding as much as a hundred miles a day on his trusty steed Manitou. He wrote Hunting Trips of a Ranchman, traversed the prairie up and down the Missouri River, hunted and killed literally thousands of small and big game, slept in his saddle during roundup, and punched out a bully in a barroom. He even captured a trio of boat thieves, forcing them at gunpoint on an eight‑day journey to the local authorities in the town of Dickinson, all the while reading and completing Tolstoy's Anna Karenina.
Who on earth is torn between boot camp and acting school? I was.
Roosevelt would lose a substantial amount of his fortune in North Dakota, perhaps more than half of the $80,000 he would eventually invest. The cattle boom that started with a wild scheme by a mysterious Spaniard, the Marquis de Morès (the town of Medora is named for his wife), ended in a bust after the Winter of Blue Snow—a series of snowfalls and blizzards starting in November 1886 that left the region's cattle country completely decimated.
But Roosevelt's experience in North Dakota would transform him. The squeaky‑voiced, four‑eyed dork with the struggling breath and persistent case of the shits, the kid so radically skinny his hips barely kept his britches up, metamorphosed in the open‑aired country of North Dakota into the Rough Rider of popular imagination. Roosevelt would return to New York husky, lusty, and brown and tough as a hickory knot.
Teddy Roosevelt was the Indiana Jones president. A man of an acute intellect who was also a man of action. He went to North Dakota, like me, and he became a man who would be president.
I have no illusions about going into politics, but I identify with Roosevelt's transformation. I was the skinny kid in middle school who wore an army jacket to class every day—my father's army jacket. I had been hungry to find something in my old man that I could admire, and when I came across, tucked away in a dusty closet, an olive drab coat with sergeant's stripes down the sleeves, I put it on. My father never made much of his military service, but I was obsessed with it.
My father was 45 years old when I arrived in the world. A decade and a half older than most of my peers' parents, he'd been born one year after the stock market crash of 1929. As a child of the Depression, Dad was raised primarily by his mother's family, an unruly clan of Scots‑Irish called Boyland, in the Ridge and Valley Appalachian town of Cumberland, Maryland. Like his younger brother and older uncles, he took up boxing as a kid. As a young man, he served in the Korean War in the 187th Airborne Regimental Team—nicknamed The Rakkasans by the Japanese, which literally means "falling umbrella men." He started the war as a rifleman second scout and was promoted to machine gunner when the first machine gunner was killed with a burp gun blast that laid open his forehead. Dad rarely talked about it, but to say he "probably shot a few trees" and reminisce about the whores he bought in Japan for a dollar each, but his service loomed huge in my imagination.
He had volunteered. That was important to me, and growing up, this felt like a potential connector between my father and me, a hinge we could both swing on. My dad was US Army Airborne. He had literally leaped out of airplanes into machine gun fire. I lusted for that kind of action, and I thought my aspiration bound us. I thought that if I went through what he went through I would gain not just insight into his life but respect for him, too.
My family is full of military men and adventurers. My father's uncles were true WWII heroes. One of them, Joe Boyland, was captured by the Japanese and pressed into service as a truck driver in the Philippines. He escaped captivity and joined a guerrilla cell in the northern mountains of Negros Island, organizing attacks on the truck routes he'd been forced to drive. Joe fought in the insurgency for nearly a year before he was evacuated and returned to the States. His brother William, whom I'd be lucky to know, had joined the navy. Bill was torpedoed at least once during WWII. He survived and, after the war, signed up with the Military Sea Transport Service, where he eventually captained his own ship, transporting arms and soldiers throughout both Korea and Vietnam. Upon retirement, Bill became a pilot on the Panama Canal. He passed away in 2011, but he remains the greatest storyteller I have ever met in my life. Captain Bill Boyland had swung around this little blue planet so many times that to him life was a small thing, the earth the size of  a grapefruit.
What had I done? By the time I finished high school, I knew I wasn't going to join the military, but it wasn't an easy decision. I spent a great deal of time wrestling with it, scheduling phone calls with recruiters and then canceling them, poring over army brochures, then stuffing them into the trash. I felt very alone. There seemed to be no one I could talk to about it. I'd fallen in love with theater. Who on earth is torn between boot camp and acting school? I was.
If I power through, if I come to a place where I feel to myself that I have proven myself, then I will know that.
But I decided that if I joined the army that would be it: I'd be an army guy. Whereas if I pursued life as an actor, I would be entering a world where the potential for adventure was as vast as words written on a page. Then that dried up. I wasn't getting any acting gigs. I was pushing paper as an administrative assistant, living a post‑adolescent life in a post‑adolescent Brooklyn full of office workers costumed as lumberjacks. Like a pre–North Dakota "Rosenfelder," my world felt frivolous. It revolved around leisure. I wanted out. I was too old to join the military, but I could become an oil field hand.
Standing in the backyard of the flophouse, a day shy of starting work as a field hand, I know somewhere deep inside myself that I want to get my ass kicked. I want to be beaten and pummeled and knocked the fuck down. I want to find out if I have it in me to get back up. Because if this breaks me, then I'll know what breaks me. I'll know where that line is. I will know I tried and I lost, and I will know where I lost and how hard I tried. And if I power through, if I come to a place where I feel to myself that I have proven myself, then I will know that. It will draw for me a clear perimeter in what still feels like a boy's life, a life without boundaries, without coherent narrative, without meaning. It will grow me up. I want to grow the fuck up.
__________________________________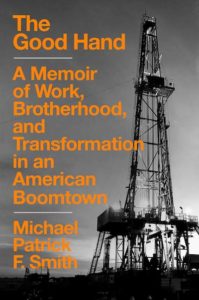 From The Good Hand by Michael Patrick F. Smith, published by Viking, an imprint of Penguin Publishing Group, a division of Penguin Random House, LLC. Copyright (C) 2021 by Michael Patrick F. Smith.
---