Lenin in Paris: When the City Was a Refuge for Russian Artists and Dissidents
Helen Rappaport on Café Life in 1900s
It was once said by the Abbé Galiani (secretary to the Neapolitan ambassador) that "Paris is the café of Europe." In the 1750s when he made that observation, the Parisian café served not just as a coffeehouse but also as an important social club for literary and political discussion. By the 1900s it had become legendary as a cultural magnet: a meeting place for travelers, artists, and writers from across Europe. It also now served a new purpose: as a refuge—if not home—for many impoverished artists and political dissidents who had chosen or been forced to flee tsarist Russia.
Montparnasse, the heart of bohemian café society in Paris, was a far cry from the grand mansions of Boulogne-sur-Seine or the richer districts of Passy and Auteuil inhabited by the Russian denizens of Belle Époque Paris. Montparnasse was for the hoi polloi—for rebels and misfits and down-and-outs, for creative artists long on talent but short on money struggling to become established. Many Russian revolutionaries had left Russia for Paris and other European cities after the 1905 revolution.
But economic migrants had preceded them: the Ashkenazi Jews of the Russian Empire's western borderlands had been on the move out of Russia since the vicious pogroms launched against them in the 1880s and 1890s. Some had settled in Berlin, but others had traveled on to Paris, often without passports or papers, where they had found work in the sweatshops of the city's garment district. They had settled largely in a neighborhood known as the Pletzel located in the Marais area of the 4th arrondissement, which had been the site of a 13th-century ghetto known as the Juiverie.
It was said at the time that the more "Bohemian" an artist looked, the more likely he was to be a Russian.
Just before Christmas 1908, having fallen foul of the Okhrana (the tsarist secret police) and not long released from prison for his pro-Bolshevik activities, seventeen-year-old Ilya Ehrenburg had arrived by train at the Gare du Nord. He brought with him a heavy suitcase filled with his favorite books and little else. A Lithuanian Jew by birth, from a middle-class family, he came to Paris to avoid further arrest, intent on working for the Bolsheviks in exile, having joined them in 1906. His hero, the Bolshevik leader Vladimir Lenin, had arrived in Paris at around the same time from Geneva. He was now holed up in a flat in the 14th arrondissement near the Parc Montsouris, with his wife and mother-in-law. Conditions were cramped, but it was quieter here than in central Paris—Lenin having a pathological intolerance of noise. He was a vigorous walker and enjoyed being near the park, which was a favorite haunt of Russian émigrés living nearby.
From his pokey little room on the avenue Denfert-Rochereau a few streets away, Ilya Ehrenburg went to pay court to Lenin. The first thing he noticed with fascination was the shape of Lenin's "amazing skull"; filled to bursting with erudition and ideas, it "made one think not of anatomy but of architecture." He had been surprised too by the revolutionary leader's extremely respectable appearance in stiff wing collar and dark suit, and the neat and obsessively orderly state of his flat. Lenin seemed so unlike the disheveled, chaotic Russian revolutionaries with whom he was more familiar. Indeed, Ehrenburg's own appearance, as noted by French artist's model Marevna, was precisely that of the archetype: "He had very long hair, hanging on his shoulders and it was greasy. He was dressed very sloppily, and looked in every way like the nihilists about whom one reads in foreign novels." Lenin nicknamed him "Shaggy Ilya."
This wasn't Lenin's first time in Paris; he had dropped in briefly in 1903, with his protégé Leon Trotsky, to give a lecture on agricultural reform in Russia at the Salle de l'Alcazar d'Italie. This was a public meeting hall on the avenue de Choisy frequented by socialists and trade unionists that was looked upon as an unofficial Marxist university. For the three and a half years he would now spend back in Paris, from January 1909 to June 1912, Lenin kept a low profile. Paris wasn't for pleasure; Paris was for work, and work of the most cerebral kind. In November 1909 at the Society of Scientists, Lenin presented the product of his hours of labor: a lecture titled "The Ideology of Contra-Revolutionary Liberalism and Its Social Significance." Celebrating May Day at the society in 1911, he announced with certainty that the counterrevolution of tepid liberal reform in Russia had failed; "now is the time for something else: the Russian Revolution."
When he wasn't studying and writing his endless political pamphlets in the sanctuary of the Bibliothèque Nationale, Lenin might occasionally be seen crossing Paris on his bicycle, playing chess at the Café du Lion, or sipping a German bock beer and reading the Russian newspapers fresh from St. Petersburg in one of the quieter Montparnasse cafés. But he avoided the dense, smoke-filled atmosphere of the always busy more popular cafés. Indeed, he despised the sloppy, bohemian lifestyle of some of his fellow political exiles:
"Putrefaction!" he would exclaim in disapproval, "scum of the revolution." They allowed themselves to be too easily diverted from the cause. Nor did he have time to spare for the theater, concerts, or art, with one exception: he enjoyed seeing the French singer-songwriter and working-class hero Gaston Montéhus at a café-chantant known as Folies Bobino on the rue Gaieté in Montparnasse. He liked Montehus's fiery brand of French socialism and his songs celebrating the militancy of the French proletariat.
Lenin despised the sloppy, bohemian lifestyle of some of his fellow political exiles.
More often than not, when he did tear himself away from his books (moaning always about the bad service at the Bibliothèque Nationale; the libraries of London and Geneva had been so much more efficient), Lenin's time was taken up with interminable political meetings. Paris was full of rival political groups and factions from Russia—Bolsheviks, Mensheviks, anarchists, socialist revolutionaries, and Jewish bundists (trade unionists). Russian émigré politics were notoriously volatile. Exiles with too much time on their hands, and frustrated by the impossibility of campaigning in Russia, turned quarreling into an art form. Much of this took place in the crowded rooms of cafés in Montparnasse, such as the Oriental at number 11 rue d'Orléans. Informally known as the "Bolshevik café," it was located not far from Lenin's apartment on rue Marie Rose, and his faction met here in a room on the second floor.
Lenin's eager acolyte Ehrenburg had, however, quickly found such meetings stultifying; poetry was far more to his liking than the combative world of émigré infighting. The artistic life of Paris, in contrast, "electrified" him. To stave off thoughts of homesickness and hunger, he fed on books borrowed from the Russian émigré library that had been established at 63 rue des Gobelins in 1908 and was a home away from home for many impoverished émigrés. In the early 1900s, the first Russian writers to spend time in Paris in search of greater freedom of expression and inspiration had been the better off and more socially mobile poets and philosophers, such as the St. Petersburg couple Dmitri Merezhkovsky and Zinaida Gippius.
Between 1906 and 1914, this most influential if highly esoteric Russian literary pair set up a salon at their spacious apartment on rue Théophile Gautier in Auteuil. Back home in the Russian capital, Merezhkovsky—a critic, poet, and philosopher—and his wife Gippius, the equally influential (and many said, better) poet, had held court as the guiding lights of the symbolist movement in Russian poetry. Two other symbolist poets—Andrey Bely and Konstantin Balmont—had also spent time in Paris during those years. The impressionable young Ilya Ehrenburg aspired to follow in their footsteps and in Paris started writing poetry of his own—"bad poetry," as he later admitted. It was filled with gloom: "I wrote about my despair, about having had a life and having one no more… about the strangeness and the cruelty of Paris, about love." A treat for him amounted to a cup of coffee and "five croissants at the zinc counter" of the Café de la Rotonde or a bag of hot chestnuts bought on the street: "they cost only two sous, warmed one's hands and were deceptively filling. I ate the chestnuts and thought about Russia."
In the years after 1908, precisely at the time when the Saisons Russes were captivating Le Tout-Paris at the Châtelet and the opera on the upmarket side of town, a whole generation of Ehrenburg's fellow countrymen and women began congregating in a cluster of cafés around the junction of the boulevard du Montparnasse and the boulevard Raspail. The Café du Dôme (opened in 1898 and expanded with a billiards room in 1902) and the Rotonde (opened in 1903 and favored by Lenin's enemies the Mensheviks) were the most popular venues for the louder, more gregarious bohemians—the artists especially.
Victor Libion, the large mustachioed patron of the Rotonde, while making no bones about his indifference to art, was enormously tolerant of the perpetual impecuniousness of his customers and was known on occasion to accept a drawing in exchange for one of Modigliani's absinthes. He also looked the other way when starving artists broke the ends off the baguettes in the bread baskets and allowed favored clients, with only miserable cold garrets to go back to, to lie low in the dimly lit café long after the regulation closing time of 2 am and huddle round its large cast-iron stove. After all, he later acknowledged, all these starving writers and artists "made my café famous."
The intimate, tavern-like Closerie des Lilas, farther down at the junction with the avenue de l'Observatoire, was rather more upmarket. Preferred by the writers and poets, it became the favorite haunt in the 1920s of American writer Ernest Hemingway. All of these Paris cafés provided the prerequisite initiation for young émigrés—be they poets, painters, or revolutionaries—as "penny universities," places "that teach bohemian lifestyle, contempt for the bourgeois, sense of humor and heavy drinking." It was said at the time that the more "Bohemian" an artist looked, the more likely he was to be a Russian.
____________________________________________________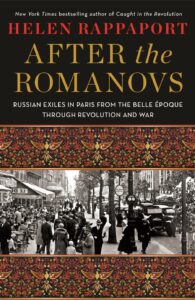 Excerpted from AFTER THE ROMANOVS: Russian Exiles in Paris from the Belle Époque Through Revolution and War by Helen Rappaport copyright © 2022 by the author and reprinted by permission of St. Martin's Publishing Group.
---