"Lemon, It's Wednesday." On the Legacy of 30 Rock
Mike Roe Considers the Shows—and Memes—That Followed the Iconic Comedy
With 30 Rock over, what now? NBC initially seemed eager to remain in the Tina Fey and Robert Carlock business, asking Fey and Carlock to develop a show for actress Ellie Kemper. NBC ordered Unbreakable Kimmy Schmidt—originally titled Tooken— straight to series in October 2013, not long after 30 Rock ended. It seemed like a show built for the network, tying these two dynamite creators with rising The Office star Kemper as its lead, along with 30 Rock's Jane Krakowski returning as a new character.
But as network ratings declined, NBC took a second look at this quirky comedy from creators who'd created a show that was a critical hit but not, you know, a hit hit. They were already shooting their twelfth episode when the creators were told by NBC Entertainment president Jennifer Salke, "We're not feeling confident about watching comedies," according to Fey, with the network cutting back at the time on airing sitcoms.
After looking at running it as a summer series, or possibly midseason, NBC opted to sell the show—about a girl who gets kidnapped and spends years being held underground by a crazed reverend, before emerging and applying her childlike wonder to life in New York City—to Netflix in November 2014, which gave the show a two-season commitment. Fey described it as being "like when your spouse says you can sleep with other people."
Jesse Thorn: 30 Rock is basically "What if Mary Tyler Moore was at SNL?" And that's a great idea for a sitcom that stars Tina Fey. In a lot of ways, Kimmy Schmidt is the same themes, in that it is still about a young woman trying to figure out how to be an adult in the big city. But it is built around two things: one is Ellie Kemper, who is a really special performer, in a way that maybe Tina Fey isn't. Without casting any aspersions on Tina Fey, who's a wonderful genius. But Tina Fey is a perfectly good performer, and a brilliant genius comedy writer. It's a show with almost no straight white dudes, which in comedy is a big deal still. It is also fundamentally a show about feminism in the context of trauma, and what that means. 30 Rock is about feminism in the Mary Tyler Moore Show sense. Tina Fey was also a victim of trauma as a young woman, and wanted to make a show about that with elements of what's special about Ellie Kemper, which is that she can make anything seem magical.
Jeff Richmond: [Tina] is somebody who has gone through something. And I think it really informs the way she thinks about her life. When you have that kind of thing happen to you, that makes you scared of certain things, that makes you frightened of different things, your comedy comes out in a different kind of way, and it also makes you feel for people.
When Fey was just five years old, a stranger attacked her and cut her face, right in her front yard. Fey said that she dealt with the trauma well, not having to fully confront it until she started appearing on camera and had people take greater notice of her scar. Kimmy Schmidt was an opportunity for her to more fully deal with that trauma, but she may have made missteps when addressing issues that weren't as close to home for her—like having Tituss dress up as a Japanese geisha to make a point about political correctness.
Longtime 30 Rock director Don Scardino was among those who would come back to direct episodes of Kimmy Schmidt, but his schedule only allowed him to do a few. Along with other connections with 30 Rock, Kimmy Schmidt cast 30 Rock actors like Mike Carlsen and Todd Buonopane in new parts. Buonopane had a beard at the time, and Robert Carlock told him they didn't even realize it was him when he was cast. And many of the crew members were holdovers from 30 Rock.
The Kimmy Schmidt writers' room included several of the 30 Rock writers, with episodes written by alumni Jack Burditt, Lauren Gurganous, Dylan Morgan, and Josh Siegal. The show also continued to develop talent, with writers from the show going on to work with Fey and Carlock on other projects.
Bellamy Forrest: I know that [Tina] really likes the same people around her. That's very important to her, and you can see that from what happened with Kimmy Schmidt. I mean, people are very, very loyal.
The same held true on other projects Fey and Carlock have gone on to do since. She'd made clear to crew during the final season of 30 Rock that she wanted to keep a lot of them on board. Fey and Carlock were also executive producers on Great News, a show written and created by 30 Rock writer Tracey Wigfield about a TV newsroom and including multiple 30 Rock alum as both writers and directors. In a way, it's not far off from Fey's original pre–30 Rock pitch, focusing on a producer at a TV news show, though Wigfield has her own fresh dynamic with the centerpiece being the main character's mother becoming an intern at her daughter's office. Fey and Carlock each co-wrote a handful of episodes, with Fey herself appearing as a character in the second season after the first season's so-so ratings.
She portrayed Diana St. Tropez, a network exec who plays like a gender-swapped Jack Donaghy, with a more feminine energy. The show took a beat to find its voice, but so did 30 Rock. Great News developed a kinder, gentler approach to the workplace comedy, remaining just slightly more grounded than 30 Rock as it centered itself around a mother–daughter relationship, but still hitting you with rapid-fire jokes. NBC would opt to end its run after two seasons from spring 2017 through spring 2018.
While there's still more to come from Fey and Carlock, not everything they touch turns to gold, or even makes it to air. Studio 60's Bradley Whitford was cast in a pilot that Fey and Carlock were producers on: The Sackett Sisters, written by 30 Rock writer Luke Del Tredici. The show was set to be about two estranged sisters played by Busy Philipps and Casey Wilson, with Whitford as their dad.
Bradley Whitford: Tina Fey is a joyous hero. An unpretentious, productive, show-business, delightful hero of mine. Nothing made me happier than the prospect of working on a show with Tina's company and Robert. The Sackett Sisters, I was like, I know I want to live with these people who know how to make a show like 30 Rock, forever.
But the show wasn't picked up. Other projects Fey and Carlock produced, often written by alums of the 30 Rock writers' room, included Cabot College for Fox, Family Fortune for ABC, and The Kicker for CBS.
Tina Fey was spending time in these years as a big-screen star, starring in movies from comedy Sisters to a more dramatic role in Whiskey Tango Foxtrot. She also brought Mean Girls to Broadway as a musical, which she's been busy turning back into a musical movie.
In 2020, the COVID-19 pandemic managed to bring the 30 Rock cast back together one more time. It was a reunion special . . . kind of. Because when you get everybody back together, it's never quite the same. The special was created to serve as a replacement for NBC's annual pitch to advertisers, the upfronts. The 30 Rock reunion special didn't get much love from the critics, panned for its efforts to promote NBC's lineup—particularly the programs airing on online service Peacock. It felt like the show had finally taken its love of product placement too far, with promos running throughout for NBCUniversal shows, their Olympics coverage, and more. Many NBC affiliate groups refused to run the special due to how it promoted watching Peacock rather than, well, those local stations.
The special's storyline, as far as it goes, features the TGS cast trying to reunite for a reboot of the show on streaming platform Peacock, at NBC head Kenneth's request. But Kenneth shoots down the pitch for a new TGS—it was all just a sham to get everyone back together for a private Zoom video reunion, as Kenneth missed them. The cast and writers try to get their revenge, ruining Kenneth's pitch to advertisers. But they finally come together to actually help Kenneth with the presentation. It closes with Jack taking on management of new streaming service "Peahen"—and Liz writing a new pilot.
Alan Sepinwall: It reminded me, honestly, of when Arrested Development came back, and a number of other shows have done reunions. Revivals almost always give me hives, because the shows are an artifact of a specific time in the lives of the people who make it, of the characters, and of the audience. When you start changing any or all of them, it never quite works.
Sepinwall didn't appreciate the cast being used here for such blatant corporate promotion. The way they'd once lovingly mocked product placement while also doing it with Snapple now crossed to another level, with the lengths to which it promoted the corporation making it impossible to see much comedy in the midst of it.
Before the reunion special was announced and filmed during the coronavirus pandemic, Grizz said that he was hoping they would find a way to bring everyone back together.
Grizz Chapman: I know now it's been a few years, so maybe we can get back together at the fifteenth-year mark or something and do something really special together. Maybe a Saturday Night Live episode, or something of that nature. But it would be nice to hang out with everybody again.
Grizz didn't get the chance to actually hang out with everyone in the reunion, thanks to the pandemic keeping us all socially distanced, with actors filming from their homes. But here's hoping for that SNL episode bringing everyone back together someday.
And while there seems to have been a general disappointment from both critics and fans with the reunion, 30 Rock was an important part of 2020 in another way: the continued power of a 30 Rock meme in a terrible year.
Alan Sepinwall: You've seen a million "Lemon, it's Wednesday" memes on the internet in the hellscape year of 2020. There's a lot of good stories, but [what you remember] a lot of the time is really just a joke.
___________________________________________________________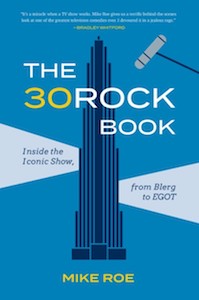 Excerpted from The 30 Rock Book by Mike Roe. Reprinted with permission of the publisher, Abrams Books. Copyright © 2021 by Mike Roe. 
---