Learning to Appreciate the Small Things From a 1,000-Year-Old Japanese Writer
Eric Weiner on Reading Sei Shōnagon
11:47 am
On board Japan Rail East Train No. 318. En route from Tokyo to Kyoto. Speed: 185 miles per hour.
Speed, I've learned, is the enemy of attention. Swiftness fragments our awareness, splinters it into a million tiny pieces, none large enough to grasp.
What about beauty? Does it, too, decrease as we accelerate? Or does speed possess its own blurred beauty? A hummingbird's wings, flapping eighty times per second. A flash of lightning, arcing across the sky. The quiet whoosh of a Japanese shinkansen, or bullet train, rocketing from city to city.
When I boarded the one I'm on now, at Tokyo's shiny Shinagawa station, I didn't know whether to gasp or laugh. With a flat platypus nose attached to a toned swimmer's body, the train looks ridiculous. And beautiful. The shinkansen is the Robin Williams of trains: an absurdity blatantly flouting the laws of physics but doing so at such mind-boggling speed that all is forgiven.
Just as Robin Williams didn't compete with other comedians, the shinkansen doesn't compete with other trains. It competes with the airlines. Japan Rail has done its best to mimic the feel of an airline cabin. I could be on board an Airbus, with the notable absence of seat belts and canned announcements about what to do in the unlikely event of a water landing.
As we departed Shinagawa station, precisely on time, the echoes of air travel grew louder: the high-pitched whoosh, the G forces gently pressing me against my seat—smoothly, without even a hint of Amtrak shake-and-rattle.
As I turn the pages, adjusting my pillow, I am drawn into Shōnagon's world, seduced by her boldness, her love of details.
If all goes according to plan, and in Japan it almost always does, we will cover the 227 miles from Tokyo to Kyoto in a brisk two hours and eight minutes. We are flying. We are not flying. Only when I glance out the window—not at the horizon but at a nearby house or railroad crossing—do I experience an inkling of our exceptional velocity. Speed is relative. Without reference points, it is meaningless. A conductor walks by and scoops up a chopstick shard that somebody (okay, me) had dropped. In my mind, it was too small to qualify as litter. Clearly he felt otherwise. My stray speck of wood had upset the aesthetic harmony of the train. In Japan, something is either just right or it is not right at all.
I retrieve my little black notebook, not the gem I lost in England (it is irreplaceable), but a more pedestrian model. I unfurl the elastic band that contains my thoughts. I turn to a fresh page, blank with possibility, and start a list. I like lists. List making is, I believe, a profoundly philosophical activity. Don't take my word for it. Ask Plato. He made lists. He listed the attributes of a philosopher-king, and of the good life. His student Aristotle outdid him. Aristotle was philosophy's great list maker. Keen to superimpose order upon messy reality, he created layers of categories and subcategories.
Some two thousand years later, Susan Sontag offered this eloquent and characteristically cerebral defense of her chronic list making: "I perceive value, I confer value, I create value, I even create—or guarantee—existence. Hence, my compulsion to make 'lists.' " Umberto Eco put it more succinctly: "The list is the origin of culture."
My list-making is considerably less grand. My lists do not guarantee existence or establish cultures. My lists do not, as far as I know, perceive value, but they do help me corral my thoughts. They help me make sense of the world, of myself, and what is more philosophical than that?
The key to good list making is getting the category right. It must be large enough to encompass a variety of entries yet small enough to wrap your mind around. "The Greatest Music Ever" is too broad while "The Greatest Polkas Composed by Polish-Americans of 1930s Chicago" is too narrow.
I glance at the list I've just created in my notebook. "Foreign Countries Where I Have Lived." It is not a long list, only three entries, but it has, more than any other list, shaped how I think, and who I am.
Each country on the list taught me something important, even if inadvertently. India taught me how to find stillness in chaos. Israel taught me the importance of savlanut, patience. Valuable lessons all, but nothing compared to Japan. Japan taught me, a person of the book, a head-heavy aficionado of words and the people who use words, how to shut the fuck up for five minutes and experience a different way of being. Japan opened my eyes to a philosophy of things. Beautiful small things.
The Pillow Book. What a strange title, I thought, when I first learned of its existence, nearly two decades ago. I was living in Tokyo, working as a correspondent for NPR. It tickled my interest. What is this peculiar book named after a nocturnal accessory and penned a millennium ago by a little-known courtier from Kyoto? And how does it attract readers ten centuries later?
My investigations started and ended there. I was busy filing reports about the Japanese economy or the country's aging population or jetting off to cover some simmering conflict in Indonesia or Pakistan. I didn't have the time—or, to be honest, the inclination—to read a thousand-year-old book about nothing in particular. The book, though, the idea of the book, stayed with me, relegated to the exurbia of my brain, waiting patiently for space to open up downtown.
I snuggle with The Pillow Book while, appropriately, resting my head on a pillow. I am in a hotel room in Tokyo's Shibuya neighborhood, though in Japan, "room" is a matter of opinion.
Both in style and scale, the alleged room reminds me of a ship's cabin. A masterpiece of spatial efficiency, it supposedly sleeps three, but there's a catch. These three bodies must remain at rest. Any motion requires the sort of advance coordination typically demanded of presidential visits and premarital sex. It is less room than nook.
Nooks don't get their fair due. Not with adults at least. Children appreciate a good nook. They instinctively seek them out, and if none is available create one. I recall, as a melancholic five-year-old, transforming our Baltimore living room into a labyrinth of nooks by stringing together dozens of blankets and sheets, then anchoring them to anything within reach: chairs, couches, the dog. I was too young to articulate my motives, but I now realize what it was I craved: the sublime combination of coziness and wonder, confinement and expansiveness, security and adventure, that only a nook provides.
I still like nooks. I suffer (if that is the right word) from claustrophobia's opposite. I am drawn to confined spaces, thrive in them. Maybe this is why I am so fond of Japan. No one confines like the Japanese. People of the Nook. They shoehorn themselves into subway cars and bars and alleged hotel rooms. Remarkably, they do all this without killing one another.
I turn to the first page. The Pillow Book reads like a private diary, and for good reason: it's a private diary. "I merely wrote for my personal amusement things that I myself have thought and felt," writes the author, Sei Shōnagon. She never expected her words to be read by others, which explains why others find them such a joy to read. The Pillow Book is written with the naked honesty typically reserved for the anonymous and the dying.
As I turn the pages, adjusting my pillow, I am drawn into Shōnagon's world, seduced by her boldness, her love of details—and how she finds beauty in the most unexpected places.
The title, like so much of The Pillow Book, is a mystery. Why a pillow? Perhaps Shōnagon kept the manuscript by her bedside, like a pillow. Perhaps she found comfort in the words it contained the way we find comfort in our favorite pillow. No one knows.
The Pillow Book is not a book, at least not in the conventional sense.
It contains no narrative thread, no recurring characters, no overarching theme. The Pillow Book is a jambalaya of observations large and (mostly) small, "a crazy quilt of vignettes and opinions and anecdotes," notes Meredith McKinney, who translated Makura no Sōshi, The Pillow Book into English.
Like Epicurus, Shōnagon invents a taxonomy of pleasure. She distinguishes the merely pleasurable from the truly okashii, or delightful.
The book that is not a book is arranged in 297 numbered entries, ranging in length from a single sentence to several pages. Some entries relay anecdotes from the Imperial Palace in Kyoto, while others are simply opinionated lists. The lists are my favorite. In Shōnagon, I have found a kindred spirit, a list-making ally.
Shōnagon refuses to stay in a single lane. She swerves from "Refined and elegant things" to "Worthless things" then back to "Things that are truly splendid." It's tempting to conclude she is lost. She is not. She is engaging in zuihitsu, or "following the brush." It's a Japanese literary technique that is not a technique, which strikes me as the perfect way to write a book that is not a book. A writer practicing zuihitsu isn't afraid to follow a hunch, scratch an intellectual itch, then circle back, or not. The writer doesn't impose structure but, rather, allows one to emerge.
All of us, I think, could use a bit more zuihitsu, and not only when it comes to writing. Set clear goals and channel all your energies into reaching them, the self-help books advise. This approach assumes we've identified our destination before beginning our journey. Life doesn't work that way. Sometimes you don't know where you're going until you start moving. So move. Start where you are. Make a single brushstroke and see where it leads.
Shōnagon doesn't describe the world. She describes her world. No observation is neutral. She knows what she likes and what she doesn't. She subscribes to perspectivism, the philosophical theory advanced by Nietzsche centuries later. There is not one truth but many. Choose one, says Shōnagon. Make it your own.
You might object that it is a surplus, not a dearth, of opinions that bedevils us. Thanks to social media, anyone can opine about anything anytime. These opinions, though, are heavily mediated—by friends and "experts" and, most insidiously, algorithms. The result: we see the world through a cloudy lens; our convictions are paper thin. Do you like that new sushi joint or do you only think you do because people give it five stars? Is the Taj Mahal really beautiful or have all of those swooning Instagram posts merely convinced you it is? Sei Shōnagon strived to ensure her lens was clean and clear, her opinions wholly her own.
For every one thing Shōnagon likes there are three she finds unpleasant or disturbing or repulsive or, her ultimate smackdown, infuriating. Among these, she says: "A guest who arrives when you have something urgent to do. A very ordinary person who beams insanely as she prattles on and on. A dog that discovers a clandestine lover as he comes creeping in, and barks. Fleas. Someone who butts in when you're talking and smugly provides the ending herself. (Indeed anyone who butts in, be they child or adult, is most infuriating.) Flies. A mosquito that announces itself with that thin little wail just as you've settled sleepily into bed. Rain all day on New Year's Eve."
Shōnagon is opinionated, but flexibly so. Consider the blossoms of a pear tree. The Japanese considered them ugly, and deployed them in insults, such as "he had a face like a pear blossom." Yet the Chinese adored them, she notes, so "there must be something to it after all." Sure enough, upon further reflection, she concludes they do possess a certain beauty. If you take a "careful and sympathetic look at it, you may notice that just at the tips of the petals there is the barest hint of a rather lovely luster."
Like Gandhi, Shōnagon was fussy. Consider this observation: "I cannot bear people who wear a white shirt that is slightly yellowed." Normally this sort of fastidiousness irritates me no end, but I grow to appreciate Shōnagon. She's not so much picky as she is sensitive.
Like Epicurus, Shōnagon invents a taxonomy of pleasure. She distinguishes the merely pleasurable from the truly okashii, or delightful.
Delight, unlike pleasure, contains an element of surprise, an unexpected frisson. And delight, unlike pleasure, leaves no bitter aftertaste. You never saw the delight coming so you don't miss it when it's gone.
For Shōnagon, the smallest detail can tip the balance. She approves of a three-layer fan, but not a five-layer one ("too thick, and the base looks ugly"). It is delightful when there's a feeling of snow in the air but "it ruins the mood of the occasion if the skies are instead heavy with the threat of rain." Hers is the philosophy of just-so-ism. Something is either just right or it is not right at all. Miss by an inch and you might as well have missed by a mile. An ox should have a tiny splash of white on its forehead, while cats should be completely black, "except for its belly, which should be very white." Musical performances are delightful but only at night, "when you can't see people's faces."
Something need not be perfect for Shōnagon to declare it delightful, but it must be appropriate. It must fit the mood, or the season. It must align with its essence. Thus "summer is best when it is extremely hot, winter when it is excruciatingly cold."
Shōnagon engages all her senses but especially the olfactory. She de- lights in the "sudden unfamiliar smell of the ox's leather crupper" and "taking a midday nap snuggled up under a lightly padded kimono that gives off a faint whiff of perspiration." She adored "scenting frames," wooden contraptions designed to infuse an article of clothing with the smell of a certain incense, and she enjoyed a good "scent-off," fierce competitions to see who could mix the most aromatic incense.
Most philosophers dismiss smell. Tomes have been written about the aesthetics of vision and the philosophy of music, yet hardly a word on scent. (Kant denied the sense any aesthetic status at all.) Yet smell is the most deeply rooted of senses. An infant as young as six weeks shows a strong preference for his mother's scent over that of another woman. Smell triggers memory in ways the other senses do not. Sadly, smell is now the bastard sense. To say something "smells" is to imply it smells badly. If something is suspect, we say it "smells fishy."
As Thoreau taught me, we only see what we're prepared to see. Most of us are ill-prepared to see the small. Not Shōnagon. She knew our lives are nothing more, or less, than the sum of a million tiny joys. "Shaved ice with a sweet syrup, served in a shiny new metal bowl. A crystal rosary. Wisteria flowers. Snow on plum blossoms. An adorable little child eating strawberries. A tiny lotus leaf that's been picked from a pond."
Like many Japanese, then and now, Shōnagon was fond of sakura, cherry blossoms. The trees are famously fleeting. They bloom for two or three days, and then are gone. Other flowers—plum blossoms, for instance—last considerably longer. Why go to such great lengths to cultivate something so fragile?
My grip is too tight. I am always trying to figure things out, unearthing hidden meanings that may or may not exist.
The Buddhist concept of mujo, or impermanence, holds clues. Life is ephemeral. Everything we know and love will one day cease to exist, ourselves included. Most cultures fear this fact. A few tolerate it. The Japanese celebrate it.
"The most precious thing in life is its uncertainty," wrote Yoshida Kenkō, a fourteenth-century Buddhist monk. He suggests we pay more attention to branches about to blossom or a garden strewn with faded flowers rather than blossoms in full bloom. The cherry blossom is lovely not despite its short life span but because of it. "Beauty lies in its own vanishing," says Japan scholar Donald Richie.
Appreciating life's small, fleeting pleasures demands a loose grip. Hold them too tightly and they break. What has been said of Thoreau applies equally to Shōnagon. "He is paying attention to things, but he is not grasping them, manipulating them, trying to figure them out."
This skill does not come naturally to me. My grip is too tight. I am always trying to figure things out, unearthing hidden meanings that may or may not exist. As for impermanence, it terrifies me.
__________________________________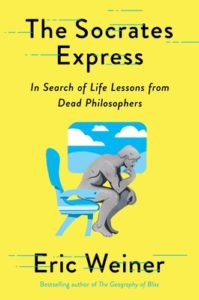 Excerpted from The Socrates Express, by Eric Weiner. Reprinted by permission of Avid Reader Press, an imprint of Simon & Schuster, Inc.
---