Learning of My Father's Suicide From My Grandmother's Poetry
John James on the Hard Work of Acknowledging Terrible Truths
At the age of 24, I had the bizarre but enlightening experience of learning from a poem that my father had committed suicide. In a sense, I'd known this for a long time. I was six when he died, and the explanation I'd been given was that he was "sick," that he suffered from a disease called "depression." A priest gave me a card with haloed Jesus on the front. After that, my family was reticent. I filled in details for myself.
I was in college when a letter from my paternal grandmother arrived. At that point, we'd been estranged almost my entire life. After my father's death, my family moved from Long Beach, California, where I'd been born, to Louisville, Kentucky, an hour's drive from the tobacco farm where my mother's parents lived. Pretty quickly, we lost touch—less out of habit than by design. When a person commits suicide, you look for someone to blame. Sometimes that blame is justified. My mother sought geographic and emotional distance.
This wasn't the first letter. They'd arrived throughout my life—sometimes with my grandmother's return address, sometimes in the guise of advertisements for activities I'd been interested in at the age of four or five. One appeared to be a letter from a Tae Kwon Do studio. I was passively discouraged from replying, though the option was never barred. When I grew older, I became curious.
My grandmother and I corresponded in general terms for several years. I cultivated the relationship, but held her at a distance. I gave my email address and sent updates, but never shared my phone number. She was never on social media, but if she was, I probably would have avoided her. But the messages grew deeper, closer, and as I made my way through college, then moved away for graduate school, I began to share details: photos, poems.
As it turned out, my grandmother was an amateur poet, and the latter became a point of connection. She sent pieces she'd written, usually by hand. When my first poems appeared in journals, she bought copies and shared them with the family. She was a good grandma, in that way.
The experience helped me understand what could have eased my own grief. Only by confronting the situation, and writing my way through it, was I able to move on.
By this point, I'd been writing obliquely about my father's death for a long time. My poems were vaguely elegiac, usually without mentioning their subject. They danced around what they suspected but never stated—what on some level I knew, but was afraid to admit.
After my MFA, I moved back to Kentucky, where I lived cheaply teaching at my alma mater and wrote many of the poems that became The Milk Hours. I had a dog, a garden, and twice the space I'd had in Brooklyn—for half the price. Around that time, my grandmother offered to share a poem that, she said, might trouble me. She also noted that I was an adult and could decide for myself whether to read it.
I told her to send it.
I'm sure I saved the poem, though at the moment, it's tucked away in a basement somewhere. I remember the curved scrawl of her pen. Something about crystals and pain. There was also a rhyme: a "son," who "took his life with a gun." There it was, what I'd suspected. I felt a pain in my gut.
The information sent me reeling. I needed to know more—the facts, the events, the days leading up to his death. I was consumed by a totalizing urge to pin down the minutia, to set it all straight. Now that I knew the what, I needed to know the why.
Of course, there were no explanations. Only mitigating circumstances. My mother provided the details. I learned that he'd experienced serious bouts of depression from a young age—that it was paralyzing, keeping him in bed for days on end. He'd lost several jobs because of it. He'd taken medication, which evened him out—until he went off of it. That's when the worst happened.
In hindsight, better drugs and more information about their effects could have saved my father's life. Circumstances in his childhood might have prevented his illness, or kept it from becoming the monster it became. The rest I already knew. His mother had been an alcoholic. He and his siblings were severely neglected. According to family lore, he changed his own diapers—at the age of four, since no one had potty-trained him. Once when he was in high school, his parents moved without telling him. It took several days to locate an address.
The experience also helped me understand what could have eased my own grief. Talking about it from a younger age, within context, might have helped me properly mourn his death rather than avoid the awful fact. Only by confronting the situation, and writing my way through it, was I able to move on.
It's still a wound, but no longer a festering one.
A year or two later, I received a message from a cousin in California. My grandmother had been diagnosed with lung cancer, and it was very advanced. She didn't have much time.
I had continued to write to my grandmother, sharing my life as it developed. My daughter was born, making her a great-grandmother. I was in a relationship, bought a house. But I still held her at a distance. I had never talked to her as an adult—not in person, nor on the phone. I immediately bought a ticket to Los Angeles.
When I arrived at the hospital, I was ushered to my grandmother's side. She lay in bed, a plastic mask allowing her to breathe. She could hear, but couldn't talk, and wrote on a dry-erase board to communicate. When I came close, she touched my face. I gave her a limp hug.
When I sat down to write it, it formed the title poem: the single piece acknowledging the hard fact my other poems only dance around, and admitting the terrible truth to the reader and to myself.
Flying out there, I was afraid she'd interpret my presence as absolution. Maybe she did, but it was the only resolution I was going to get. I stood there awkwardly while my cousins cried, watching them mourn a grandmother I basically didn't know—and who, to be honest, I resented.
When she died a few hours later, I was relieved. I was glad she was no longer suffering—and happy for the both of us that we reunited before she passed. I spent the afternoon dazed, staring at the pink azaleas spotting my cousin's yard. It was spring and 70 degrees. My aunt offered to drive me to the beach.
Not long after that, back in Kentucky, I sat on my front porch, across the street from the cemetery where my father is buried, which sounds more morbid than it is. It occurred to me that he and my daughter never met—that their lives were separated by a twenty-year gap, and that, despite their shared genetics, I was the only connective tissue between them.
That moment condensed into a punctum, a point of realization wherein past and future collide. When I sat down to write it, it formed the title poem of my book: the single piece that combines the temporal strands of my life, which vector forward and back, acknowledging the hard fact my other poems only dance around, and admitting the terrible truth to the reader and to myself.
___________________________________________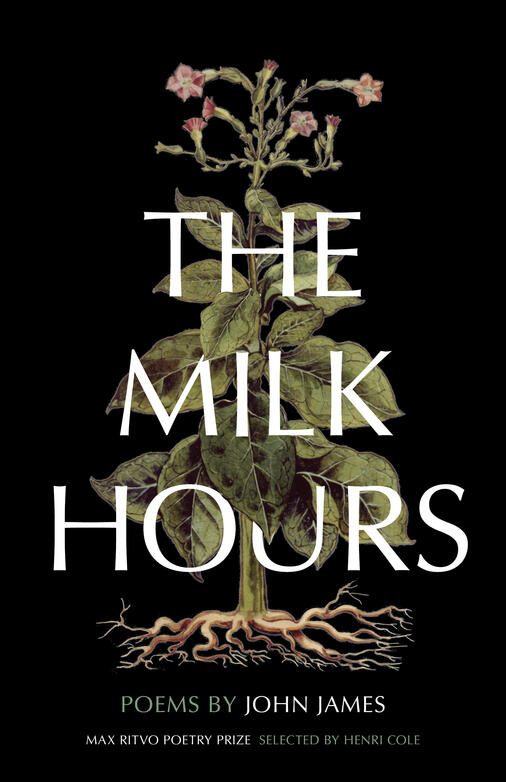 John James's The Milk Hours is out now from Milkweed Editions.
---