Larry Watson Talks Film Adaptations, the Modern Western, and Writerly Superstition
A Conversation with the Author of Let Him Go
Larry Watson is the author of ten novels, including Montana 1948, American Boy, and Let Him Go, which was adapted into a feature film and released in 2020. He is the recipient of the Friends of American Writers Award and the Milkweed National Fiction Prize, among other honors. His essays and reviews have appeared in the Los Angeles Times, Washington Post, Chicago Sun-Times, and elsewhere. Watson is now a Visiting Professor at Marquette University and lives in Milwaukee. His latest novel, The Lives of Edie Pritchard, an intergenerational story of the American West told through the history of one woman, was released this past summer.
*
Literary Hub: Your stories are notable for centering dynamic, well-drawn women who often have to deal with volatile men. Did Diane Lane's performance as Margaret Blackledge in Let Him Go enrich your understanding of the character in any way?
Larry Watson: I found it interesting that Diane Lane's Margaret Blackledge often used her charm and her winning smile when she needed or wanted something, information usually but occasionally something far more substantial—custody of her grandchild, for instance. But her use of that tactic, if it's fair to call it that, didn't seem at all manipulative or false. She had a way of seeming to allow warmth and goodness come to the fore exactly when it was what the circumstances called for. I've often been fascinated at how, in situations that can be adversarial, when I'm all clenched and scowling, my wife is able to smile and laugh throughout negotiations and in so doing win her case—and without making enemies. It's a wonder to behold. The Margaret Blackledge I created for the novel probably had that ability, but I haven't gone back to the text to verify its presence. Besides, it's one thing to think—and hope—something is on the page and another to see it played out convincingly on the screen.
LH: One of the notable motifs in your work is the sheriff character. What draws you to this archetype?
LW: You're right of course, the sheriff is, after so many and such varied depictions in film and literature, an American archetype, but when I create a character who's a sheriff I'm concentrating on how that character can play against type. Part of the reason I do that—apart from wanting my fiction to have believable characters who have the depth and complexity that types usually lack—is to be true to the sheriffs I've known. Specifically, my father and grandfather. Both served terms as sheriff in North Dakota. Now, I've not written sheriffs who are specifically modeled on either man—my sheriffs are fictional creations—but because I've known men who were lawmen, I've felt as though I have access to the character and can feel as though I'm drawing from life and not from what those movies and books and popular culture throw my way.
Sheriffs are also on the front lines of the morality/immorality wars (or, more accurately, the legality/illegality conflicts, which don't always align with matters of morality and immorality—or vice versa). I'm interested in exploring moral dilemmas, and who has a better or more immediate view of both the public and the private consequences of such problems than a law enforcement officer? (Okay, perhaps a therapist or member of the clergy.)
For example, in Let Him Go, both novel and film, George Blackledge, a retired sheriff, isn't comfortable with his wife's decision to go after their grandson and try to persuade his mother to allow the child to go back to the Blackledge household and live with his grandparents. George believes what his wife wants to do is questionable in terms of both morality and legality—to say nothing of practicality—but his devotion to his wife compels him to accompany her on her quest.
LH: Were you involved in Thomas Bezucha's screenplay adaptation of Let Him Go? How did he explain his vision for the story to you?
LW: No, I wasn't involved in the adaptation. I had conversations with Thomas Bezucha early and throughout the filmmaking process, but those communications were largely a courtesy, which I appreciated. Thomas Bezucha had a clear vision of what the film should be from the start. He saw it as a story about heritage and loss and sacrifice. And, perhaps most important to me, as a story about varieties of love. I respected his expertise and talent, and I trusted his integrity and artistry and was confident that his script and his film would embody those qualities. What I didn't know, and couldn't know until I saw the movie, was how beautiful it would be and what a distinctive look and expressive style it would have.
LH: What did you think of the movie?
LW: I thought it was terrific—intelligent, moving, and suspenseful. It's as propulsive as any thriller, but it's also as tender as any love story. Every performance is excellent, and every scene has something original and interesting.
LH: You've rejected the label of "Western" to describe your dramas. We could arbitrarily trace a general reassessment of what qualifies as a Western—thinking of films/TV here—to works like There Will Be Blood, No Country for Old Men, and Breaking Bad. Do you think Bezucha's adaptation shares much in common with these works?
LW: Anything I said on that subject was probably prompted by my discomfort with two labels that are frequently stuck on works of literature (and film) set in that part of the country: regional and genre. Neither term goes very far in describing those works—especially when they're as disparate as those you mention (and I didn't watch Breaking Bad)—or does much to enhance their status. But I know that any fiction set in Montana, as some of my novels are, can be fairly called "western," even if much of the action in my fiction takes place not in the wide open spaces but indoors, in kitchens, living rooms, bedrooms, offices, and cars—all settings that have roofs between the characters and the Big Sky. I've sometimes tried to deflect the regional question by saying that I don't write westerns but northerns—fictions set along that northern tier of states—Montana, North Dakota, Minnesota, and Wisconsin. I've even used Vermont as a setting. But I know there's no such genre.
Bezucha's screenplay recognizes, in my opinion, some of the mythic implications of life in that region—the demands of self-reliance, the difficulties of survival, and the ways that circumstances can sometimes require that ordinary men and women behave in extraordinary ways—for both good and evil. As different as these three films are, I think you could say that those themes are also in No Country for Old Men and There Will Be Blood.
LH: Do you have a favorite on-screen "depiction" of Montana?
LW: I have to careful here, because some of the most impressive Montana movies weren't filmed there. Canada has frequently been the stand-in for Montana; that was the case with Let Him Go. But my favorite would be A River Runs Through It. Its Montana credentials are all in place (with a soupcon of Wyoming), and though it's a flawed film in some respects, it's still a beautiful one. And the movie ends the way Norman Maclean's novel did, with his moving and magnificent final words.
LH: Any chance we're getting an adaptation of The Lives of Edie Pritchard?
LW: No adaptations of The Lives of Edie Pritchard are in the works, though there's been some interest.
LH: Is there anything you can tell us about your next writing project?
LW: I'm so superstitious about works-in-progress that I don't dare say much. I'm working on a novel, and while I have a lot of pages, I also have a lot of doubt as to whether it's . . . efficacious? Do we say that about fiction? I'm not sure if it's sufficiently efficacious, and I might not know until I'm finished. I wish there were a way to know about these things without having to write 300 pages or more.
__________________________________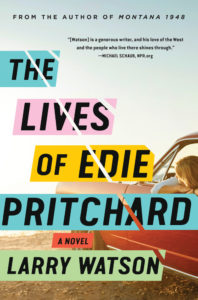 The Lives of Edie Pritchard by Larry Watson is available now via Milkweed Editions.
---