Lara Vapnyar on the Book That Made Her Weep For Hours
On Margarita Khemlin's Novel Klotsvog
I have to start with a confession. It's not unusual for me to cry over a book. I choke up when I reread the scene of the old Prince Nikolai's death in War and Peace. I tear up when Ennis calls Jack "little darling" in Brokeback Mountain. I start weeping when I read about dying children squabbling over an orange ball in the oncology ward in People Like That Are the Only People Here. I dab my eyes with the tip of a tissue and go on reading.
What is unusual for me is to bawl over a book for hours. To bawl, to sob, to go through an entire box of tissues, to feel devastated for days afterward. And yet this is what happened when I finished Margarita Khemlin's Klotsvog. And these weren't sweet tears of empathy either—I cried from shame, from horror, from the deepest self-loathing. I felt like I needed to go to a house of worship and beg for forgiveness, except that I'm not religious and had no idea who to beg or how.
I'll try to explain why this book affected me so much, but I need to get my bearings first, so I'll start with some literary context.
Dostoevsky's Notes from the Underground, a classic of the "confession of a bad person" genre, opens with a direct statement by the narrator: "I am a sick man . . . I am a spiteful man. I am an unattractive man. I believe my liver is diseased."
The novel proceeds in the same vein. The Underground Man lists all the slights, all the humiliations, all of the instances of his being spiteful, cowardly, and dishonest, going into the tiniest details, savoring them, almost delighting in them.
Margarita Khemlin's Klotsvog also opens with a direct statement by the narrator:
 My first name is Maya. Patronymic Abramovna, maiden name Klotsvog. My surname's very unusual but I don't know its literal meaning. If anybody knows, please tell me. That's not important to me, though, because what's important is how somebody made life's journey, not what their surname is. I was born in 1930 and—like my whole generation—saw too much, things that weren't pretty.
The tone of this opening is similar to the Dostoevsky opening, but it's hard to imagine a more startlingly different narrator. Even though Klotsvog the novel is framed as a confession, the main character, Maya Klotsvog, seems unable to see herself for what she is, to judge her actions correctly, or to understand their effect on other people: on her mistreated and abandoned lovers and husbands, on her neglected children, on the mother that Maya banishes from her life.
This striking lack of awareness is introduced early on in the seemingly innocent sentence where Maya talks about her profession. "Field of work: mathematics teacher. Retired, of course. But I don't consider myself a former teacher. Like a lot of other professions, a teacher's profession doesn't exist in the past tense. Acknowledging that sustains me tremendously." Later we realize that even though Maya does hold a teacher's diploma, she has never worked as a mathematics teacher. Save for a short stint managing a special education class, she has never worked as a teacher at all. How then can something that is obviously not true "sustain her tremendously"?
Some readers might be tempted to see Maya as an unreliable narrator. Others might even go so far as to see her as a self-serving monster who is lying in her confession in order to dupe the reader into thinking that she's innocent. After all, she does have a tendency to sacrifice her loved ones for material gain, and she's very successful in upgrading her housing situation and her wardrobe from one husband to the next. But taking Maya for an antihero would be a grave mistake. Unreliable narrators are there to confuse the reader. Maya is confused herself. What she has is a sort of blindness of perception, which prevents her from realizing that she is often the cause of her own and her family's suffering; but she's not aloof to that suffering, she feels it deeply; more than that—she suffers herself.
"Fima [Maya's first husband whose life she basically destroys] recognized something scary and began crying, too, half-asleep. I sobbed out of pity, confusion, and an uncertainty that had covered me from head to toe." What we have here is rather a case of an "unreliable author" who hides raw emotion behind Maya's stilted language, steeped in imperfections, and influenced by Soviet bureaucratic clichés. Just look at this sentence: "We gradually learned that our husband and father had perished during the forcing of the Dnepr." (Kudos to the translator! It must have been really hard to get it right.)
This strangeness of the language serves to distance the reader from the characters, so by the time you experience the shock of recognition (Oh, shit, this is me! This book is about me!) you're completely unprepared and it overwhelms you with its emotional power.
After reading Klotsvog . . . I discovered that my consciousness has been harboring so much more of the dark, shameful, despicable stuff than I'd ever known.
Hence the hours of bawling.
But that's not the point.
Which is another strange expression that pierces the Klotsvog narrative from time to time. I used it just now, because I was afraid to start crying again, and I suppose Maya uses it for the same purpose.
Dostoevsky's Underground Man claims that extreme self-awareness is a sickness: "I swear, gentlemen, that to be too conscious is an illness—a real thorough-going illness." Well then, the extreme lack of self-awareness must be a sickness too. And it looks especially disturbing if you consider its origins in Maya's case.
The Holocaust is barely mentioned in Klotsvog. We know that the 13-year-old Maya and her mother managed to escape right before the German invasion, and there are no descriptions of the atrocities, almost no discussion of their toll on the survivors. And yet the entire narrative is saturated with allusions, like the detail about bags filled with clothes and toys that used to belong to Fima's first wife and first children, who perished in the Holocaust.
It's easy to frown at Maya for her deep aversion to Yiddish, until you realize that the entire Yiddish-speaking population of her hometown was murdered. And it's tempting to mock Maya for her ruthless pursuit of her two obsessions—better living conditions and nicer clothes—until you remember that her childhood house was "razed to the ground" by the Germans, and that her best dress likely burned along with Maya's best friend, who had taken it for safekeeping.
And it's hard not to cringe at the dishonest, immoral, and sickening arrangements Maya makes when she finds herself pregnant by her married lover, until you remember that her actions are guided by rumors of Stalin's own "final solution," his plan to dispose of the Soviet Jews who survived the Holocaust. There is a good chance that if not for Stalin's death in 1953, his plan would have been realized.
Not that emotionally blind Maya understands any of that. Later in the novel, when Maya's daughter renounces her Jewishness, Maya comes to complain to a wise old Jew, Beinfest. Here is what he says: "She's scared because she ended up Jewish. All children are afraid of the dark. And Jewishness is akin to the dark for children if they don't engage with it."
Maya refuses to process that thought, but it sticks with the reader. Jewishness is akin to the dark. Jewishness is akin to the fear. Unless you engage with it.
A lot of Jewish writers have engaged with the theme of survivor's guilt, but none of them has handled the question of survivor's fear quite as Margarita Khemlin does. The blind inexplicable animal fear that makes you do unspeakable things. Dostoevsky, who despite being a recognized anti-Semite managed to influence and stir several generations of Russian Jewish writers, probably comes the closest. Here is the passage from Crime and Punishment:
"Where is it," thought Raskolnikov. "Where is it I've read that someone condemned to death says or thinks, an hour before his death, that if he had to live on some high rock, on such a narrow ledge that he'd only room to stand, and the ocean, everlasting darkness, everlasting solitude, everlasting tempest around him, if he had to remain standing on a square yard of space all his life, a thousand years, eternity, it were better to live so than to die at once! Only to live, to live and live! Life, whatever it may be! . . . How true it is! Good God, how true! Man is a vile creature! . . . And vile is he who calls him vile for that," he added a moment later."
In that sentence, Dostoevsky is being clear-eyed about the weakness and despicable nature of human beings. He passes judgment while simultaneously negating it with empathy. And this is exactly what Margarita Khemlin does throughout her novel.
I started with a confession, so I'll try to end with a confession too. Why did this book affect me so much? The thing is that I've always prided myself on my presumed extreme self-awareness. I considered it my best skill as a writer. I thought that I completely understood my deepest fears, desires, and motivations, and that this understanding provided me with amazing insights into my fictional characters.
After reading Klotsvog, I saw that I'd been blind just like Maya. I discovered that my consciousness has been harboring so much more of the dark, shameful, despicable stuff than I'd ever known. Here is one example. I'd always thought that my inclination to distance myself from all things Jewish was a cultural one, an aesthetic choice more than anything else. I realize now that it stems from that sticky shameful survivor's fear even though I am a whole generation removed from the Holocaust. There were plenty of other discoveries, some of them much worse than the existence of survivor's fear, but those are too painful and too private—I'm not ready to share them.
Margarita Khemlin's Klotsvog has been a revelation. I hope it will affect other readers in the same way. But in order to let it work, please, approach it with maximum empathy and a maximally open mind.
__________________________________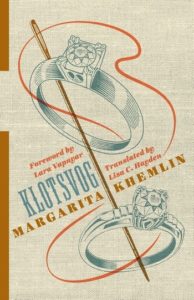 Excerpted from Klotsvog by Margarita Khemlin, translated by Lisa C. Hayden (Columbia University Press), forward by Lara Vapnyar, part of the Russian Library series.
---