Kirstin Chen on Shattering the Model Minority Myth
The Author of Counterfeit Talks to Jane Ciabattari
Counterfeit is Kirstin Chen's third novel, after Soy Sauce for Beginners, in which a thirty-year-old leaves her husband in San Francisco and goes home to Singapore, where she is caught up in her father's artisanal soy sauce business, and Bury What We Cannot Take, which traces the sacrifices faced by a family fleeing Maoist China for Hong Kong. Number three arrives with a splash.
Counterfeit is a June 2022 Reese's Book Club pick, and Camille Perri's June 7 take for the New York Times Book Review was glowing: "Make no mistake, Counterfeit is an entertaining, luxurious read—but beneath its glitz and flash, it is also a shrewd deconstruction of the American dream and the myth of the model minority." Sony Pictures Television's TriStar outbid seven others for the television rights (Chen will be an executive producer). And the fun is just beginning for this sly caper novel that pairs two former Stanford roommates in a global scam involving fake designer handbags. Our conversation was by email, but in the same time zone, Pacific.
*
Jane Ciabattari: How have you managed our life during this uncertain and tumultuous time? Your writing? Your teaching? Preparing to launch a new novel? Where have you been living?
Kirstin Chen: I've been extremely, extremely fortunate in that my partner is a doctor and a scientist. Throughout this time he has kept me calm and steady by parsing the headlines and the data and patiently explaining everything to me. As a result, this has been a surprisingly productive time for my writing.
Particularly during the first year of the pandemic, when my university went online and restaurants closed, writing in my study was the only activity that felt exactly the same as pre-pandemic, and that brought me great solace and even joy amid the tumult.
 JC: When and how did you come up with the concept for Counterfeit?
KC: The idea of Counterfeit began as a joke. A couple of years ago, I was working on my last novel, Bury What We Cannot Take, a weighty historical drama set in 1950s southern China. After a particularly grueling day of research, I turned to my partner and declared that the next book I wrote would require zero research and would therefore have to be about the only topic I was already expert in: designer handbags.
Not long after that, I came across an article in the Washington Post about a con artist who had created the perfect counterfeit handbag scheme, a scheme so perfect I knew it belonged in fiction. And that's how I started writing Counterfeit.
JC: Your narrative perspective is intriguing. You begin with Ava, a Chinese-American lawyer who has stopped working to raise her son Henri, while her husband Oliver continues his demanding medical career, in a monologue that is essentially a testimony, delivered to a detective who is relatively anonymous until we learn the gender partway through. Then you shift to the point of view of Winnie, a former Stanford classmate of Ava's from Mainland China who enlists her in a scheme to sell high-end counterfeit bags. Winnie describes Ava in terms that show us the "unreliable" in her narrative. And back to Ava, who explains to the Detective the "point of no return" in her story. Then you add an epilogue that unveils so much! How did you develop this structural approach? Was it there from the first?
I turned to my partner and declared that the next book I wrote would require zero research and would therefore have to be about the only topic I was already expert in: designer handbags.
KC: In the beginning, I tried to write the entire novel as Ava's confession to the detective, but I quickly figured out that this formal constraint hindered me from exploring her unreliability in a nuanced way. I knew I needed another perspective, and I was excited to bring in Winnie's because she's so fearless and bold—and because this is very much a story about friendship.
Still, it took many, many drafts to figure out when precisely to bring Winnie in and how much space she should take up. The epilogue was really fun to write. My previous novels have had quite open-ended conclusions, which seems to make some readers balk. Hopefully they'll appreciate the way Counterfeit's conclusion ties up a lot of loose ends.
JC: How did you imbue Ava and Winnie's crime caper with a comic, slightly subversive element?
KC: For me, this novel has always been about two Asian American women who set out to shatter the model minority myth and demand more from life, so subversion is an important theme. Additionally, both Ava and Winnie are witty and self-aware, so I think a lot of the humor in the story comes from them and their views of the world.
JC: How did you research the complex and burgeoning counterfeit luxury accessories trade? And the characters like Boss Mak, Kaiser Shih, Manager Chiang?
KC: I was fortunate to receive a research grant that let me travel to Guangzhou, Dongguan, and Hong Kong. There I visited the famous fake markets where I learned that the highest quality "superfakes" sell for upwards of a thousand dollars. I toured a handbag factory that works with some of the largest international designer brands, and I consulted with an IP lawyer who specializes in copyright infringement in the region. The characters you mention, I made up, although Kaiser Shih is very loosely based on the (lovely) deputy manager at the factory I visited.
JC: Is the strategy Winnie uses (and Ava becomes engaged in)—selling bags on eBay plus returning counterfeits to high-end stores for cash—common? Are there other strategies you considered, as well?
KC: I'm not sure whether it's common per se, though I have seen numerous customer complaints about buying fake merchandise from high-end stores on various online message boards. I never considered another strategy because this one felt so perfect for the book.
JC: Did you visit factories in Guangzhou where bags from high-end brands are manufactured, and also factories where the counterfeits are made?
KC: I wasn't able to visit a so-called "black" factory, because as you might imagine, they are incredibly difficult to gain access to. But touring a high-end legitimate factory was extremely instructive. One tiny moment in that visit so struck me that I ended up putting it in the book: midway through the tour, I almost bumped into a rack of Prada tote bags and my guide said, facetiously, "Tell no one you saw these," which points to the extreme reluctance of some luxury brands to reveal that they manufacture in China.
For me, this novel has always been about two Asian American women who set out to shatter the model minority myth and demand more from life, so subversion is an important theme.
JC: Speaking of counterfeits, did you see the recent New York magazine article, "The Rich New York Women Who Love Their Fake Birkins: Among a certain set, counterfeit luxury bags may be more popular than the real thing?" Did you encounter the equivalent of "Tupperware parties" for high-end replicas in your research?
KC: My publicist sent me that article! Yes, I actually first heard of these types of parties decades ago. Back in the late nineties, my parents lived briefly in Hong Kong and that's when I learned of wealthy socialite women selling high-end fakes out of their homes.
JC: One element of Ava's story is the vulnerability she expresses to the Detective re: her marriage and her young child Henri, who at two has a habit of shrieking for hours on end, and is comforted by Maria, a nanny who has become a stable factor in the household (Ava thinks of her as "a true coparent"). Motherhood is hard, and Ava's experience seems on the more difficult end, for sure. How did you research this aspect of the novel?
KC: I read a lot and I also consulted my pediatrician partner and numerous friends. My early readers, Matt Salesses and Vanessa Hua, and my agent, Michelle Brower, are all parents, and they gave me invaluable advice. Lydia Kiesling's wonderful novel, The Golden State, was particularly instructive in how to compellingly portray a young, preverbal child on the page.
JC: I see you're executive-producing the series based on Counterfeit. What will that involve?
KC: Ah! So far, it's involved infrequent Zoom meetings with the producers and studio execs, which seemed rather boring to explain.
JC: What are you working on next? A new novel?
KC: I'm working on a novel about an elite pediatric cancer research lab that's made a vital breakthrough discovery, but is about to run out of funding and go under before they can publish their research. The working title is Negative Control. What do you think? Titles are my weakness. If anyone has a better suggestion, I'd love to hear it!
_________________________________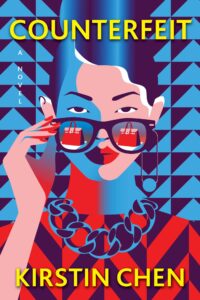 Kirstin Chen's Counterfeit is available from William Morrow
---