Kirk Cameron has had a tough year, not unlike poor, pregnant Mary. "We tried to go to libraries across the country and we've been turned away," he told a church gathering this week in Charlotte, N.C., of touring his conservative children's book As You Grow, about a tree SYMBOLIZING FAITH getting burned by people with torches LIBERALS IN RAINBOW TUTUS PROBABLY in spreads that look an awful lot like the January 6 insurrection.
I'm using All Caps, because Kirk likes to say the quiet part out loud.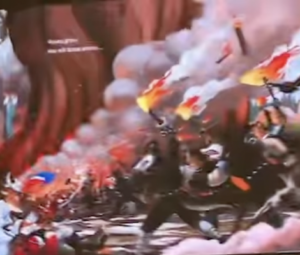 "Sky tree got burned, you guys!" he told the children in attendance at the climax of his terrible, terrible children's book, which has animals in it, because they're an effective way to get children to listen to your demagoguery.
"You like stories?" he asked the young audience, who surely deserved better; did Christ really die on a cross for this. "You like animals?"
You do? GREAT, that leads us into the news of the day: Kirk revealed at the event that he has a new children's book called The Pride Before the Fall scheduled to come out June 1, aka, the first day of Pride month, because he's a huuuuuge dickhead.
The same cast of ideologically compromised animals are back—a tiger, a cheetah—this time to bring man's sins (re: allowing LGBTQ+ families to exist) to bear for an audience of 3-year-olds, who will definitely understand the idea that Kirk Cameron is writing these books so that "bad laws don't get made and the laws stay good," as he told the crowd in Charlotte.
There's so much here. The flimsy story stretched over the struts of evangelical Christianity, the deliberate provocation of people in LGBTQ+ communities, who are truly the ones shut out of the inn when it comes to civil rights protections.
What gets my secular goat though is just how bad these stories are. They're the children's lit equivalent of the Trump walking on water portrait. To paraphrase Jerry Seinfeld, it doesn't offend me as an atheist, it offends me as a writer. The animal heads drawn onto bad AI-art-looking bodies, the crude metaphors of the trees and the heavens, the stodgy writing, the lack of anything enjoyable, plot-wise or language-wise.
Literary Hub reached out to Kirk Cameron to ask what he said to criticism (ours) that his previous children's book was poorly written, cliched and heavy-handed. At the time of publication, we had not heard back.