Keith Gessen Explores the Often-Disturbing Biographies of Great Children's Book Authors
And He Has Some Bad News About Frances
My wife and I began reading to our son, Raffi, at what felt like a ridiculously early age, when he first started to be able to focus his gaze. He was a captive audience: he didn't even know how to crawl. We both read to him in English, and I also read to him in Russian. We started with Pat the Bunny and moved on to The Very Hungry Caterpillar and Goodnight Moon and eventually the Frances books—Bread and Jam for Frances, Bedtime for Frances, A Birthday for Frances. In Russian we read Daniil Kharms's nonsense verses and Vladimir Suteev's animal stories and Korney Chukovsky's delightful poems about talking hippos and crocodiles and the frightful Barmaley.
Aside from Kharms, whom I knew as an experimental poet and victim of Stalinism, I didn't know much about these particular writers. They were not in the canon of the alienated and dispossessed; I figured, when I started in on their books, that they had led quiet and contentful lives. They were artists and writers who had chosen a relatively lucrative career and then lived happily ever after.
My first clue that this was not the case came while sitting in Raffi's room and reading Eric Carle's From Head to Toe for the hundredth time. I noticed, on the copyright page, a strange dedication. "For Herr Krauss," it read, "who introduced me to modern art even though it was forbidden." This was puzzling. Why did Herr Krauss have a German honorific, and who was forbidding him to show modern art? I looked it up on my phone after Raffi had gone to bed.
Carle, it turned out, had been born in Syracuse, New York, in 1929 to a German émigré couple who later became homesick and returned to Germany, Nazi Germany, in the mid-1930s. This was about the same time that Werner Leopold was taking his daughter, Hildegard, back for a visit. But the Leopolds had no thought of staying! The Carles, incredibly, did.
A few years later, Germany started invading its neighbors, Eric's father was drafted into the army, and off he went to the eastern front. He was eventually taken prisoner by the Soviets and then, as was common with German prisoners of war, kept on in a labor battalion after the war as a form of reparations. Carle himself, then a teenager, was forced to dig trenches on the western front. But before that, one of his high school art teachers, Herr Krauss, had introduced him to the work of Klee, Matisse, and Picasso, and that was the meaning of the dedication. After the war, Carle left Germany and returned to the United States.
For Carle, who saw men blown to pieces by Allied air power, a Sendak-like reference to the war would have been much harder to pull off. In short, he never touched it.
This biography explained so much: Carle's slightly tin ear came from his not having grown up speaking English; his transcendent belief in the power of colorful collages came from his exposure, at a critical time, to Matisse and Klee; and the basic innocence of his books, the absence of any threat or hint of violence, may have been a defensive psychological reaction to the trauma of the war.
His near contemporary Sendak, who was safely in Brooklyn throughout the fighting and the murder, was nonetheless touched by the Holocaust—family relatives from Poland perished, and Sendak said the event hung over his adolescence and extinguished any belief he may have had in God. The Hitler moustaches on the bakers who try to put Mickey in an oven in the night kitchen were not a slip of the pen. For Carle, who saw men blown to pieces by Allied air power, a Sendak-like reference to the war would have been much harder to pull off. In short, he never touched it. I can think of no major American picture book oeuvre that is more innocent.
After this minor discovery, I became fascinated with the biographies of the writers in Raffi's room. Seuss, for whom my respect had been waning, turned out to be a real piece of work, a multimillionaire who drove his loyal wife to suicide by having an affair when they were in their sixties. Sendak was prickly, eccentric, and gay, a man with a chip on his shoulder because neither the art world nor the literary world took him entirely seriously.
And then there was Margaret Wise Brown, unlucky in love but lucky with her biographer, Marcus, whose book Margaret Wise Brown: Awakened by the Moon locates Brown at the very center of the maelstrom of modernism. You could see this for yourself easily enough in the illustrations of her books by Clement Hurd and Leonard Weisgard, but what I hadn't known about was Brown's roots in the progressive schooling movement of the 1920s and 30s. She had been part of a writers' workshop at the experimental Bank Street School in New York City, specifically devoted to creating a children's literature along Deweyan principles of experiential learning.
The Bank Street literary philosophy was a rebellion against innocence, cuteness, and the countryside, in favor of realism and the big city. Brown turned out to be the workshop's most talented alumnus: her wonderful Noisy Book is her most programmatic Bank Street work, though some element of the everyday (mixed with magic) remained a hallmark of all her books. And yet she, like Sendak after her, was never accepted as a serious writer in her own lifetime, and was even rejected by the New York Public Library's main children's book buyer, Anne Carroll Moore, for her heretical Bank Street stance against the fairy tale.
The Russian children's writers had, as usual, more turbulent lives. Kharms, dead of starvation in a mental hospital; his friend Alexander Vvedensky, whose small book about two brothers who go on a Crimean vacation Raffi and I read together, dead of pleurisy on a prison ship at the age of thirty-seven. Marshak barely escaped arrest. So, it turned out, had our beloved Korney Chukovsky.
He had been a successful literary critic and magazine editor before the revolution, had stayed on in Russia after 1917 despite the evident danger, had written most of his great children's poems in a burst of creativity in the mid-1920s, and had then been hounded into silence by the country's librarians, led by Lenin's widow, Nadezhda Krupskaya, who thought his inspired but silly rhyming poems were no basis on which to educate the future socialist youth.
He was forced to recant and was eventually rescued only by the reestablishment of a more conservative aesthetic under Stalin. But he was done by then as a writer of children's books. He lost his youngest daughter, Mura, to tuberculosis when she was eleven—this happened not long after his recantation, and he would believe to the end of his long life that her sickness and death were a punishment for his cowardice. His other daughter, the wonderful novelist and memoirist Lydia Chukovskaya, lost her husband to the purges in 1937. Chukovsky's youngest son perished fighting the Nazis.
Chukovsky lived long enough to see himself become a Soviet institution, to provide shelter for Solzhenitsyn when he was being hounded by the KGB, and also to see his other son, a successful novelist in his own right, bring shame to the family by signing a letter denouncing Boris Pasternak's Nobel Prize. Chukovsky describes (sometimes elliptically) these twists and turns in his fortunes in a remarkable diary that was published long after his death and that is one of the great documents of twentieth-century Russian literary culture. So that was the author of all those stories about talking hippos.
But it was an American writer whose biography I found most disturbing: Russell Hoban, author of the Frances books, of all the books in our library the ones that most prominently featured parents. Parents are usually absent from children's books. The mother in Where the Wild Things Are calls Max a "wild thing" and sends him off to bed without his supper—but she is never seen. The parents in In the Night Kitchen are "sleeping tight" while Mickey falls down past them to the night kitchen, and so too are the parents in Chukovsky's Barmaley when Tanya and Vanya sneak off to Africa. The mother in The Cat in the Hat infamously leaves her children alone all day in the charge of a nervous fish! The point of these books is to create a world where children are on their own, having an adventure, possibly being in danger, before returning safely to bed or their rooms or Leningrad, in the end.
If those adorable little badgers couldn't make it, what hope was there for the rest of us?
The six Frances books, published between 1960 and 1970, were an exception. They are about a small badger named Frances who is very clever and very rebellious. In these books, Frances's parents, also badgers, not only play a significant role, but are terrific parents. They are patient and funny and they come up with creative solutions for Frances's problems.
When, in Bread and Jam for Frances, Frances refuses to eat anything but bread and jam, they start giving her bread and jam at every meal, until finally she breaks down in tears and asks for spaghetti and meatballs. ("I had no idea you liked spaghetti and meatballs!" says her mother, triumphant.) When, in Bedtime for Frances, she refuses to go to sleep, they indulge her to a point, and threaten a spanking when she goes too far.
The books are written in a lapidary style somewhere between poetry and prose. They do not rhyme or have a discernible rhythm, but they have deliberate line breaks and a strong sense of how the text will sound when read aloud. The first lines of Bedtime for Frances, for example, are as imprinted on my brain as any lines of poetry I have ever read. "The big hand of the clock is at 12," the book begins.
The little hand is at 7.
It is seven o'clock.
It is bedtime for Frances.
If I was reading these lines, it meant that Raffi was on his way to sleep—not without a struggle, to be sure, not without some drama, but on his way regardless. And the book would help. It was, in that sense, incantatory.
The first Frances book is illustrated by Garth Williams, most famous as the illustrator of Stuart Little; the rest by Hoban's wife, Lillian. When they began to be published, the books marked a watershed for the depiction of family life in picture books. "Family life was fair game," writes Barbara Bader in her exhaustive history of the American picture book, "and of those who pursued it none were more successful than the Hobans."
The writer Bruce Handy, in his book on children's literature, declares that Frances's parents "may well be the best mother and father in all of literature." They really do seem to be wonderful, and it's not crazy to think, as you read the books, that Russell and Lillian Hoban, like Frances's parents, knew what they were doing.
So imagine my surprise when I read up on Russell Hoban. He was born in Philadelphia in 1925 to a Jewish family from Ukraine. His father was a socialist who worked for The Jewish Daily Forward. Hoban went off to fight in the war at eighteen, saw combat in Europe, returned, and started working in advertising and also as an illustrator and occasional author for magazines, including Time and Sports Illustrated (he did a striking portrait and write‑up of Floyd Patterson for SI after Patterson became world heavyweight champion in 1956). He and Lillian had four kids, three of them girls. They moved to Connecticut and made the Frances books together.
And then in the late 1960s, Hoban went through what he later described as a "midlife crisis," moved the family to London, and declared that he wanted to stay. Lillian took the four kids back to the States. The couple divorced. And Hoban stopped writing the Frances books and started instead writing novels for adults.
I found this information deeply disturbing. It was not just that the perfect family depicted implicitly in the Frances books was not perfect, but that Hoban seemed to have turned his back on Frances. One of the novels he wrote shortly after the breakup with Lillian includes a disaffected children's author who says she doesn't have "another furry-animal picnic or birthday party in me." It was hard to read this as anything but a dig at A Birthday for Frances and A Best Friend for Frances, two of the later (but still excellent) Frances books. What the hell!
I listened to a recording of an event with Hoban in London from 2010, a year before his death. It was filled with fans of his most famous novel, the postapocalyptic Riddley Walker. During the Q& A, Hoban was asked how he was able to spend so many years writing novels with limited commercial prospects, and his answer was that he had once, long ago, written some successful children's books that still brought him an income. That was the only mention during the event of the Frances series. I felt like I was listening to a man who had escaped an old life, changed his identity, and lived a whole new life—and was getting away with it. I felt indignant.
I walked around for a few months feeling this way. Russell Hoban—divorced. Frances's dad—home-wrecker. Frances herself—abandoned. If those adorable little badgers couldn't make it, what hope was there for the rest of us?
_________________________________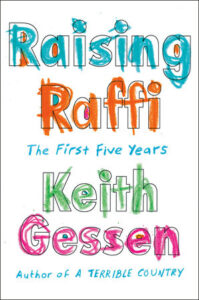 From RAISING RAFFI by Keith Gessen, published by Viking, an imprint of Penguin Publishing Group, a division of Penguin Random House, LLC. Copyright © 2022 by Keith Gessen.
---