Kayla Maiuri on What Writing Fiction Can Reveal About Those We Love
"In the end, it was our shared language, storytelling, and the act of imagination, that brought us together again."
When I was a child, my place was at the kitchen table with the neighborhood mothers, pretending to color as I listened to them gossip. While my gaze occasionally drifted to the cranberry lipstick stamped on the tips of their coffee straws, I made sure to never look at the women directly. I needed to remain invisible, to keep them talking. Often, it was my mother leading the show.
She recalled stories of growing up "down the Village," a working-class industrial area that was isolated from the rest of the city of Everett, Massachusetts, made up of first-generation Italians and immigrants. I was fascinated by the characters who inhabited this world—like the man who was born without arms and learned to use a fork and knife with his feet; the witch-like woman who hollered if you came too close to her cherry tree, but later offered bags of cherries to the children (most wouldn't eat them, fearing they were poisoned); my own great grandmother, who was spotted more than once chasing my great uncle down the street with an oil-slicked frying pan still bubbling from the stove.
I became addicted to my mother's stories. I longed to understand everyone's motives and desires, their loyalties and betrayals, where they were now, where they could have been if things had played out differently—all questions that take up space in a writer's mind. When I was older and no longer needed to eavesdrop, my mother kept me up late into the night with her tales. As the hours passed and the stories multiplied, I would grow tired and try to leave, but always ended up perched on the arm of the couch or the edge of the tub, listening to just one more.
Fiction, by rousing us, if only imaginatively, from our private selves, can help make others seem more real, more vibrant, more multifaceted.
In these moments, my mother became more charismatic, spirited. She came alive. Even when speaking to her own daughters, she seemed to be addressing an imagined and infinite audience. She taught me how to notice things, how to read people—their body language and the nuances of their words. She taught me how to order the reveal of a story so that it reached its most exciting potential.
Our story sessions slowed when I grew up and moved away. I no longer offered my mother a space to get lost in her tales. At some point, they no longer fueled me. Perhaps I outgrew them.
*
In 2016, I was living alone in New York City and depressed. My windows faced a courtyard that echoed with the voices of people I couldn't see. Outside my apartment, hot fumes from the laundromat downstairs thickened the air with a sickly perfume of lavender and bleach.
I'd recently graduated from an MFA program and was working on my first novel about a turbulent mother-daughter relationship. Each time I sat down to write, I was haunted by an image of a lonely woman who lived in her blue nightgown, in a room that was dark even during the day, a room dense with melancholy.
These were memories, reimaginings, of my own mother in the aftermath of her mother's death. During this time, her grief was palpable; I remember how relentlessly tired she was, nursing a melted iced coffee until dinner, reluctant to leave the house.
Fiction, by rousing us, if only imaginatively, from our private selves, can help make others seem more real, more vibrant, more multifaceted. Even those closest to us appear fuller, momentarily expanded, by our imagination. Of course, there is the affiliated danger of confusing them with these other, fictive selves, projecting our invented versions onto them. In order to at least try to conceive of what my mother's inner life might have been like, I created a fictional mother. I tried to embody the pain of losing a mother so young. Only there, in the shadows and half-truths and necessary distortions of fiction, could I attempt to understand her.
The mother in my novel has the same Boston accent as my real mother, the same penchant for late-night gossip. I magnified and distorted my own experience, my mother's experience, fueled by a desire to understand her.
Writing my novel was warping my relationship with my mother, and with myself.
It didn't occur to me that this would prove harmful to my mental health. I was not writing to explore buried childhood traumas or gain therapeutic relief. I was doing what writers did—looking for inspiration. Somewhere along the way, I lost sight of the truth. More than once, I'd caught myself assuming my narrator's life as my own, having to correct myself in front of friends. I began to identify heavily with my mother's depression—and the depression of the mother in the novel—feeling utterly heartbroken for her, and also resentful that she'd let things turn out the way they did, that she'd never sought professional help. Writing my novel was warping my relationship with my mother, and with myself.
To get away from myself, if only briefly, I would call her. I called to complain about things she had no control over: "It's so hot in this city." "I'm all alone." "I'm the only one of my friends without a partner." "I'm miserable."
I found pleasure in the threatening implications of these words. I'm miserable.
"Why don't you come home?" she'd ask, in a soothing but tentative voice that only heightened my irritation. "Just for a little while?"
I imagined sitting in the kitchen again, telling stories, and was filled with a sense of dread. "Are you kidding me? I hate that place," I'd say, insulting her home, insulting the place she chose to raise me in and had been living for over twenty years. I would never utter these words to my father—there is a special kind of cruelty daughters reserve for their mothers. My mother listened, never once revealing that she might be hurt by my words.
*
Our relationship to any person always involves the use of our imagination, no matter how real that person is to us. They are always enlarged by our expectations of them, by the people they might become or once were. We can never really know them. Which of my mothers is real, the one in my head, my novel, or the one who I join at the kitchen table on my visits to Boston? I suppose they are inextricable from one another.
As Javier Marías writes in his novel The Infatuations, "fiction has the ability to show us what we don't know and what doesn't happen." By giving us the insight to imagine what people fail to do or understand, what they should have done instead, what they were wise in choosing not to do or say, fiction enables us to comprehend other people more fully than in life. This knowledge, or half-knowledge, is an acceptance of the limits of knowledge, an acceptance that our imagination plays a far greater role in our relationships with other people than we realize.
I was twenty-two when I began my novel, barely out of my childhood home. Now, at thirty-one, I've gained a greater respect and empathy for my mother, a perspective I might not have reached without attempting to immerse myself in a similar world. In the end, it was our shared language, storytelling, and the act of imagination, that brought us together again.
___________________________________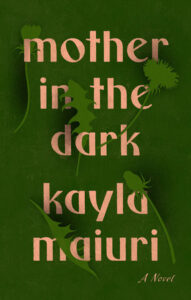 Mother in the Dark by Kayla Maiuri is available from Riverhead Books, an imprint of Penguin Random House, LLC.
---