Kafka on Clothes, Laughter, and Miserable Words
"Today, I did three impertinent things"
WORDS ARE MISERABLE MINERS OF MEANING
(to Selma K.)
How many words grace the pages of this book!
They are supposed to bestir memory. As if words could remember!
For words are miserable mountain climbers and miserable miners of meaning. They do not retrieve the hidden treasures from the heights or dredge them from the depths!
But there is a living commemoration that softly strokes everything worthy of remembering with its caress. And when a red-hot little flame leaps forth, poignant and piercing, from such retrospective ash, and you fix your gaze upon it, as if gripped by its magic spell, then . . .
But how with a shaky hand and coarse writing instrument can one possibly inscribe oneself in such pure remembrance, other than to stain these white unassuming pages? That is what I did on September 4, 1900.
Franz Kafka
CLOTHES MAKE THE MAN
Unlike my need to excel, and the pleasure I took in so doing and in the effect it had on others, not giving the matter sufficient thought, I merely suffered in silence the fact that I always traipsed around in shabby clothes which my parents had made for me by various clients, one after another, and for the longest time by a tailor in Nusle. Of course I was conscious of being particularly badly dressed, a condition I could hardly ignore, and was keenly aware when others dressed well, but for years I simply could not fathom the fact that my clothes might be the cause of my pitiful appearance. Since even then, more attuned to inklings than to actualities, already inclined to self-deprecation, I was convinced that it was only once I'd donned them that the clothes took on that sorry initial look of wooden stiffness, hanging from my frame in haphazard pleats. New clothes were altogether out of the question, since if I had to look ugly, I at least wanted to feel comfortable, and in addition, to spare the world, which had already grown accustomed to the spectacle of my old clothes, from having to endure the eyesore of new ones. This long-standing refusal in the face of my mother's insistence, who with adult eyes kept finding fault with my old clothes and wanted to have new ones made for me, affected my sense of self, since I was compelled to acknowledge, with my parents' corroboration, that there was nothing innately amiss in my personal appearance.
* * * *
[ . . . ] Consequently my posture conceded to shabby clothes, I walked around with my back bent, shoulders stooped, awkwardly dangling arms and hands: feared mirrors since, in my view, they merely revealed my ineluctable ugliness, which, moreover, could not have been reflected all that accurately, for if I really looked like that, I would necessarily have caused a greater stir, while suffering on Sunday strolls my mother's gentle pokes in the back and her far too abstract admonitions and prophecies, vague reprimands which I could not correlate with my concerns of the moment. I simply lacked the capacity to make the slightest accommodations for the actual future. I held fast in my thinking to the things of the moment and their present condition, not out of perseverance or any hard and fast conviction, but rather, insofar as it did not weaken my thinking, out of sadness and fear, sadness precisely because the present seemed so sad I dared not forsake it before it dissolved into happiness, fear, for the least little step forward frightened me, I deemed myself unworthy in my contemptibly childish demeanor to take serious stock of the great manly future, that future which furthermore seemed for the most part so inconceivable that the least little step forward felt like a falsification and the step after that unthinkable.
ON THE INABILITY TO WRITE
Finally, after five months of my life in which I managed to write nothing that might have satisfied me, no force of will could possibly coax it out of me, despite my firm resolve, the impulse once again takes hold to address myself. Which impulse I've always answered in the past when I felt compelled to reply, since there is always something more to extract, a needle to find in this haystack of indecision I've been for these past five months, and whose dismal fate, it seems, is to be set on fire in summer and burn up more quickly than the blink of an eye. If only such a fate were to befall me! And let its effect be tenfold, since truth to tell I don't even regret this miserable time. Misery is not my lot, yet neither is happiness, nor indifference, nor weakness, nor fatigue, nor any other feeling I can identify, so what is it then? The fact that I can't put my finger on it is linked to my inability to write. And I think I know the reason without fathoming its cause. All things I feel inclined to write about don't strike me from the root, but rather from somewhere in the middle. Just try to grab it, try to embrace a blade of grass growing out from the middle of the stalk. Maybe some can do it, say, for instance, Japanese acrobats balanced on a ladder not resting on firm ground but rather on the uplifted soles of a half-reclining partner, a ladder not propped up against any wall but rather just rising in the air. Me, I can't do it, quite apart from the fact that my ladder lacks the support of such accommodating soles. This is, of course, not all that's standing in my way, and the impulse to do so would still not make me write. But every day a single sentence ought at least to be pointed at me, the way they now point telescopes at comets. And if I were then compelled to face that sentence, if I were coaxed out of hiding by the force of that sentence, as I was, for instance, last Christmas, when things had gone so far that I could hardly contain myself, and when I really appeared to be balanced on the last rung of my ladder, which was, however, propped up firmly between floor and wall! But what a wobbly floor it was, and what a wavering wall! And still that ladder did not fall, with my feet I managed to keep it pressed against the floor and propped against the wall.
Today, for instance, I did three impertinent things, one to a conductor, one to a person to whom I'd been introduced, all right so there were only two, but the memory still hurts like a stomachache. Such unseemly behavior would have been an impertinence for anyone, and definitely for me. So I managed to emerge from my shell, battled it out with myself in the fog, and the worst thing was: no one noticed that it was an impertinence, that I felt compelled to commit an impertinence even to my companions, felt compelled all the while to keep a straight face and bear the responsibility in silence; but the absolute worst thing was when one of my acquaintances did not even take this impertinence as a sign of character but rather as the epitome  of character itself, pointed out the impertinence and went so far as to praise me for it. Why the devil don't I remain huddled inside myself? Now I say to myself: Look, the world allows itself to be insulted by you, the conductor and the person to whom you've been introduced hold still as you walk away, the latter even bid me goodbye. But that means nothing. There's nothing to be gained by remaining locked inside yourself, but not much is happening around you either. To which challenge I reply: I, too, would rather let myself suffer a thorough drubbing in the ring than to slug it out among strangers, but where the devil is this ring? For a time I envisioned it lying on the ground, as if inscribed with chalk, but now it just swirls around me, no, it doesn't even swirl. [. . .]
How many days have passed again in silence; today is the 28th of May. Do I not even have the resolve to pick up this penholder, this piece of wood, every day? I believe I don't. I go rowing, riding, swimming, lie in the sun. [. . .]
Sunday, July 19, 1910. Slept, woke up, slept, woke up, what a miserable life.
I CAN ALSO LAUGH
I can also laugh, Felice, you bet I can, I am even known as a big laugher, even though in this respect I used to be much more foolhardy than I am now. It even happened that I burst out laughing and how!—at a solemn meeting with our director—that was two years ago, but the incident has lived on as a legend at the institute. It would be too laborious to try to elaborate on the importance of this man, just believe me when I say that he is in- deed very important, that an ordinary employee cannot picture this man standing on level ground but rather hovering up there in the And since we do not ordinarily have occasion to commune with the Emperor, for the ordinary employee—it's the same in all big operations—a meeting with this man evokes the aura of a meeting with His Imperial Majesty. Naturally, like every other individual viewed up close whose lofty position is not solely a function of his own accomplishments, he, too, has a ludicrous aspect, but you really have to be off your rocker to let yourself be roused by such a natural phenomenon to allow yourself to laugh in the presence of this great personage. We—two colleagues and I—had just at the time been promoted to a higher rank in the company and had to appear in formal black suits before the director to express our thanks, whereby, I dare not forget to add, I already had a personal reason to be particularly thankful.* The most distinguished of us three—I was the youngest—offered a few words of thanks, short, sweet, and to the point, as befit the situation. The director listened in his usual festively formal fashion, in a manner a bit reminiscent of our Emperor at an official audience, his stance (posed and unavoidably) ridiculous. His legs were lightly crossed, his left hand balled into a fist resting on the rim of the table, his head bowed slightly, so that his white full beard bent against his breast, and moreover, with his not all that large, but nevertheless protruding, belly wobbling a bit. I must at the time have been in a very unmanageable mood, for I knew this directorial stance all too well, and had no reasonable cause to break out, albeit with interruptions, in little bursts of laughter, which, however, I could still handily camouflage as a cough, so long as the director did not look up. The clear voice of my colleague, who while aware of it, kept facing forward, immune to my unseemly comportment, kept me in check. But then, following the conclusion of my colleague's remarks, the director raised his face, whereupon I was gripped for an instant by a terror unmediated by merriment, since he could now easily notice and confirm from my expression that the laughter that, much to my chagrin, spilled from my lips was definitely not a cough. But when he launched into his reply, again in that customary, all too familiar, imperially schematic, perfectly meaningless manner, accompanied by heavy chest reverberating moans, while my colleague cast sidelong looks, the object of which was to warn me to control myself, though I had already strained to do so, the effect of which was rather to vividly bring back to mind the delight of that earlier laughter, I could not control myself any longer and lost all hope of ever being able to do so. At first I tittered in response to the little witticisms the director judiciously scattered here and there; but whereas custom prescribes that one turns one's lips into a respectful grin in response to such witticisms, I emitted a full-throated laugh, noticing how my colleagues shrank back, terrified at being infected by my laughter, sympathizing more with them at that moment than with me, and yet I couldn't help myself, made no attempt to turn away or hold a hand in front of my lips, but rather, my head locked helplessly in place, kept staring the director in the eye, unable to turn away, probably instinctively convinced that things could only get worse, and that it was therefore advisable to avoid any facial alteration. Then, of course, since I was already in the swing of things, I no longer merely laughed at his present witticisms, but also at those that came before and those still to come, and at all of them put together, until nobody knew what the devil I was laughing about; everyone found themselves in a sorry pickle, except for the director, that is, who remained largely oblivious, as a great man accustomed to all variety of vicissitudes, and who, moreover, could not conceive of any irreverence before his august person. Had we slipped away in time, the director might well have cut short his remarks, everything would have run more or less smoothly, my behavior would doubtless have been deemed indecent, but this indecency would not have become the subject of public discussion, and the entire business would have been hushed up and forgotten by the unspoken agreement of the four parties concerned, as so often happens with such seemingly unseemly matters. Unfortunately, the heretofore unmentioned colleague (an almost 40-year-old man with a round, childlike, albeit bearded, face, and a beer drinker to boot) launched into an expected little lip service of his own. At that moment I found it absolutely incomprehensible that, already flustered as he was by my laughter, standing there with puffed-up cheeks, repressing his own laughter, he would start a serious speech. But in his case it made perfect sense. Endowed with such an empty overheated temperament, he is inclined to fervently and at great length support all pronouncements accepted by the majority, and were it not for the ridiculousness and endearing nature of his fervor, the tedium of this talk would have been intolerable. The director proceeded to say something altogether inoffensive which, however, did not sit quite right with said colleague, in addition to which, perhaps swayed by the memory of my aborted laughter, the latter forgot where he was; in short, he thought it was the right moment to espouse his position and to convince the director (himself, of course, perfectly oblivious to the views of others). So when said colleague made some lame remark (a point already scorned by general consensus and in this case particularly foolish sounding), I lost all control of myself, any sense of propriety which I had heretofore born in mind simply dissolved, and I emitted such a loud and reckless burst of laughter, the hearty like of which you can probably only hear among schoolchildren in a classroom. The room went silent, and my laugh and I were finally recognized as the center of everyone's attention. Whereby my knees trembled with terror, as I kept laughing, and my colleagues had no choice but to laugh along with me, though their levity never managed to reach the degree of impropriety of my long-repressed and perfectly accomplished laughter, and in comparison seemed rather sedate. Striking my breast with my right hand, partially cognizant of my sin (just like on the Day of Atonement), in part to empty my chest of the over- flow of merriment, I muttered untold apologies for my laughter, all perhaps quite convincing, which were, however, rendered meaningless, interrupted as they were by renewed bursts of laughter. Now the director himself was disconcerted, and only thanks to the innate sense of equanimity, abetted by practiced dispassion, in individuals in such positions of authority did he find a phrase that managed to encapsulate my howls of laughter in a reasonable explanation, I think in relation to a joke he had told quite some while ago. Whereupon he summarily dismissed us. Undefeated, laughing still, albeit desperately distraught, I was the first to stagger off.
* Kafka owed his job at the Worker's Accident Insurance Institute for the Kingdom of Bohemia to the intercession of a school chum, Ewald Přibram, who happened to be the son of the director, Dr. Otto Přibram.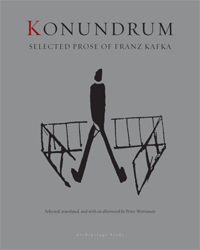 From Konundrum: Selected Prose of Franz Kafka. Used with permission of Archipelago Books. Translation copyright 2016 by Peter Wortsman.
---