Justin Taylor on the Ways We Fail to Love Each Other
"I feared I was becoming more like him, even as I was coming to understand what he had gone through."
I had a hard time adjusting to Portland. I missed New York: our friends, our apartments, our lives. I didn't like owning a washing machine or driving a car. I felt isolated, physically and emotionally; both stranded and adrift. I was hardly writing, and what I was producing was no good. I didn't know when I would have a job again or what that job would be. Here we were: new city, new marriage, new everything, and all I felt was that I was failing, had perhaps already failed.
A lot of people put a lot of energy into making me feel welcome, but it was like they were all shouting and waving through smoked glass. Because I'd never experienced depression before, I didn't know what it would look or feel like, apart from what I'd read about it. Here's William Styron, from Darkness Visible, which I'd read shortly after my father's suicide attempt, to try to glean some insight into things that he might have experienced but couldn't or wouldn't say himself.
I was feeling in my mind a sensation close to, but indescribably different from, actual pain. This leads me to touch again on the elusive nature of such distress. That the word "indescribable" should present itself is not fortuitous, since it has to be emphasized that if the pain were readily describable most of the countless sufferers from this ancient affliction would have been able to confidently depict for their friends and loved ones (even their physicians) some of the actual dimensions of their torment, and perhaps elicit a comprehension that has been generally lacking; such incomprehension has usually been due not to a failure of sympathy but to the basic inability of healthy people to imagine a form of torment so alien to everyday experience.
The title, Darkness Visible, is from Paradise Lost. It is Milton's description of Hell:
No light; but rather darkness visible
Served only to discover sights of woe,
Regions of sorrow, doleful shades, where peace
And rest can never dwell, hope never comes
That comes to all, but torture without end
Still urges, and a fiery deluge, fed
With ever-burning sulphur unconsumed.
Styron's account rings true to me, in kind if not degree. I spent a lot of time wrapped in what felt like a blanket of gray noise, which made it difficult to navigate basic emotional exchanges, or to communicate what I was feeling to the people around me, or even to myself. I was for the first time experiencing some version of what my father had been struggling with for years by now: dislocation, unemployment, dimming prospects, a sense (right or wrong) of profound worthlessness.
I feared I was becoming more and more like him, even as I was coming to understand what he had gone through, and was still going through, more deeply than I had before.
I felt, and to some extent still feel, deep shame about my failure to understand him sooner or better or more fully than I was able to. All you had to do was listen to me. I sometimes think that even though we were never estranged from each other, and even though there was never a time that I would have characterized our relationship as anything other than close and loving, there is no disputing the fact that after the letter I wrote to him in 2007, probably because of it, that relationship began to fracture.
I was disappointed in his decision to stay in Tennessee after the divorce, and frustrated by his refusal or inability to find a job. By this point he hadn't worked in nearly ten years. I don't know what he might have done, since he didn't have a brokerage license anymore and was starting to get sicker—the Parkinson's appearing as little more than a nervous tic, but no longer something you had to look for in order to notice. It was impossible to distinguish between the real limits on his options and his tendency toward self-destruction (if that's not saying the same thing twice). To avoid the tense and complicated dance of dividing my time between him and Mom on visits to Nashville, I stopped going there.
My sister was out of school by then: She worked in South Florida for a year, then moved to DC for law school. Mom came to New York a few times a year, for business as well as to visit. I invited Dad to visit (he wouldn't come) and told myself I'd visit him when he moved back to Florida, which I was still trying to convince myself might happen sooner rather than later. Instead, he hung onto the house as long as he could and then dug in his heels at the extended‑stay hotel. Years went by without us seeing each other.
There was one visit to Nashville in 2011, a three‑day weekend where we rendezvoused with Amanda's parents and sister. We got everyone together on Friday for lunch and a trip to the art museum. On Saturday, he and I went to dinner with Amanda's family. He was affable, maybe a little quiet. I could tell he was trying to be on his best behavior, and also that he was having trouble maintaining a veneer of normalcy—holding his utensils was a struggle, but my offer to cut up his food for him was dismissed. At that point it had probably been years since he'd been to a nice restaurant or socialized with new people. By the end of the night I could tell how worn out he was.
On Sunday, we spent the morning just with Mom before flying back to New York. A few days later, he wrote me a long angry letter in which he argued that it had been wrong to divide up the time so evenly, since Mom saw me so much more often than he did (he was probably right about that) and went on to accuse me of having "taken her side" in the divorce and, more generally, of having chosen her over him. The latter charges were well over the line and I let him know it. After that, whenever he tried to raise the subject of the divorce, I tended to shut the conversation down, which I think is why he began to feel that he couldn't fully rely on or trust me, though judging from his letter it's arguable that he had already been feeling that way for some time.
It is likely that our fractured relationship, and my failure to recognize that fracture as such, left him feeling more isolated and like he had failed as a father, and so became a compounding element of his despair, a contributing factor to his decision to end his life.
And yet my writer‑self knows better than to trust such tidy framing. In insisting on the primacy of these grave filial failures (whether real or imagined) and in choosing my own action as the inciting incident, I place myself at the center of my father's story. I displace my mother, my sister, his family, his history: I displace him. Of course we're talking about a person who had no sense of primacy in his own life, who did not believe himself entitled to be the center of anyone's attention, which is why he rarely ever claimed it except by accident—when repressed ego would mutiny into id‑driven rage. At some level, then, by shifting the focus from him to myself, I'm only doing what he would have done, though I'm not sure that makes it justifiable.
But I had troubles of my own, and Dad had obligations—to me as his son, to our relationship as a relationship, to himself as a man—that he failed to fulfill. Moreover, it is too easy (I mean in a narrative sense) to fault myself for failing to become his caregiver at a time before I was financially or emotionally capable of providing any degree of care. If all the same things that happened to him while my sister and I were in our twenties had happened ten years later—that is, now—we would have reacted much faster and had far more resources on which to draw. But if we're going to play that game then we can say that if all the same things had happened ten years earlier, during our childhoods, who knows how badly it might have fucked us up and where we'd be—or who we'd be—today?
So is this the story of a son failing a father or is it the story of a father failing a son? It's both, I think, which to me is the same as saying that it's neither.
__________________________________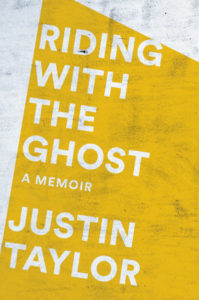 From the book RIDING WITH THE GHOST by Justin Taylor. Copyright © 2020 by Justin Taylor. Published by Random House, an imprint and division of Penguin Random House LLC. All rights reserved.
---