Cree LeFavour on the Pleasures of the Limitless Reread
The Author of Private Means Recommends Her Favorite Books to Revisit
Someone once observed that only two sorts of people make a habit of rereading books: academics and children. I suspect that person never lived through a pandemic. I'm a rereader in the best of times, but now it's practically all I do. Although I'm not an academic, Sallie Mae sends me a monthly bill to remind me I have a Ph.D and I do feel like a child a good bit of the time. So there you have it; call it a confluence. The worst of it is that I don't just reread books, I reread the same books over and over. (And they're all novels, but that's a topic for another day.) What do I find so rewarding about revisiting the same pages? I know how each ends, I anticipate the most thrilling moments, I cringe even before reading the pages that appall me. But what do I care for suspense? I have all I can take these days. "What happens" is beside the point.
I read for the experience of the process itself—for the construct I created on the first read and then happily return to on the second pass, and the third and even the fourth. Would you not go back to a place you loved because you'd been there once or never visit a friend because you thought you knew them? My most beloved places and people are those most familiar to me. Why would it be different with books? So, at this moment in a strange, devastating year, one that calls for the comfort of escape, I've compiled a list of my top rereads. They don't hold together thematically other than that I detect a faint thread linking well-meaning, lonely, occasionally hapless characters whose innocence and idealism gets them into trouble. Whatever it is these books share, I suspect the quality is not fully identifiable to me—which may be, in the end, why I open my worn copies again and again: to seek, between the grease stains and tick marks, the elusive answers to their greatness.
*
Pat Barker, The Regeneration Trilogy
Maybe it's the compassionate and exhausted Dr. Rivers—I can't resist a good shrink—or the dreamy, doomed feel of Barker's effortless prose, but I find myself happily rereading this book as if helpless not to return to a quieter, if deeply sad, time and place. Barker wrote the last title in the series, The Ghost Road, in 1995 but the series reads like it was written in the immediate aftermath of the Great War. Barker nails the damaged reality of her shellshocked subjects, but it's her grasp of their efforts to write, love and make a life again in spite of what they suffer that most moves me.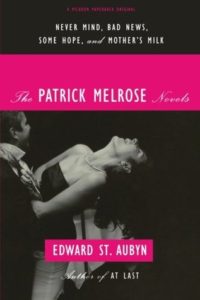 Edward St. Aubyn, The Patrick Melrose Novels
I always refer to this book as "hilarious" when I recommend it, and it is. But it's equally devastating in ways I can hardly keep track of. Many readers complain it's "too dark." Is nothing is too dark for me? I can't get enough of St. Aubyn's wry, biting humor and the horror of the complicated life lived as best as his deeply flawed title character can manage. In this author's hands, child rape, drug addiction and general despair mixed with cutting social commentary just works.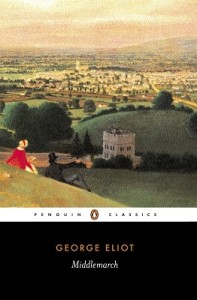 George Eliot, Middlemarch
This one is surely on many must-reread lists (if there is such a genre) but that's only because it's so deserving of the considerable space it takes up on the shelf. Every time I enter, I'm seeking the serene purity of Dorothea Brooke only to be reminded that although this book opens and closes with her, it really is a book about the whole community of Middlemarch. Eliot's ability to thread her narrative with the nuances of moral actions and thoughts—from sensible Celia to desiccated Mr. Caussabuon, from the silly Vincys to the sensible Garths—makes the novel rich and delicious. Reading it is like consuming a double-layer box of See's chocolates without sharing.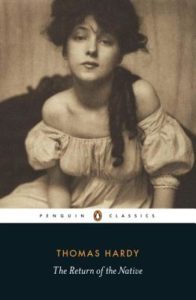 Thomas Hardy, The Return of the Native
I practically exist on the ragged, beauty of the Egdon Heath with these (mostly) tragic, mistaken characters each time I reread this masterpiece. Klem, with his willful love of the beautiful but flawed Eustacia Vye, the good reddleman Venn and the too-soft but ever-virtuous Thomasin all satisfy in their own ways. The knots of love and desire these characters get into, with the help of wicked Wildeve, form the backdrop for the novel's true protagonist: that fabulous heath. What lengths Hardy's characters go to escape or embrace it. (Alan Rickman's virtuoso performance on Audible is not to be missed.)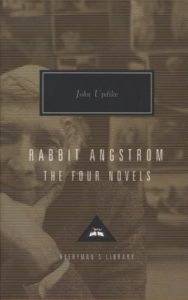 John Updike, Rabbit Angstrom: A Tetralogy
Second only to Henry James's Portrait of a Lady, this novel comes close to what I consider perfection. (Read it in the one-volume Library of America edition). In Rabbit Angstrom, Updike has created a classic "everyman". Given that, it's not always pretty either in what it includes or what it leaves out but in form I find the lonely humanity of Updike's character well worth returning to. Updike's prose, so clear and sharp and finely tuned, is a thing to marvel at.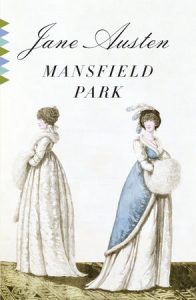 Jane Austen, Mansfield Park
This is not most readers favorite Austen. I can't quite defend my choice of it next to others in her impossible to ignore mini-canon, but I'll try. Fanny Price, who tries to be good and right at all times in her adopted household, draws my sympathy. Maybe it's simply that I remembering being such a girl—just trying to stay out of the way and out trouble without quite understanding the rules. Or, maybe, it's that poor Fanny hardly has a chance of escaping her solitude, surrounded as she is by busy fools and vain louts. Austen can't resist poking fun at the girl for her timidity and yet in the end she rewards her heroine with the grand prize: Edward. I find the ending the most satisfying of Austen's because it comes on so fast. The inevitable finale is a hard-earned surprise, a thing many readers might say of the novel itself.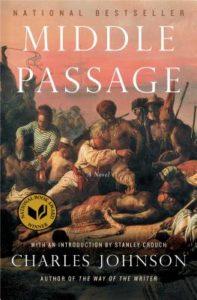 Charles Johnson, Middle Passage
One would surely suspect this book, given the title and subject matter—the abject horror of slavery and its industry of trade—would be well worth reading but not one to willingly subject oneself to twice or more. But the wicked fun Johnson has with this book and his rogue Rutherford Calhoun makes it irresistible. The narrator and protagonist is bit of a trickster, and like all such wily characters, he has no trouble outpacing the varied evils of the human flesh trade surrounding him. The novel's breathless pace transfixes but it's the first-person narrator's ease, strange detachment and enduring curiosity that compels. I can't explain how Johnson managed his feat, but I'm always willing to go back to the book, turning the pages in breathless awe as he pulls it off.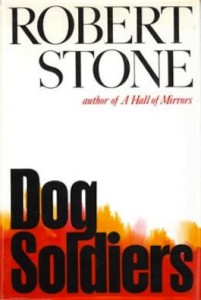 Robert Stone, Dog Soldiers
Enter a generally hapless character and observe the grand mess he makes of his situation in spite of his essentially good intentions (although selling several kilograms of raw heroin isn't exactly an act driven by virtuous intent). Converse is an essentially good man who just fucks everything up in a way that feels so very much like what I remember of the seventies. Admittedly, I was just a girl for most that decade but the loose freedom and the consequences of all that heady possibility gone to waste comes back to me every time I read this fantastic novel. What a stylist and how the language he deploys captures the distinctive rot of the era.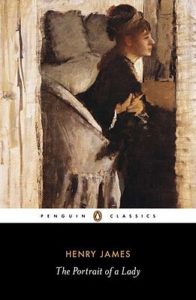 Henry James, The Portrait of a Lady
The most perfect of novels. I read it and then I reread and I wish sometimes that James had let us see Isabel Archer in her pregnancy or when she lost her baby but the book is about Isabel as a solo entity; it's about Isabel as an idealist and what happens when her youthful idealism and good fortune runs up against cynicism and calculation. I love James, of course, and there are other satisfying books in his sizable canon. But Portrait calls me back most frequently—each time I hope I'll grasp how Isabel went so terribly astray in marrying deceitful Osmond. Then I hold my breath and watch her high hopes betrayed— again. (Listeners, find the incomparable Juliet Stevenson's narration.)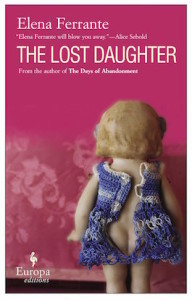 Elena Ferrante, The Lost Daughter
I am unquestionably a fan of The Neapolitan Quartet but I haven't rushed to reread the books since they come out. I suspect I'll get around to it them next time I'm fortunate enough to find myself back in Italy (could be a while at this rate). For now, and since I discovered Ferrante, the book I find myself returning to is this haunting little novella. I think it's the sense of incipient madness and moral abandon Leda experiences in her seaside apartment, her devastating mistake, and her inability or unwillingness to successfully undo the wrong she's done that transfixes me. Or could it simply be that I, too, once lost a precious doll?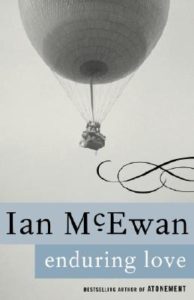 Ian McEwan, Enduring Love
This is many readers favorite McEwan novel—and it's no easy task to pick a favorite when the choices include The Child in Time, On Chesil Beach and Saturday, among others. But Enduring Love neatly showcases what McEwan does best: thread the consequence of a seismic event (witnessing a death, a lost child, a marriage not consummated, a fender-bender) to play out the devastating, wholly unexpected psychological and emotional aftermath. The master of upending easy, virtuous lives with just one mistake, McEwan's observation of the minutia of his characters' internal dialogues mixed with the fineness of his observational skill come together to hit a terrible human mark.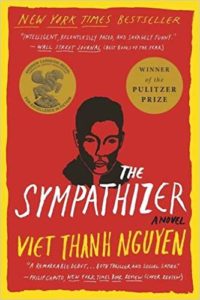 Viet Thanh Nguyen, The Sympathizer
A riotous book that for all its humor and liveliness remains a deeply sad story built on the loss and tragedy Americans inflicted on Vietnam forty-plus years ago. I loved this book for its frightening pace and narrative complexity the first time I read it; the second round brought greater riches of detail and character from an unfamiliar, shadowy and complicated world. What a gift Prof. Nguyen's slightly mad, funny, angry, sad but ultimately elusive narrator is to the novel as an ever-evolving form. This challenging book haunts my senses, calling me back to it with its insistence on awakening any comfortable notions about narrative, identity, and history. (Sequel coming soon! I can't wait.)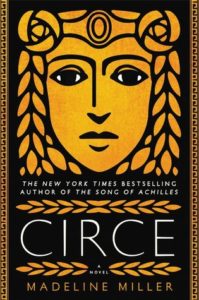 Madeline Miller, Circe
Banish the mythic monster you've had in mind since grade school. Thanks to Miller, Circe now lives in my imagination in all her sympathetic and not-so-sympathetic glory. I don't know how Miller pulled off this neat trick of giving so many dimensions to this footnoted monster, but has she ever. I go back for the complexities of the magic surrounding her, for the loneliness of the surprisingly modern feminine position Circe occupies, for her powerful independence, and for the very rich, living woman who is the sympathetic and terrible character Miller has resurrected.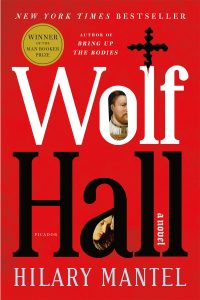 Hilary Mantel, Wolf Hall
Many people have already said most of the smart things that can be said about this book and the trilogy as a whole. I liked the second book less than the first and the last less than that. I've chosen the first to stand alone here because, as a reader, I put it in a category of its own. What brings me back again and again is watching the devious, brutish, kind, smart, strong Cromwell go from taking a bloody beating at the hands of his drunken father to a commanding role in Henry VIII's court. The story of his humanity, wily intelligence, strategic mind and confidence satisfies and fascinates. And never does this read like "historical fiction"—which thanks to Mantel is less and less of a bad word in literary circles.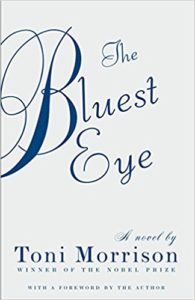 Toni Morrison, The Bluest Eye
I first read this book as a teenager and its language and brutality shocked me just as it does now. Told from varied perspectives, it is Black girls and their powerlessness in becoming that hangs in the balance. The details of self-loathing found on these pages bring home the pain of existing in a loveless, hateful world in which blackness has been defined as nothing but a painful burden to bear. The madness that ultimately besets Pecola at the end of the novel shocks even given its terrible inevitability under her circumstances. The journey through reads stark and terrible but its brutality and honesty, the clarity of the observations and Morrison's shockingly beautiful prose are worthy of repeated marvel.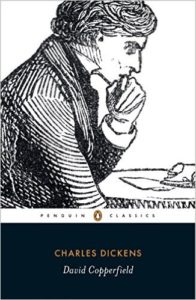 Charles Dickens, David Copperfield
I've probably read this book more than any of the books I've listed here and I can hardly defend myself other than to say that I find soft, vulnerable David's complicated journey to happiness endlessly moving and comforting. (He's a bit like Cromwell but without a bit of the brute in him.) Of course, all the ancillary characters are well worth returning to—-not just clammy Uriah Heep, simple Mr. Dick and the donkey-chasing Betsy Trotwood, but pathetic Dora, her dog Jip, good old Barkis and loyal Peggotty. Probably my least favorite character is the saintly Agnes but David loves her so, over time, I've learned to as well. I visit often.
__________________________________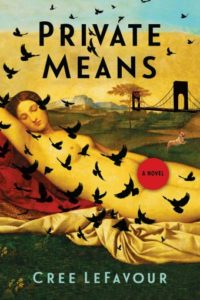 Private Means by Cree LeFavour is available now from Grove Atlantic. 
---