I've been on a real horror-comedy kick lately, so when I stumbled across Vampire's Kiss on Amazon Prime (it's my boyfriend's account—don't at me), I was immediately sold by the description: "After a night of passionate lovemaking in which he is bitten on the neck, a troubled literary editor becomes convinced that he is a vampire and begins to live the role."
The film, as expected, is a real trip. Here's the A plot: Peter Loew (Cage) spends his therapy sessions complaining about women, becomes a vampire (maybe). The B plot: in his high-rise Manhattan office, Loew torments an assistant to whom he's assigned the task of tracking down a 20-year-old misfiled foreign rights contract for an author who's randomly decided he'd like to frame it (because of course). Importantly, Loew has a framed photo of Kafka on his desk, as is the wont of all publishing executives.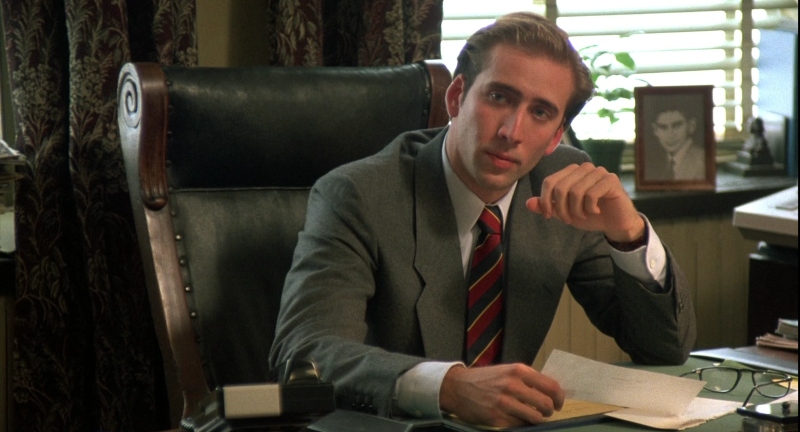 A flop when it first premiered, it's apparently become somewhat of a cult classic, helped in large part by a meme that I'll get to later. This excellent Ringer article (appropriately headlined "Truly Batshit: The Secret History of Vampire's Kiss, the Craziest Nicolas Cage Movie of All Time") helped me make sense of what the hell I'd witnessed. It answers all the questions that I repeatedly asked throughout: What's going on with Nic Cage's voice? What's going on with Nic Cage's eyes? What's going on with Nic Cage? (Also, was that a real, live cockroach he just ate?)
The voice: a purposefully terrible faux-British accent, inspired by his father, a literature professor (!) in the California State University system (according to Wikipedia, his thesis at Hofstra University was titled "Ernest Hemingway: The Problem of In Our Time") and brother to Francis Ford Coppola. (Nepotism, baby!) As Scott Tobias writes for AV Club, "The most likely explanation is that Cage imagined Peter as a fop of the first order, the type of ivory-tower Manhattanite whose exalted sense of privilege naturally leads to a hilariously affected manner of speech." Fair enough!
The performance: indeed, where Cage refined his "unhinged brand of 'Cage'-iness," as The Ringer's Zach Schonfeld put it. He progressively loses his shit throughout, culminating in wandering the streets of New York with a wooden stake, begging passersby to put him out of his misery (whomst among us). But for my money, the best outburst is about that darn misfiled contract: "Shouldn't, if a company, if a literary agency, makes a copy of every contract, of every single contract it makes with a client, and then puts it in a file, in the appropriate file, shouldn't the copy be in that file?" And then he screams the ABCs.
(The cockroach: Real, Cage's idea, two takes.)
There's so much more to say about the creation of this story (ironically both a study of misogyny while originating from a pretty misogynistic place, IMHO), but again, I point you to The Ringer's history. If you're reading about this movie on Lit Hub dot com, you probably want to know about the publishing thing.
Much has been written about power (and lack of it) in the publishing industry (see #1 on the Biggest Literary Stories of 2020), and Vampire's Kiss hits that nail on the head, and then some. Alva, the abused (and then some—TW for sexual assault) assistant is played by Maria Conchita Alonso, and I imagine her plight is uncomfortably close to home for lower-level publishing employees, specifically people of color.
That Cage meme you might be familiar with?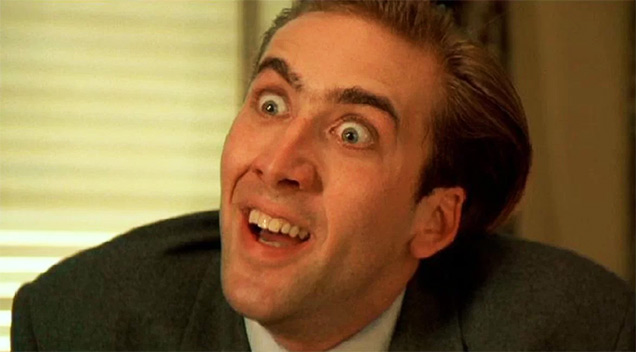 It comes into play when Loew is admonishing Alva to stay late in search of that contract: "Alva, there is no one else in this entire office that I could possibly ask to share such a horrible job. You're the lowest on the totem pole here, Alva. The lowest. … It's a horrible, horrible job, sifting through old contract after old contract. I couldn't think of a more horrible job if I wanted to. And you have to do it. You have to. Or I'll fire you. Do you understand? Do you?"
As Pauline Kael wrote for The New Yorker, "…this may be the first vampire movie in which the modern office building replaces the castle as the site of torture and degradation." Good thing we're working remotely now!
Anyway, one more fun fact: the film's producer (and former girlfriend of the screenwriter), Barbara Zitwer, wound up leaving Hollywood after this project tanked. Her new career? She launched a literary agency. Hopefully it's a totally chill place to work.