Juliette Fay on Writing Complex Older Protagonists
"As that far distant horizon gets closer, however, hopefully we gain the wisdom to know it's at least worth a try."
I turned sixty this year and it was fascinating to see how many people asked in somber tones, "Do you feel sixty?" As if this were a bad thing. As If I might be a cautionary tale. Kids, don't let this happen to you.
The truth is, I don't feel any particular age. I sure don't feel twenty or thirty, thank God. I was an emotional jumble in my twenties and pregnant for a good portion of my thirties. In my forties my time was mostly spent chasing four young kids while trying to decipher the world of publishing—my first novel was published at forty-five. My fifties found me navigating the choppy waters of adolescence, writing books in the brief lulls between cars crashes, broken hearts, pants-wetting laughter, college visits, emergency room visits, and more sports, theatre, boy scout, and a cappella events than I can count.
I wouldn't trade a moment of it… nor do I care to return.
What I wish people would ask instead is: "What does sixty feel like?"
My answer is: it feels human. My emotions still get jumbled like they did when I was twenty, just not nearly as often. I still chase after my kids, but mostly by text, exercising as much restraint as I can. (The jury's still out on whether I succeed.) After seven novels, I'm still trying to figure out the publishing industry. And after thirty-two years of marriage, I'm still passionately in love with my husband. (I'm not, however, still trying to get him to load the dishwasher properly. At sixty, you know a lost cause when you see one.)
I wanted people at my stage of life (however that's categorized) to be better represented in the stories we tell ourselves about what it means to be human.
I don't feel old. My girlfriends and I still ski—not as fast as we used to, but we're out there in the cold, shushing down the blues and greens, taking more stops to enjoy the scenery and more time to stretch afterward.
I don't feel young. I've learned to take things in stride more, to understand a little better what's worth getting fired up about and what's just noise. I care so much less about what people think of me. So. Much. Less.
I know I'm powerful, and I know where that power comes from: contributing to the stockpile of kindness and decency in the world, lightening the loads of others, the relationships I nurture and revel in, liking myself better than I ever have before, and most certainly from not putting up with the bullshit I might have entertained in the past.
The protagonist of my latest novel is fifty-eight, the exact age I was when I wrote it. Helen is not me, but I would absolutely be friends with her if she were real. She's a runner, a grandmother, a business owner. She's wiser than she once was, but still has things to work out. You know, human.
In the run-up to the pub date, the novel—The Half of It, HarperCollins, April 2023, in case you're interested—was named on some lists. (Authors love lists!) One was titled "Books Featuring Charming Older Protagonists."
Hmm, I thought. Is Helen charming? Not really. She's more of an accidental badass. And is she "older"? (It begs the question, "than who?" Fifty-seven-year-olds?) Most of the other books on this list feature protagonists in their seventies, eighties, and nineties. They're all good books, I'm sure, and again, lists—yay! But does Helen really belong here?
And if not, where does she belong? Because let me tell you this: no one is making lists of female protagonists, charming or otherwise, in their fifties and sixties. No one seems to know what to do with us…except us. And with all the attention given to younger, more fresh-faced main characters and "charming" senior ones, even we get confused sometimes.
Helen is a bit confused herself. She's at a crossroads—which of course can happen at any age.
She's brought three humans into the world. Buried a husband in the enforced emptiness of a pandemic. Moved to a little town where she knows no one except her daughter and son-in-law, who are utterly engrossed in the endless blessing of this baby, and the endless exhaustion of new parenthood. At fifty-eight, Helen Spencer somehow finds herself relegated to solitude at the edge of other people's lives.
But that's about to change.
Helen knows her life didn't turn out as planned. A lukewarm marriage, a career she fell into instead of chose, disconnected from old friends. She even knows when it all started to veer off course, the exact day when one domino fell into the next and the next, until forty years have passed. It was the day after a romantic night in the woods with a boy she loved who loved her. A boy she never saw again. Until now.
She's out hiking with her baby granddaughter on her back when she crosses paths with that boy. Cal Crosby is chasing after his three-year-old grandson with his own baby granddaughter on his back, and he doesn't recognize her until he puts on his wife's readers.
There is no statute of limitations on the pain that can reverberate down through the years.
Cal is an "older protagonist," too, of course, and he knows something that younger main characters often don't fully grasp: that our time here is limited. At fifty-eight, his future does not stretch out to the far distant horizon and beyond. If he's going to clean up the mess he made—a mess that has toppled some dominoes in his own life, too—it's now or never.
At first Helen resists his attempts to pry open the past, telling herself she doesn't even care anymore. And even if she does, she certainly "doesn't want to open what she knows is a tightly locked little box in the back of her brain, guarded by small but vicious dogs and poisonous snakes and attack birds. It does no good to call off these weird and highly trained protectors and open that box now. She's too old for this shit."
But none of us is too old for it. We all carry burdens and unresolved conflicts, and there is no statute of limitations on the pain that can reverberate down through the years. Making amends, asking for forgiveness, and/or granting it can offer such relief.
That doesn't mean it's easy or fun or that it always goes smoothly. Sometimes it doesn't work out at all. As that far distant horizon gets closer, however, hopefully we gain the wisdom to know it's at least worth a try.
I conjured up Helen and Cal in part because I wanted people at my stage of life (however that's categorized) to be better represented in the stories we tell ourselves about what it means to be human.
Beyond that, it was just a really fun novel to write.
__________________________________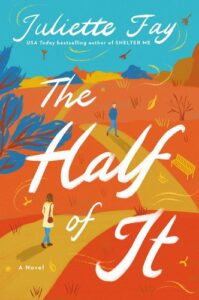 The Half of It by Juliette Fay is available from William Morrow, a division of HarperCollins Publishers.
---