Julie Shapiro and Claire Boyle on Reversing Roles for the 64th Issue of McSweeney's
This Week on the So Many Damn Books Podcast
For this one, we had two producers of the new McSweeney's issue into the Damn Library hyper-verse: Julie Shapiro from Radiotopia and Claire Boyle from McSweeney's. We talk all about this "box of stuff" they produced—from how it feels to curate the 64th edition of this storied literary magazine, to putting audio together, to collaboration, and more. Plus, Christopher and Drew get to talk about some of the stuff they've loved that McSweeney's has done over the years.
What'd you buy?
Drew: How High We Go in the Dark by Sequoia Nagamatsu // a new vacuum
Christopher: The Last Checkmate by Gabriella Saab
Julie: a tape dispenser from Omoi Zakka in Philadelphia
Claire: The Underground Woman by Kay Boyle
*
Recommendations:
Drew: "If I Can't Have Love, I Want Power" by Halsey // The Trees by Percival Everett
Christopher: Goodbye Without Leaving by Laurie Colwin // listening to Gilmore Girls
Julie: The Final Revival of Opal & Nev by Dawnie Walton // "Cracks" by Bendik Giske
Claire: The Indifferent Stars Above by Daniel James Brown
*
From the episode:
Christopher: I'd love to know about even more nitty-gritty about curation because I feel like anybody would leap and say, "Yes! I've got a great idea" and after you ask them and they give you the idea, if you don't like it, what happens then? Or what goes into this creation and process? Because it seems fascinating.
Claire: Yeah, I mean we were lucky that everything that came to us was exciting and great. I think that was a moment where I really appreciated and leaned on Julie and Audrey and Andrew, who would deal with pitches, working to shape them so much more. That's less common in short story, literary journal publishing. They were incredible assets in working with the producers and contributors to shape the pitches into something that felt right for the issue.
Julie: Also though we could be so welcoming of the weirdest ideas. I loved that we didn't have to shove everything down a channel of same-ness. And one thing I really appreciated throughout working on the issue was being able to embrace so many different approaches to this concept. Podcasting is somewhat prescribed as a formula and that works great. It's successful because it's predictable. And people know what they're getting—all of that makes the industry stronger and better and gives more people opportunities.
But being able to work in a space where everything was different—one thing to the next and we celebrated that—we could push things even further and accommodate these amazingly creative ideas that came our way. It was such a gift to step out of the industry space and work in a slightly adjacent place where all of that was really treasured. It was so rewarding to get these ideas. And I will say that we did edit, we did help. I loved seeing Claire's impressions of the audio, maybe we helped a little with the text. It was fun to change up our roles a little bit in the editing process. But I felt like we were there to support—not necessarily to change too much, and get everything to its best possible iteration. The stuff is beautiful. It's an incredible collection.
Drew: I was going to ask about that editing. You both are at the top of your fields—you're well-respected editors in your lanes. What was your working relationship like?
Julie: Really easy. I think we found our way. We didn't always agree on everything, but we often did. Maybe that was a really nice thing from the start. I felt like we were all aiming for the same sort of essence and completion. I loved what Claire brought to editing the audio—what her instincts were in terms of rhythm, and whether we were moving things too fast, or where should we slow down, or where the sound didn't work. It was so great to work with someone outside the audio world, and hear her impressions of what was going on with these drafts. I learned a lot through the process of thinking of things with a slightly more narrative, literary hat on.
Claire: Totally. I feel the exact same way. I had been thinking about this issue for so many years. It was selfish because I just loved audio, and I always wanted to work in audio. I was in the sandbox the whole time having so much. And it was great and so nice to collaborate. For most of the other issues, I'm working in isolation. There aren't editorial meetings about the issues we're working on—I'm kind of in a dark dungeon typing alone. So to be able to have these weekly editorial meetings for the four of us, it was the most fun thing to be able to talk about stories and ideas, and brainstorm with these three people I respect. That was one of the best parts of this issue.
*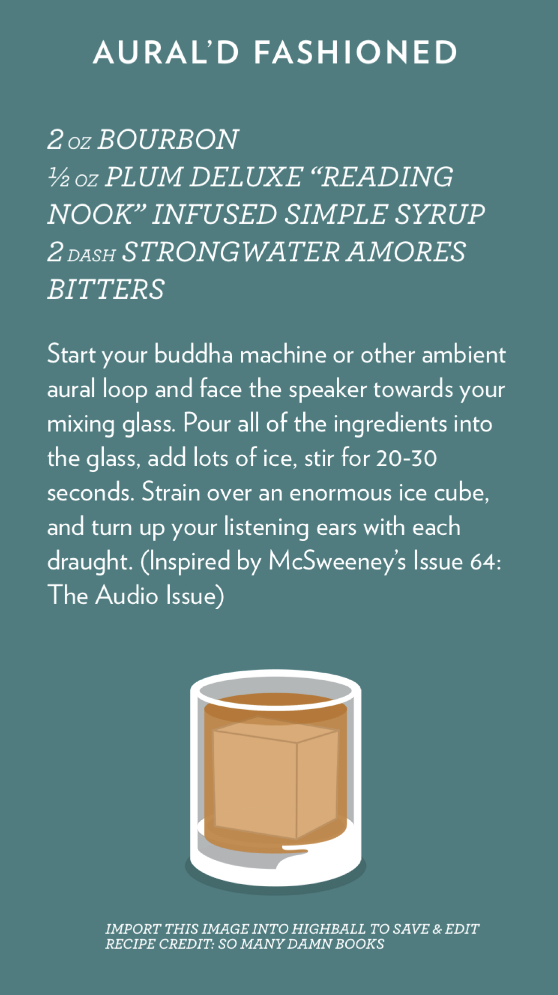 ---