Judith Thurman on Elena Ferrante and Writing That Rattles the Cage of Gender
"This body of work defies the conventions of writing 'like a woman' as radically as did Mary Shelley's Frankenstein."
The following is an excerpt from A Left-Handed Woman: Essays by Judith Thurman, and first appeared in Lit Hub's The Craft of Writing newsletter—sign up here.
*
What does it mean to write like a woman? Ferrante posed that question, partly to herself, thirteen years ago, in an interview with the Italian magazine Io Donna. She had not yet published her Neapolitan quartet, an epic bildungsroman in four volumes, narrated by a writer named Elena, which has sold some sixteen million copies. But her earlier novels—Troubling Love, Days of Abandonment, and The Lost Daughter, a triptych of stories about women in extremis—were a preview of her power. This body of work defies the conventions of writing "like a woman" as radically as did Mary Shelley's Frankenstein.
In Days of Abandonment (2002), the narrator, Olga, who once had literary ambitions but shelved them when she married and had children, answers her author's question. "To write truly," she reflects, "is to speak from the depths of the maternal womb." Ferrante has an attunement to her characters that one might call maternal, yet she accepts no constraints on what a female can say, and, more fundamentally, on what she can feel. Her fiction rattles the cage of gender.
Interviews suggest that Ferrante found her vocation on the late side, around forty. Nothing verifiable is known about her youth, but, she told Io Donna, "I learned to write by reading mainly works by men." Their heroines (she specifies Emma Bovary, Anna Karenina, and Chekhov's lady with a little dog) engaged her more fully, she said, and seemed more like "real women" than did the female protagonists of women novelists.
There are writers of her sex whom Ferrante admires—Elsa Morante and Virginia Woolf among them. Those who disappoint her appear to have a common failing. "I always read stories by women with trepidation," she told another Italian magazine. "I expect something that seemed unsayable to appear miraculously on the page." The unsayable is either what you may not say, because of who you are, or what you cannot admit, because you have internalized a taboo.
Ferrante's style is blunt—at times even careless—as if she were deliberately rejecting centuries of preciosity in women's prose. "When I write, it's as if I were butchering eels," she told Io Donna. "I pay little attention to the unpleasantness of the operation." The word "revulsion" recurs so often in her pages that it is almost a tic. She revels in descriptions of incontinence: leaking tampons and spastic ejaculations. Women novelists before her have seethed at the benevolence expected of them—the Brontë sisters are a notable example. But Ferrante is a brawler, not a seether. She co-opts the pugnacity of a troubling love male voice to express the unsayable about female dilemmas, and this belligerence feels revolutionary.
A Ferrante novel typically begins with the violent rupture of a primal attachment, and a woman's discovery of how enslaved she has been to it. Delia, in Troubling Love (1992), is unhinged by her mother's apparent suicide. Olga becomes deranged when her husband deserts her for a younger woman. Elena learns, in the opening pages of My Brilliant Friend (2011), the quartet's first volume, that her best friend from childhood has abandoned her, after sixty years, by vanishing without a trace. Parents, children, and men back these women into corners, from which they lash out—sometimes viciously. But they are, above all, caged in their own bodies, taut to bursting with rage and shame. Ferrante perceives their claustrophobia as a conflict between their imperative desires and those of others, to whom their identity is beholden. In that respect, they are not unlike Shelley's monster.
There is a vast bibliography of analytic theory on this subject, much of it dating to the 1970s, when it electrified the young feminists of Ferrante's generation, and she has acknowledged its influence. The theory situated the roots of misogyny in an infant's conflicting impulses toward a mother's body: to devour, penetrate, and possess; to be cherished, mastered, and contained. Only later are these desires rigidly classified as male or female. Most cultures can't tolerate the ambiguity for long. A boy is socialized to suppress his "female" yearnings and is rewarded for it with the prestige of maleness; a girl's reward for surrendering to passivity is male approval. At their most unforgiving, these asymmetries help to sustain archaic patriarchies like that of Ferrante's Naples.
Ferrante's style is blunt—at times even careless—as if she were deliberately rejecting centuries of preciosity in women's prose.
Male authors may have taught Ferrante to write, but none of them grew up as a girl. "A secret cord that can't be cut binds us to the bodies of our mothers," she wrote in a newspaper column. "There is no way to detach ourselves, or at least I've never managed to." But there is a way. Ferrante suggested it, cryptically, in response to a question about Olga's battles with her daughter: they lead her to accept her child's "hostile love as a vital feeling." Hostile love is also vital to literature. The characters who seem most "real" to us were created by a writer unafraid of its contradictions.
Freud defines "the uncanny" as the terror of what is most familiar— what frightens us most about home, even as it compels us to return there. The Naples of Ferrante's work has precisely this gothic allure. The city is a mother's body, pungent and labyrinthine, loathsome and beloved, from which she cannot detach herself. It was there that I first read Ferrante in Italian.
Italians have been notably less smitten with Ferrante than her foreign fans have. They are famously pious about maternity, and Ferrante's narrators tend to be bad mothers who are emancipated by their neglect. Reading her in English isn't the same experience. Ann Goldstein has translated all of Ferrante's work, and many bilingual readers feel that she has improved the prose. It may not be a coincidence that Ferrante has called translators her "only heroes." Translation, she wrote recently, "draws us out of the well in which, entirely by chance, we are born." Goldstein has nearly perfect pitch for Ferrante's voice, yet it has an accent on the page that English cannot quite capture, which is itself the echo of another language—the harsh, often obscene dialect of Campania. Ferrante balks at using dialect explicitly, yet her prose bears its imprint like the welt marks of a slap.
Ferrante's early novels are rooted in the notion that primal attachments shape the way that human beings dominate and submit to one another. In the quartet, she gives that premise a vivid embodiment in the hostile love—empowering and subversive, jealous and reverent, steadfast and treacherous—between two friends whom we meet as girls of eight, in the slum where they were born, and follow for six decades, through the upheavals of postwar Italian society. Elena Greco and Raffaella Cerullo (Lenù and Lila) seem fated from the outset to become their mothers—weary drudges brutalized by their men, who wreak that violence on their daughters, if not by blows then by disparagement. In that respect, each of them has been invisible to herself until her friend gives her the gift of being seen.
Lila, a self-taught prodigy, will make her fortune as a pioneer of troubling love computer technology, but not before an abusive teenage marriage cuts short her education. She survives a hellish interlude in a sausage factory, which engages her in the violent class struggles that polarized Italy in the seventies. Her life is a series of insurrections against male despotism, beginning with her father's. Just as she threw rocks at the local boys who tried to bully her, she rebels against the institutions that do the same: daughterhood, wifehood, maternity, capitalism, the Camorra (Naples's Mafia). Not even love can hold Lila fast. She understands it as a form of martyrdom like all the others. When she disappears, leaving her best friend bereft, it isn't a surprise to Lenù: that is how Lila has always lived, beholden to no one.
Elena lacks Lila's courage for sacrilege; she is a female version of Balzac's provincial strivers, whose climb out of poverty is enabled by a vigilant false self and a talent for ingratiation. Decades pass, and she matures into a sexually liberated intellectual who juggles motherhood and a career. Her books on working-class Naples, appropriated from Lila's hardships, make her a famous writer. But whenever the story shifts away from Lila it loses a mythic dimension and becomes something more ordinary: a bourgeois novel.
Although Ferrante's audience isn't confined to women, she has inspired an ardent following among them, partly because few writers have evoked female friendship more truthfully, or have given it the place in an ambitious epic that male friendship has held in literature since the Iliad. (There is something of Achilles in Lila: a noble heart capable of feral cruelty.) And, if her readers tend to identify with one brilliant friend or the other, many feel a primal attachment to their creator.
Hostile love is also vital to literature. The characters who seem most "real" to us were created by a writer unafraid of its contradictions.
In part for that reason, Ferrante's identity and gender—even her singularity (is she really one person?)—have been matters of fervid speculation. In 2016, Claudio Gatti, an investigative journalist for Il Sole 24 Ore, a business newspaper, claimed to have unmasked her. He had hacked into the royalty statements of Ferrante's Italian publisher, Edizioni E/O, a small house to which she has been loyal. Inexplicably vast sums, he discovered, had been paid to the account of Anita Raja, a translator from the German and an E/O stalwart.
Raja, who is sixty-seven, was born in Naples, her father's native city, but grew up in Rome; her mother was a Polish Jew who had escaped the Holocaust. If she has published fiction, she has never signed any. But her husband, Domenico Starnone, is one of Italy's most prominent men of letters, whose best-known work is set in Naples, where he was born into the same generation and class as Lenù and Lila. He has vehemently denied having written or co-written Ferrante's novels. Yet if their author is a man he has pulled off one of the most improbable— not to mention galling—impersonations in the annals of fiction.
Whoever Ferrante may be, however, the author's relationship with the public resembles a game that mothers play with infants: peekaboo. Even as she dodges bounty hunters like Gatti, she seems to take unusual pleasure in explaining herself. In 2003, she published Frantumaglia, a volume of letters and interviews with critics, reporters, filmmakers, fans, and her publishers, the earliest dating from 1991. Two subsequent editions enlarged the contents; an English translation appeared four years ago, with the subtitle "A Writer's Journey."
The reclusive cipher turns out to be a garrulous interview subject, so long as the conversations are conducted by e-mail. There is something poignant about her eagerness to hold forth, and it makes you wonder whether, over the years, anonymity hasn't become another experience of claustrophobia. Journalists ask versions of the same questions, and her replies run on for pages, sometimes donnishly. She corresponds with directors who have filmed her novels, and with fangirls who tell her that they were "blown away" by them. "Frantumaglia," Ferrante notes, is an expression in dialect that conjures "debris in a muddy water of the brain." She makes a creative-writing lesson of her own flotsam— reprinting manuscript pages from her early novels which didn't make the cut, often because they were, she felt, too explanatory. "It's my own fastidiousness that censors me," she tells a critic.
Last year, Ferrante published Incidental Inventions, a collection of weekly musings and personal sketches for The Guardian, which added to the inventory of what we know about her (or of what she wants us to think that we know). The prose is confiding and, in places, pontifical. Those who are "given the job of telling stories," she notes, "should construct fictions that help seek the truth of the human condition." Ferrante the columnist claims to have more than one daughter and a granddaughter. Her daughters "let me know I should keep quiet" but help her with technology.
She adores plants and cats. She hates exclamation points. Snakes are her worst fear, and failure used to be. Tobacco was once her drug of choice—she started smoking at twelve. At fifteen, she discovered sex, which she primly calls "love," in a deserted alley, with a skinny boy who was mainly interested in getting her to "caress" him. She still has a penchant for lean men, especially those with a receding hairline. Pregnancy was a "seesaw of joy and horror." She dislikes the way she looks in photographs and is the last guest to leave a party: "My problem is leave-taking itself. I don't like to separate from people."
What should readers make of these books—a slight, cozy memoir and a hefty intellectual autobiography that, together, run to nearly five hundred pages? At the very least, no one should entertain illusions about their veracity. "As I child, I was a big liar," Ferrante writes in a column. She put so much effort into her lies that she forgot they weren't true. Frantumaglia conveys a more explicit warning. A critic asks her for a "brief description" of herself, and she cites the response of Italo Calvino to a nosy scholar: "I don't give biographical facts, or I give false ones, or anyway I always try to change them from one time to the next. Ask me what you want to know, but I won't tell you the truth, of that you can be sure."
____________________________________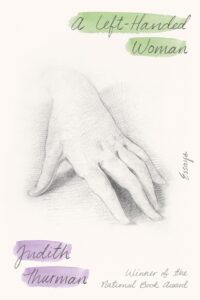 Excerpted from A Left-Handed Woman: Essays by Judith Thurman. Copyright © 2022. Available from Farrar, Straus and Giroux, a division of Macmillan.
---