Joy Harjo on the Poetic Lyricism and Subversive Native Storytelling of James Welch
In Praise of the 1974 Novel Winter in the Blood
We didn't have computers or cellphones. We had no internet or digital downloads, nor did we text. We had to go to the library to access card catalogs. We read books and listened to stories. We spoke on the phone. We looked outside to gauge the weather. We continued to make stories, because that's what humans al­ways do: we make and tell stories about who we are, how we became who we are, and where we are going and what and how it means.
It was a different world in 1974 when James Welch's first novel, Winter in the Blood, was published. Native rights movements followed in the wake of the civil rights movement. We asserted ourselves nationally as tribal nations, as cultural peoples, as individuals: all for sovereign human rights. The Wounded Knee siege—an occupation by American Indians of protest against a tribal government manipulation, and against the United States failure to honor treaties—had just ended. It would be four years before the American Indian Religious Freedom Act would be passed, an act that would essentially legalize our cultural ex­pressions. To get that far took fortitude, sweat, belief linked to the natural instinct of justice to rise to the surface to be dealt with.
It makes sense that this was the world in which Welch's ground­breaking novel emerged. Winter in the Blood features an un­named antihero who flounders to find grounding in a tale that does not bear transcendence. This protagonist is not a savior. He doesn't fit the romantic notion of a spiritual savage who lives freely in a natural setting. He is a human being who has lost his way from unspeakable grief.
It is the grief compounded by generations when one has lost a country, layered with the grief of losing a brother. It is a story of being lost, yet of being found in the lostness. It is lyrical language that motivates the story to find itself, in the give and take of a man without a country, because in this story no one has a country, not even those who believe they own their lands or even their destiny. The novel began as a poem, and it is the lyric voice of a poet that compels this story to keep mov­ing through a place of "stalking white men."
Poetic lyricism is also the best kind of voice for a tale in which one can become lost, even while finding what might seem impossible to find: a self against an invisible but ever­running under-memory of mas­sacre. The legendary poet Richard Hugo, Welch's most influen­tial writing teacher, taught that language in poetry demanded the sure knife of craft, even as poetry must be freed to construct its own sense outside of the limited logical. The protagonist of Winter in the Blood is a kind of broken poet, whose poetry il­luminates the stumbling dark of his journey, one that often dips into a squalid landscape. The effect is often surreal:
… the dark green reminded me of a mermaid I had seen once.
*
What irony, to be American Indian, but not Indian, or to be Native in lands that bear your name, bones, and history, but are assumed by those who cannot see you, and do not know your name. Irony is born from a kind of backward thrust to­wards grief that sits up and laughs to live. To be Indian and live, oh, man.
"I had felt a little self­-conscious coming in, but the second one took care of that. Now even the fear of a beating, or even getting killed, was subsiding," mulls the protagonist as he sits at the bar with his ex­-somewhat girlfriend, and she has just told him that her brother is looking for him to beat him.
We have to laugh despite ourselves, and we do throughout the precarious leaning of image, lyric, and story stacked side­ways, delicately, even tenderly one moment against another as this unnamed traveler finds his way through the dark.
Irony is born from a kind of backward thrust to­wards grief that sits up and laughs to live.
This is a different world into which we are stepping, collec­tively, in Winter in the Blood. Stories are more important than ever. The moments with the elder Yellow Calf are marked by a nearly lost wisdom. Yellow Calf tells the protagonist that when speaking with the deer: "They know what a bad time it is. They can tell by the moon when the world is cockeyed they un­derstand the signs… This earth is cockeyed."
The protagonist reads the signs, and essentially becomes a sign of changing times, and he keeps moving about in a place in which you can still speak with the deer and hear them, even as the relentless story of colonization unfolds around each and every one of us.
This story follows in the wake of N. Scott Momaday's novel House Made of Dawn, which garnered the Pulitzer Prize in 1968. Momaday was the first Native to be awarded such a liter­ary honor. This marked the beginning of the Native American Renaissance, a period of new writing by American Indian, or Native, writers and poets. The hero of Momaday's story, Abel, points the way forward. His story dramatically rises up toward sunrise, to healing for himself and his community.
Winter in the Blood is the first major Native novel to follow Momaday. It steps off the path of the ritual­like hero story in House Made of Dawn and makes a languorous side turn against triumph. This new story by Welch crosses the border of roman­tic expectation to embrace emotional chaos. It's a muddy field the protagonist transverses, in a landscape where winter can happen during any season, and it is always windy and often raining.
Welch reminds us that landscape dictates how a story can move, and in some parts of the country, winter never leaves. What makes the story so freshly compelling is the lyricism, surreal­ realism, and ironic humor of the speaker and actors of this tale. Winter in the Blood establishes a more casually intimate relation­ship with the protagonist, the antihero of his own story. The protagonist could be our lost brother or uncle. Disaster is familiar, even eloquent.
It is a cockeyed world we are in. We move about in the story­field on computers and with our cell phones. We even read books and listen to stories on them. We continue to make and tell sto­ries about who we were, how we became who we are, and where we are going and what it means.
James Welch's extraordinary storytelling event, Winter in the Blood, has more of a place than ever in this time where we are still fighting for Native rights, for sovereignty. Some of us can speak with deer, and we attempt to move about lyrically when possible, but always with that sideways look that irony and humor provide. Welch is among the best storytellers, those that keep the stories going, even if the fire looks like it might be going out.
__________________________________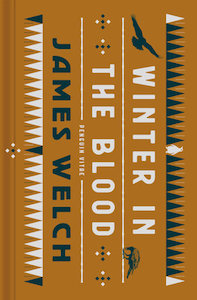 Excerpted from Winter in the Blood. Used with the permission of the publisher, Penguin Classics, an imprint of Penguin Publishing Group, a division of Penguin Random House, LLC. Copyright © 1974 by James Welch. Foreword copyright © 2021 by Joy Harjo.
---