Jose Antonio Vargas: Appearing Undocumented on Fox News
On Patience in the Face of Bigotry (and Tucker Carlson)
"I should have called ICE," Tucker Carlson told me seconds before his show went live on Fox News. It was May 2017. I don't know how serious he was about calling ICE, but the fact that he would even consider such a stunt reminded me how hard it is for some Americans to regard undocumented people three-dimensionally. Tucker was fiddling with his tie as I sat across from him inside his studio in Washington, D.C. Underneath all that bravado is a fidgety guy.
He added: "That would have been good TV."
That's what I was there for: "good TV." The fact that it angered me, made me uncomfortable, and threw off my center––all that was irrelevant. In fact, the agitated, nervous energy that took hold in my entire body made me even better for TV. Carlson knew that, and I imagine that's why he said what he said. Worse, I knew it, too, but couldn't control my nerves.
I've appeared on Fox News numerous times in the past few years, mostly interviewed by Carlson, Bill O'Reilly, Megyn Kelly, and Lou Dobbs. Every hit on Fox requires careful preparation, which always boils down to making sure I am sufficiently calm before getting in front of the camera. And keeping my cool translates to controlling my thick and bushy eyebrows, which are the most expressive and most uncontrollable part of my face. The Fox producers who have booked me have been very kind and exceedingly polite, as if they know how much energy it takes for me to appear on their shows.
Still, there was no preparing me for that moment when O'Reilly, in November 2014, told me on air: "You and the other people here illegally don't deserve to be here. That's harsh, it's harsh, okay?"
Was I supposed to respond with "okay"? It was only my second time on O'Reilly's show; the first had been a satellite interview. O'Reilly is like everyone's cranky uncle, as brash and boorish in person as he is on air.
Our interview was on the same day President Obama announced that he was expanding DACA, which would protect more immigrants, including older Dreamers like me and undocumented parents of children who are U.S. citizens. I was caught off guard by what O'Reilly said. All I could do was repeat it inside my head––except I actually verbalized what I was thinking.
"I don't deserve—" I said on air.
O'Reilly, as he is wont to do, interrupted. "Okay? You don't have an entitlement to be here."
I corrected him.
"I don't feel entitled to be here," I said. I tried hard not raise an eyebrow, not to seem visibly angry or upset. "This is where I grew up, this is my home, my family is here."
For weeks the exchange clouded and corrupted my mind. The only thought that cleared it was when I finally said to myself: What has O'Reilly done to "deserve" to be here? I only wish I could have thought of that question and asked him on air.
On any given day, people who've seen me on Fox News or read about me on conservative sites like Breitbart News, the Daily Caller, and Newsmax send private and public messages demanding my arrest and deportation. In the first days and weeks of the Trump presidency, tweets like "Christmas came early this year. It will be even earlier next year when @joseiswriting becomes Deportee #1" and "Hope your bags are packed @joseiswriting" started flooding my Twitter feed.
Once news reports started circulating that officers from Immigration and Customs Enforcement are targeting "high-profile illegal immigrants," a slew of messages landed on my feed, most from users who don't use their real names or real photos on their profiles. Usually, I ignore them. But this tweet from John Cardillo, host of a daily show, America Talks Live, on Newsmax, and whose account is verified by Twitter, was hard to ignore:
Hey @joseiswriting,
Tick tock
"ICE Detains Illegal Immigrant Activists."
Often, I ignore the tweets, Facebook messages, and emails. To deal with how personal people online can get, how cutting and revolting their language is, I've thought of myself as the subject of a news story. I try, as hard as I can, to look at the hateful words and the deplorable phrases with distance and detachment. They're not talking about me. They don't even know me. This "illegal alien" person they're describing with such vulgarity is someone else. It's not me.
Not all the reaction, online and off, is negative. After my first appearance on The O'Reilly Factor in June 2012, I received an email from Dennis Murphy of Omaha, Nebraska, who described himself as the founder and former state chairman of the Nebraska Minutemen, which had merged with the Nebraska Tea Party. "I was positively impressed by your interview with Bill O'Reilly," Murphy wrote. "You now refer to yourself in your blog as 'an undocumented American,' which I believe is a fair and accurate assessment."
And sometimes the people who follow me on Twitter and watch me on Fox News are not at all who I think they are, in the same way that I'm not who they think I am.
"Is it you? Are you the 'illegal' guy on Fox?" said the tall, middle-aged white man in khakis and a striped white shirt and oversize black coat. He and I were standing in the Delta Air Lines terminal at Tampa International Airport, waiting to board a flight to LaGuardia Airport. It was February 2015. I had just given a speech at the Black, Brown & College Bound Summit for African American and Latino students at a hotel in downtown Tampa. I was headed to New York City for meetings.
Sometimes, because of TV appearances, I get recognized in public, mostly at airports and Starbucks. It's been about 70–30: most people are supportive, and many of them "come out" to me as undocumented. Some get a little aggressive, asking why I have still not gotten deported. More often than not, I engage in conversations. But I was too tired to engage that afternoon in Tampa. Instead of answering, I half nodded, then walked away, lugging my carry-on bag.
I've spent more time in airports and planes than in whatever apartment I was living at. I changed apartments four times in the past seven years (New York City, Washington, D.C., San Francisco, Los Angeles), as I traveled to countless cities and towns in 48 states, doing more than a thousand events: speaking at panels, giving speeches, visiting schools, meeting with all kinds of people from all backgrounds. I fly so much, especially on Delta Air Lines and American Airlines, that I often get upgraded to first class, as I was that afternoon.
A few seconds after I boarded the plane, as I was stowing my luggage, the white man in the oversize black coat grabbed my left shoulder as he walked by. "I didn't know illegals fly first class," he said.
I sat down. I wasn't sure if anyone else heard him, but the woman clutching her iPad across the aisle must have seen my face. I was upset. I'd been used to all the words, but that was the first time I had been touched, and I didn't know how to react. I felt violated. I was mad. I put on my headset and tried to get lost in my thoughts with Ella Fitzgerald and Joni Mitchell. That didn't work. A few minutes later, after the flight had taken off, I stood up and headed to the bathroom, even though I did not need to go to the bathroom. I wanted to see where he was sitting, which was near the middle of the plane, in a middle seat between two women. He didn't see me looking at him. At least I don't think he did.
What was his story? Why did he think it was okay to grab me like that? Did it make him feel good? Feel better, stronger? Superior? What was going through his mind when he decided that his hand should land on my shoulder? What else did he want to say? What else did he want to do?
And what should I do?
I bought Wi-Fi access and got on my personal Facebook page, which only my friends and relatives can see. I summarized what happened and ended the post with: "This is gonna be an awkward flight."
"Awkward for whom?" wrote my friend Tricia. "You're the one flying in style while he gets coach. As it should be."
I wish I could listen to my friend Glenn, who wrote: "You upset him, just by being yourself and doing the right thing. You win! Don't give him one more thought or one more second of your time."
This wasn't about winning or losing, and I couldn't stop thinking about him in that middle seat. I'm a big guy and his shoulders were bigger than mine. Not fun for the middle seat.
Todd chimed in: "Ask the flight attendant to send back some champagne to him and watch his head explode."
Should I tell the flight attendant?
I didn't know what to do until I read what Graciela wrote: "So you're in First Class and he's not? Sounds perfect."
After reading that comment, I decided to talk to the guy.
Once we landed at LaGuardia International Airport, I grabbed my bags and waited for him to get out of the plane. He was surprised to see me waiting outside the terminal.
"I'm Jose," I said.
"Eric." I asked if it was Eric with a c or Eric with a k, and it was the former. He wouldn't give me his last name.
I told him that I got upgraded to first class because I travel so much. The upgrade, I said, was free.
"Must be nice," Eric said.
"Yes, it is," I said, feeling upset at myself for wanting to explain myself. I don't owe this guy an explanation. Why am I talking to him?
"Look, I didn't mean to seem like a jerk. I've seen you on TV. Bragging."
"Bragging about what?"
"Being illegal."
I told him that it wasn't something I brag about. It's not something I'm proud of. It's something I want to fix, and that there's no way to fix it.
"You want to get legal?"
"Of course. Why would I want to be like this?"
"Oh."
He lives in New Jersey, right outside of Trenton. He said he was 48, and he had just gotten laid off from his job at an insurance company, where he had worked for almost a decade. He's divorced with two kids, both teenagers. After about fifteen minutes of conversation, as we made our way into the baggage claim area, he felt the need to point out that he voted for Obama twice. I told him Obama had deported more immigrants than any other modern president, a fact that seemed to surprise him.
"Politics," he said, shrugging.
"Fucking politics," I said.
I gave him my business card and wrote DefineAmerican.com/facts on the back of it. That site, I told him, has all the facts he would ever need to know about immigration. I wanted to ask him if he knew where his ancestors came from, if he knew what papers they had when they moved to America. But I didn't. I told him I needed to go, and we parted ways. I've yet to hear from him on e-mail.
__________________________________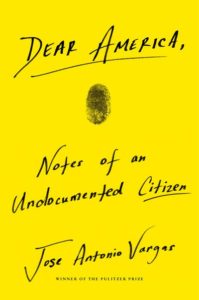 From Dear America, Notes of an Undocumented Citizen. Used with the permission of Dey Street Books. Copyright © 2018 by Jose Antonio Vargas.
---