Jonathan Lethem Hopes You Ask Him About Dedication Page
The Author of Brooklyn Crime Novel Takes the Lit Hub Questionnaire
Jonathan Lethem's Brooklyn Crime Novel is now available from Ecco, so we asked him a few questions about his writing routine, what he'd be doing if he wasn't a writer, and more.
What part of your writing routine do you think would surprise your readers?
Well, if anyone really visualizes my routine—do they do that? I don't do this, not really. But if they did, I suspect the surprise would be how little I'm glued to my chair. The process is typically one of brief outbursts of writing in the course of long spells of reading, cooking, housecleaning, playing computer chess, watching Mets games, and so forth. Then again, sometimes time inverts like a sock, and I discover that it was light out and now it is dark, and seven innings of the Mets game have gone by without my registering what happened, because I was writing. Or there's nothing to eat because I didn't cook, or the laundry rotted in the washer for three days. I don't call this multi-tasking, by the way. I don't believe multi-tasking exists. I'm just dodgy and unsystematic, and I've stopped worrying about how this would appear to others, or to myself.
Which of your characters is your favorite?
All-time? That would be Barrett Rude Junior, from The Fortress of Solitude. He's not such a nice guy, but he's deep, to me. When I got to know him, he scared me, but I wanted him to stick around, and I wanted to keep him from dying, and I wanted desperately for other people to hear his music; I ached to hear it myself. Then, in an extraordinary gift to me, Michael Friedman and Kevin Mambo made it possible. Here and here.
What do you always want to talk about in interviews but never get to?
I think that over the decades the thing that's surprised me the most is how no one ever asks about a book's dedication. It isn't as though this is because interviewers restrict themselves to the text, since everything else seems fair game—blurbs, jacket design, author photo, acknowledgements, disclaimer, paper stock. Yet a dedication hovers in free space, requires a page of its own, and represents a kind of thread tethering the published book, which has otherwise escaped the private sphere of its author, to the author's life. A dedication is Poe's proverbial purloined letter, ignored in plain sight. Why this person, how'd you decide, was it easy or hard? (Often hard. Sometimes easy.) Are you trying to apologize, or right a wrong? (There are better avenues for that.) Do you worry about fairness? (Hopeless to even begin.) Why dad, not mom? (I do love mom, but she's gone, dad's here. Dead-ications seem like wasted gestures.) Have you developed rules, as you go along dedicating books across the years? (The dedication should be to someone you could actually imagine enjoying the book in question.) Why this stunt play—the self-dedication, the vast collective, the ironic deflection?  (Never did one of those, myself, so that's a question for someone else.) Why are you hiding a person behind an initial? (Ditto.) Did you tell the person in advance? (Sometimes.) Has anyone ever said 'no thanks?' (No. But maybe they were just being polite.) Ever go to someone twice? (Dad.) Is a book "to" or "for" someone, and why? (I prefer "for." Nations dedicate themselves "to" causes or programs, scaring the shit out of me. "For" feels more like the act of one person handing a book to another.)
The dedication of my latest book is "For Lynn Nottage." This could seem like bragging, since Lynn's famous, or even a really lame ploy, since she won the Pulitzer (twice). I had to risk this impression, since along with those things Lynn is—was—a kid I grew up with on my block, a person I've known since before I can remember. We played, in the first two decades of our lives. We also talked, about all kinds of things, but especially about being kids growing up on the block, in each of the decades of our lives so far, and counting. That's a crazy thing. (Time is a crazy thing.) Lynn kept me out of a lot of trouble during the years we went to high school together every day on the A Train (you can read a bit about this in an essay called "Speak, Hoyt Schermerhorn;" it was first published in Harper's and then collected in a book of essays called The Disappointment Artist (dedicated to another childhood-friend-turned-life-companion, Maureen Linker, who has also made good)). Lynn was also a key interlocutor when I tried to write about life on our block the first time (in The Fortress of Solitude) and when I tried it again just now (in the book dedicated to her). Which isn't to say she's answerable for all the crazy things I put in the book. That's me. A dedication isn't a culpability-sharing device.
Until my partner Anna Moschovakis dedicated her novel Participation to me (she called me "Jo"), I've only had one book dedicated to me (that I'm aware of), Bunny Modern by David Bowman, and I shared the dedication space with Dr. Seuss and Dr. Spock (Suess was a dead-ication, Spock would have been alive when David chose him but was dead before the book was published; he likely wouldn't have read it anyhow). I didn't begrudge them; this was typical Bowman caprice. My college girlfriend Madi once dedicated a song to me, on WFMU. It was "Amplifier", by the dB's. Later she told me I'd made too big a deal of it. I sometimes struggle with a sense of proportion in the meanings I allocate to the transmission of works of art (whether by hand, or over the radio waves or a mix tape, or by other even more indirect gestures) from one person to another. It's a thing to which I'm dedicated.
Which non-literary piece of culture—film, tv show, painting, song—could you not imagine your life without?
Like Francois Truffaut, I seem to need to watch The Magnificent Ambersons, by Orson Welles, on a yearly basis. Each time I fall so deeply under its spell that I find myself certain I've been transported into the world where Welles' original ending has been magically restored. It never turns to be the case. I realize this choice is sort of literary, actually, since the film is based on a novel. But I've never read the novel.
If you weren't a writer, what would you do instead?
I mean, I do a lot of stuff not as a writer. Every day I wake up as not a writer and have to hunt around the house for the writer costume that slipped off in the night. The special felt-lined gloves, the tuxedo t-shirt, the bright red clown nose, etc. But I take this question as concerning the matter of an alternate profession or avocation, right? I'd be a bookseller. Easy. Not that those things are exclusive. I was a bookseller and a writer for a while, not just during my apprenticeship (i.e., non-viability) as a writer. I went on working at Moe's Books until after my third book came out. And then, after a little interval of weightlessness, a decade or so of living by my wits, I shifted to another "thing instead" that I still do: teaching writing. Plus, I'm partly involved with bookselling, at a shop in Maine called Red Gap, though in truth I'm a sort of emeritus presence, a ghost in the stacks. Yet, I'm certain of my reply to this question, certain in a very particular way. That's because about five years ago I realized that a thing I'd been saying for a while, a dream or boast or joke I'd circulate at the drop of a hat, was real: I was planning to open another bookstore when I retired. I've been accumulating books for it all my life. They're overflowing two homes and a big academic office and a storage space in the woods. I'll unify all these collections, when I'm done teaching. And then open the doors. And then I'll be what I'd be instead. I can't wait.
__________________________________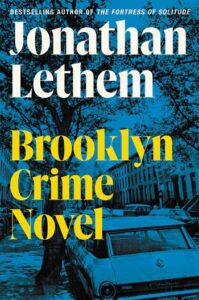 Brooklyn Crime Novel by Jonathan Lethem is available from Ecco, an imprint of HarperCollins Publishers.
---